We weren't sure what to expect when we ventured into the middle of southern Nova Scotia. With so many gorgeous coastal towns, it felt strange to be going into a forested area away from the ocean. But, Kejimkujik National Park and National Historic Site turned out to be one of our favorite places in Atlantic Canada.
This lesser-known national park was a peaceful oasis, with calm waters to kayak on, quiet lake-side beaches to lounge on, and a dark-sky preserve to admire once the sun went down. If you find yourself in Southwest Nova Scotia near the Bay of Fundy and Annapolis Valley areas, this is one of the best places to connect with nature. It is also only a few hours from Halifax Harbour.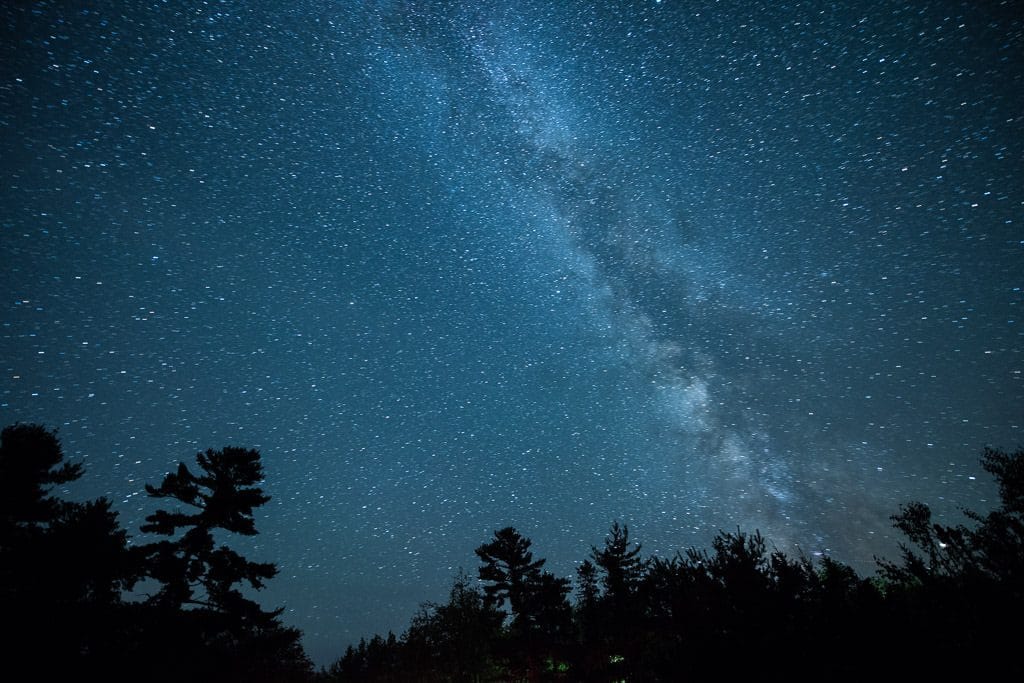 About Kejimkujik National Park and National Historic Site
There are 37 national parks in Canada and 1,004 national historic sites. Kejimkujik in eastern Canada is unique because it is designated as both due to having natural AND historical significance. It is a beautiful place to connect with nature and learn about the native Mi'kmaw culture – including seeing Mi'kmaw petroglyphs, burial grounds, and traditional encampment areas. Kejimkujik is also Nova Scotia's only Dark-Sy Preserve.
Daily admission for adults is $6.25, seniors are $5.25, and youth under 17 are given free admission. Learn more about the park on the Parks Canada website.
Nearby, there is also Kejimkujik National Park Seaside which is a coastal wildlife and wilderness area by the Atlantic Ocean in Port Joli. This part of the park along Nova Scotia's South Shore offers day-use areas and hiking trails through coastal bogs, lagoons, and along pristine white sand beaches with turquoise waters. This area is about one hour from the inland part of the park.
1. Jeremy's Bay Campground inside Kejimkujik is a Cool, Calm Reprieve
Kejimkujik (pronounced "ked-juh-muh-KOO-jik" and nicknamed Keji by the locals) feels like a hidden retreat. When we parked at our campsite in Jeremy's Bay Campground, we immediately noticed that we were enveloped by trees.
Although we love the dramatic ocean-side spots elsewhere in Nova Scotia, this was a welcome change. The tree cover helped keep our RV from getting too hot and made relaxing outside even more enjoyable. There are also yurt, oTentik (unique minimalist tents), and rustic cabin options available within the park.
However, I am always up for some sunshine time. And luckily, there were multiple beaches in Kejimkujik National Park and National Historic Site within a few kilometers of our site at Jeremy's Bay Campground: Meadow Beach, Slapfoot Beach, and Kedge Beach.
2. Kejimkujik Offers a Nova Scotia Beach Vacation
I didn't realize we would have the opportunity for beach time during our trip to Kejimkujik. But I fully embraced this option and made sure to spend a few hours each day lounging on one of the serene Kejimkujik beaches.
It was great to relax and finally finish the book I had been slowly reading (the phenomenal story of outdoor adventure by Bill Bryson, A Walk in the Woods).
Since we were visiting during the week, none of the beaches got very busy. However, Slapfoot Beach was slightly less popular. Of course, this quieter option was my favorite!
And since the warm sand led down to the still waters of the river, the temperature was perfect for swimming. Such a change from the cold, powerful water of the Atlantic.
3. Multiple Trails Make it Ideal to Bicycle in Kejimkujik National Park
Although we enjoyed a few afternoon strolls in the park, the trails were best for biking! We loved taking our bikes along the winding paths, through the dense forests, and over sections of the river. Keep an eye out for wildlife while here as well – look for white-tailed deer, bears, and more. Many of the trails have a picnic area to stop at along the way.
The Ukme'k Trail is a 13.5-km popular option of the multiple shared-use trails for hiking and biking. It twists along the lush forests along the Mersey River trail. (The name means "twisted" in the Mi'kmaq language.)
Check out this fun video of one of our bike rides in the park:
Hopping on the bikes made it easy to stop by the beach for a quick swim, head down to Jake's Landing to rent some kayaks, or just tour the area. And there were plenty of places to lock up our bikes at each location as well!
4. Kayaking Around the Calm Waters of Keji is a Great Way to Relax
A highlight of our trip was getting out on the still water of Kejimkujik National Park in a kayak. After biking over to Jake's Landing in the late afternoon, we set off for a short, but memorable adventure on the river.
Definitely make time to canoe or kayak on Kejimkujik Lake and even take historic canoe routes that were used by Mi'kmaq for thousands of years to travel between the Bay of Fundy and the Atlantic Coast.
Being on the water is always a peaceful experience, but at Kejimjukik the stillness and quiet of the river is undeniably soothing. We could have easily fallen asleep had we let ourselves stop paddling for long enough. This is a great option for beginner kayakers since it is so calm and easy to navigate!
It was also fun getting to see the plants and wildlife of the area from a different perspective – one that would have been well-known to the original inhabitants of the area.
5. Learn About the Mi'kmaw People in Their Native Land
After our kayaking trip, we got to participate in a fire circle, where a ranger told us stories of the past and explained how this area was used by the Mi'kmaw for seasonal camping many years ago. The ancient inhabitants used the rivers and lakes for transportation and fishing, while the forested area provided moose and caribou to hunt.
If you'd also like to see the petroglyphs, they are best seen on a guided tour.
This national historic site of Canada is a great place to learn about the original local communities and cultural heritage. Learning about the indigenous peoples is such an important way to pay respect to those who came before us and they do a great job at sharing these stories at the Canada parks. The province of Nova Scotia seemed especially keen to share history and culture!
6. The Kejimikujik is a Dark Sky Preserve Perfect for Stargazing
Dark, quiet, lonely, and peaceful. Exploring Kejimkujik at night is a can't-miss experience. Nova Scotia's only Dark Sky Preserve offers amazing, unhindered views of the night sky!
About 10-15 minutes from our camp site at Jeremy's Bay Campground was the Sky Circle – an opening in the forest with a circular sitting area to enjoy the dark sky above you. Traditional lights aren't allowed in this area – only red lights that won't obscure the views for others. And if you ask at the visitor center, you can even get a dark sky kit to use during your stay!
Although this designated place is great, there are also dozens of other options throughout the park. Just wander away from the campground lights and enjoy the night sky from a trail or by the water.
If the weather cooperates, you can see the Milky Way, many constellations, and even a few shooting stars. Or as I like to call it, sky magic!
7. Stunning Mill Falls in Kejimkujik is a Can't-Miss Stop
This area of Nova Scotia surprised us in so many ways and we only wish we had planned for more time there. Before leaving, we even got one last unexpected gift: a gorgeous waterfall view at Mill Falls.
Just before the park exit is the parking area for Mill Falls. It is strange to see rushing, powerful water in a place known for its calm river. But, the contrast is what made it all the more exciting.
And that's why Kejimkujik National Park and National Historic Site is such a memorable place. Its sharp contrast from the rest of Nova Scotia makes it very special.
We love the ocean, but having a few days to really escape into nature was the perfect way to break up our visit. And it provided us with another, important perspective – not only about the varying natural areas in the province, but about its people.
---
Kejimkujik National Park and National Historic Site: Know Before You Go
Location: 3005 Main Parkway, Maitland Bridge, Nova Scotia
Camping Options: Jeremy's Bay Campground is available for RV and tent camping, as well as yurt and cabin rentals. However, backcountry camping is also available. Many sites can even be accessed directly from the water!
Other Helpful Tips:
Make sure to check out Kejimkujik National Park Seaside for more unique activities!
Bring your own watercraft or rent one during your stay to make the most of this park! You could spend days exploring the rivers and lakes.
There isn't a grocery store near the park, so stock up before you get there.
Ticks are common in this area. And although we never saw any, it is still important to check yourself, kids, and pets regularly.
FAQ for Visiting Kejimkujik National Park and National Historic Site
Is there cell service at Kejimkujik?
Cell service varies depending on the service provider and where you are in the park. We didn't have very good service, but absolutely loved it!
Can dogs go to Kejimkujik?
Dogs are allowed in some areas of the park, including Merrymakedge beach.
What wildlife is in Kejimkujik National Park and National Historic Site?
You can see snakes, turtles, black bears, mink, flying squirrels, and red foxes in Kejimkujik.
Is Kejimkujik open all year?
Yes, this is a year-round park and has different activities depending on the season.
---
Special thanks to Parks Canada for their support on this trip. As always, all opinions are our own.
For more stories and tips, check out our other Nova Scotia blog posts. And for a list of where we stayed overnight during our trip, take a look at our RV Camping Reviews page.