When we first decided to visit Atlantic Canada, Cape Breton Highlands National Park in Nova Scotia was one of our top destinations. This section of the famous Cabot Trail has gorgeous rocky beaches, unique hikes, and so much culture! We even got to enjoy a "Kitchen Party" while staying at Cheticamp Campground – complete with fiddle music, singing and delicious potato pancakes with molasses.
However, the hiking was the real highlight of our trip. There are so many breathtaking trails in Cape Breton to choose from. But, we loved these five short hikes in Cape Breton Highlands because, although these trails range in difficulty, you can fit in a few in one day due to the distance. Plus, it is one of the best ways to explore the varying landscape of this famed area.
Although, ever the contrarians, we went clockwise around the trail. We now understand why counter-clockwise is suggested. There are way less steep descents by going the preferred route! So, this list starts at the Ingonish Beach entrance and ends at the Cheticamp Campground. Most hikes in Cape Breton should not take longer than two hours. And, although some have steep areas, we did not find them overly difficult.
5 Short Cape Breton Hiking Trails
1. Freshwater Lake Trail & Look-Off
Location: Ingonish Beach, shortly after eastern park entrance.
Distance: 2 km round trip (1.2 miles)
Difficulty: The Freshwater Lake trail portion is easy, but the look-off is moderate due to the incline (it is a short one though).
Freshwater Lake Hike Overview: This is the first trail you will see signs for as you enter the park's eastern entrance at Ingonish. Although the look off is across from the visitor center, we suggest parking at Ingonish Beach to include the short trail next to Freshwater Lake. Plus, there is way more parking in that area (plenty of room for our rig) and you get to check out the gorgeous beach!
The Freshwater Lake trail begins just passed the beach. This lake – which was once an ocean bay – is separated from the Atlantic Ocean by just a small cobble barrier. Look for birds, bugs and fish as you walk this easy, flat trail.
For a challenge and amazing views, make sure to add on the 0.3-km trail to the Freshwater Lake look-off and back. Just head up to the park entrance and carefully cross the road (there is a big sign marking the trail).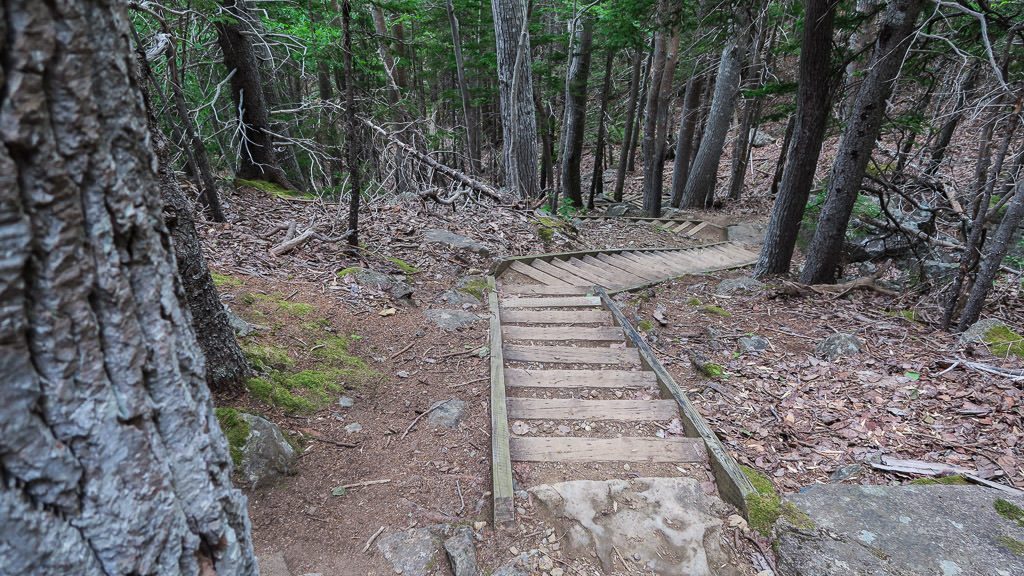 This adds a beautiful, new perspective of the lake as well as the beach and surrounding coastline. The trek up is steep, but short. And it is totally worth it!
Before heading back to your vehicle, make sure to stop by the beach. Take in the views of the popular Keltic Lodge on the adjacent coast or go for a swim.
Near the lodge is another popular hike, Mallory Head. However, this area was packed when we arrived, so we skipped it. (And we think we found a great alternative – #2 on our list).
2. Jack Pine Trail – Coastal Combo
Location: Parking lot near the Black Brook day-use area, on eastern side of park.
Distance: About 2 km (1.2 miles) round trip to do about 1/3 of the Jack Pine trail and a small portion of the Coastal.
Difficulty: Easy, just be careful near steep sections at the cliff edges!
Jack Pine Trail Overview: We stopped to enjoy an easy loop on the Jack Pine trail. However, Buddy had the great idea to check out the nearby portion of the Coastal Trail as well. So, we did about a third of the Jack Pine trail before hopping on the Coastal Trail. And it was one of our favorite places in the park – definitely the best hike of our trip!
After a leisurely loop through a forest on the Jack Pine trail with a few look-off points, we ventured onto the Coastal Trail for spectacular views. At 11.3-km the entire trail would take 3-4 hours. But, this portion only took us less than an hour – and we were stopping a lot to take photos.
We were all alone as we walked along rugged coasts. There were fishermen on boats nearby, lots of birds and dozens of scenic places to stop for photos. Make sure to wander down all the off-shoot paths, or you may miss one!
A favorite was watching the Harlequin Duck soar off the rock cliffs into the water. These unique birds actually fly under water as well! It was amazing to see them dive into the water and flap their wings as they hunted for lunch.
Getting to look down at the people enjoying the beach below was also a fun stop. It was a unique perspective and allowed us to enjoy the stunning views without the crowds.
We thought that this was a great lesser-traveled trail that allows a taste for the Coastal Trail without the commitment. However, on our next trip we definitely want to hike along the entire thing – especially if all the views are as pretty as the ones we experienced. Even the trail has a unique beauty to it!
3. The Bog Trail
Location: Before the Skyline Trail, atop French Mountain.
Distance: 0.5 km (0.3 miles) round trip
Difficulty: Extremely easy – flat, short trail.
Hike Overview: This is a very short hike on a wooden trail over a bog. It can be finished in less than 10 minutes, but to really enjoy it, you have to take your time. We loved stopping to watch the fish, tadpoles, and insects in the small ponds. And we even had a frog startle us when it jumped in to gracefully swim across. Moose also frequent this area, but they have proven quite elusive to us!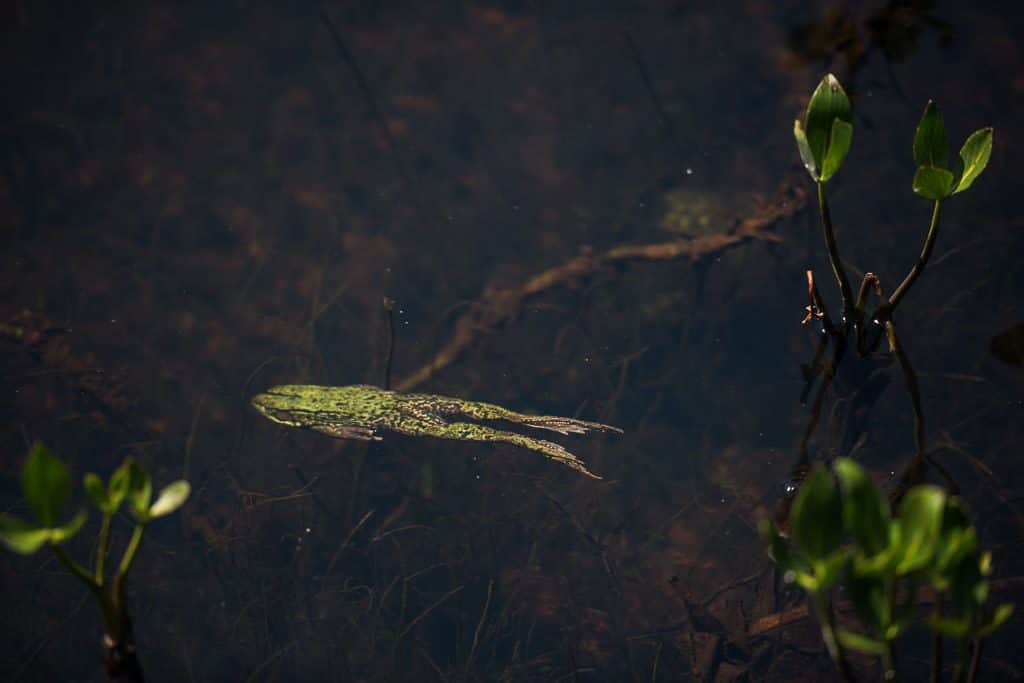 But, the plants in this area interested us the most. After reading the helpful signs, we learned that many of them were carnivorous. Our favorite – the Pitcher Plant has a flower that looks kind of like an Orchid from far away. However, it is actually part of the trap it sets for insects. Nature is savage, and we love it.
This is one of the wonderful easy strolls in the park for nature lovers to see wild animals and interesting plant life!
4. Skyline Trail at Sunset
Location: About mid-way through the park, atop French Mountain.
Distance: 7 km (4.3 miles) to the boardwalk trail and back, or 8.7 km (5.4 miles) round trip for the loop. This hike takes 2 – 3 hours, especially stops for photos.
Difficulty: Easy, mainly flat trail. The only incline is going back up the stairs on the boardwalk portion of the trail.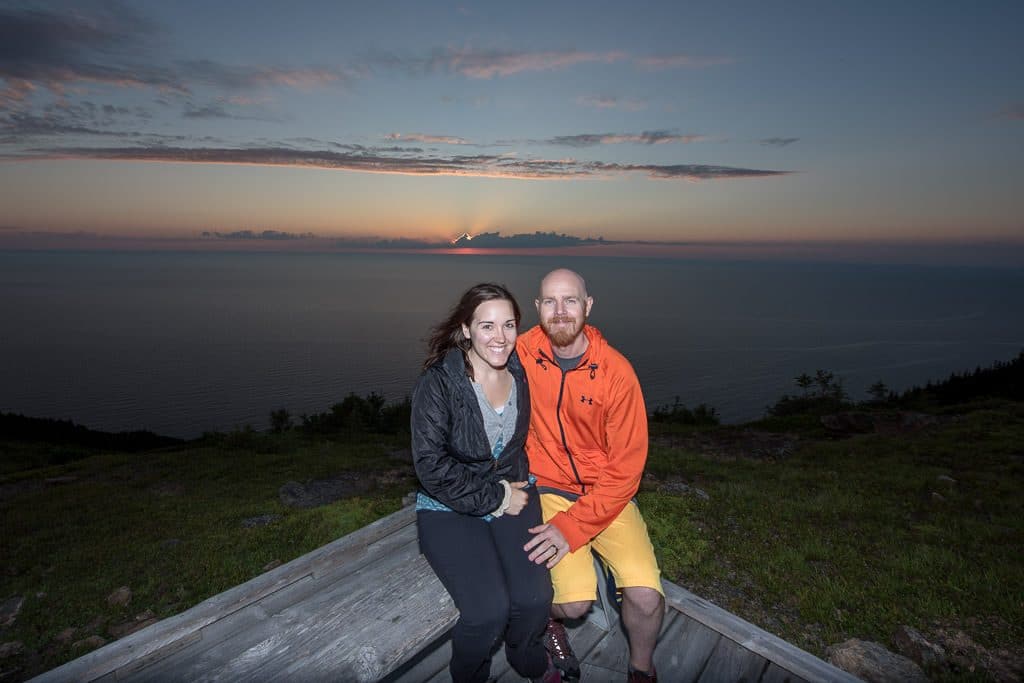 Hike Overview: One of the most well-known – and busy – trails of Cape Breton is the Skyline Trail. But, for good reason. This iconic boardwalk path lives up to the trail name offering sweeping views of the Atlantic Ocean and Cabot Trail. It is often highlighted on the marketing materials for this area and is a bucket-list destination for many.
However, weaving through tourists while trying to enjoy the views didn't sound like fun to us. So, we opted for a sunset Skyline Trail hike. The colorful sky added to the picturesque views and there were way less people as you are possibly walking back in the dark.
Although there is a shorter option that goes directly to the view-point, we decided to take the loop. And we barely saw anyone on this portion of the hike. We didn't see any, but moose and bears do live in the area, so keep an eye out.
After wandering through a beautiful forested area of the Skyline Trail Loop and past a few overlooks, we finally got to the long, ocean-side boardwalk trail. The Skyline Trail is definitely one of the most uniquely, beautiful trails you will ever see.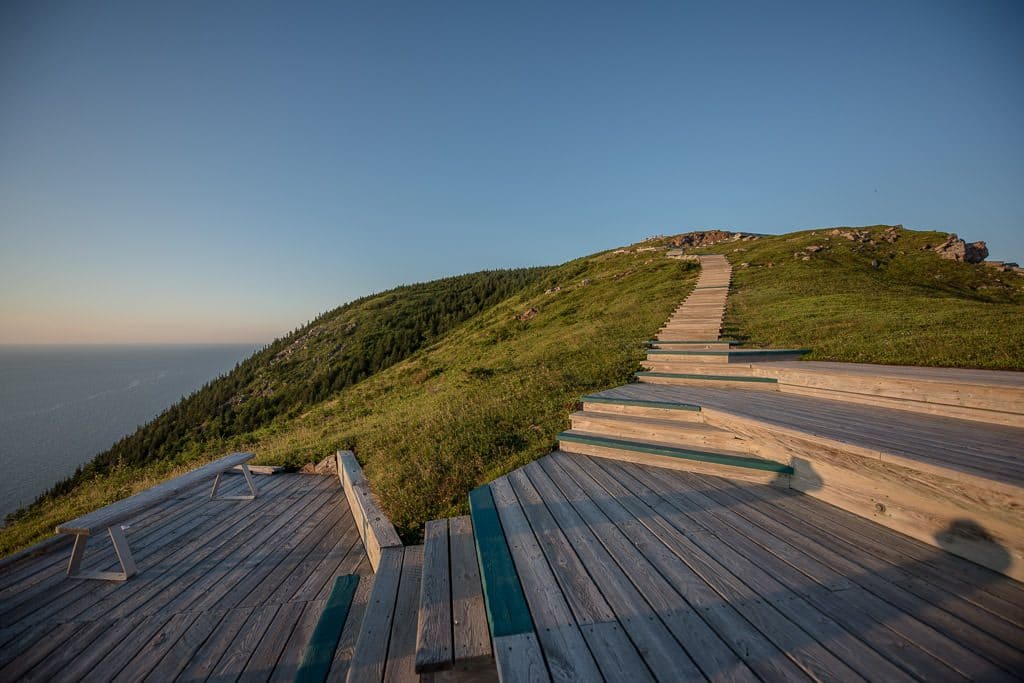 The wooden trail meanders along a small peninsula. To the right the powerful waves of the Atlantic Ocean crash against the rocky coastline. While to the left, the Cabot Trail winds through lush mountain scenery.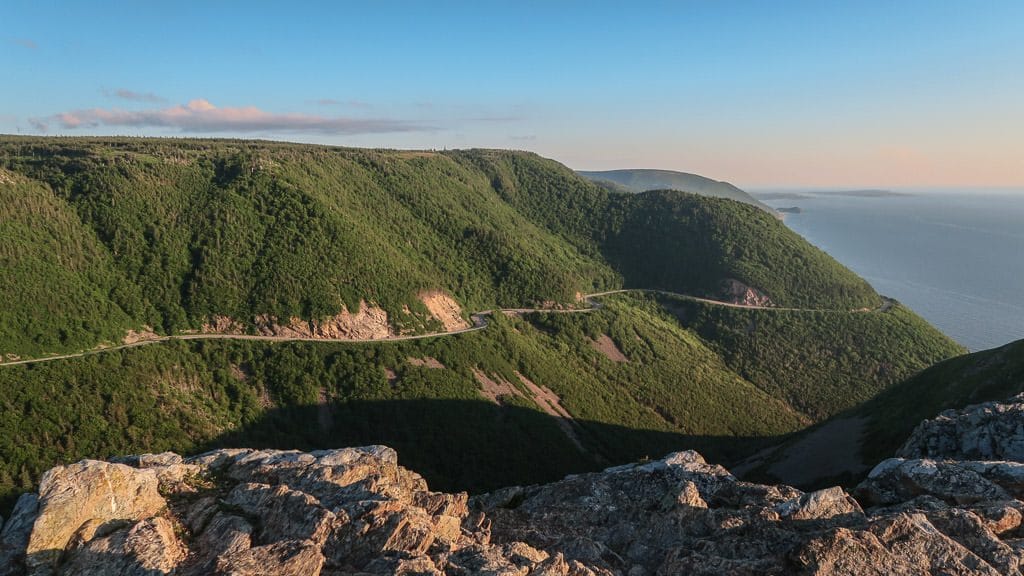 We stayed here for hours until the sun had completely dipped behind the horizon and we had soaked up all the magic this special spot had to offer. There were only a few people who stayed until this point. We all quietly walked back to our cars by the light of a full moon in front of us and lingering pink light at our backs.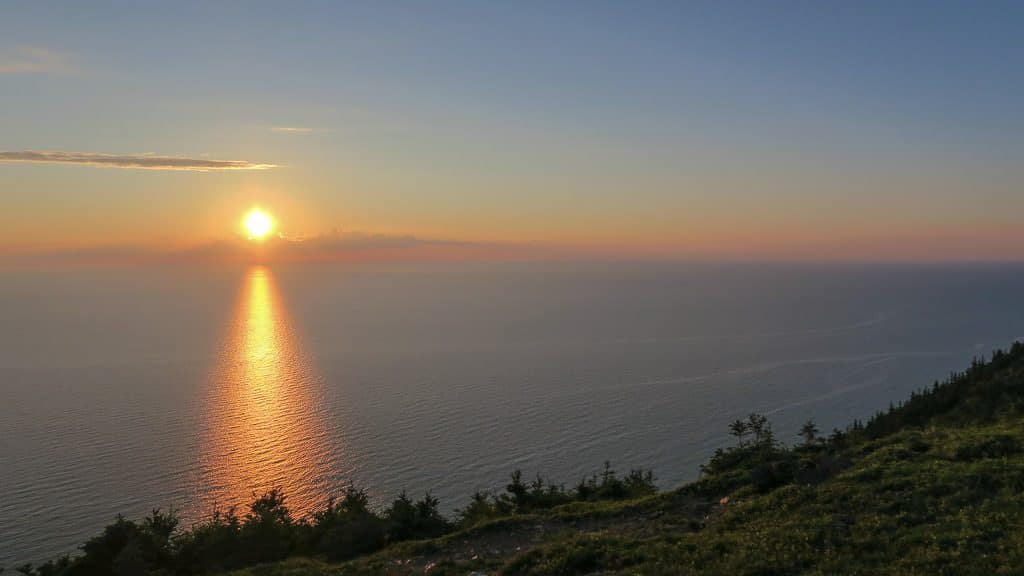 Of all the hikes in Cape Breton, if you only go on one, it should be the Skyline Trail. Yes, it can be busy, but it is an amazing place. If you are nervous about walking back alone at sunset, the park even offers a guided option. But, a good flashlight is all you really need.
5. Le Chemin du Buttereau & Le Buttereau
Location: Near the Cheticamp Campground (western park entrance)
Distance: 5.6 km round trip (3.5 miles)
Difficulty: Moderate elevation gain due to a gradual incline to the viewpoint areas.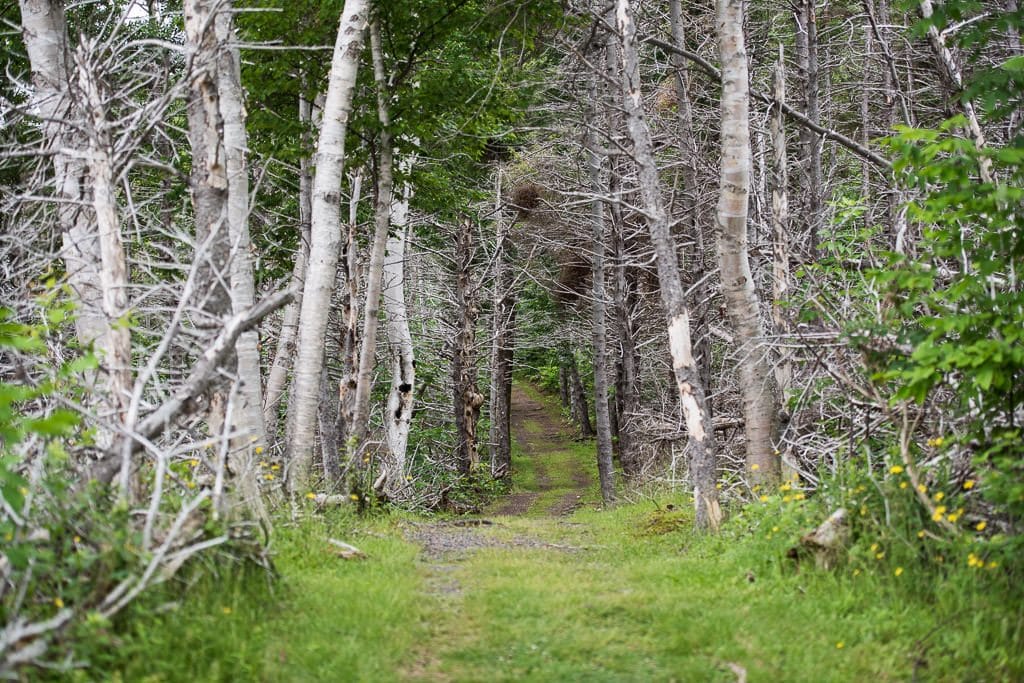 Hike Overview: This is one of the longer hikes in Cape Breton, but still only takes a few hours to complete. Since the Cheticamp Campground was our base for our time in Cape Breton Highlands National Park, we were excited to explore this nearby trail. And we loved that we could just walk to this trailhead without having to unhook the RV!
Slightly more difficult than the rest of the trails we've listed, Le Chemin du Buttereau is mainly forested, but offers some interesting insight into the history of this area. Checking out the historic sites is definitely a perk!
The trail was once a cart path for Acadian pioneers. There are even pieces of foundation along the way. At each point, there is an overview about what the structure was and its historical significance.
After a gradual ascent up the mountain at the start of the trail and a brief history lesson, you will be at the Le Buttereau Loop. This section of the trail offers beautiful views with sitting areas perfect for a picnic. After exploring, just go back down the Le Chemin du Buttereau Trail. (There is a separate parking lot if you only want to do the 1.6-km Le Buttereau Trail).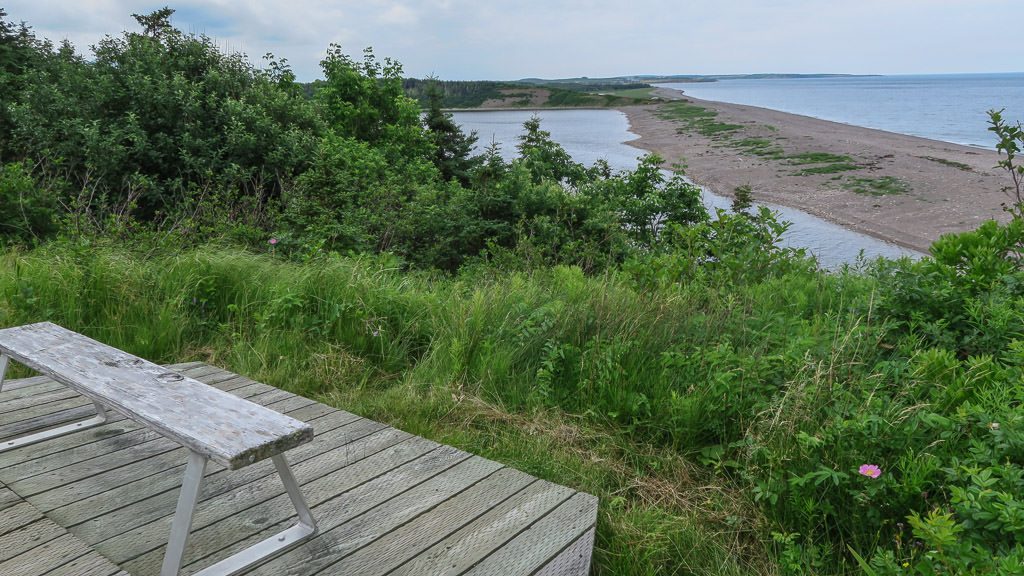 This mainly shaded hike is perfect for an escape from the heat. But, make sure to bring your bug spray because mosquitoes and flies love these wooded areas.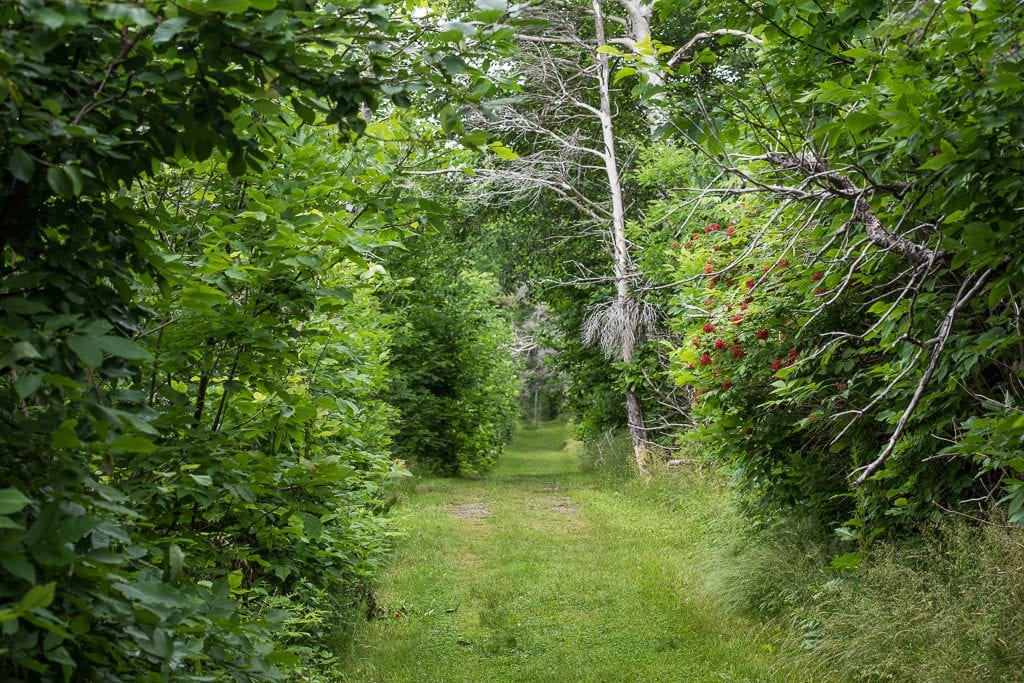 Another great hike or spot for mountain bikes near the Cheticamp Campground is Salmon Ponds. At 7.8 km, it is a bit longer than others we've listed. But, if you are staying at Cheticamp it is another option accessible from the campground. And it is a pretty, tranquil trail with lots of chances to see nature. Just exploring part of it makes for a nice stroll or bike ride.
BONUS: Inverness Beach Loop
Location: Inverness Beach (just after leaving the park's boundaries on the west side).
Distance: 3 km (1.9 miles) round trip
Difficulty: Very easy – flat, beach trail.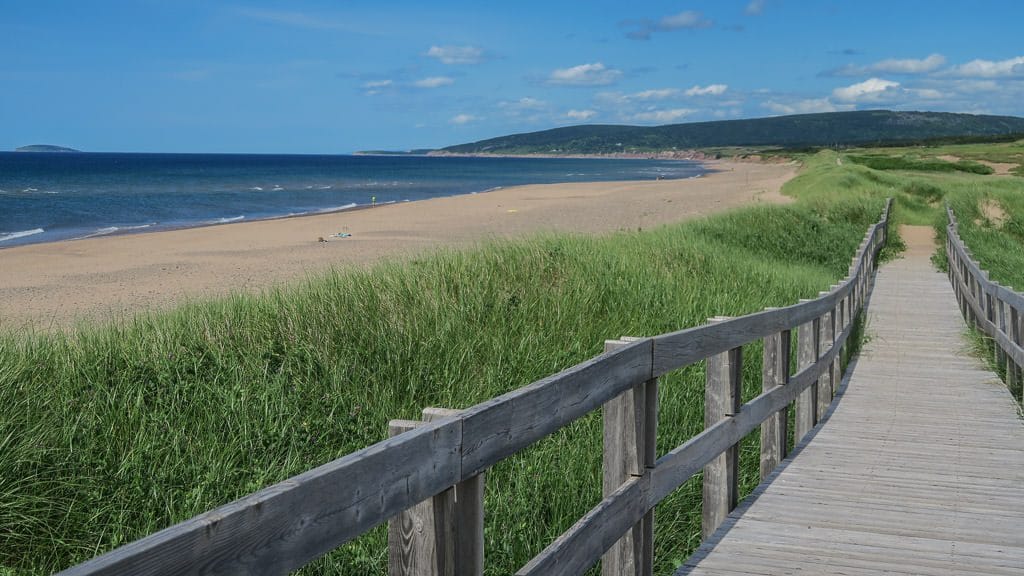 Hike Overview: This is a relaxing beach stroll along Inverness Beach with amazing views. We suggest taking the boardwalk trail until it ends, then going down to the beach to loop back up.
The boardwalk trail borders a gorgeous golf course – Cabot Links. And on a clear day you can even see Prince Edward Island. For beach lovers, this is a can't miss stop!
---
Tips for a Great Time on Cape Breton Hiking Trails
1. Check the park website to be aware of any construction or other notices. The roads are very winding and have some steep areas, so it may not be ideal for people towing a trailer or larger rigs.
Go early or later in the day to avoid the big crowds and have better luck with parking. Although, the Skyline Trail did have an RV parking area, finding a spot may be an issue at the other trailheads. And some may not have many spots even for a normal-sized car on weekends. A lot of the lookout points may be a bit cramped as well, so plan ahead.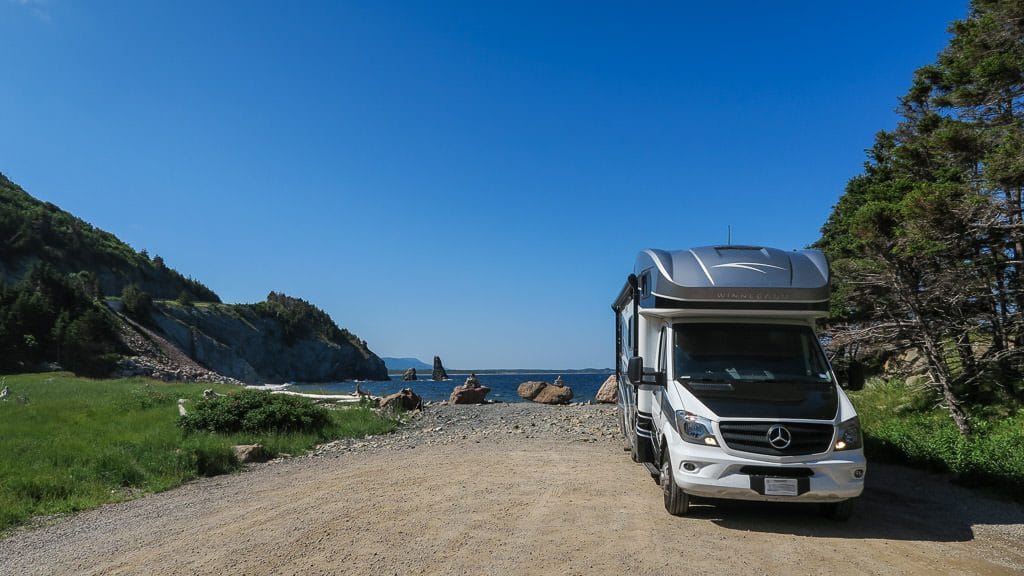 2. Give yourself plenty of time. We loved staying at the Cheticamp Campground because it allowed us to explore the nearby areas without having to drive too far away. In retrospect, we would have stayed two nights there and another two nights on the eastern side for plenty of time to explore. Although these are all beginner hikes, it's best to take your time to avoid injury.
3. Participate in Parks Canada events and tours. The park has some awesome activities for visitors – either for free or at a low cost. We loved the free Kitchen Party we mentioned at the beginning of this post. You can also learn how to have a lobster boil or go on a night-time lantern walk! Just check in at the visitor center to see what is going on throughout the week.
4. Bring bug spray. There can be black flies and mosquitos, especially in summer. Having bug spray or wearing long sleeves and pants can be a huge help. We also liked to have hats with nets to keep them from flying around our faces.
5. Keep exploring other trails, if you have time! Franey Mountain Trailhead and Middle Head Trail are some other popular options we didn't have time to get to.
6. Don't forget to eat! This is the #1 rule in our rolling home. Luckily, we have plenty of food in the RV with us. But, that didn't stop us from trying some local cuisine.
The Rusty Anchor in Pleasant Bay made for a great lunch break with amazing views.
And, shortly after leaving the park, the Celtic Music Interpretive Centre offers a great lunch with live music. This mid-day celebration is called a Ceilidh, and it gives you a great look into the local culture. In their small interpretive center, you can even try to play the fiddle and learn to step dance like the locals!
Cape Breton Hiking Trails FAQ
How many hiking trails are in Cape Breton?
There are a whopping 26 hiking trails in Cape Breton National Park. They range from the easy strolls we've outlined here to more difficult hikes – and even multi-day adventures.
What is the longest hiking trail in Cape Breton?
At 185 miles, the Cabot Trail is the longest hiking trail in the Cape Breton area.
What is the best time to hike the Skyline Trail Cape Breton?
Sunset is definitely the most epic time to hike the Skyline Trail. Watching the sun set into the ocean is so magical here!
How many days do you need in Cape Breton?
We'd recommend at least three days in the Cape Breton area, a week or more if you plan to do a lot of hiking and exploring to really soak it all in!
We would like to thank Parks Canada for providing us with support for this trip. As always, all opinions are our own.
---
For more stories and tips, check out our other Nova Scotia blog posts. And for a list of where we stayed overnight during our trip, take a look at our RV Camping Reviews page.