The tides in the Bay of Fundy are famous for being the highest in the world – more than 50 feet in some locations. There are multiple places to witness this gradual, but intense shift while touring Atlantic Canada. However, walking on the ocean floor at Hopewell Rocks, and then returning to see that same area covered in so much water, is certainly one of the best places to visit in New Brunswick Canada. It's a memory we'll never forget!
Getting to Hopewell Rocks in New Brunswick
As we made our way up the coast of New Brunswick from Maine, we knew a trip to see this natural phenomenon was a must. So, we planned a visit to Fundy National Park.
However, when we got there, it was busy and we were having a hard time finding a place to park the RV close to water access. Parking in Fundy National Park was extremely limited from what we saw.
We ended up finding a spot at the trailhead to Dickson Falls and enjoyed a nice hike instead – definitely try this short trail if you visit. But, we still wanted to experience the immensity of the tides at the Bay of Fundy. And luckily, our research led us to Hopewell Rocks.
About an hour north of Fundy National Park, this gorgeous spot is a can't-miss destination, especially for our fellow RVers. With a dedicated RV parking lot and access to a beautiful beach with unique rock formations, it made for a stress-free adventure. Totally worth paying $10 each for tickets – especially because they are good for two days, to make sure you have a chance to see low and high tide.
Why Hopewell Rocks is One of the BEST Places to Visit in New Brunswick Canada
An average tidal range is about 3 feet. But, at Hopewell Rocks, sea levels rise between 32 and 46 feet. And tides rise at a rate of 4 to 6 feet per hour! Since the moon's gravitational pull is what creates the tides, they are at their highest during a new or full moon.
At Hopewell Rocks, the iconic red rock formations offer a great visual indicator as to how high the water has risen. Beautiful and useful! These strangely shaped rocks – formed over millions of years by erosion and tectonic shifts – have also inspired some fun nicknames. For example, Elephant Rock, Mother-in-Law Rock and E.T.
Hopewell Rocks Beach Combing
After taking a quick look at the map and laughing at the names, we set off to see the wonder! There is a shuttle option, but we opted for the 15-minute walk on the wooded trail instead. Along the way, there are some great overlooks to stop at – teasers for the main attraction.
The only negative about this place is that it is quite popular. So, when we went down the stairs to the beach, we quickly veered left away from the crowds. We walked slowly as we admired the flower-pot rock formations, red cliffs and small details that make places like this all the more special.
There were snails making tiny tracks through the sand. Barnacles and thick seaweed grew along the base of the rocks, which are underwater at high tide. And lots of seagulls squawked and flew around above us.
The ocean views were also pretty hard to beat. We found a boardwalk that led to a great overview. And, since we were at the less-popular area, we had it all to ourselves. Enjoying a peaceful moment in such a gorgeous place is always something I cherish. But my favorite memory of this place is walking on the muddy ocean floor!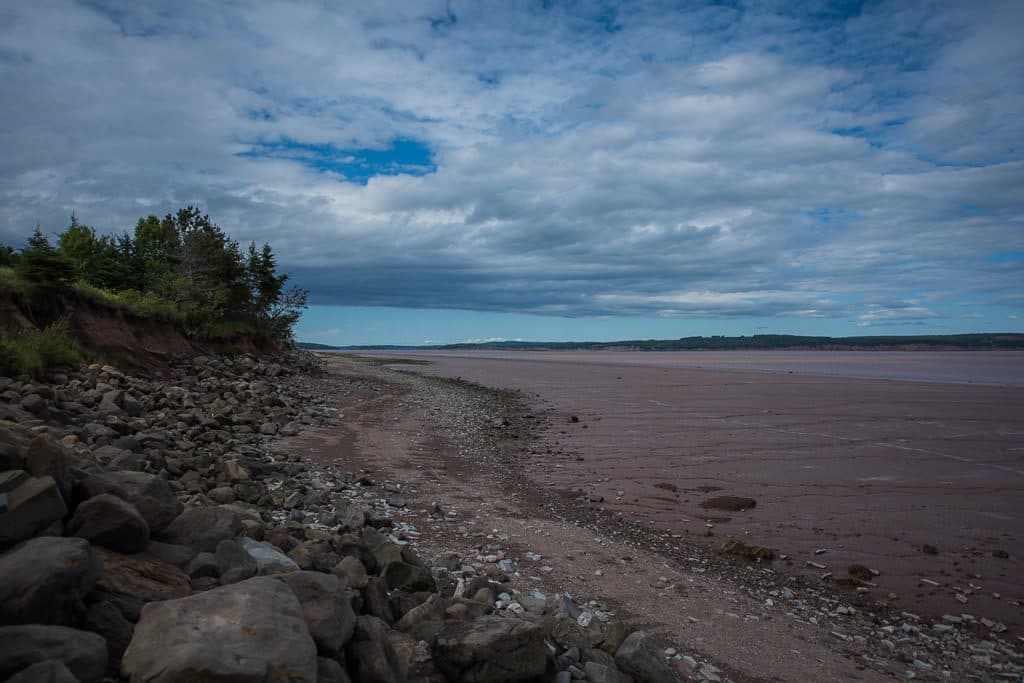 Toes in the Mud in the Bay of Fundy
When we visited Iceland a few years ago, we both regretted not taking the plunge into the Arctic waters when we had the chance. So, this time, when we saw all the kids laughing as they trudged through the muck down by the water, there was no way our toes weren't experiencing that slimy goodness.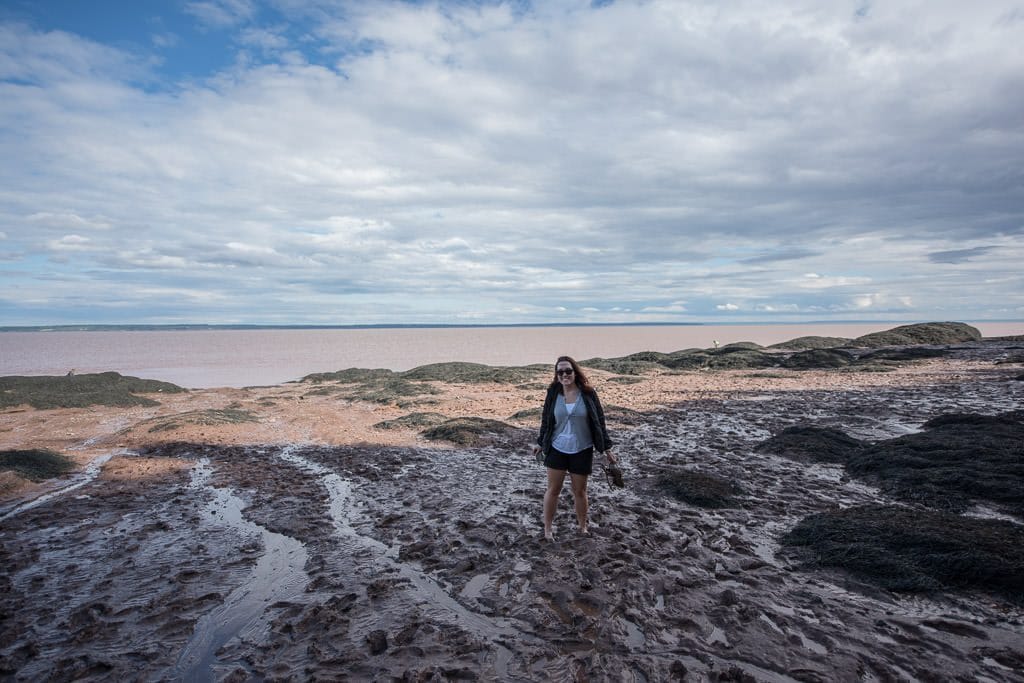 So, we took off our shoes and carefully squished and slipped our way through the pudding-like mud at Hopewell Rocks until we were back to the sandy part of the beach. Apparently, the floor of the ocean is made of gelatinous sludge in this area of the world. But, oh how fun it is to get your toes in it! We laughed the entire time.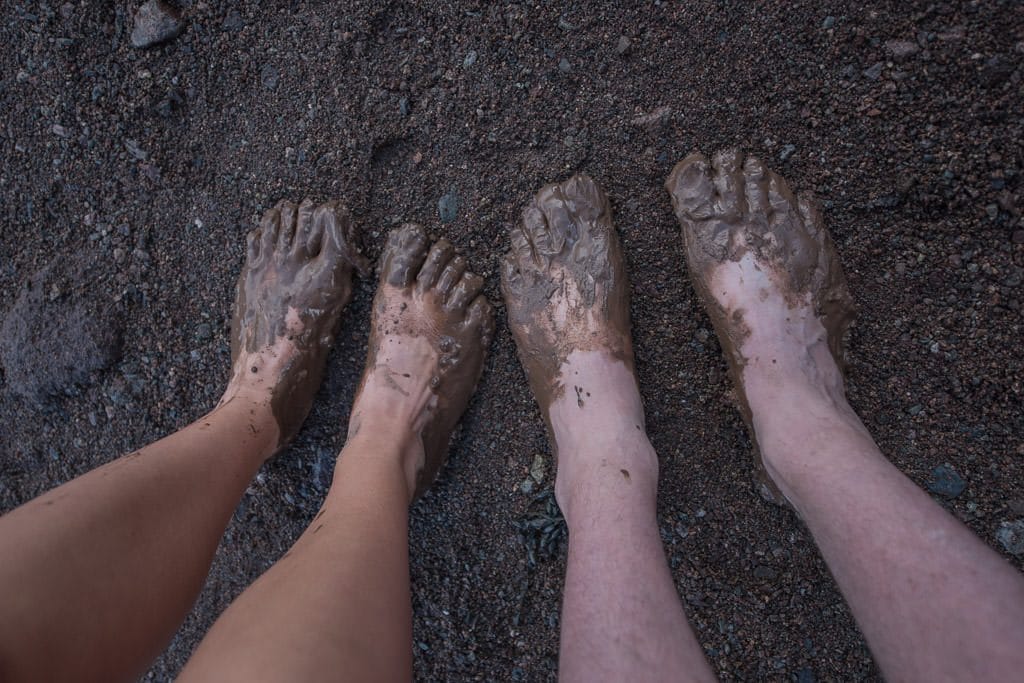 Finding the Falcons
As we were walking back to the stairs to leave, we overheard a ranger telling another couple there were Peregrine Falcons nesting around the corner. Wait, there's more to this place? We were so excited to start exploring that we never took a second look at our map and almost missed half of it!
So, we covered our sticky feet in little rocks, to keep from slipping in our flip-flops, and hustled over to the other part of the beach. There was about half-a-mile more to explore, so we were thankful we didn't miss out on this other gorgeous area.
As we walked, the water inched its way toward us. And we knew the rangers would soon be ushering us back to the stairs as we got closer to high tide. We had to spot the falcons quickly!
These majestic birds had teased us with their calls, but we couldn't seem to find them. Then, just as we were considering giving up, one of them took flight and gave away their location. We were psyched to see some feathered heads poking out. And we watched them eat and walk around their rocky home until the tide was at our feet.
Rising Tides at Hopewell Rocks
By the time we got back to the stairs, many of the areas we had walked on just an hour before were now covered by a few feet of water. It was amazing to see the Bay of Fundy tides in action – transforming this gorgeous beach before our eyes. We couldn't wait to return the next morning to witness this wonder at high tide!
Walking on the ocean floor was the perfect introduction to the unique beauty of the Maritimes. And our host for the night was a prime example of the kindness and hospitality the people of this region are known for.
Camping at the Shire Campground: Unique New Brunswick RV Campground
Don, the owner of Shire Campground, was happy to let us stay at his quirky and peaceful property. This free option for car or tent campers and small rigs has been in his family for generations and he is proud to continue to share this beautiful area with locals and travelers.
The campground is small, but offers a quirky view, hand-made fire pit social ring, and guest books filled with hundreds of memories from previous visitors.
Our night was spent chatting around the fire with some interesting fellow adventure-seekers. One traveling by motorcycle across Canada, another on his way to bike the Cabot Trail, and a couple on a three-month road trip to check some epic climbing spots off their bucket list.
It wasn't hard to stay up until midnight swapping stories with this awesome group at the Shire campground. There was a silent understanding that this was the type of place we all craved on our journey. These were the people we hoped we would meet. And we loved having that time together – despite the dozens of mosquito bites we endured once the sun went down.
Back for High Tide at Hopewell Rocks
After saying goodbye to our cherished, short-term neighbors, we set off to be amazed by the high tides at Hopewell Rocks. Our ticket was good for two days, and we definitely weren't missing out on seeing this special place at high tide.
When we got there, a tour bus was pulling up, so we booked it down to the stairs to snap some photos of the rocks while the tides were at the peak for the day.
It was crazy to see how different this area looked with the water covering the base of the rocks we had walked around the prior day. Apparently, the water can reach the tops of the rocks during certain times of the year – making the rocks look like little islands. And there are even kayak tours during high tide to get an even better perspective.
But, since we didn't have time for a tour, we wandered down to the now mini-beach and watched the water begin to recede. And we left just in time to beat the crowd of tourists from the bus.
Bonus Beach Hike at Demoiselle Beach
Before leaving for Nova Scotia, we wanted to take advantage of the other hiking areas at Hopewell Rocks. After hitting up a few of the overlooks, we took a quiet walk down one of the lesser-used trails to Demoiselle Beach.
We had Demoiselle Beach all to ourselves as we strolled along the water until we reached the end of the property. Hand-in-hand, we breathed in the peace this place offered and talked about how thankful we were for two days of perfect weather to explore this bucket-list destination.
What else will Atlantic Canada have in store? We can't wait to find out.
---
Know Before You Go to Hopewell Rocks in New Brunswick Canada
Hours: In the summer, Hopewell Rocks is open from 8a.m. to 8p.m. Tides are different every day. So, you may be able to see both in one day if you plan it right!
Cost: $10 per adult. The ticket is good for two days – just keep your receipt.
Distance: About 2-3 miles total, if you walk from one end to the other and back. It is also about a half-mile walk to the beach from the entrance.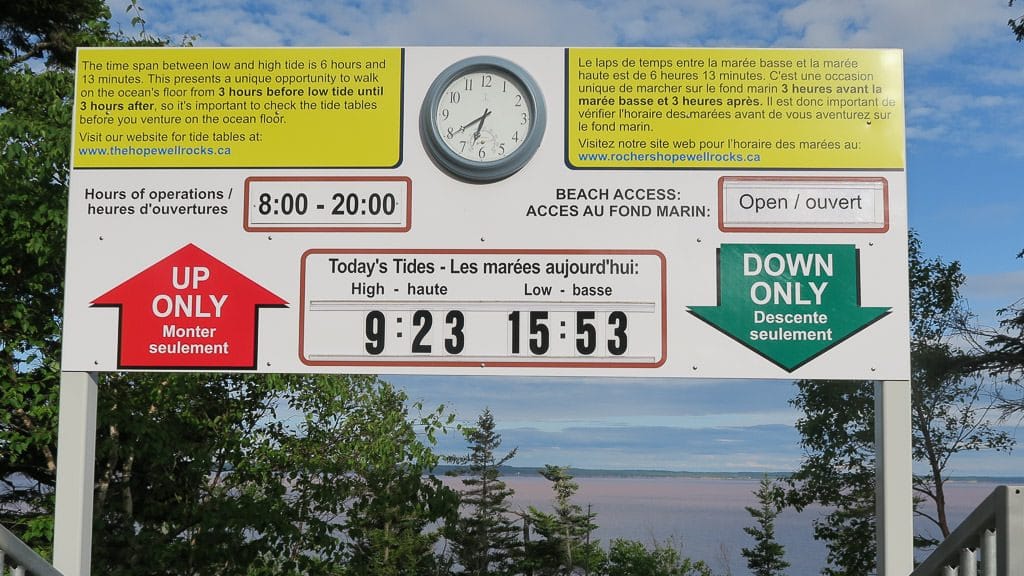 Check the tide tables. The Hopewell Rocks website has an easy-to-use tide chart to help plan your trip. The ocean floor is accessible from three hours before to three hours after low tide. We suggest making sure you visit for low and high tide.
Wear shoes you don't mind getting really dirty. Even if you don't intend to, you may end up stepping in mud. Luckily, there is a great little foot washing station when you leave. But, if you are like us and don't have many shoes with you, it may not be a good idea to soak your only hiking shoes.
If you enjoyed this story, make sure to share it with your friends! And for more adventure inspiration don't forget to subscribe to our email updates and follow us on Instagram (@trailingaway).