There is something indescribably special about Newfoundland. This area of Atlantic Canada feels very remote and rugged, but also a bit like you are coming home (probably because everyone is so dang nice). And the locals know better than anyone what makes this island such a uniquely wonderful place.
So, for a truly authentic experience, we spent a day travelling like the locals with a couple of the best Newfies we've met. Our uniquely Newfoundland ATV tour with Paul and Ruth from Pirate's Haven ATV-Friendly RV Park, Chalets & Adventures was the perfect introduction to the scenery, food, culture and people we have come to adore since we drove off the ferry from the main land.
Getting to Pirate's Haven in Robinsons Newfoundland
After a long ferry ride from Nova Scotia, we were excited to get to Pirate's Haven in Robinsons for some much-needed sleep. Since we were arriving after hours, I had a nice email from the owner Ruth, letting us know which spot we could park in for our stay. And she ended it by saying, "I'll make breakfast for yas in the morning."
I loved her already. It had been months since we had something more than a protein shake or bar to start our day. We couldn't wait.
The sky was slowly darkening as we drove through Newfoundland towards Pirate's Haven. And we had our eyes peeled for the moose we had been warned about.
When we arrived, the sun had almost set and the sky was a beautiful mix of purples and pinks. As tired as we were, the cool mountain air empowered us to run down to the river nearby to get a better view of the sky. We were in love with Newfoundland already.
We slept too well that night. Around 10a.m. we walked over to the on-site restaurant to meet Ruth and enjoy the fresh breakfast we were promised. We devoured everything – the farm fresh eggs were especially delicious. And we loved talking to Ruth and the other customers that came in for coffee or food. We even got some great hiking tips from a local. Next up, ATVing!
A True Pirate's Life
Neither of us had ever been on an ATV tour before and we had no idea what to expect. Part of me thought it would be a leisurely, slow-paced drive through some fields with a bit of commentary. But then Paul, the co-owner and Ruth's husband, walked in and I realized there was no way this enthusiastic guy would be driving slowly.
He fully embraced the pirate theme with a bandana and shirt to match. And, as he told us the historical significance of the campground's name, he talked just as much with his hands as he did with his mouth. Apparently, there was a duel between two pirates on the beach nearby. Then he told us to follow him as he ran over to a depiction of the duel by a local artist that was hanging on the wall near the bar.
In his uniquely Newfie accent (which sounds a bit Irish to me), but now makes me think only of pirates, he told us all about the history of the area. There was talk of the infamous Maria Lindsay – a fierce lady pirate, as well as Peter Easton – another local favorite. But, I won't do these stories justice, you'll have to talk to Paul!
He is one of those people that just gets you amped up about life. Our hearts were already racing with excitement and he hadn't even started the engine of the ATV. We knew this was going to be one of those days we talk about for years to come.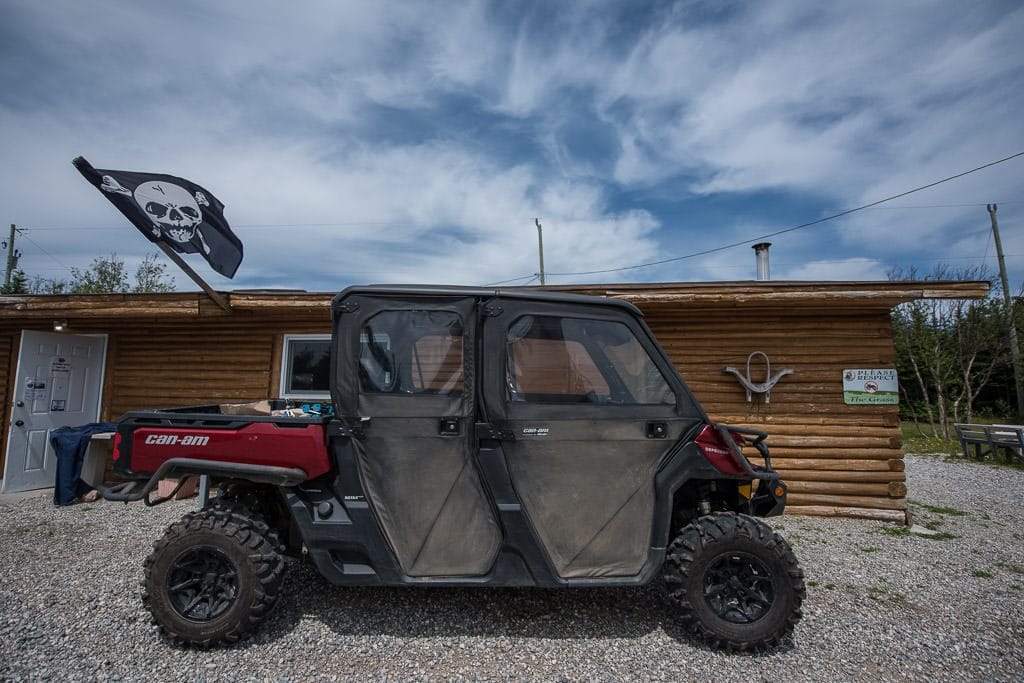 Our Amazing Scenic Newfoundland ATV Tour
Once lunches were packed, we hopped on the ATV for a day of adventure. I loved how sturdy and safe the vehicle felt – it seemed more like a mini-Jeep. And it was great not having to duck and dodge branches as we drove. It was also fantastic to get to leave our RV plugged in at their campground. Not having to worry about checking on the cat makes adventuring way more enjoyable!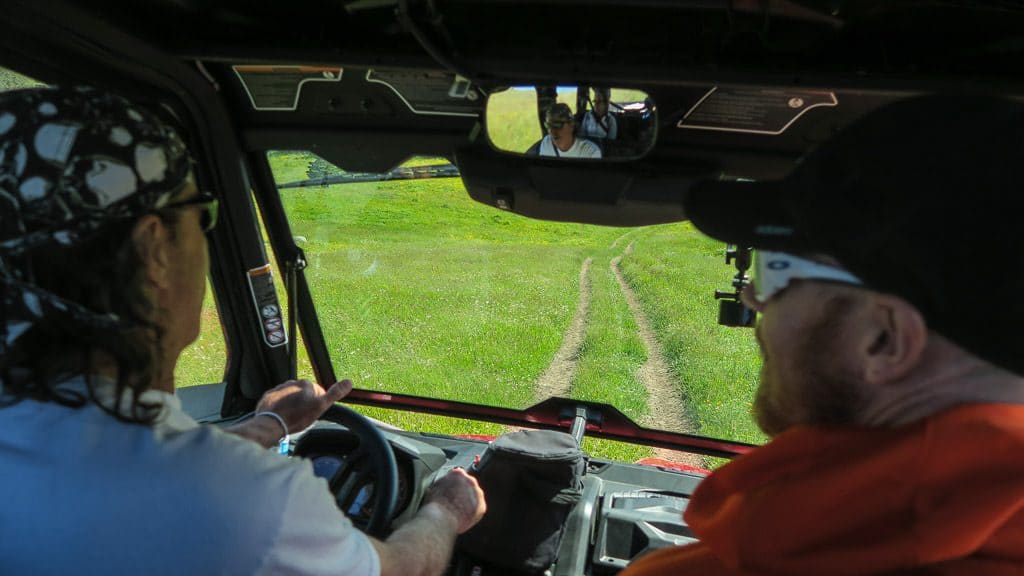 As we sped down bumpy, dirt roads, Paul and Ruth told us all about the area. For most of the ride we were on their property. They created it all – the campground, the trails, the restaurant. It took them years to clear out all the trees and build everything, but the "haven" they have now is wonderful.
"I told you I'd put you in the Atlantic!"
Once we emerged from the tree-lined path on their property, we went out to an overlook to admire the crashing waves of the Atlantic Ocean. Paul pointed to a thin rock jetty down below and told us that's where we were going – so we could see the ocean up close.
After driving down the mountain and through a small fishing village where Paul & Ruth used to live, we were on the jetty. As we drove, I admired the boats next to us and wondered where this rocky make-shift road led. Answer: In the ocean!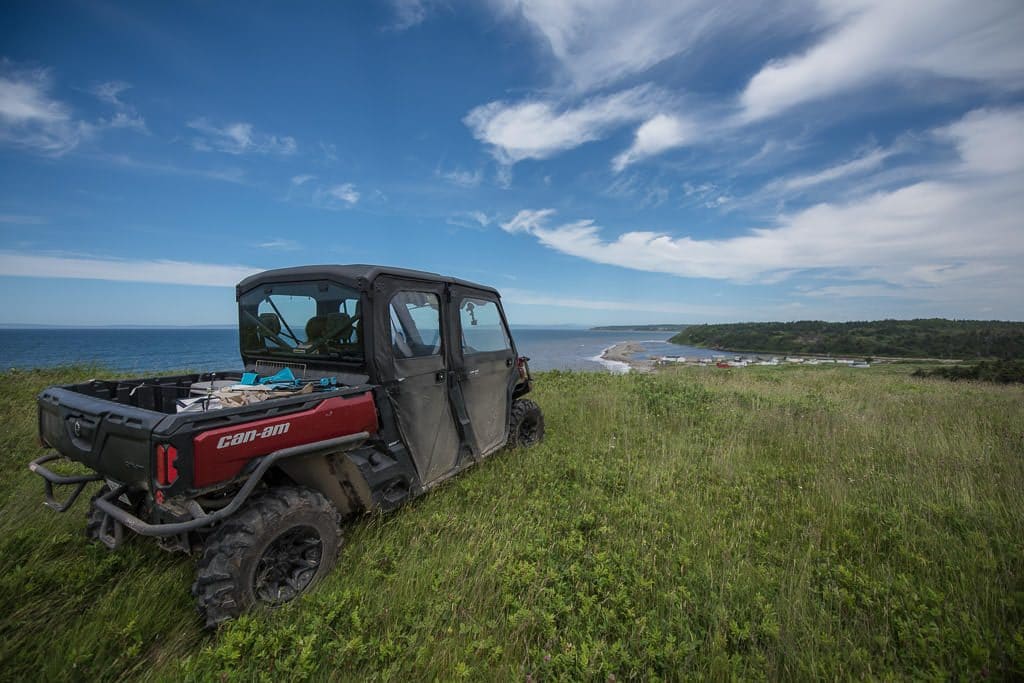 When we reached the end, Paul took us into the crashing waves to turn around. While we all laughed nervously, he let out a confident chuckle. He trusted his vehicle and knew we wouldn't be swept away. And he turned us around like a skilled ship captain while the water splashed against the ATV. (Check out the video later in this post to see what this looked like inside!)
Ocean-Side Lunch
Next up on our Newfoundland ATV Tour was a break for lunch. We stopped under a bridge on the way there to admire the river, then we went through a bit of forest and up a stream in search of the perfect stopping point.
A few splashes and rocky maneuvers later, we ended up at the beach. The weather was perfect – not too windy and not too hot.
So, Paul and Ruth began making a fire to cook our lunch, while we took a million photos of the stunning scenery. It was unreal!
On the menu for lunch was delicious moose burgers! And Ruth made me a tasty tuna sandwich, since I don't eat meat. However, Buddy raved about how fresh and lean they were. And for desert? Molasses biscuits. I could have eaten 100 of them. They are so light, but still somehow decadent. Why have I never heard of these amazing treats before?
We loved sitting around the fire, chatting and sharing a meal with our lovely guides. This great couple has known each other since elementary school! They are best friends and partners in every sense of the word. And, man do they have some awesome stories! We loved getting to hang out with them just as much as we enjoyed eating the yummy food they made.
The Grand Finale of ATVing in Newfoundland
Once our food had a little time to settle, we headed back toward their property for what Paul kept assuring us would be the best view yet. On the way, he even let Buddy drive his baby for a little while. And I'm never going to stop hearing about how great it drove! I have a feeling there will be much more ATVing in our future.
After a fun test drive, Paul took back the wheel to take us to our last stop. We drove back into their property and up to Robinson's Point where we stopped at the most stunning overlook I've ever seen.
The wildflower-filled field blew with the wind and the ocean crashed below us in the Gulf of St. Lawrence. I almost cried. "This is what we changed the course of our life for," I thought. "For moments like this."
We drove down through the beautiful fields next to the heart-shaped pond we had admired from above. I couldn't believe this was hidden in their backyard. What a special place we had found. And how wonderful that Paul & Ruth were so passionate about sharing their version of paradise with others.
There was one last beach overlook before heading back for dinner. And Paul even showed us the perfect spot to watch the sunset on the way.
Watch a shortened version of our Newfoundland ATV tour in the video below:
But That's Not All
When we got back to the campground, we floated back to our RV on a cloud of happiness. There was a day we both looked back on from our Iceland trip that was our favorite ever. But this day, this amazing experience, was giving that one some steep competition.
We were surprisingly exhausted from the adventurous day on our Newfoundland ATV Tour, even though we didn't have to do much but enjoy the views. It was hard to believe that Ruth somehow mustered up enough energy to make us all dinner. That woman is amazing – the best hostess we've ever met!
And dinner was wonderful. Of course, everything was made with fresh, local ingredients – salad, fish, veggies. Once our plates were cleaned, she told us to "Fill our boots" and go back for more. We can't remember the last time we ate so well.
Sunset ATV Ride in Newfoundland
After chatting for a bit with Paul, Ruth and the other lively dinner guests, we headed over to catch the sunset. Paul had one of his employees drop a two-seater ATV off for us so we could make it in time. If you don't love ATVing when you get to Pirate's Haven, they will definitely convert you.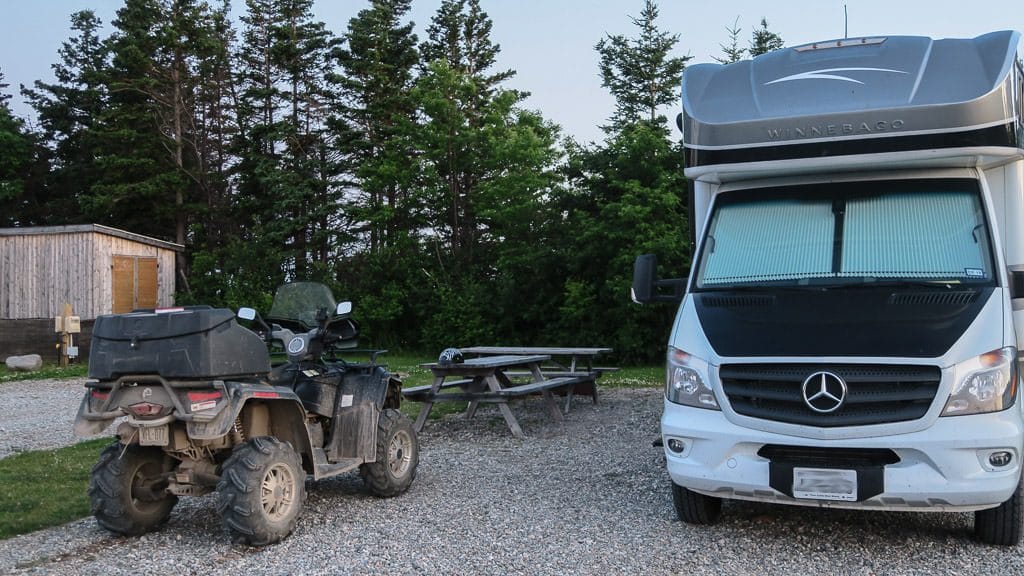 Buddy smiled like a kid in a candy store as we drove across the road to the overlook. I held on for dear life as we went up the dirt road to the top of the hill.
The overlook was even more beautiful with the colorful sky as a backdrop. We could see the ocean, surrounding mountains and fields. And this was just the beginning of our adventure through this amazing part of Canada.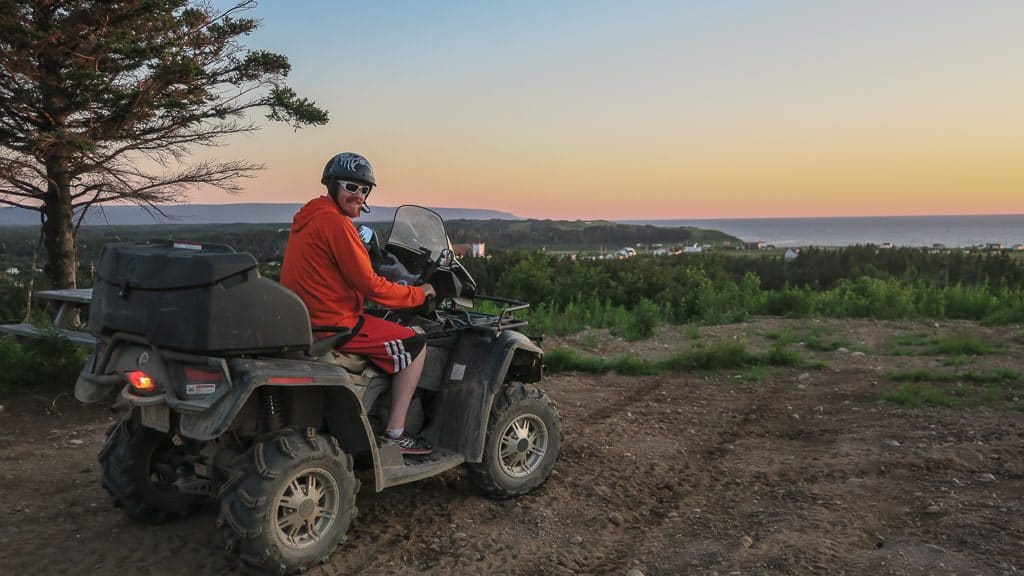 Before the light completely faded, we explored the nearby field on our borrowed adventure-mobile. I put my arms in the air and let the cool night breeze wash over me as Buddy navigated us through the well-used ATV trails.
If that's what it feels like to be a pirate, then count us in.
---
Know Before You Go to Pirate's Haven for Camping & Newfoundland ATVing
Location: Pirate's Haven ATV-Friendly RV Park, Chalets & Adventures – Route 404, Robinsons, Newfoundland
Lodging Options: Great full-service RV park in Newfoundland and camping options, as well as chalets.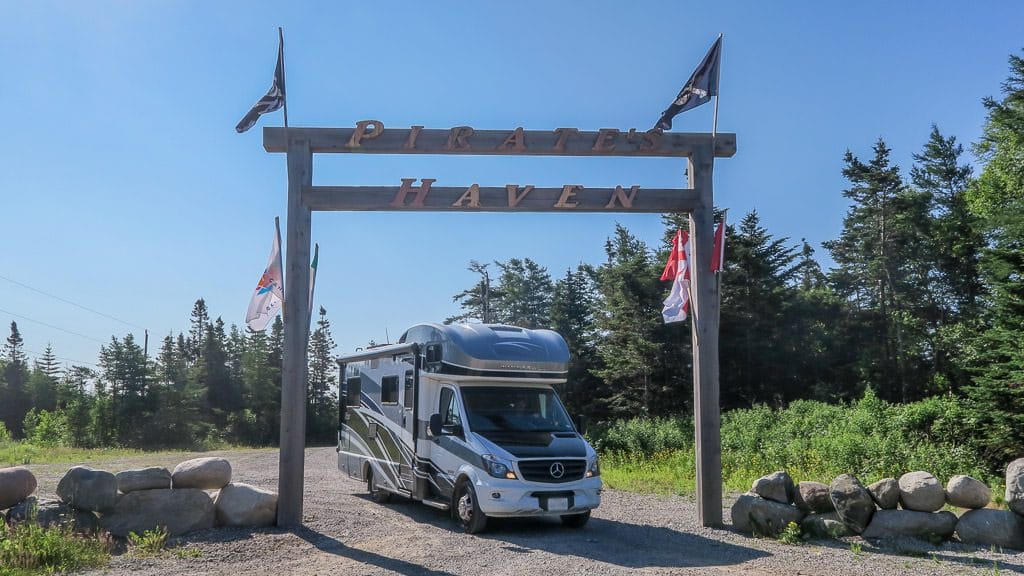 Adventures: Fishing, hiking and ATV tours, or options to go on your own with some great tips from the owners.
Other Offerings: Restaurant, ATV rentals, weddings and other events. Check their Facebook page for special events.
We would like to thank Pirate's Haven for hosting us and Go Western Newfoundland for providing us with support for this trip. However, all opinions are our own.
---
For more stories and tips, check out our other Newfoundland blog posts. And for a list of where we stayed overnight during our trip, take a look at our RV Camping Reviews page.