Families from around the world flock to the outdoor-focused activities in Prince Edward Island (PEI) in the summer months. It is a great place to lounge on the soft sand, eat fresh seafood and indulge in a relaxing vacation. During our visit, we definitely were not strangers to the beach. But the most memorable moments of our trip were the awesome outdoor adventures in PEI – from cycling and kayaking along the coast to getting a bird's eye view of the island via parasailing.
Here are our favorite things to do in Prince Edward Island for outdoor lovers:
1. Enjoy the Abundant PEI Cycling Paths
Looking at the cycling map of PEI can be overwhelming. There are so many options, you could spend weeks exploring PEI by cycling. And the Confederation Trail (Prince Edward Island's 435-km leg of the Trans Canada Trail) even goes all the way across the island.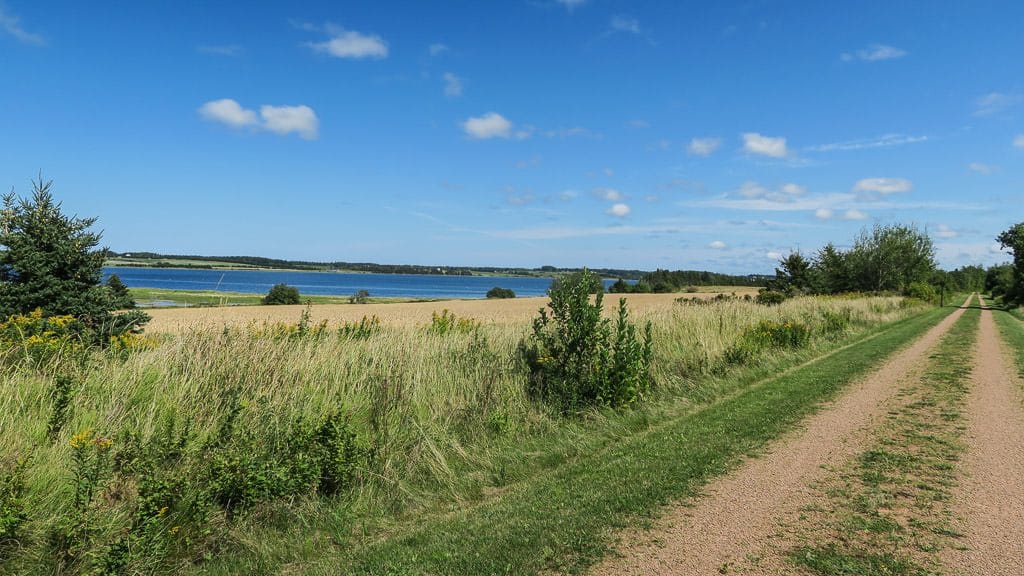 Cycling Confederation Trail: Saint Peters Bay to Morell
Many locals claimed the most scenic portion of the Confederation Trail was from Saint Peters Bay to Morell. And it did not disappoint! We even had plenty of room to park our 26-foot motorhome at the visitor center in Saint Peters Bay – always a win when we don't have to search for parking.
This portion of the Confederation Trail is about 11 km (6.8 miles). And, since it is almost completely flat, it made for a few relaxing hours of cycling in Prince Edward Island. (None of the grades exceed 2% on the Confederation Trail).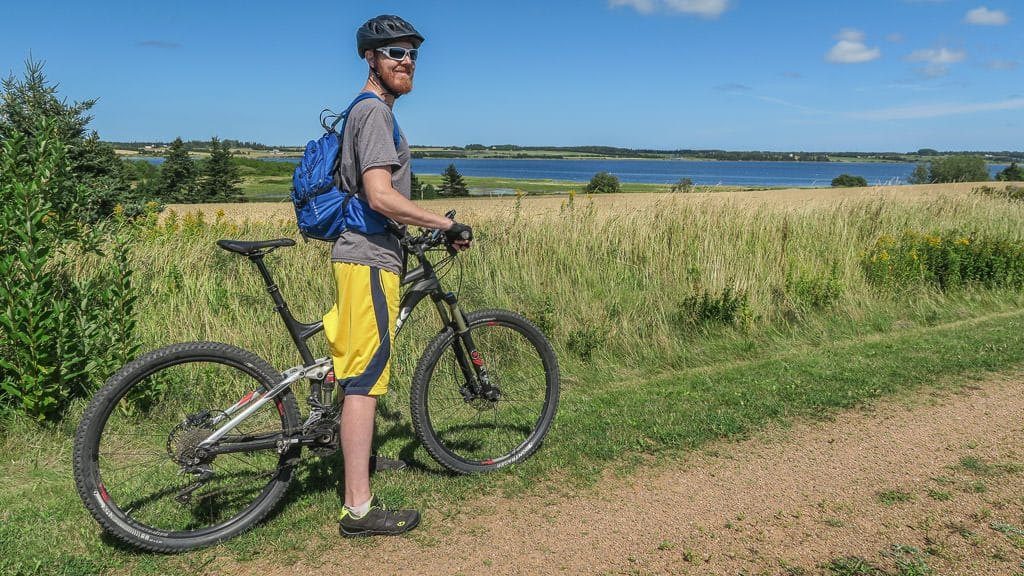 We peddled past farm land, along St. Peters Bay and over bridges until ending at a food truck famous for their PEI French fries piled up "Newfoundland style" with all sorts of toppings. But, we opted for an even better treat during our quick break – a chat with fellow travelers! We loved getting to know a cute family from New England and happily answered all their questions about RV life.
Cycling the Gulf Shore Way in PEI
There is a paved multi-use trail called Gulf Shore Way that goes through the majority of Prince Edward Island National Park. Although, this one wasn't quite as flat as the Confederation Trail, it still made for a fun break from exploring by car.
We hopped on the trail near Stanhope Cape Beach and cycled along the coast for a few miles before turning around. With the cool breeze on our faces and sun on our skin, it made for a perfect day cycling in PEI. And the awesome overlooks we stopped at on the way didn't hurt!
Cycling Robinson's Island Trail System
But the best cycling trail in PEI was definitely the R.I.T.S (Robinson's Island Trail System). This 5-km trail has some fun technical options for mountain bikers, but can be used by beginner bikers as well.
I had fun watching Buddy try his skills on the teeter-totter and balance beams while I stayed on the flat trail. The Robinson's Island area also led to some awesome "secret beaches," which were void of people and had stunning views.
However, the highlight of our trip was seeing a fox on the way back to the RV! Apparently, they are really common in that area. But we are always excited for wildlife sightings – especially when we happen to have the GoPro on!
Check out this video of our PEI cycling adventures (and keep an eye out for the fox!):
2. Enjoy Strolling Along the Prince Edward Island Beaches
There are multiple lovely beaches to enjoy while visiting PEI. One of our favorite Prince Edward Island Beaches for a stroll is Basin Head Provincial Park.
3. Go Kayaking in PEI at North Rustico
We have completely fallen in love with kayaking and try to get out on the water whenever possible. It provides a special perspective and seems to put us in an almost meditative state. We always end our trips feeling relaxed and in awe of the beauty around us.
Kayaking in North Rustico with Outside Expeditions was especially awe-inspiring. And opting to go on the "Beginner's Bay" 90-minute tour was really helpful, since we are still fairly new at sea kayaking and just winged it last time.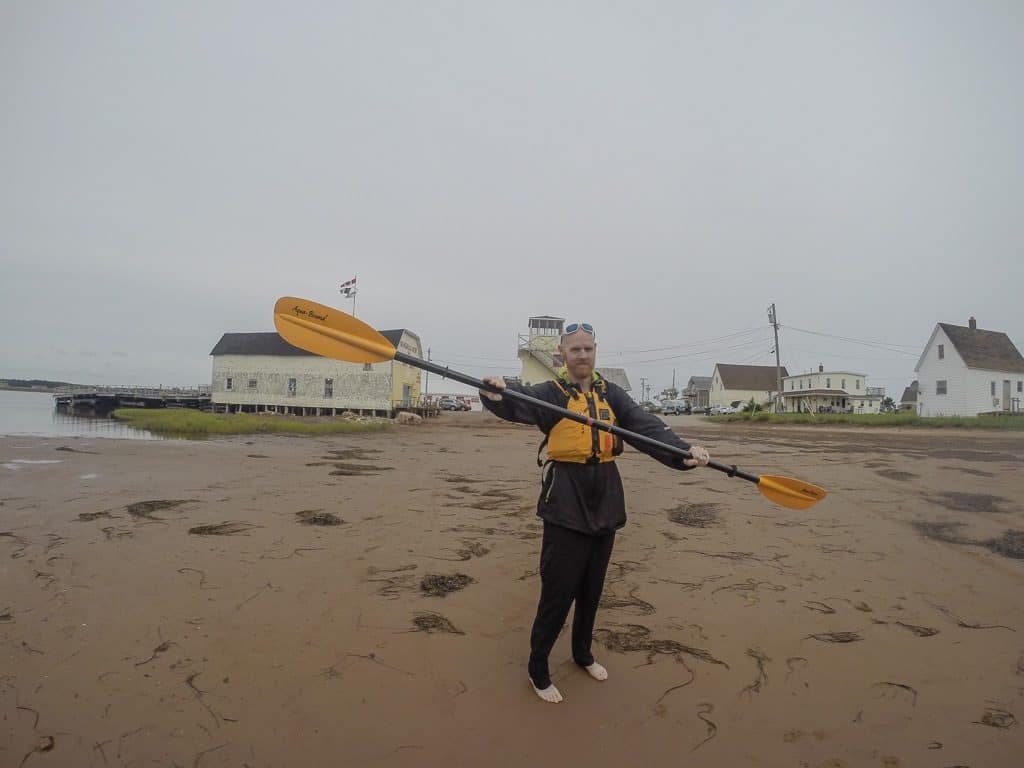 The owner and guide of Outside Expeditions in PEI, Tim, was patient and had a good sense of humor – even when a few people in our group just weren't following instructions (not us, I swear).
He took us on a great kayak tour of the area, through eel and oyster farms and next to the beautiful working fishing harbour. Plus, we were constantly surrounded by birds!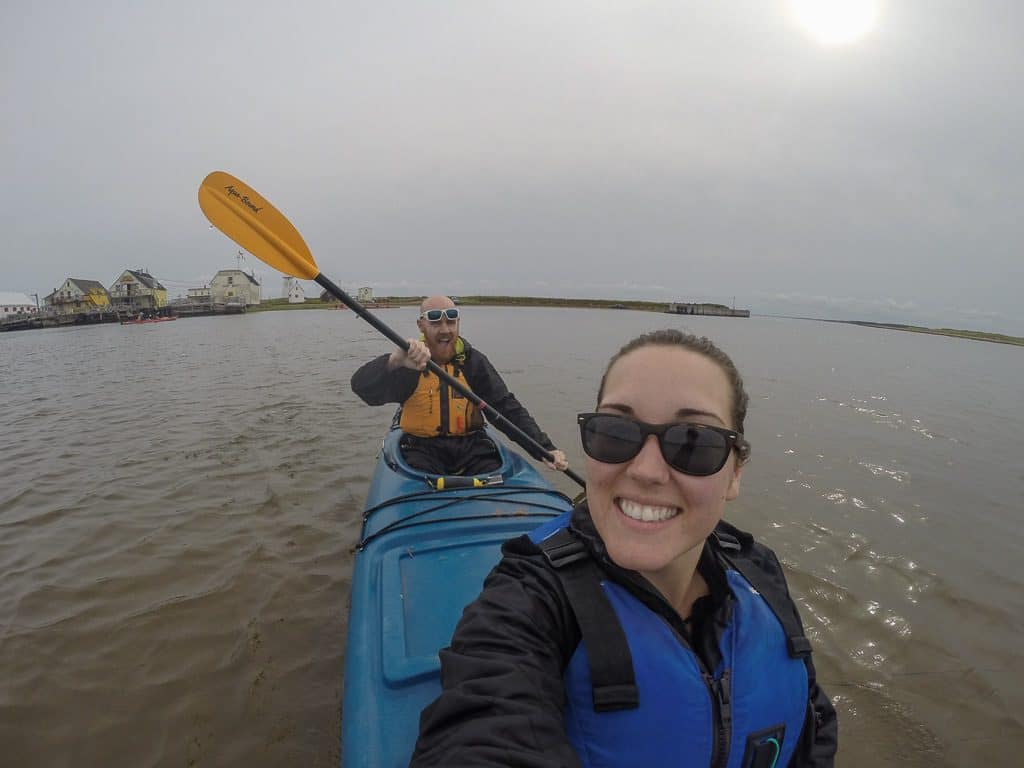 We are so glad we made the time to see the island from this unique perspective! Even in this popular area of PEI, we felt like we were far from civilization as we paddled around the bay.
After about 90 minutes, we were back on dry land with big smiles and lots of great photos! Next time, we will definitely opt for one of the longer tours with Outside Expeditions. In beautiful places like PEI, there is no such thing as too much time on the water.
Watch our short kayaking video for more great views:
(Note: Outside Expeditions also offers longer water adventures at nearby PEI National Park and Brudenell River Provincial Park).
4. Explore the Unique Landscape of Greenwich Dunes
This was our favorite place in Prince Edward Island because it included stunning hikes with stunning white-sand beaches. We spent hours wandering around here and walking along the winding boardwalks.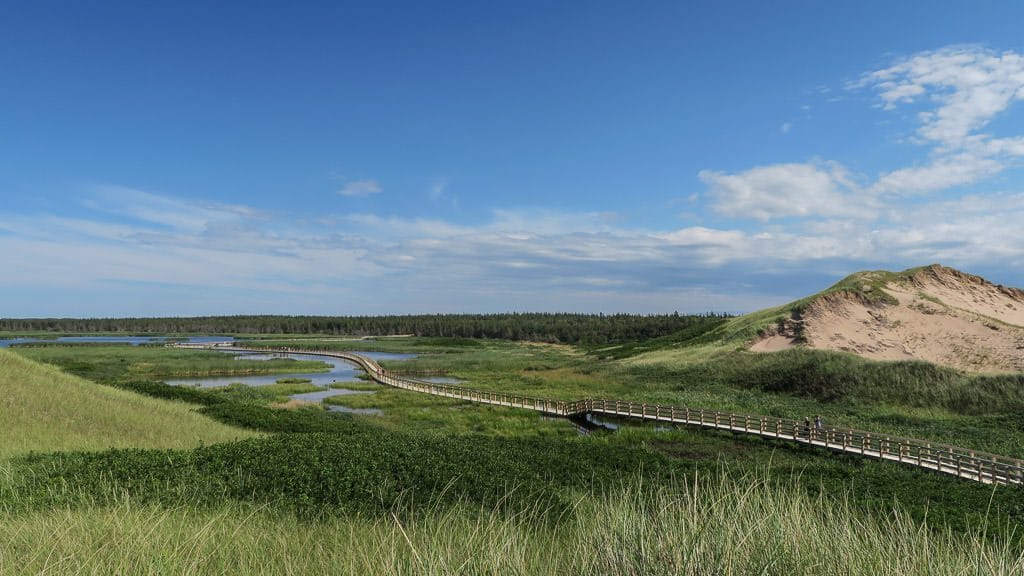 5. Sip in the Sunshine at Prince Edward Island Wineries
There are multiple Prince Edward Island Wineries, and most all of them are in scenic areas with outdoor places to relax. We really enjoyed the wines and views at Rossignol Estate Winery.
Other wineries on PEI include Newman Estate Winery, Matos Winery, and PEI Winery (also a Cidery, Distillery, and Craft Brewery).
6. PEI Parasailing – Best View of the Island
We had some great experiences on our trip, but the highlight for me was getting to see the island from above while parasailing! This was by far the most unique and memorable moment of the trip.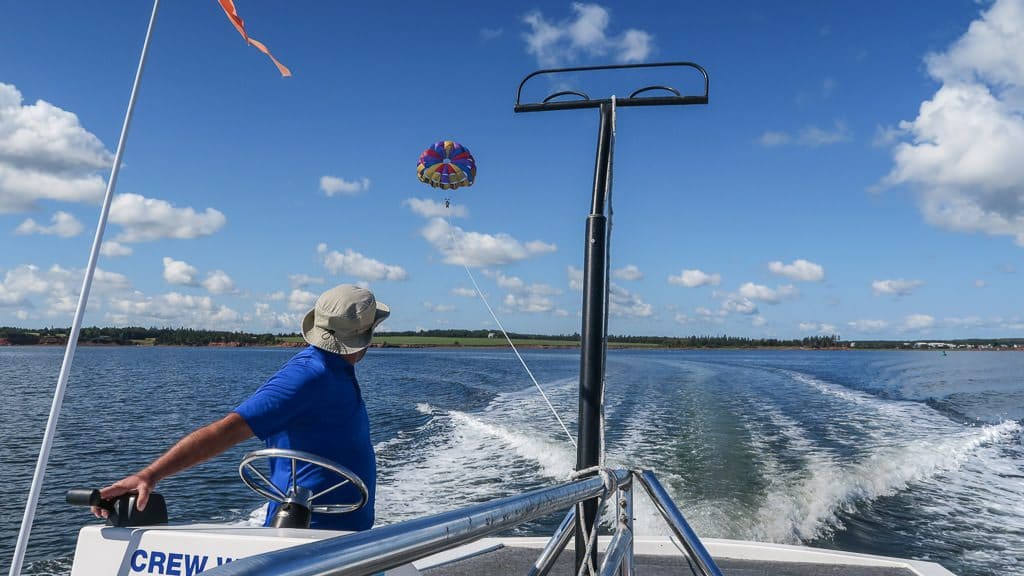 When I found out that the Inn at the Pier in Stanley Bridge (near Cavendish Beach) offered parasailing, I couldn't resist the opportunity to see PEI from above. Plus, parasailing had been on my bucket list since I watched my mom do it in the Bahamas when I was five. So, up I went.
Any nervousness I had on the boat ride out instantly disappeared as the giant parachute gently lifted me high above the water. (And it definitely helped that I saw the crew inspect it multiple times beforehand).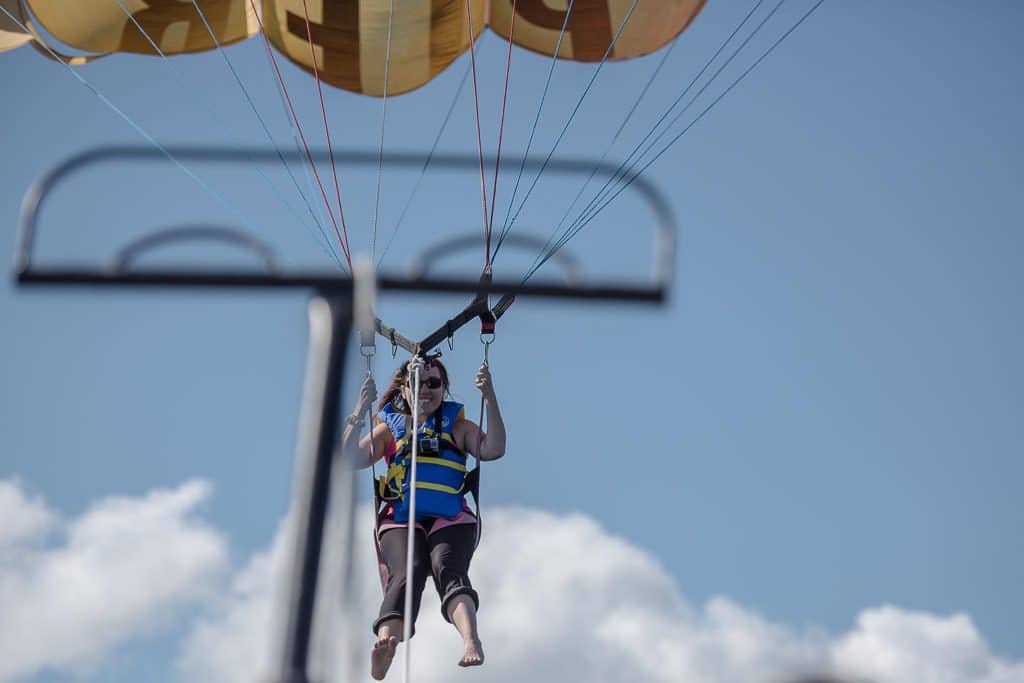 I thought it would give me an adrenaline rush, but the sensation was quite the opposite. I actually felt instantly relaxed as I hovered above the boat, admiring the ocean, inlets, and rolling hills of the farms far off in the distance.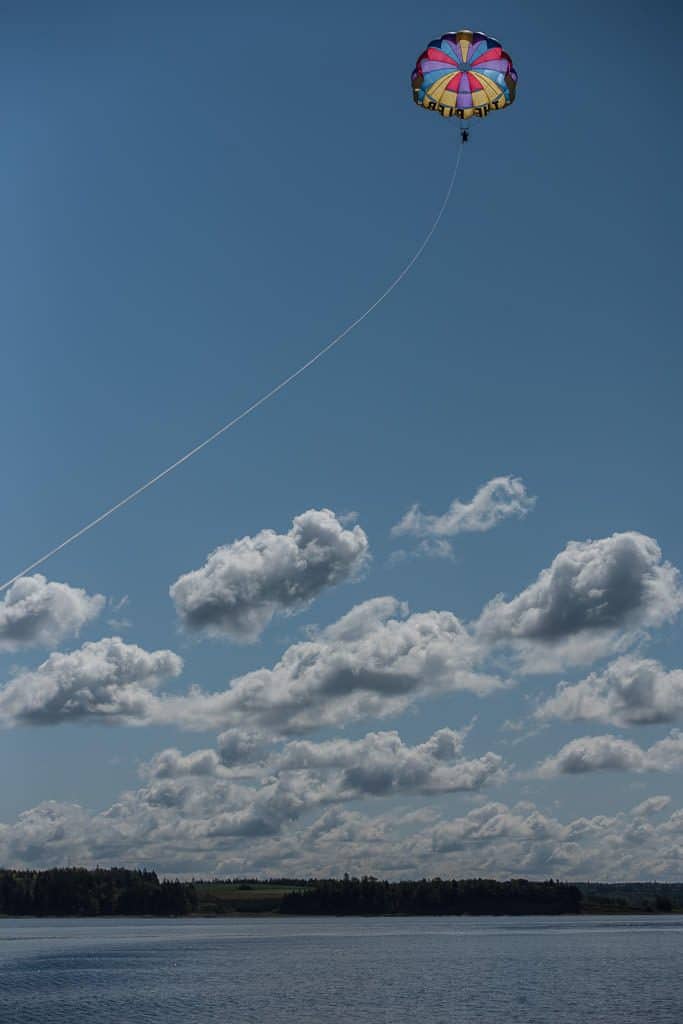 Parasailing is very similar to swinging, just much further off the ground. I knew the only thing keeping me afloat was the wind and some very strong, colorful fabric. But, I felt completely safe and trusted the experienced team – who seemed to have mastered the art of flying human kites.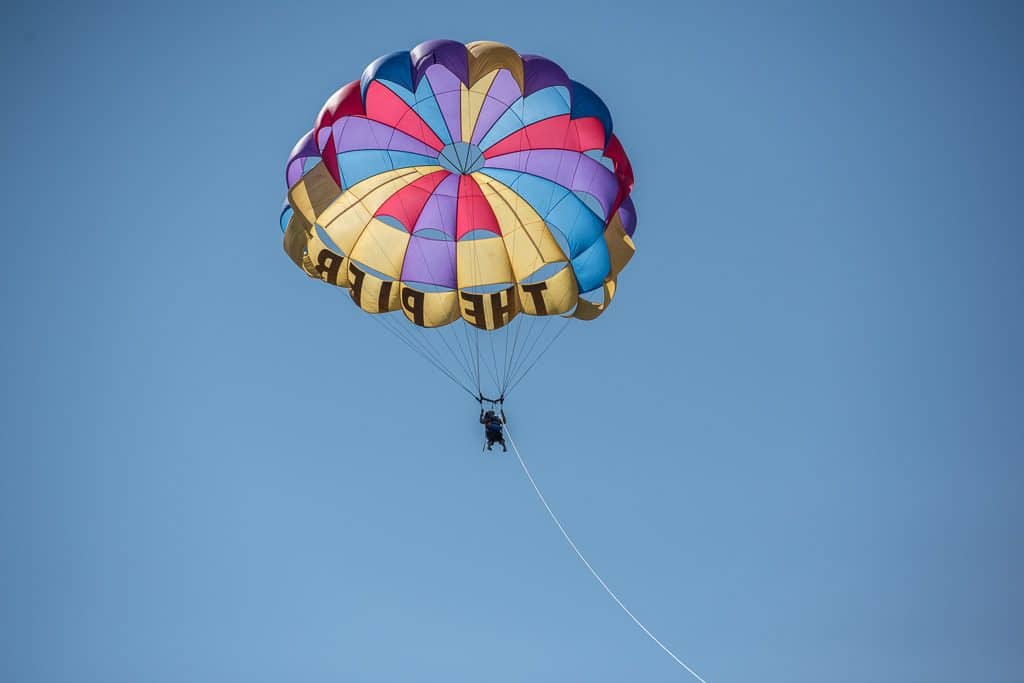 I can't rave enough about this experience and highly suggest it to anyone planning to visit PEI in the summer.
Watch this video to see some of the thrilling PEI Parasailing experience:
(Note: Inn at the Pier also offers Seadoo, kayak and stand-up paddleboard rentals to enjoy on New London Bay).
---
7. Enjoy a Prince Edward Island Campground
PEI is a lovely place to just hang out by a fire and enjoy the cool night air. Red Point Campground was our favorite due to the epic sunsets and proximity to the best activities in Prince Edward Island!
Know Before You Visit Prince Edward Island
Getting To and From PEI
You can fly into Charlottetown if you'd like. But we highly suggest driving from New Brunswick, so you can experience the amazing eight-mile Confederation Bridge!
There is also a relaxing ferry option from Wood Island, Nova Scotia. You only pay on your way back, but it is about $50 more to take the ferry as opposed to the bridge. We took the ferry to the island and drove off via the bridge. Since we didn't have to pay to take the ferry on, it was a very easy and quick process. The crossing only takes about 90 minutes.
Camping Options & Places to Stay on Prince Edward Island Canada
During our stay, we camped at Red Point Provincial Park Campground and Cabot Beach Provincial Park Campground. Both offered great views and were close to beaches. It was great having a base on each side of the island. And it was extra great for sunsets!
Of course, there are also tons of cute little bed and breakfasts and beach homes to choose from as well! PEI is just very charming!
Special thanks to Tourism PEI for their support on this trip, as well as Inn at the Pier and Outside Expeditions for hosting us. As always, all opinions are our own.