There are certain places that just feel electric, like the pulse of humanity is vibrating through the streets. A strange magnetism pulls you there that you can't explain. You just need to be in the presence of a place so alive – a place filled with history and possibility. We only spent 24 hours in Quebec City, but it made a lasting impression on us. And even though part of our time there went a little sideways, it will always be one of our favorite places.
Quebec City Camping Sites & RVing in Town
We pulled up to the ferry terminal at Lévis (across from Quebec City) about an hour before dusk. The rain that had battered us for days finally stopped and the clouds parted just enough to see some light shine over the damp city before the sun began to dip behind the horizon.
I stood in an empty gravel lot, watching the lights of Quebec City turn on as I debated our options for getting there. Our initial plan to park the RV and take the boat across for a night of adventure wasn't panning out. Once again, our lack of French language skills were coming back to bite us and the signage was extremely confusing.
Not wanting to get towed or leave the RV alone in a desolate area, we opted for Plan B. There was a lot for overnight parking in Quebec City that allowed RVs to park there for 24 hours – for a whopping CAD $70! The thought of paying that much just to park made us sick. But we were determined to see this beautiful city and figured it would be worth it.
After crossing the St. Lawrence in the dark with way more cars than we've seen in months, we made it to the lot and were relieved to see a few other RVs there. We paid our fee quickly and tried to block out the cost in our minds as we set off to wander through the wet streets of Quebec City.
Exploring Quebec City at Night
The city was quiet for 9 p.m. on a Thursday night – surprisingly so. Other tourists were evident, but there was always a certain stillness, a quiet peacefulness everyone seemed to partake in.
We strolled hand-in-hand up cobblestone hills, around the iconic Château Frontenac, and passed old churches, government buildings, cafes and stores.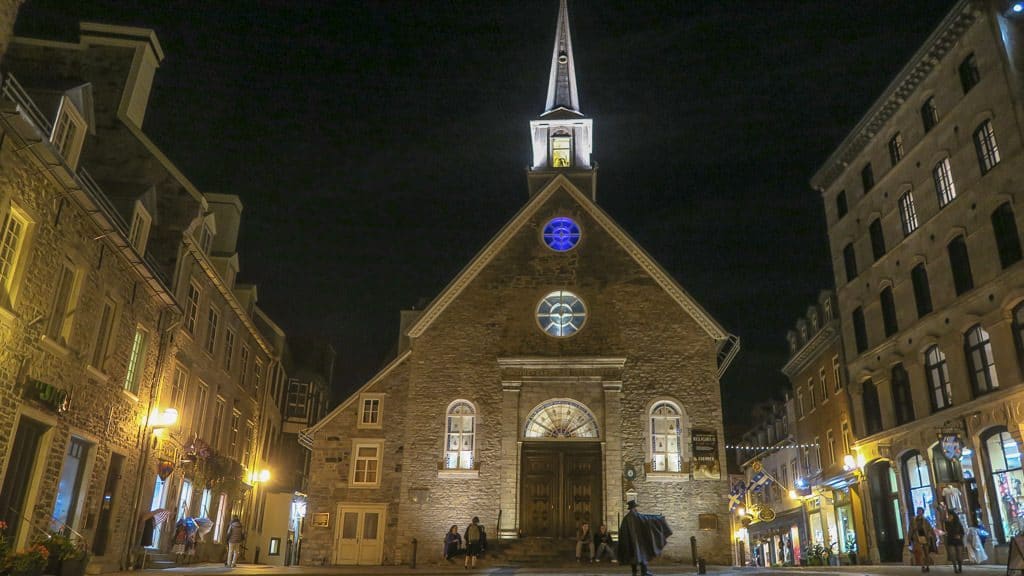 At one point, we stopped to admire the twinkling lights of the city as they reflected on the St. Lawrence River below us. For the first time in a long time, the night didn't feel scary to me – it felt magical. I felt safe, excited and grateful to be in such a wonderful place.
As we wandered, I fell more and more in love. This city was romantic, and mysterious, but mostly awe-inspiringly beautiful.
Initially, I wanted to go to Quebec because it was the closest I'd get to visiting France in the foreseeable future. But once there, I realized it was something more – not just a temporary fix for my desire to visit Europe. The French and Canadian influences melded together in a strange, but gorgeous way. And it was unique to this city, not a copy of another destination.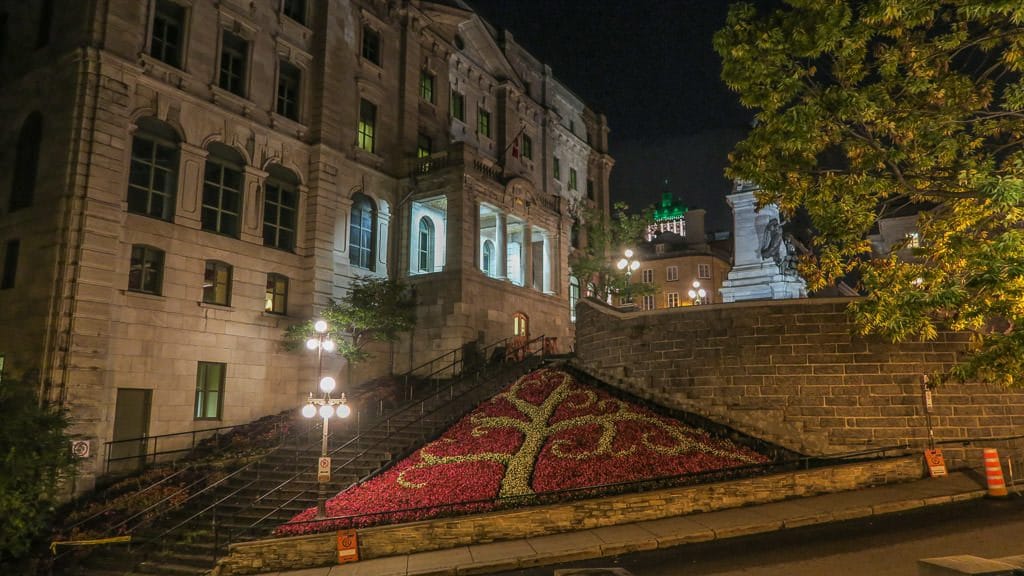 After miles of walking around this uniquely French-Canadian city, we had a few beers and a late-night snack while we listened to music. Then we smiled as we walked through the quiet streets back to our RV. Full from a carb overload and exhausted from our day, we passed out as soon as we got home – at about 11:30p.m.
Almost Getting Our Bikes Stolen Off Our RV in Quebec City
An hour later, we heard footsteps behind our RV. We woke instantly, both listening intently in silence, trying to ignore the pounding of our own hearts.
Then we felt a slight movement. "Someone's out there," I whispered. But Buddy already knew. In unison, we turned to peer out our back window.
I've wondered, many times, what I'd do if this happened. And when we saw the hooded would-be bike thief standing there, behind our home, our first instinct was simple.
We both knocked on the window and waved – as though this was the only logical thing to do. "Hello! We are in here, stop trying to steal our stuff!" Thankfully, the jerk took off. But, that was just the beginning of the drama for us.
Angry Insomniacs
Neither of us could sleep. We were furious. Buddy wanted to go outside to see if the perp cut the cable lock (spoiler: he did), but I begged him not to. I was terrified the guy was still out there. And although I didn't think the hooded lurker was looking to hurt anyone, I knew my hubby would confront him if given the chance – and who knows how that would end.
So, we waited and listened – for hours. We couldn't have slept if we wanted to. Eventually, we dozed off in the early morning hours – me first, then finally Buddy followed.
Not long after, we woke from our half-sleeping state and checked the damage. Anger filled us again when we realized our $500 locking bike rack was now ruined. We were tempted to just call it. We had never visited cities for this reason. Clearly, this was a mistake.
BUT… we didn't want to let the bad experience dim our view of Quebec City. We were angry that we spent CAD $70 to almost be robbed and were super pissed we'd now need to replace our bike rack. Plus, we were mad at ourselves for letting our guard down. And at Quebec City, for being so inviting and seemingly safe.
It could have been days before we let that anger go had we left first thing that morning. But we didn't.
Deciding to Stay
I'd be lying if I said the insane amount of money we paid to park for 24 hours didn't have anything to do with our decision. But, we also decided to stay because we didn't want our memory of Quebec City to end on a bad note. We had a lovely night strolling the historic city streets and knew there were more great memories awaiting us.
After some deep breathing exercises, we forced ourselves to get up. Then we Tetrised the bikes inside (since our bike lock had been cut), and left to explore the city.
Turning it Around – Enjoying Quebec City
At first, I thought we'd never get out of our funk. I kept wondering why we were even bothering to try. But then we stopped at a Quebec City cat cafe for breakfast.
We couldn't help but laugh as the cats played and napped all around us. Cats. They are the best.
Afterward we stopped to take pictures of the bike race that happened to be going on that day. It was a unique experience and reminded us of that energy we had fallen in love with the night before.
Everyone around us cheered for their team and we watched in amazement as bikers, then cars and emergency vehicles sped around the narrow city streets.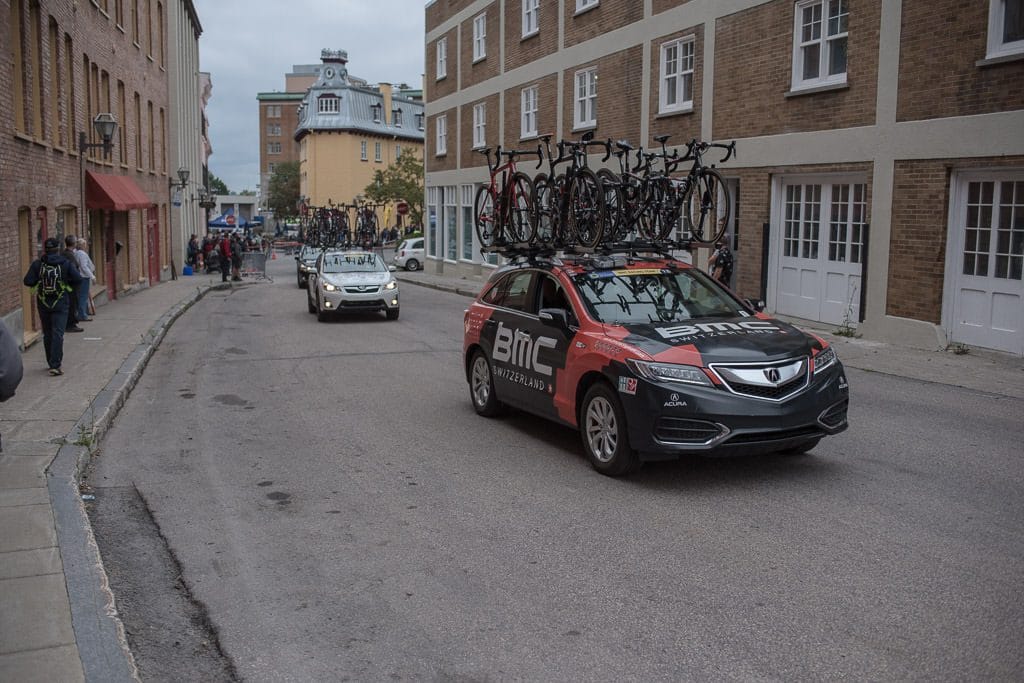 Then, our walk took us by the Notre-Dame-des-Victoires Church, where we stepped in to admire the artwork. I sat, as I do in most churches, to say a prayer. I've never thought it was necessary to be in a church to pray. I talk to God all the time.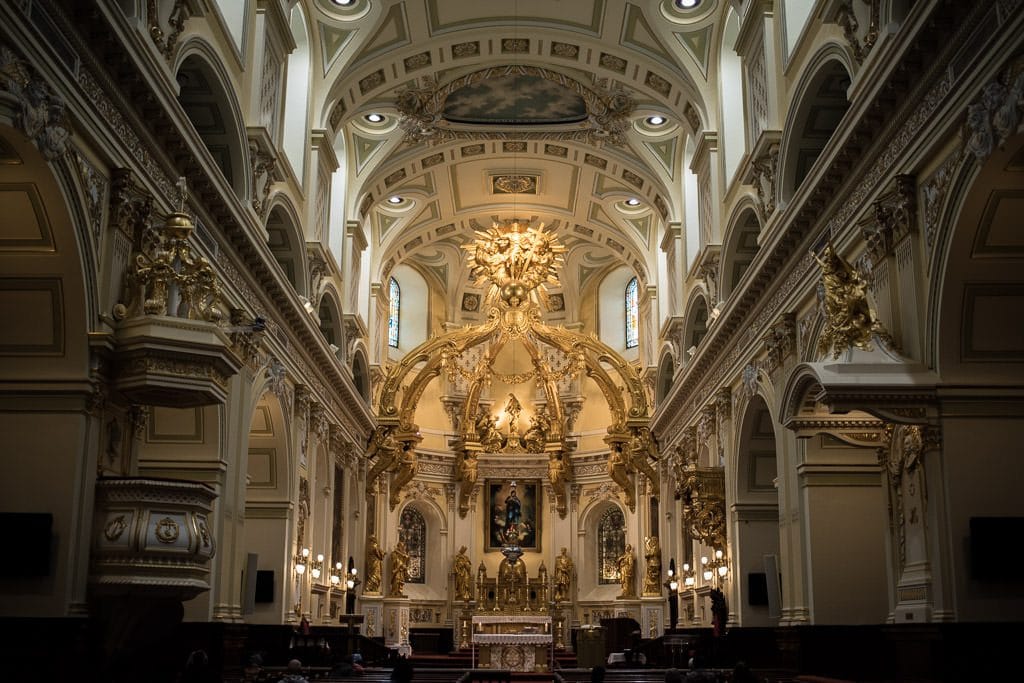 But, there is just something about being in a place of worship, one that you know was built with love in hopes to honor the maker of the universe. And they failed, of course. Nothing can do the savior of the world justice. Yet, that's what I think is beautiful. Someone decided to try, even though they knew they would ultimately fail at the overall goal.
As we were leaving, one of the priests stood in front of the crowd and sang a beautiful rendition of "Ave Maria." Goosebumps covered my arms as the sound of his voice echoed all around us. This was worth letting go of our anger. The city was making the most of its second chance.
Next, we wandered around the Morrin Centre – a gorgeous library with a very Beauty & the Beast feel. And all of the books are in English!
While there, we talked to a nice man who worked at the library. It was awesome to chat with a local, since our lack of French had kept us from enjoying that so far. And we were extremely thankful for his kindness.
For the Love of Pain
On our way back to the RV, we stopped for some wonderful bread ("pain" in French) at Paillard. We immediately devoured the croissant-like pastry, which was filled with chocolate and sprinkled with sugar crystals. And I posed with my obligatory baguette (which I was probably too excited about), before devouring it later that night.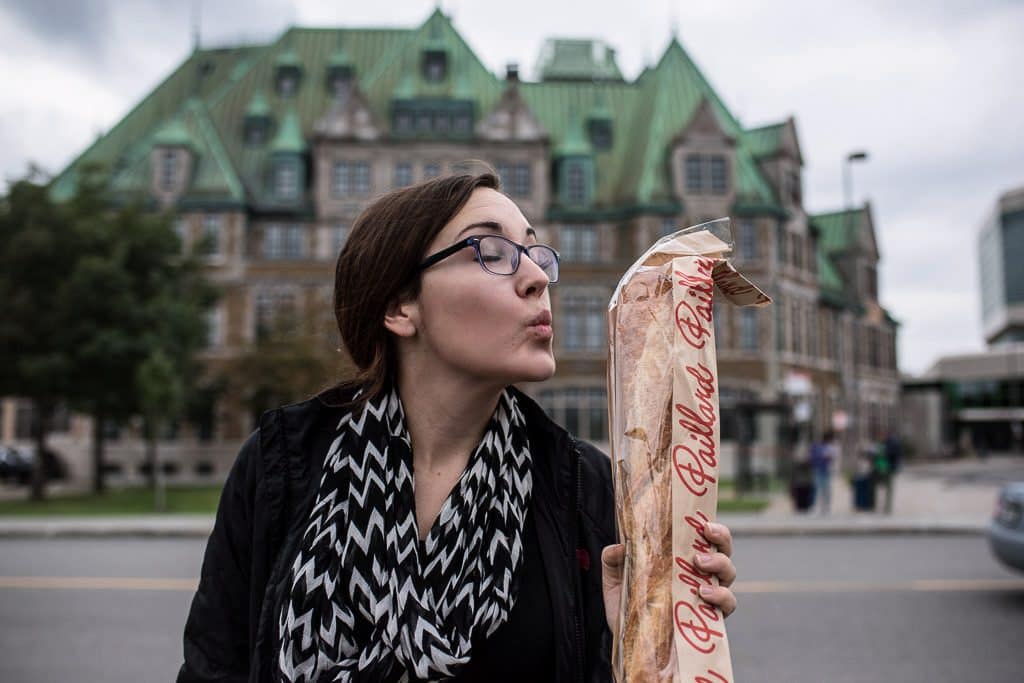 Wanting to stay somewhere out of the city, we slept at a quiet winery east of Quebec City (part of our Harvest Hosts membership). As we sipped wine and took turns ripping off chunks of crunchy baguette wonderfulness, we looked back on our day with pride. It was a big one for us – letting go of anger is something we both struggle with.
But holding onto anger is like worrying, it makes you feel in control, but all it does is hurt you in the end. Our anger wasn't going to arrest the vandal or fix our bike rack. All it was doing was ruining what was supposed to be a highlight of our Canada trip. So, we chose to move past it.
Of course, our frustration didn't just disappear. But, we didn't let it ruin our day. And we are better because of it. (Thanks RV life for another important life lesson)! At the end of the day, good won out. Because we didn't let one bad person tarnish our view of Quebec. And trust us, this is a city worth opening your heart to.