The muskets had been fired, and the Captain shouted my orders. I was about to fire a cannon. I lifted the stick, and touched the lit end to the paper that would ignite the culminating blast of the show. As I held my breath, a giant boom rocked my entire body and smoke filled the air.
This was not how I thought I'd be spending my day. But visiting the Fortress of Louisbourg in Nova Scotia was not like any other historic site we had been to. And the smile that crept across my face was evidence that I was happily surprised.
Parks Canada seems to have perfected the idea of "hands-on history," and nowhere is this more evident than the recreated 18th-century fortress in Louisbourg, Nova Scotia.
We usually only pop into historic sites to skim the many plaques, look at the artifacts and snap a few photos. However, we spent an entire day at the Fortress of Louisbourg, engrossed in the history as we not only got to observe it, but become part of it.
Firing a Cannon at Fortress of Louisbourg
We got to the park as soon as it opened and stared out the window in wonder as the shuttle bus neared the fortress. And as soon as we stepped out of our modern transportation, we were pulled back in time as soldiers greeted us and told us the rules of the fortress. Beware of the English! Don't climb the walls! Keep out of trouble! (Of course, we intended to follow them, but no one is perfect).
Ever the adventuresome one, my chosen activity for the day was to fire a cannon. No big deal. So I got all dressed in the appropriate attire and set out for training camp!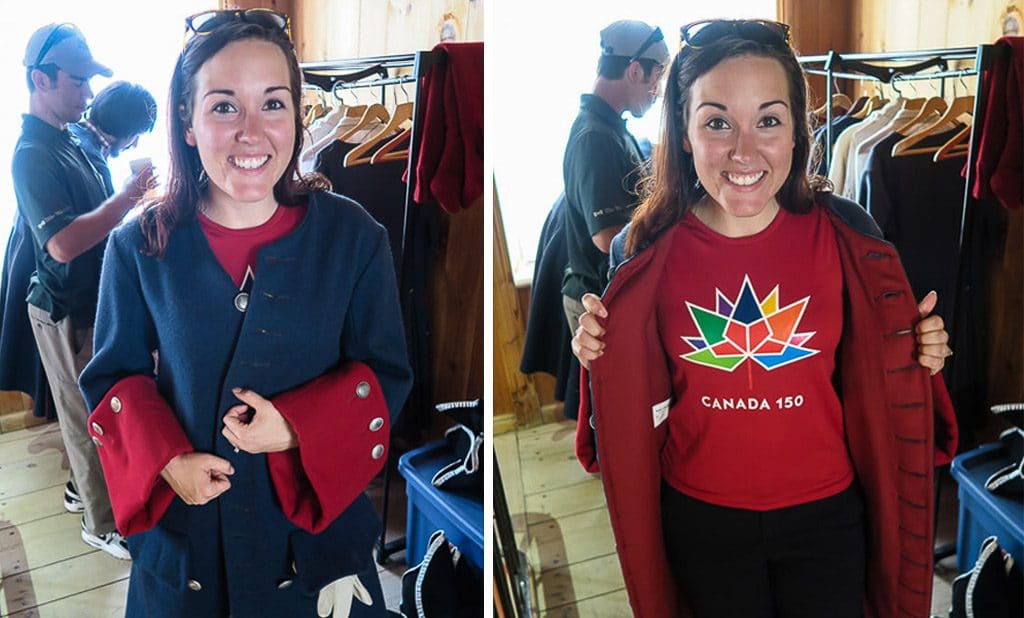 I hadn't put much thought into how this experience would go, but for some reason I didn't realize that I would also be part of the military pageantry show. Oh yea, and it would involve fire.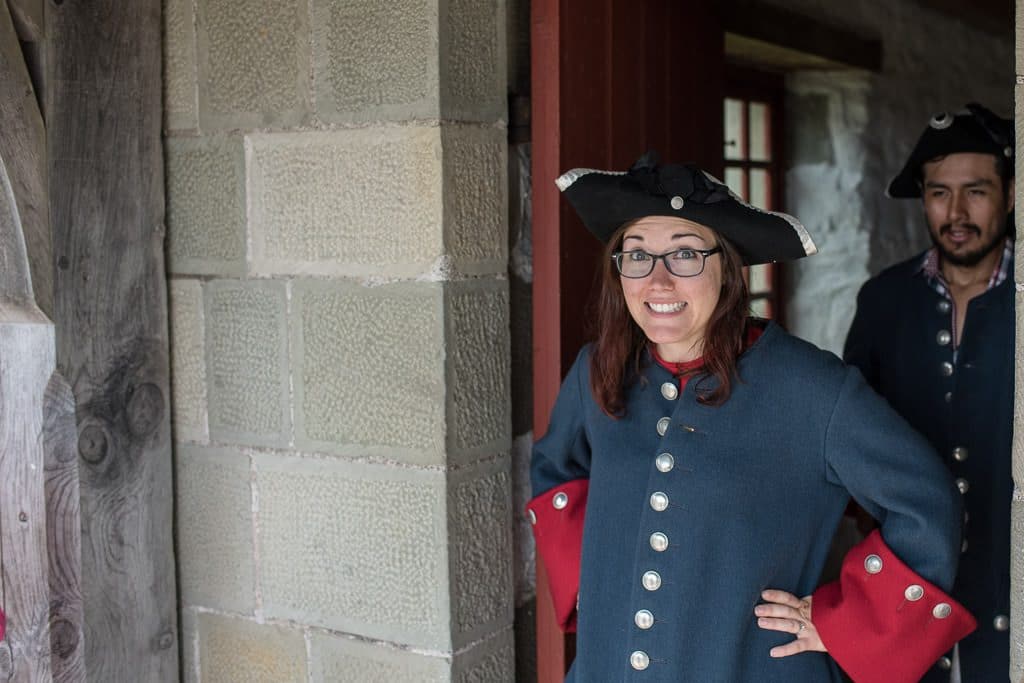 Now is probably a good time to mention I hate fireworks because they are too loud. And have never lit one since fire makes me nervous. But somehow, I just signed up to light a giant one! Also, not a big fan of people staring at me. Clearly, I chose this activity solely on the fact that it sounded really cool.
After receiving explicit, fairly easy-to-follow instructions, I lined up with my fellow soldiers and marched toward the crowd.
Since the orders were in the traditional language of French, I just stared at the feet of the man in front of me and tried my best not to mess up the formation. My nerves were heightened. And I was sweating buckets in the thick coat, hat and gloves while the sun shined in full-force.
After the initial musket firing, we made our way toward the cannons. As we marched up the hill, I shoved my ear plugs as far into my ears as they would go, so I wouldn't have to fumble with them later.
Then, I went over my instructions about 18 more times. Take the lighted stick from a fellow soldier, wait for the order after the muskets go off, light the cannon, try not to inhale too much smoke, give the stick back and breathe again. Shouldn't be too hard, right?
Once that boom went off, I was pretty pleased with myself for not messing up my one job. Girl power, baby!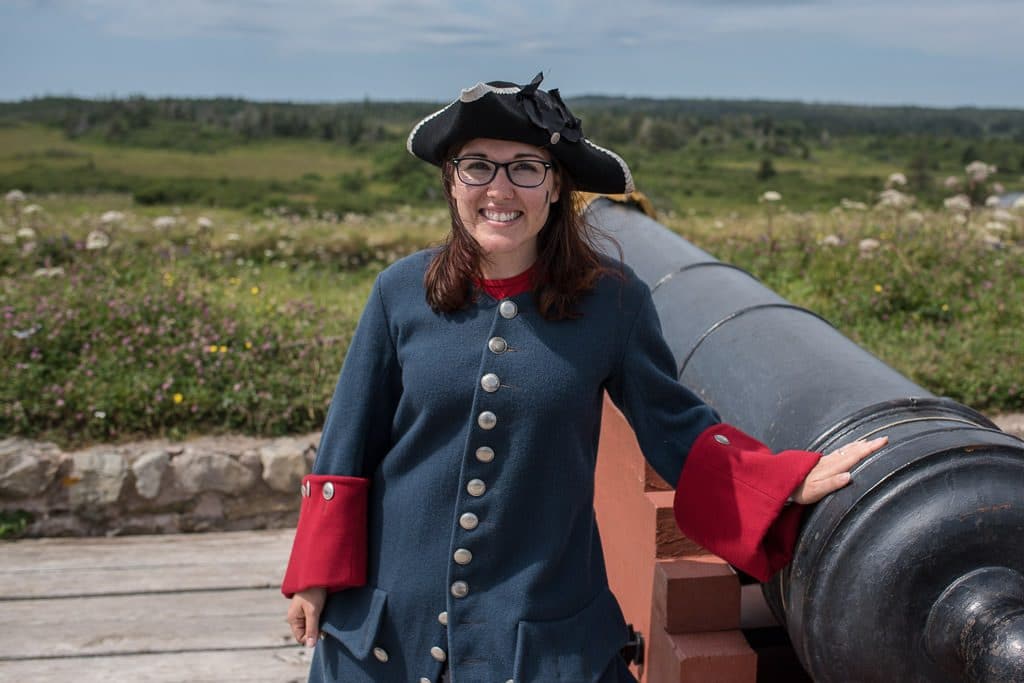 It was amazing to overcome my fear in such an epic way. And it really gave me a unique sense of appreciation for how much pressure the young men must have felt who had to shoot these things in an actual war zone. Plus, there was the added stress of hitting their mark.
After the show ended, we took some fun photos and I received my official black marks of a successful cannon fire. Definitely won't be forgetting that experience any time soon! In the end, I'm glad I signed up to fire the cannon at Fortress of Louisbourg.

Watch a video of the entire show:
Prisoner of the Day at Fortress of Louisbourg
While I was busy protecting the Fortress of Louisbourg, Buddy must have let his mischievous side get the better of him because he ended up as the Prisoner of the Day!
Before we knew it, he was dragged off to jail and harassed by passerbys and the hilarious jailer while he stood in a cell eating his stale bread and drinking his dirty water.
Later, he was paraded through town to undergo his sentence of public humiliation. At one point, I had to run up and wipe his tears. (They were actually from sunscreen stinging his eyes. But it made for extra acting points)!
Once at the iron collar, the crowd had to decide on his punishment. Although a few people suggested ridiculous things, like tickling him (me).
The crowd settled on a little song and dance to pay for his thievery. Then he was released with no hard feelings. (After returning the shirt he stole, of course).
Watch the entire hilarious scenario:
Fortress of Louisbourg Rum Tasting
Between all the 18th-century action, we found a few minutes to grab a piece of fresh-baked bread and soup. A restaurant that offers a three-course period meal is also on site and is a unique option. But our favorite historic tasting? The rum!
At the end of our day, we sat with some lovely pub owners to sip the traditional drink of choice. (Or at least the best option they could afford – and that's not saying much). However, it was really tasty rum.
We especially enjoyed the lemony mixed drink option! But the real highlight, was our funny bartender. She had all of us laughing as we sipped on the tasty rum. The perfect way to end our unique day.
Nearby: Alexander Graham Bell National Historic Site
Craving more hands-on history after your trip to the Fortress of Louisbourg? The Alexander Graham Bell National Historic Site is a little over an hour away and offers the chance to actually touch the famous inventor's possessions (with protective gloves, of course).
The White Glove Tour at the Alexander Graham Bell National Historic Site gives you an intimate view into the life of this important man. We loved learning more about his childhood and relationship with his wife. Did you know he gave himself his middle name and his wife was a deaf student of his? This inexpensive add-on to your visit really helps inform your explorations of the rest of the museum.
And for a fun break from refreshing your historical and scientific knowledge, why not make a kite? We laughed like kids (who we were surrounded by) as we made a tetrahedral kite together. We even got an extra set of supplies to make another one with our nephew when we see him later this year. This is a great stop along the Cabot Trail, especially after a week of hiking in Cape Breton Highlands National Park.
Special thanks to Parks Canada for hosting us on this fun day! As always, opinions are our own.
---
For more stories and tips, check out our other Nova Scotia blog posts. And for a list of where we stayed overnight during our trip, take a look at our RV Camping Reviews page.