When planning on visiting Molokai, Hawaii for two weeks, one thing kept standing out in our research as a must-do: hiking to visit Kalaupapa National Historical Park.
NOTE: As of late 2019, the trail for hiking to Kalaupapa is closed until further notice due to a landslide. Check the Kalaupapa NPS website for updates on the trail closures. You can still take part in the Kalaupapa tour, but would need to fly to the colony instead. You must stay away from the trail area, for now.
It is hard not to be curious when you find out the remote island you are visiting has an even more remote area not accessible by vehicles – only by plane, mule ride, or by foot. And when you are on a budget, you don't even consider not doing the hike when it can save you more than $100 each … no matter how many switchbacks it entails.
That's how we signed up for hiking to Kalaupapa on Molokai – where Hawaiian people with leprosy (now called Hansen's Disease, to remove the unfair stigma) were quarantined from their families and the rest of the world beginning in 1865, until a cure was found in 1969.
Quick Overview of the Kalaupapa History
If you aren't familiar with Hawaiian history, you may not have even known this place existed. We certainly didn't until we started researching the area. However, the unique, dark history associated with this place has a way of pulling you in, tugging on your heartstrings, and gaining your utmost respect for how they made the best of a bad situation.
It is no wonder why people visit this island for the sole purpose of hiking to Kalaupapa, or visiting via mule or plane.
Due to their separation from the rest of the world, the Hawaiian people were, unfortunately, extra susceptible to Hansen's Disease. So, as people visited for trade and other 'progress' in the 1800s, they also brought their far-off diseases.
The very obvious symptoms – boils on the skin – and Biblical stories associated with leprosy, made the stigma extremely strong and everyone was terrified of the disease.
As it spread, drastic measures were taken – which led to isolation of those infected. And if you've had any experience with the deep, all-important family bonds of Hawaiians, you can imagine how absolutely devastating it was to be taken away from your family. Many families even tried to hide their loved ones, or retrieve them from this remote quarantined area.
However, now that there is a cure for the disease and it is no longer contagious, Kalaupapa has become a National Historic Site. It is also actually still home to some residents who were given the option to live there after the forced segregation policies had lifted. Due to this, the isolated colony has remained mostly untouched.
The beaches are pristine, the air is fresh, their lifestyle is sustainable. Life is simple there. The beauty alone is worth a trip, but the educational tour makes it a truly amazing experience. Hiking down the tall sea cliffs (and back up) was well worth the views and insights we gained there.
Hiking to Kalaupapa (Not Currently Available) & Guided Tour
Like most good adventures, getting to Kalaupapa took a little bit of prep. No one is allowed to visit without a permit and guide. You can hike down the trail on your own. But have to wait for the guided tour before you can explore the town and other areas of this amazing part of Molokai.
Getting signed up for the Kalaupapa Tour
We signed up with the local company that also provides mule rides to the colony. For $79 each, they set us up with permits, the four-hour historical tour of Kalaupapa, a light picnic, and covered NPS trail maintenance fees.
Although, the mule ride is touted as the must-try experience while on the island, we opted out for multiple reasons: we don't do things if we feel like it may hurt animals (the heat and elevation changes can't be fun for those guys!), it was more than double in price, we didn't really trust them not to send us over the edge of the cliffs, we liked the idea of going at our own pace, and … if those weren't enough reasons, Buddy's balls have not forgotten the one time we rode horses five years ago.
The Steep Trail to Kalaupapa National Historic Park
So, we set off around 8 a.m., about 30 minutes before the mules and with only a few other people to share the trail with. We stayed at our own pace to have the amazing views of the ocean and colony below all to ourselves at the overlooks.
Before we knew it, our excitement had propelled us down the 3.5-mile trail with relative ease. However, our bodies quickly reminded us that the 1,700-ft elevation drop over 26 switchbacks was quite the workout for our legs. But, it wasn't long before the gorgeous ocean views distracted us from how wobbly we were feeling.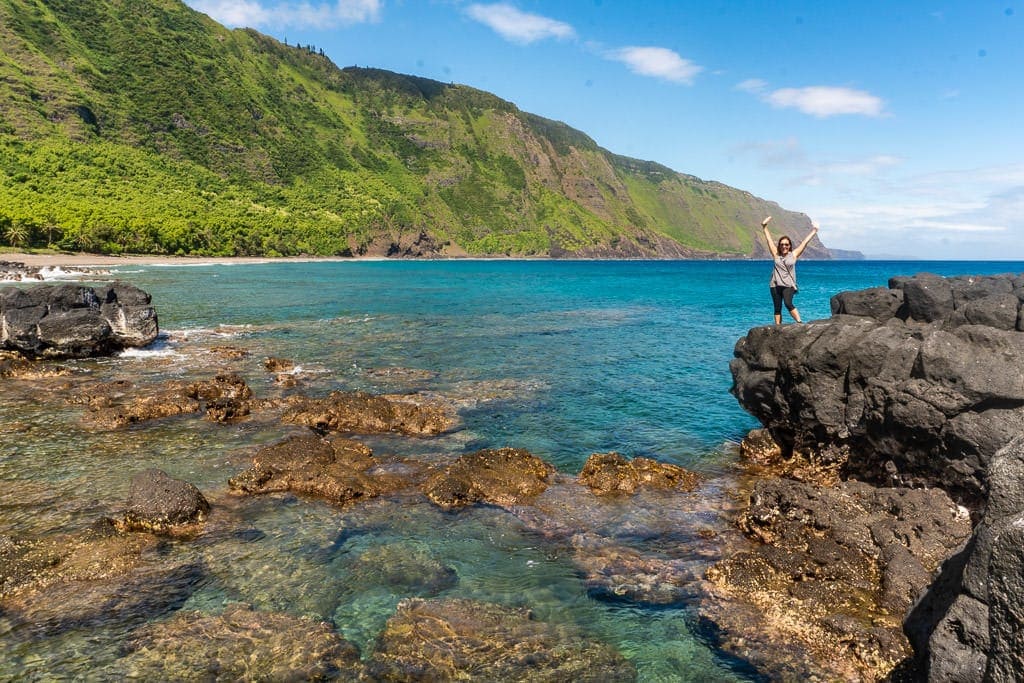 No wonder the residents didn't want to leave this place. Hiking to Kalaupapa alone absolutely filled our hearts with glee.
The Kalaupapa Tour
After about 15 minutes of wandering around the meeting area and admiring the unspoiled beauty all around us, the plane passengers arrived. Another 10 minutes past, and no mule riders. Soon, the tour guide showed up and announced that we would start without them to stay on schedule. Had we been second-guessing our decision to hike before, we definitely wouldn't have been at that point.
So, we left without half the group to check out the local bookstore which is manned by the youngest living resident – who is in his 70s now and was sent to Kalaupapa as a child. We were on his schedule, since he'd be closing soon for lunch (which is provided for free for residents, along with medical care and other benefits – the least they could do for isolating them, right?).
Since we are not ones to buy souvenirs or really anything that takes up space, we spent our time looking at the photos and documents framed on the wall. One in particular that struck us was a copy of the letter people in local facilities would receive before being sent to the Kalaupapa colony. They only gave them a few hours, to avoid people trying to escape to see family before.
It was so heartbreaking and clear how absolutely terrifying this disease was at the time for the government to take such extreme measures.
Tour Bonus: A free Serenade
As we waited for everyone to make their purchases, our awesome tour guide Rick sang us a song or two while he played the ukulele and his friend played the harmonica. I had suspicions that he was the singer in the band we saw at the local bar Paddler's a few nights before, so this was the proof I needed.
Rick was psyched that we got to hear his band play, and Buddy laughed at my uncanny ability to recognize faces.
Stories of the past
Next, we moved on to the church, where we were told the heartbreaking stories of how these residents were taken from their families and initially left completely on their own. Many lost hope, but others clung to their faith. Luckily, locals and other people were compelled to help this exiled group.
One of the most famous people who dedicated their lives to helping was Father Damien – a missionary from Belgium. He showed the people compassion, made sure the dead were buried with dignity, and helped improve life in the colony until he died after contracting the disease himself.
Now considered a Saint by the Catholic Church as of 2009, he is celebrated all over Molokai, but especially in Kalaupapa where his gravesite can be found.
A picnic at the end of the world
Before moving on, we got another impromptu entertainment session to lighten the mood. Then we went to FINALLY meet the mule riders (30 minutes later than expected). They seemed annoyed, but didn't realize how much they had missed, so were in good spirits. Besides, we were headed to eat lunch with views of the highest sea cliffs in the world. It was hard to be upset as we approached those views.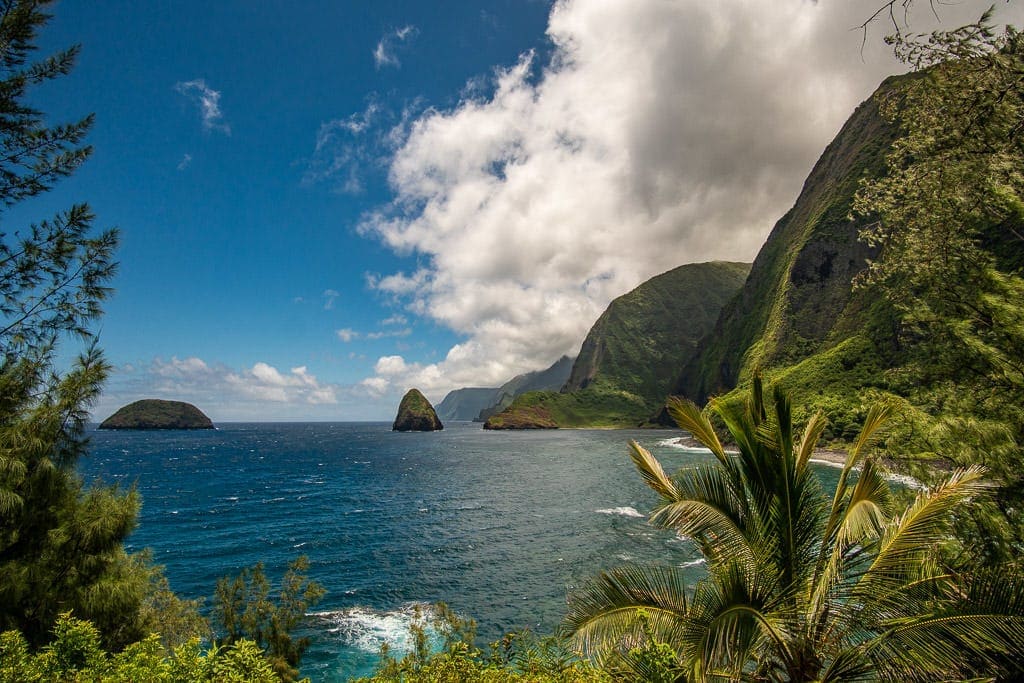 However, there was one guy whose man parts had an adverse reaction to the experience. We felt so bad for him as he lay in the grass, trying to feel better. Our guide overheard me telling the man's wife that we could give them a ride to their hotel if they decided to walk up instead.
Rick stopped me and said, "You're spreading aloha! The island is already working on you." I swelled with pride, because I knew without a doubt it had. Although, none of this made any difference for our new friend's unfortunate situation.
During our remaining time, we ate our simple lunches and admired the untouched, majestic cliffs above and beaches below. It was hard not to imagine what the world might look like had we not built up so many cities and roads and factories. Could it all feel just like this?
Other Kalaupapa tour highlights
On our way back from our cliff-side lunch, we stopped at two churches. These gorgeous old buildings had beautiful artwork inside, and historic gravesites outside – including that of Father Damien himself. (Actually, just his hand, because the rest of his remains were sent back to Belgium, but still).
As we slowly made our way back to the trail, we stopped at the small airport, spotted a mother and baby monk seal on the beach, visited a few other interesting landmarks, admired the gorgeous landscapes, and laughed with our guide as he sang and told great stories of happiness and hope.
When one of the best, most interesting and entertaining tours we've ever been on finally came to an end, we hustled back to the trail – hoping to beat the mules once again. But, we were exhausted after a long day of exploring.
Switchbacking to Reality
That first switchback felt like eternity. It is the longest, I'd be willing to bet on it. And as we neared the top, we got sweatier, more tired and sorer. Eventually, the mules caught up to us and we had to smell poop for the remaining 6 or 7 switchbacks. But, taking our time actually felt much nicer – despite the smell.
Once we arrived topside – drenched in sweat, we went over to the Kalaupapa lookout to see just how far we'd come. It looked unreal, like a far-off place we couldn't have possibly been. But we had and, like the rest of Molokai, it left a lasting impression.
As we drove away, we wondered if it would look the same when life leads us back here. After the last resident has passed away, and all obligations have ceased, will Kalaupapa be a tourist destination? Will there be some kind of disgusting tram ruining the views to make it more accessible? Will it have restaurants and kitschy shops?
Or maybe Kalaupapa has seen enough suffering … maybe it will be left alone. Perhaps, that peace will be protected for centuries to come. We need more untouched places. We need to remember not everything benefits from man's edits.
Read more about visiting Molokai and other tips from our two-month Hawaii trip here. And if you want to know more about how we made this vacation happen, check out our guide to pet and housesitting!