When we first saw an island house sitting opportunity in Hawaii, it wasn't hard to agree that we should apply. Then when we read that it was on the lesser-known island of Molokai and we knew we had to make it happen. We love remote places with little tourism and lots of space to explore on our own. Plus, after a little research, we realized there are lots of amazing things to do in Molokai – especially while living like a local!
During our two weeks on Molokai we experienced so many amazing life lessons, beautiful moments, and epic experiences we'll cherish until the day we die. But for now, here's the highlights reel in case you are planning a trip to this little-known island and are wondering what Molokai has to offer!
(Interested in more travel stories from Molokai and beyond? Check out Brooke's book, Home Flexible: Stories from Life as a Nomadic Traveling House Sitter. Available in print and ebook.)
Our Favorite Things to Do in Molokai
[Warning: Although these memories may seem amazing, please know this island is not for everyone. Don't visit if you are expecting fancy resorts, lots of restaurant options, and a tourism-centered lifestyle. This is not that island. The people are the nicest you'll ever meet, if you are respectful of them, their land, and their traditions. An open mind goes a long way here, and an open heart will benefit you even more during this very authentic Hawaii experience.]
1. Get leis at the airport
Somehow, I got it in my head that you get leis as soon as you get to Hawaii. While Hawaiian Airlines did treat us to a welcome drink and yummy snacks, the flower garland I was expecting was not part of our welcome when we got to the airport in Honolulu to wait for our connecting flight. Womp womp. So, when we got to the airport in Molokai and the sweet homeowners we were sitting for had leis for us, I almost cried. Really. It made my entire trip. AND they were homemade. The flowers were picked from the bush just outside their beautiful home. Thanks again, Barbara!
(Not meeting a kind host? You can buy your own leis at the airport!)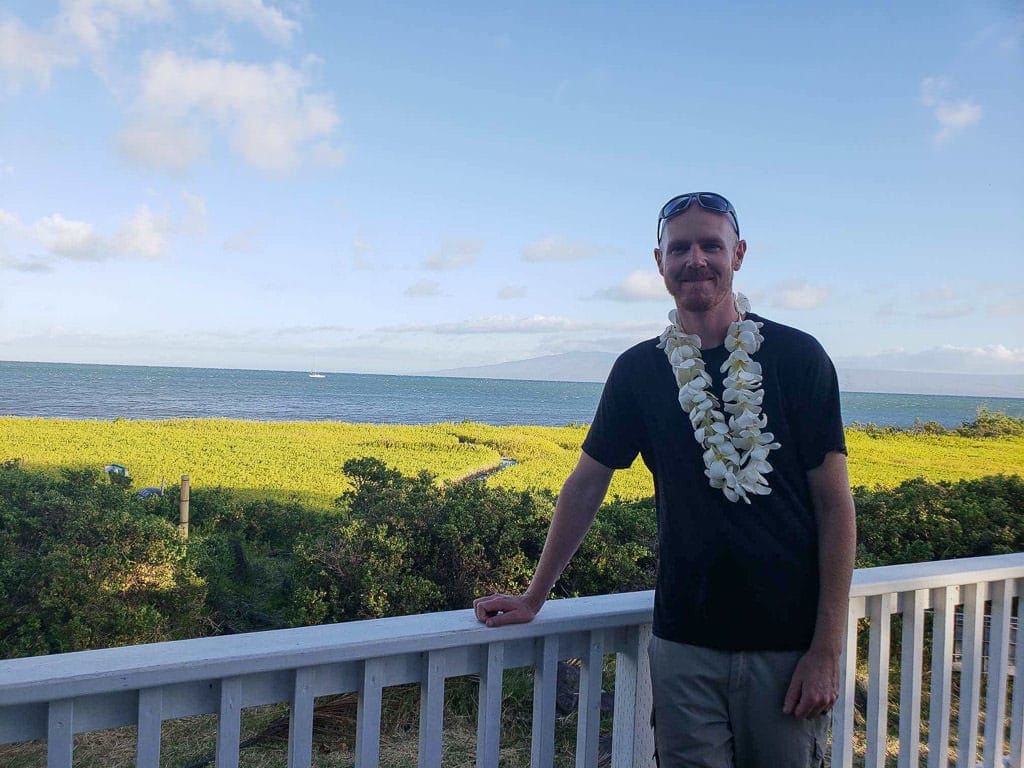 2. Go to the Molokai Farmer's Market
After a wonderful breakfast of French toast – more homemade goodness from our hosts, we headed to the Saturday farmer's market in town to give them some space to finish packing for their trip. We loved getting to chat with the locals – including a funny t-shirt salesman, turmeric farmer, and volunteers for a local non-profit. We left with taro root hummus, turmeric tea, a giant breadfruit, and some gorgeous avocados.
3. Listen to the wind blow through the trees
This isn't one specific memory, but the beautiful A-frame home we stayed in had windows all around it. So, we were constantly feeling the trade winds breeze through the house and rustle the palm trees outside. During the day, the birds would chirp. And at night, geckos would take over the chorus. It was the most peaceful two weeks of our entire lives. And we never once turned on the TV. Just a little Hawaiian music to set the mood, and we were totally blissed out. We highly recommend setting aside time to enjoy the wonderful ambiance if visiting Molokai.
4. Stargaze at night
On clear nights, before the moon rose, we could see ALL the stars! Coupled with the cool breeze, it made for some very romantic nights on the back porch. And on the Fourth of July, we were treated to a fireworks show that we could see all the way over on Maui. Such a treat.
5. Spot monk seals
On a late afternoon hike to catch sunset on the west end of the island, we happened upon two monk seals just lounging on a beach. Our plans immediately changed, and we just stayed there until dark. It is illegal to approach these creatures since they are rare marine mammals, but we thoroughly enjoyed admiring them from afar. And although this wasn't our original destination, we also had a great sunset after some fun tide pooling explorations!
6. Take a night hiking adventure
We were so in love with our sunset spot and monk seal experience that we forgot we had a mile walk back to the car. And since it was through tall grass in many spots, that meant lots of spider webs. After running through the first grassy area, Buddy had a giant spider right on his chest. After a small freak out, I had to take charge by grabbing a large stick to flail in front of us as I ran through the chest-high field by the light of a pathetic cell-phone flashlight.
At one point the shadow of the stick looked like a black snake and Buddy almost flew over me when I stopped abruptly. Even though I know there aren't any snakes in Hawaii, it didn't stop my reflexes from kicking in. We made it back to the car with little light left in the sky, covered in spider webs and with a bad case of the heebie jeebies. We'll laugh about that night for pretty much ever, and it was totally worth it. Don't let the setting sun stop you from exploring, just go prepared with a flashlight!
7. Post a Nut
This is one of the only 'touristy' things to do on the island, but man is it fun. At the post office, you can "Post a Nut." They have coconuts and about 300 sharpies for you to decorate them with. However, our hosts had put aside some small ones for us (less expensive to ship). After spending an hour decorating three coconuts, they were off to our little nephews and my bestie (who I knew would appreciate this quirky souvenir the most).
The post office just slaps some stamps on them as is, which makes for a really unique letter. Since my friend Julie lives in an apartment I sent it to her parents' house, but forgot to give them a heads up. So, her dad thought it was some kind of wild animal in the mailbox! We had a pretty good laugh when she told us that. Sorry, dad!
8. Visit Purdy's Macadamia Nut Farm
This was just going to be a quick trip for us. We read that you could learn about macadamia nut trees then crack a mac and try it in its purest form on Purdy's Macadamia Nut Farm. While we enjoyed doing all that, it was talking to the passionate owner Tuddie for more than an hour that we really loved. He taught us so much about these amazing trees and shared a lot about Molokai and Hawaiian history from a local's perspective that we really appreciated.
He even had a friend stop by who joined in with the storytelling. It was really nice to have them accept us and be comfortable sharing that insight into their lives with us. And those fresh, unprocessed mac nuts were damn good!
9. Hang-dry laundry
This may seem like a silly thing to enjoy, but I had never done it! I got a strange amount of joy hanging our clothes and towels out to dry together on the back porch. And I had no idea how amazingly fresh and soft they would be after the trade winds dried them off for us. I could really get used to island life. Highly recommended to feel like a local!
10. Go snorkeling in Molokai with colorful fish & sea turtles
We didn't plan to do any snorkeling in Molokai with any tour operators, but when we read about how amazing the reefs off Molokai's coast are, we had to check it out. Our two stops on our trip with Molokai Fish & Dive took us to a pristine, colorful coral reef with dozens of different kinds of fish as well as a deeper area where we swam with sea turtles. (Read more snorkeling in Molokai here).
11. Lounge in a hammock by the beach
We couldn't help but bring our hammock along to Hawaii with us and we loved stringing it up under some coconut trees by the beach one afternoon. After flopping around to find a comfortable way to lounge in it together, we enjoyed swaying in the wind while we watched sea turtles pop their heads up.
A week later, we met a cute couple doing the same thing, they were newly engaged and camping on the beach. After a lovely chat, we left with happy hearts that we encouraged them to follow their dreams at such an important stage in their lives. Hammock life is clearly made for romance and its a must on our things to do in Molokai list!
12. Eat fresh fish tacos & furikake fries
Hawaii has some awesome food, and although Molokai doesn't have many fancy restaurants, it is not lacking in good food. The fresh fish tacos from the food truck next to the dive store are made from that day's catch and are so yummy. We also ended up trying fries with furikake seasoning (seaweed, sesame seeds, and other goodness) for the first time. They have these at a few different places on the island and usually serve them with spicy mayo as well. We had to muster all our self-control to not eat these daily. Where has this amazing seasoning been all our lives?
13. Take stunning Molokai ocean drives
The road out to Halawa Valley, where there is a beautiful beach and amazing tour, is stunning. The road is narrow, and we had to pull to the side if a car needed to go by, but it is right on the ocean and such an amazing drive. The waves are so close they splash into the road at times. And there are multiple places to pull off and enjoy the views, snorkel or catch some rays. We drove this gorgeous road multiple times and loved every minute of it.
14. Learn a traditional Hawaiian greeting in Halawa Valley
One of our favorite days was spent with Greg on the Halawa Valley Falls Cultural Hike. The most precious moment for me was learning the traditional Hawaiian greeting of sharing the sacred breath of life with each other, then practicing it with the group. It is such an intimate and beautiful way to connect with someone, and it is also a great example of how much the Hawaiian culture is based on love and respect. Two years ago this would have really upset my need for personal space, but so glad that girl is long gone.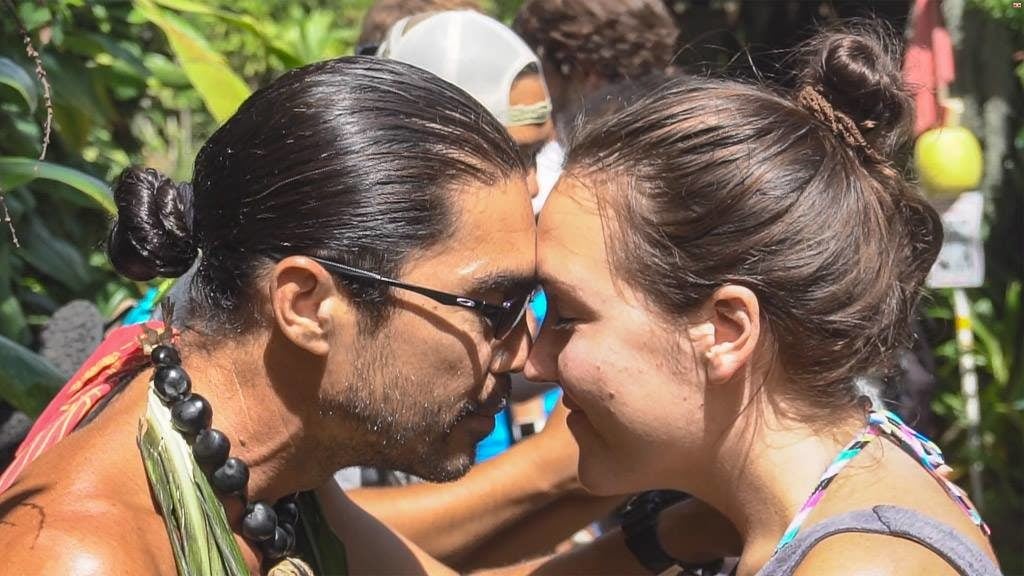 15. Swim in a hidden waterfall
In addition to teaching us so much about Molokai and the 'Old Hawaii' traditions, Greg also took us to the waterfall on his private property. Swimming up to the gushing falls after a jungle hike was a moment we'll never forget. It felt like we were living in a movie. Of all the things to do in Molokai, this may be our favorite! (Read more about our tour and waterfall dip here.)
16. 'Fish' while watching the sunset
While on the island, Buddy got back into his old hobby of fishing. He rented a pole from the shop in town and would spend hours outside trying to catch something. While he had pretty much zero luck (aside from a 4-inch long, very hungry fish that went for bait of the same size), he still loved it. Sunset was his favorite time to be out there, for good reason. Molokai is stunning all day, but especially so as the sun sets.
17. Listen to live music at Molokai's local bar: Paddlers
It is a shame we hadn't listened to Hawaiian music until this trip. It is so happy and upbeat, and even more fun in person! We caught a great band at the local bar, Paddlers. The night started with more traditional, relaxing music, but afterwards there was a great jam session by a local band.
18. Go on the Kalaupapa Hike & Tour
Most people that come to Molokai on vacation have one big plan in mind, and that's a trip to Kalaupapa. This unique place has beautiful untouched beaches, the tallest sea cliffs in the world, and a sordid history. In the 1860s until 1969, this is where Hawaiian people with leprosy (now called Hansen's Disease, to remove the unfair stigma) were quarantined from their families and the rest of the world. Once a cure was found, the government allowed the remaining residents to stay as long as they wanted, so there are still people living there today.
We hiked the 3.5-miles down, had an interesting, inspiring and fun tour – which just so happened to be given by the singer in the band we saw at Paddlers(!!!), and we stopped at the most breathtaking picnic spot we've ever seen. Totally worth the 3.5-miles back up in the humidity that we endured. It is one of the top things to do in Molokai for a reason! (Read more about this adventurous Kalaupapa hike here.)
19. Take in ALL THE FEELS while flying off the island of Molokai
Leaving Molokai felt like leaving a close friend. We didn't want to go, and that's a great way to feel about a place. Those were honestly, with no hint of over-dramatization, the best two weeks of our life. We were so at peace and so thankful for every single moment in that amazing place, we couldn't help but be filled with sadness when we had to leave.
I cried as all of these amazing memories came rushing through my mind when the plane took off. And I said a prayer that it will stay the same, that no one will come in and ruin this perfect place, that future generations will be as passionate about keeping it the same as the current residents, that visitors will respect the beautiful land and want to fight to preserve it, too. So that one day, when we make our way back, it will be like we never left.
We'll miss you Molokai … until next time.
Read more about our two-month Hawaii trip here. And if you want to know more about how we made this vacation happen, check out our guide to pet and housesitting!