They have a saying on the Hawaiian island of Molokai, and especially in the rural Halawa Valley area: "Don't change Molokai, let Molokai change you." While this is definitely a plea to keep big resorts and other 'progress' from destroying this peaceful isle, it is also an invitation.
If you want to understand why the people here are so joyful, why the slow pace and simple life is so beneficial, lean in. Let the true Hawaiian spirit take hold of you. And if you are struggling to feel it, a day with Greg or his dad Pilipo on Molokai's Halawa Valley Hike & Cultural Tour can set you on the right track. Sure, swimming in a hidden jungle waterfall will help too.
But it is the history and beliefs – told with undeniable passion – that will really have the strongest effect… if your heart is open and you're ready to listen.
Getting to Halawa Valley
After a few days of trying to get a hold of the Halawa Valley tours, we finally just took a local's suggestion and showed up at the meeting place – a tree in front of Halawa Park – with cash in hand. Apparently, signal is really bad in the valley and it could have been days before we heard back.
The drive there is gorgeous as well as the nearby beach. So, worst-case scenario we'd have a scenic drive and a beach day.
We had perfect weather as we drove through the winding ocean-side roads to Halawa Valley. Waves crashed so close they almost splashed us and the views got more impressive as we neared the meeting place.
No one was at the park when we got there, but it was still a bit early. However, as the meeting time of 9 a.m. ticked by, we felt our high hopes falling. Everyone raved about this cultural and waterfall tour. We didn't want to miss it!
As others started to show up though, with claims of pre-paying, we felt better. And when Greg pulled up and asked if we were there for the tour, I almost jumped up and down. We had forgotten that we were on Molokai. There is no such thing as "on time" here, just island time.
Insights into 'Old Hawaii' on the Halawa Valley Hike & Cultural Tour
Once everyone got there, he introduced himself and explained that before heading to the waterfall, we'd be visiting his home. Greg and his father are both cultural practitioners, chosen to share the stories and history of the area with locals and visitors. Along the way to his house, he explained many customs of the Hawaiian people – most of which are rarely practiced even by current residents. And while we felt like we were seeing this hidden version of Hawaii, Greg reminded us: "Culture is sacred, not secret."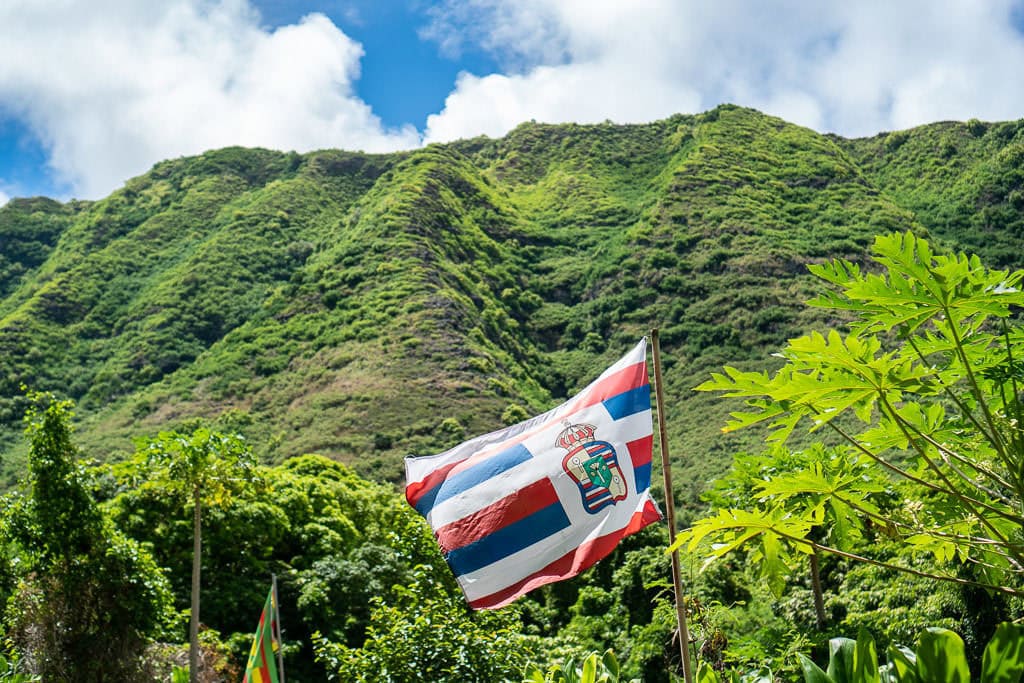 He announced himself with a conch shell (called a pū), and explained how this method would have been used long ago as a way to let others know of your arrival. If they didn't reply, you weren't welcome.
A Traditional Hawaiian Greeting
We walked through the beautiful jungle to his home, with goats and dogs and lots of fruit trees. Before arriving at his house, he taught us a traditional Hawaiian greeting ('honi') of sharing the breath of life ('ha'). We pressed our forehead and bridge of our noses against each other's while touching each other's shoulder, then we breathed in through our noses.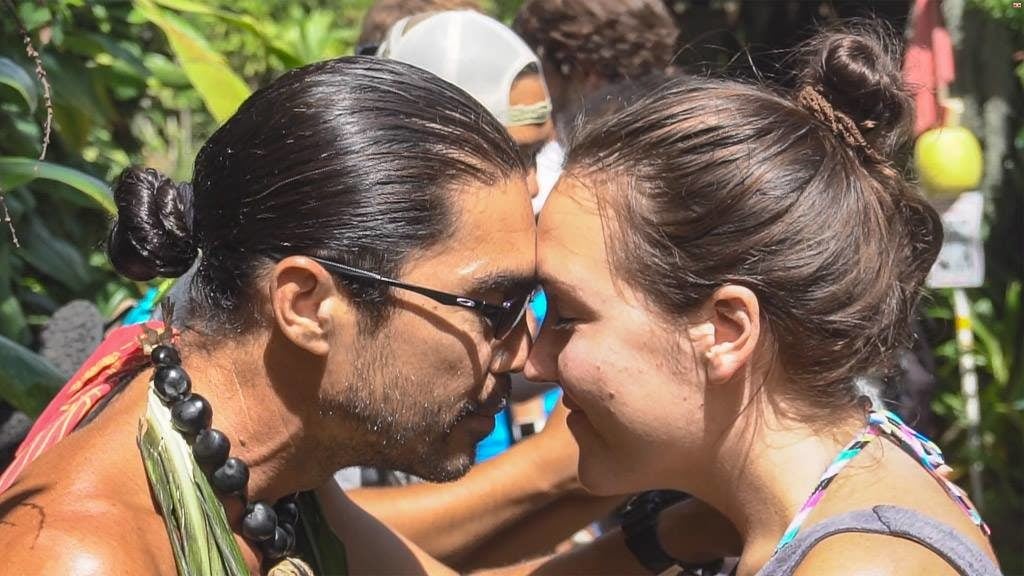 When I realized we'd all be doing this with each other, I was slightly uncomfortable. But, once this greeting began, I realized how absolutely beautiful it is to share such an intimate moment with another person.
It is a way to show respect and love that goes far beyond what a handshake or even a hug can accomplish. It made us all take a few seconds to acknowledge each other in a special way and gave me this feeling of closeness with this group of strangers that I didn't expect.
Ring of Light
Afterward, we presented a ceremonial gift upon arrival to complete the protocol. And then Greg showed us photos of what the area looked like long ago – before the April 1, 1946 tsunami wiped out the area and it has never been built back up aside from some homes.
He also explained the meaning behind his traditional outfit. His colorful sarong shows he is a cultural practitioner for his family. The ti leaves around his neck serve as a spiritual protector and the kukui nut lei represents a "ring of light." This is because the waxy nuts inside the shell were used as candles.
If someone wears this, it should be as a reminder of their commitment to spread love and kindness – be the light to others. While leis have become go-to souvenirs for tourists, they actually have deep cultural meanings that many don't realize.
Epic Halawa Valley Hike
After getting an amazing introduction to old Hawaii on the Cultural Tour and learning more than we ever imagined we would, we set off for the waterfall on the Halawa Valley Hike.
Along the 1.7-mile trail, Greg pointed out the many plants growing in the forest, sacred worship sites, and ancient taro farms. He laughed heartily as he told us about his family and happy memories. His authenticity was so refreshing.
As we walked he told us more stories, including one about having to save a group of locals that hiked out to the waterfall during a flash flood. This is his private property, but many people decide to venture to the falls alone. This is a bad idea for many reasons – the area is prone to flash floods, Greg and his family hunt on the property, you could get lost, and it is also really disrespectful.
However, Greg does allow a lot of his family to use the area, and we saw a few of them out on the trail. But even they give him a heads up before coming.
Getting to the Halawa Valley Falls
After a short, but gorgeous hike through the forest and over streams, we arrived at the waterfall. And it was more gorgeous than we had imagined. It is even rumored to have a fearsome red lizard guarding the top – whose profile you can see perched over the top as you approach. Once at the water's edge, the entire group quickly stripped down to their bathing suits and hopped into the cold water.
Before long, we were at the base of the waterfall laughing and getting pounded by the powerful water falling from above. It was a struggle to stay close to it as the water tried to push you back to the middle of the lake.
Storytime after the Halawa Valley Hike & Waterfall Dip
After a nice swim, we all lounged on the rocks and ate granola bars as Greg told us the story of the April 1, 1946 tsunami. His dad is the last living Hawaiian descendant to be born and raised in Halawa who still resides there. And he is also one of the few witnesses of the tsunami still living.
It was amazing to hear how the locals all worked together to get to higher ground and prevented any loss of life. What an incredible thing to live through!
Greg clearly takes his role as the family's cultural practitioner seriously and cherishes these stories. One day, it will be up to his son to share these stories and customs. And hopefully, generations after him will continue to value this history.
The True Meaning of Aloha on this Wonderful Molokai Tour
In Hawaii, Aloha seems to be used for everything. So, when you find out it means love, it really makes sense for it to be so widely used. The Hawaiian people are some of the most loving I've ever met. Family is extremely important, kindness to others is key, and respect of elders is ingrained in their society.
They show love above all else and do their best to hold on to their cultural history, even though a constantly changing society – and profit-focused tourism industry – can make that a struggle.
Greg and his family believe that if they expect people to appreciate and respect their culture, it is up to them to teach about it. Well, they achieved that with us and completely changed the way we see Hawaii and its beautiful people.
There was no extravagant show, embellished stories, or cheesy souvenirs here – just a family with a genuine love for Hawaii, generations of knowledge to back it, and the kindness to share those insights with those who are willing to listen. Mahalo, Greg!
A hui hou.
Read more about our two-month Hawaii trip here. And if you want to know more about how we made this vacation happen, check out our guide to pet and housesitting!