Can you believe us Florida kids have never been on a legitimate, actual, see-cool-stuff-in-the-water snorkeling tour? Us either. I don't know what took us so long, but I'm glad we booked a tour on a whim to go snorkeling in Molokai while we were there. What an other-worldly, amazing experience! Everyone should have the opportunity to experience the wonder of our oceans. It is truly life-changing.
Our First-Ever Snorkeling Tour with Molokai Fish and Dive
After renting a fishing pole and trying the delicious fresh fish tacos at Molokai Fish and Dive, the owner talked us into going on his snorkeling tour the coming weekend. It was only $70 each and would take us to some of the most pristine Hawaii reefs and even give us the chance to see Hawaiian green sea turtles.
Not a hard sell at all. It also helped that the reviews online were pretty spectacular. And we were excited to finally get some use out of the snorkel and mask we purchased after getting scuba certified two years ago (womp womp, I know). So, we locked it in!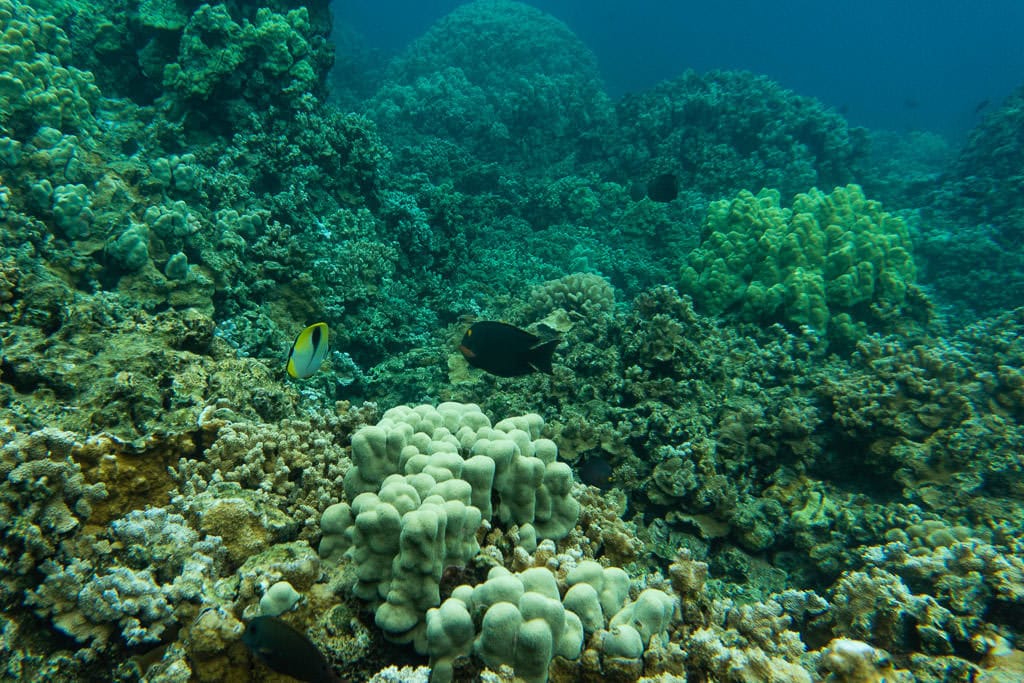 Setting Off for Snorkeling in Molokai
This amazing Hawaii snorkeling tour included two, 45-minute to one-hour dives. After boarding the boat early on a Sunday with a handful of other people, we set off on the choppy ocean to our first stop of the snorkeling tour.
The trade winds make for a bumpy ride in this area, so we were glad we took Dramamine as a precaution. (Don't forget your REEF-SAFE sunscreen as well!) And while the gloomy day made the water look dark, there was a colorful show waiting beneath for us.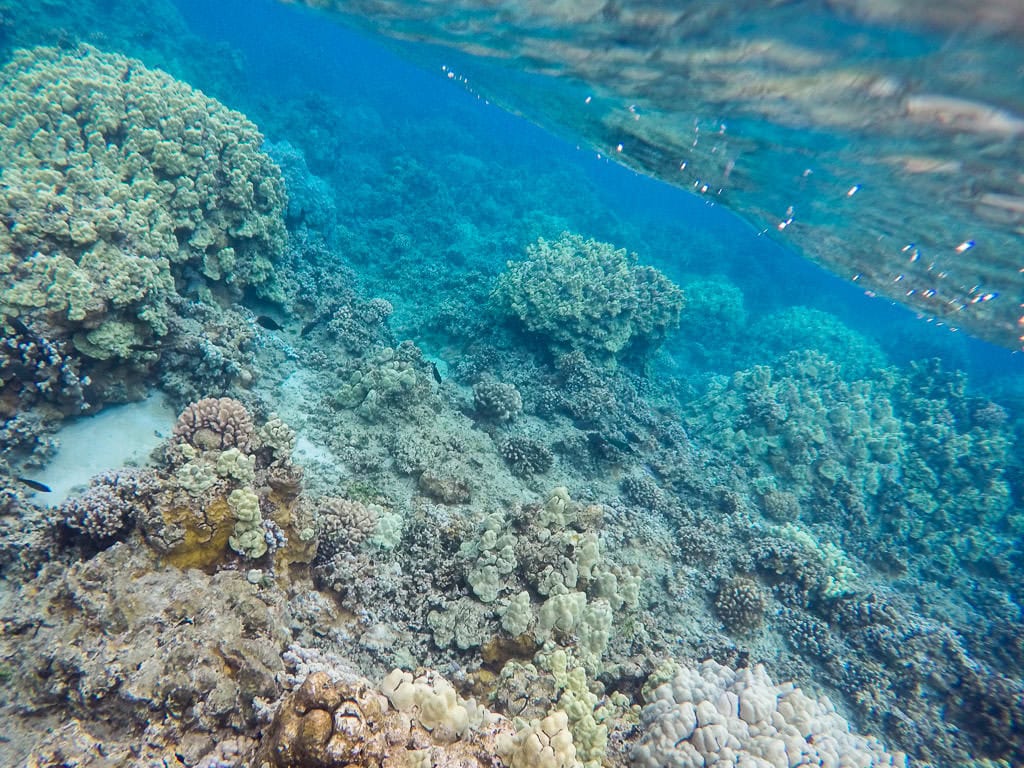 First stop: Pristine Hawaiian reefs & a bajillion fishies
Although we are certified divers, we had never experienced being in the ocean before since we did our open water dive in Homestead Crater in Utah because we were bored in Colorado one January (no aquatic life there whatsoever).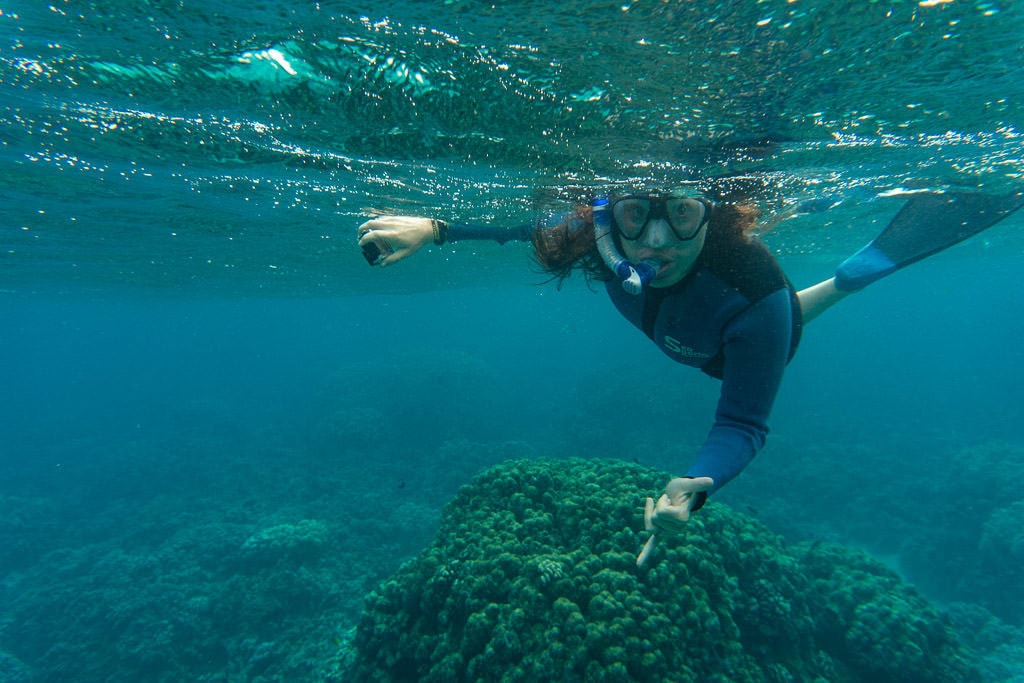 Getting in the open ocean freaked me out at first, especially since the water was a little rough – not the placid lake-like experience I had experienced before. But, once I saw all the colorful coral and insane amount of life all around me, I forgot all about my fears and just enjoyed my Hawaii snorkeling adventure!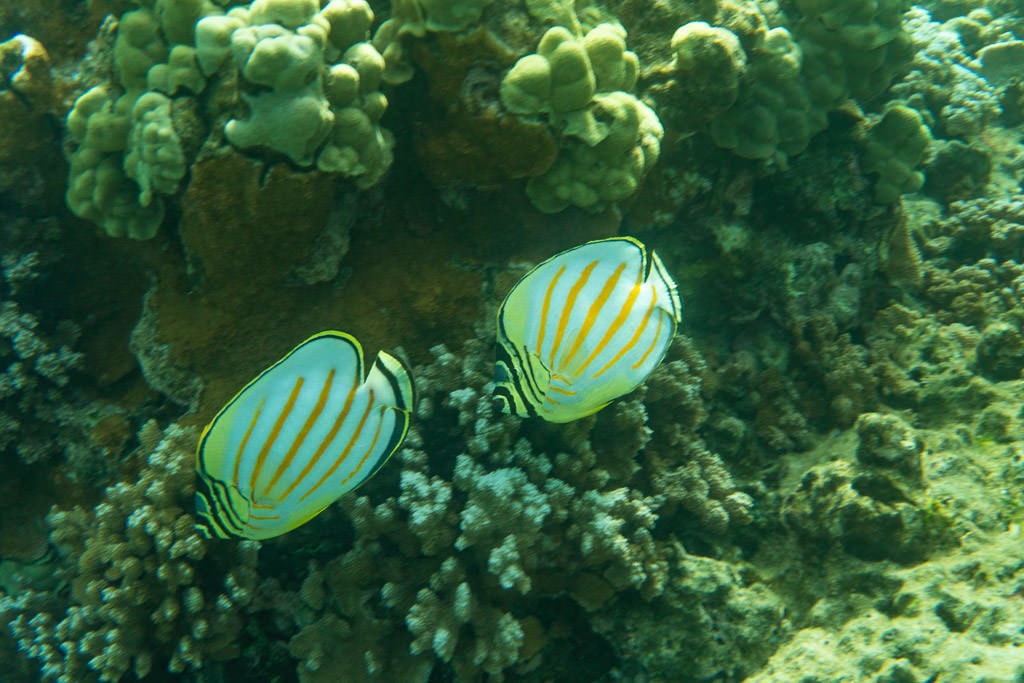 It didn't take long for us to lose count of how many different kinds of fish we saw. Not to mention all the colors of coral – purple, blue, yellow, red, and green. We had seen photos of what life looks like under the ocean, but seeing it in person felt unreal. It was pure magic to be snorkeling in Molokai.
Buddy had also recently purchased an underwater housing for his camera just for this trip. So, he was excited to use it. I was instantly grateful for my flippers, so I could keep up with him as he swam and dove to try to capture a bit of the wonder we were experiencing. And since it was so shallow, he didn't have to swim far to get a close look at the many fish and corals.
Second Stop: Hawaiian Green Sea Turtle Time
After thoroughly exploring the first reef area, our captain took us to a deeper area to see sea turtles. We had already lucked out by seeing one, tucked in the bottom of the reef. But, he assured us this next experience would be even better. And I can't even describe how full my heart was after this part of the trip. I tear up even thinking about it.
As soon as we hopped in the water, one of the dive masters on staff said "Come with me, I'll show you where you can see some turtles." He swam off and we barely kept up. A few minutes later, he free dove down near where the reefs dropped off and pointed to a turtle, then another. I gave a thumbs up and tried to keep my snorkel in while a huge smile crept across my face. It was something out of a dream.
As Buddy and I swam around in search of more turtles, and frankly away from the deeper drop off area that scared me a bit. We both swore we saw a shark. But, neither of us said anything until hours later because we didn't want to freak me out more. He took a photo, and it turned out to be an ono fish when we zoomed in. Fooled us! I have to admit though, I may have hopped back on the boat had I not seen a Hawaiian green sea turtle nearby.
The best moment of this Hawaii snorkeling tour
As a reward for my bravery, God must have encouraged this beautiful creature to head my way. He actually swam alongside me for what felt like five minutes. I was able to admire his coloring and graceful movements. We locked eyes, I swear it, and I had this moment of pure bliss and connection to nature. I understand why people fall madly in love with the ocean now.
At one point he popped his head up and I went up along with him. As the waves splashed, I could barely make out his little face. I knew in a moment he would be gone and, sure enough, he dove back down into the water and was off into the deep blue.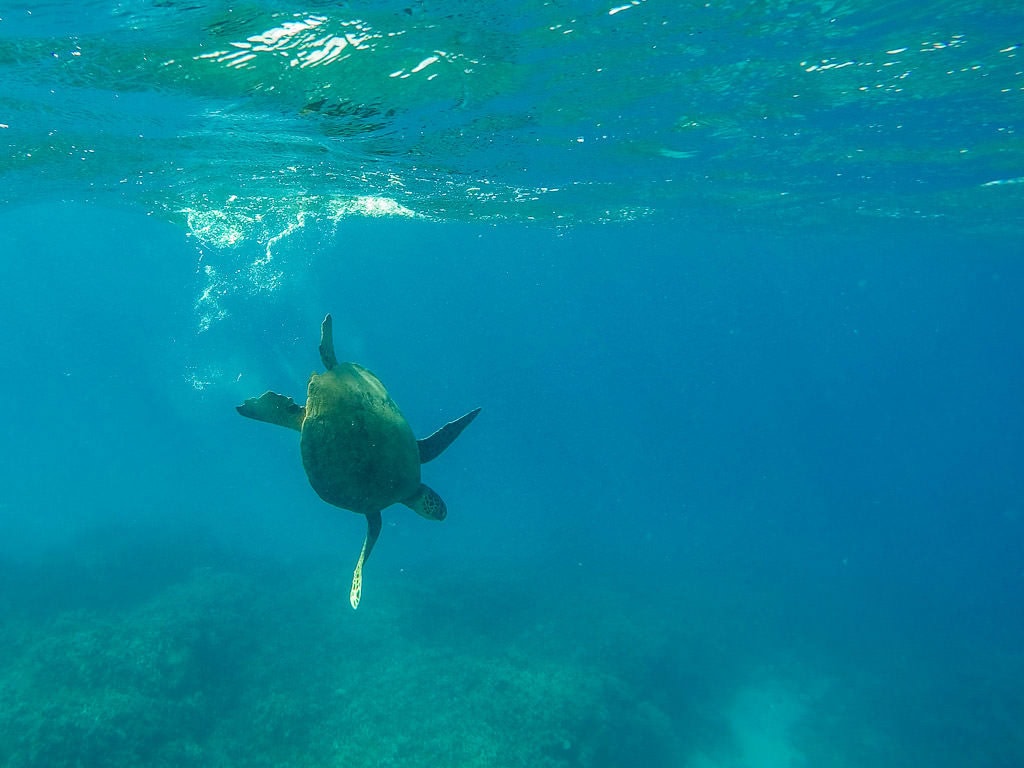 During this entire experience, I didn't even care where Buddy was. This gorgeous animal had me in some kind of trance and I almost panicked when I realized I had just swam off on my own. But Buddy was only a short swim away, on his own soul-filling adventure.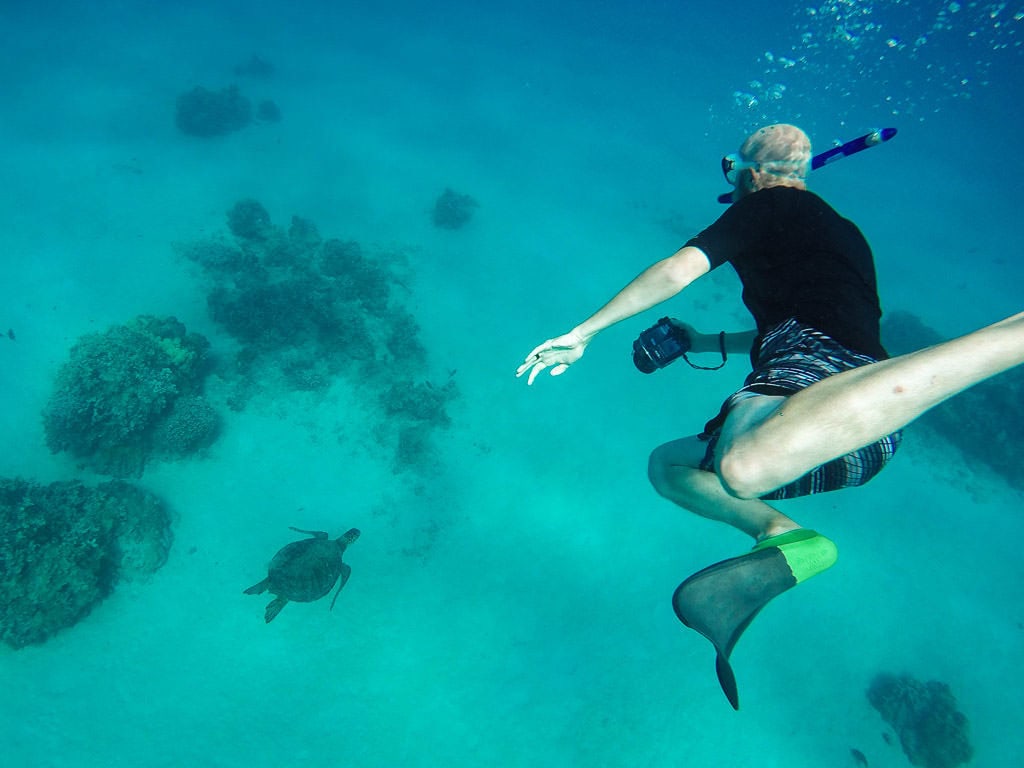 We both saw at least seven turtles on that trip. Some swam together, some alongside us. Others we admired from a distance as they glided along. It was more than we ever could have hoped for, and made us all the more aware of how much we are connected to these fellow creatures.
The ocean has limitless beauty and wonder. It is a place that makes you aware of the undeniable existence of magic. And it is up to us to protect it. Go out of your way not to make decisions that will harm our world or its creatures. It is not a sacrifice, it is self-preservation. We all share this home.
Read more about visiting Molokai and our two-month Hawaii trip here. And if you want to know more about how we made this vacation happen, check out our guide to pet and housesitting!