Sometimes we put a lot of thought into our travel plans, but mostly we just wing it. Like, when we booked all of our lodging for a week-long road trip around midnight the night before we were supposed to leave – after having a few drinks to celebrate. Yea, that leads to way more interesting decisions. Like booking a night in an old, rusty hippie bus in middle-of-nowhere Utah at a place called Mystic Hot Springs.
Even though we read the reviews that said you had to appreciate things like quirky collections and not expect any fancy amenities, I was still a little nervous when we pulled up on a dreary April afternoon and saw "Shakedown Street."
First Impressions of Mystic Hot Springs
This row of old buses, mostly named after Grateful Dead songs, looked a bit like a salvage lot at first glance. Some had artwork painted on here or there. Our bus, "The Ripple" had its name in beautiful letters above the windshield. But for the most part, Mystic Hot Springs just looked abandoned and I felt myself start to second guess this decision. Plus, it was snowing and I was wondering how on earth that thing could possibly keep us warm.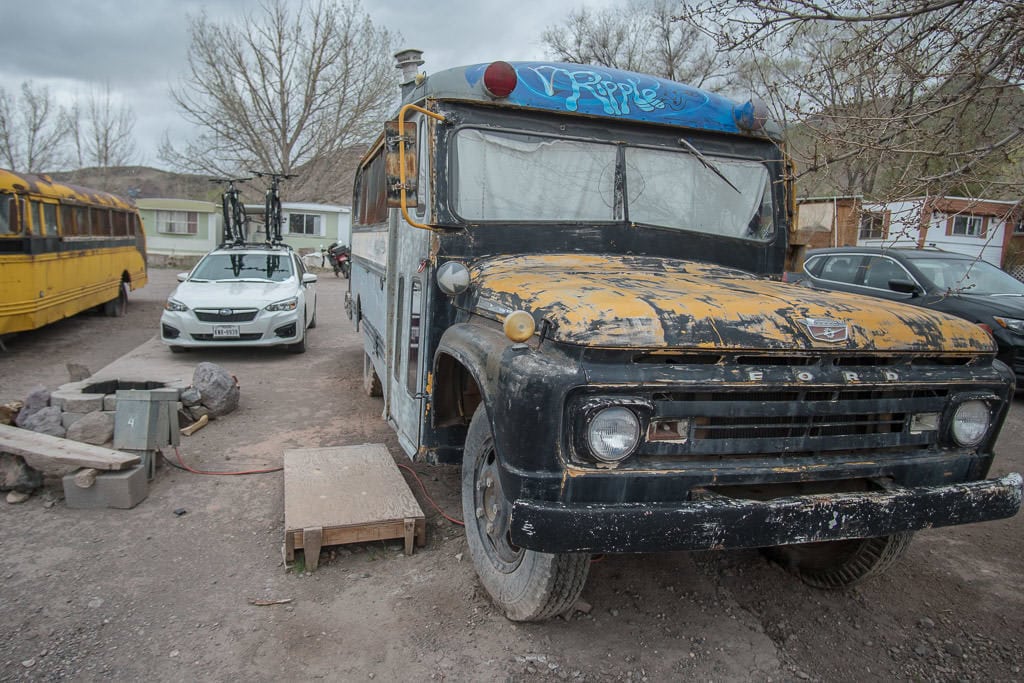 But then Buddy reminded me of why we came. We purposefully seek out things to push our comfort zones, to provide that unique experience only out-of-the-way, nontraditional places can. And this would do just that.
Mystic Hot Springs
After we checked in, we quickly dropped our things off in the bus (which was much cuter inside than outside) and headed straight for the tubs. After a long day of driving from Lake Powell and exploring and getting unexpectedly snowed on, we were ready for a soak.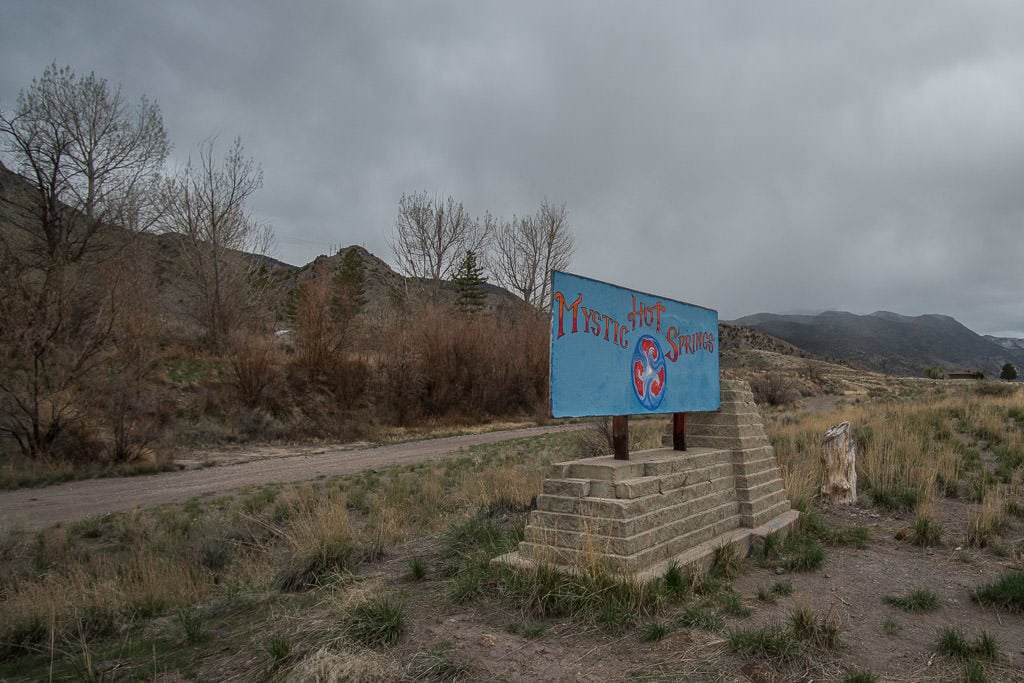 I have to say, these were some of the best hot springs we've ever been to. Mystic Hot Springs unique setup with tubs along the mountainside makes it a stand-out in pictures. But, the real treat is the water. Perfectly warm and soothing!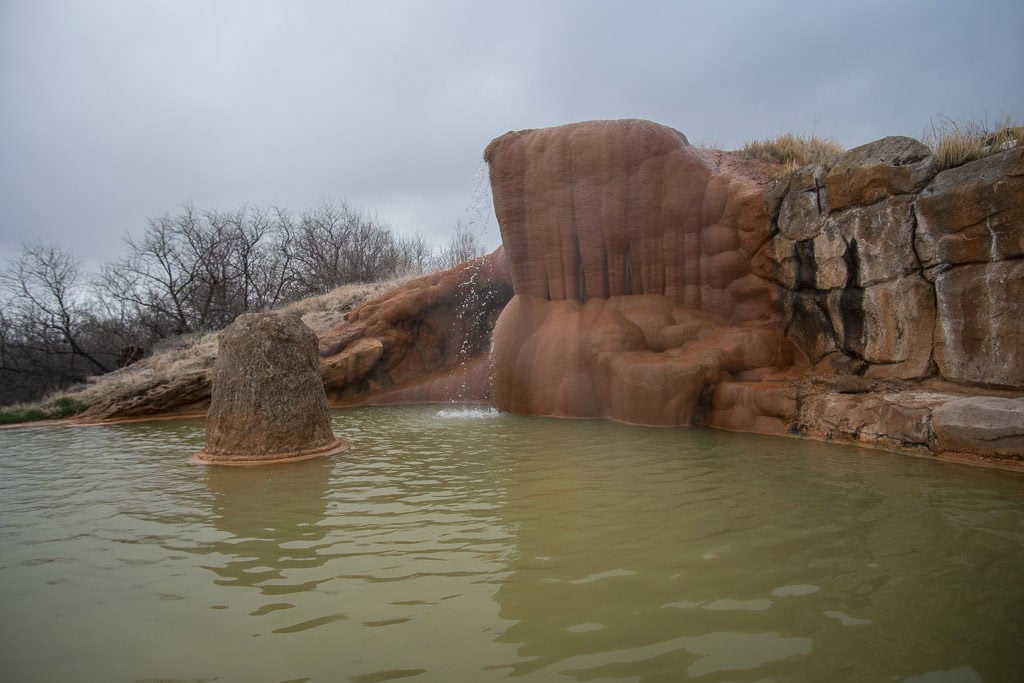 The owner, Mike, was even making sure none of the soaking areas were too cool while we were there. So, we could tell keeping these at optimal temperature was important to him – as well as their cleanliness.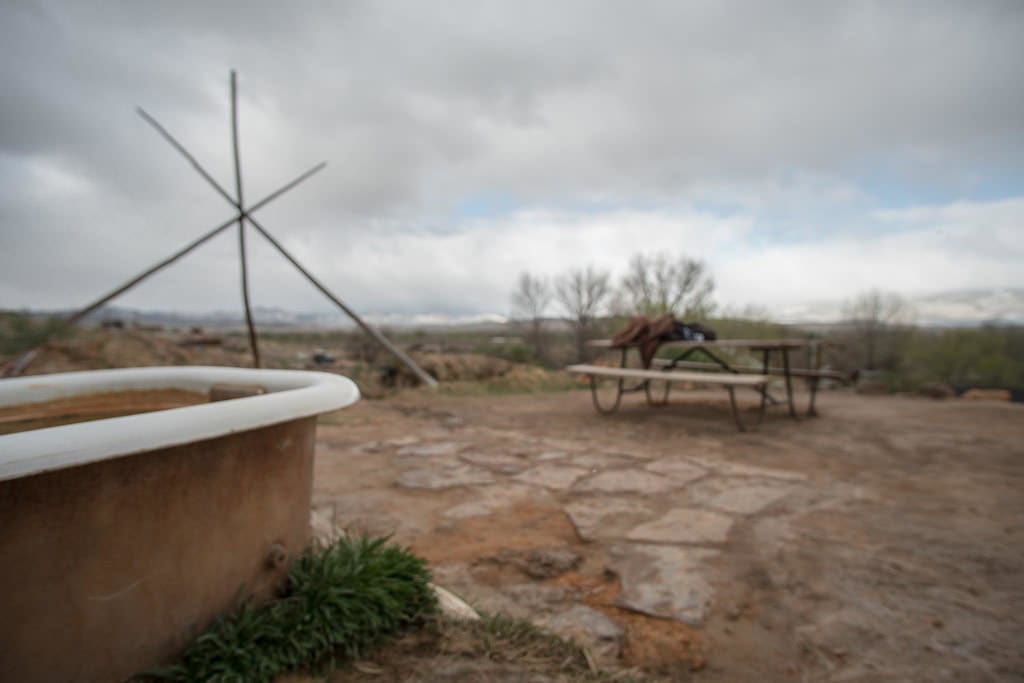 Mike purchased Mystic Hot Springs after stumbling upon it on a drive back to Denver in his bus in 1995, after a Las Vegas Grateful Dead show. He fell in love and has been working to share this wonderful place with others ever since. A true artist! Read more about him and the Mystic Hot Springs here.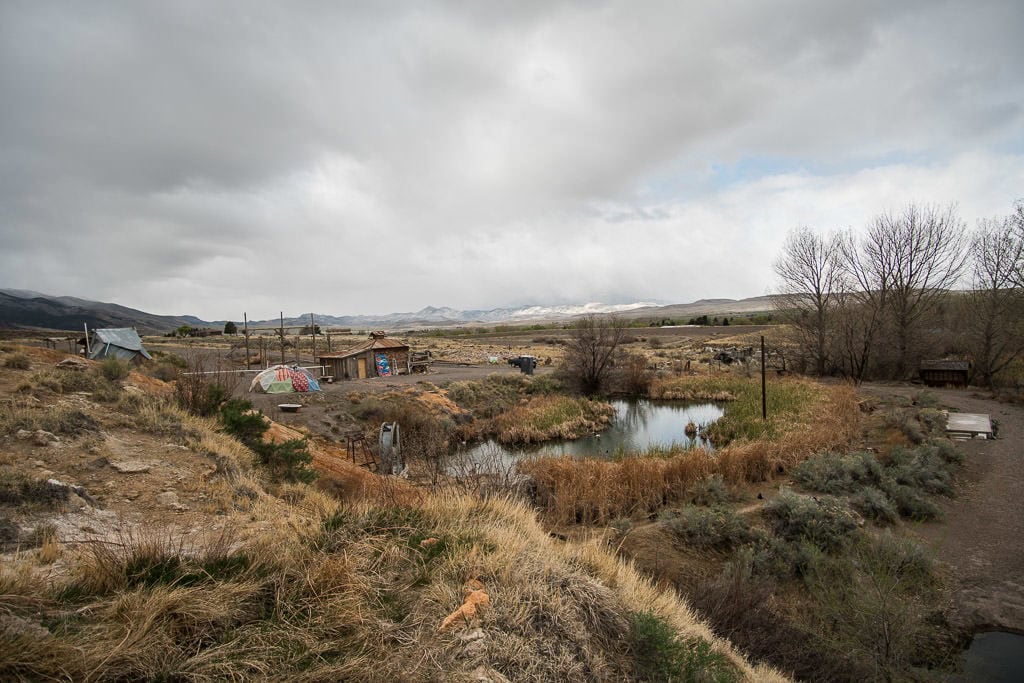 Watching the snow fall over the city below as the light of day faded was heavenly and we were so glad we made this a stop on our trip.
The Schoolie Experience
Once we relaxed in our own mountain-side tub for a few hours, we were ready to wind down in our home for the night. As previous RVers, we had seen many schoolie buses out on the road and were always curious what it would be like to stay in one. Well, now we know.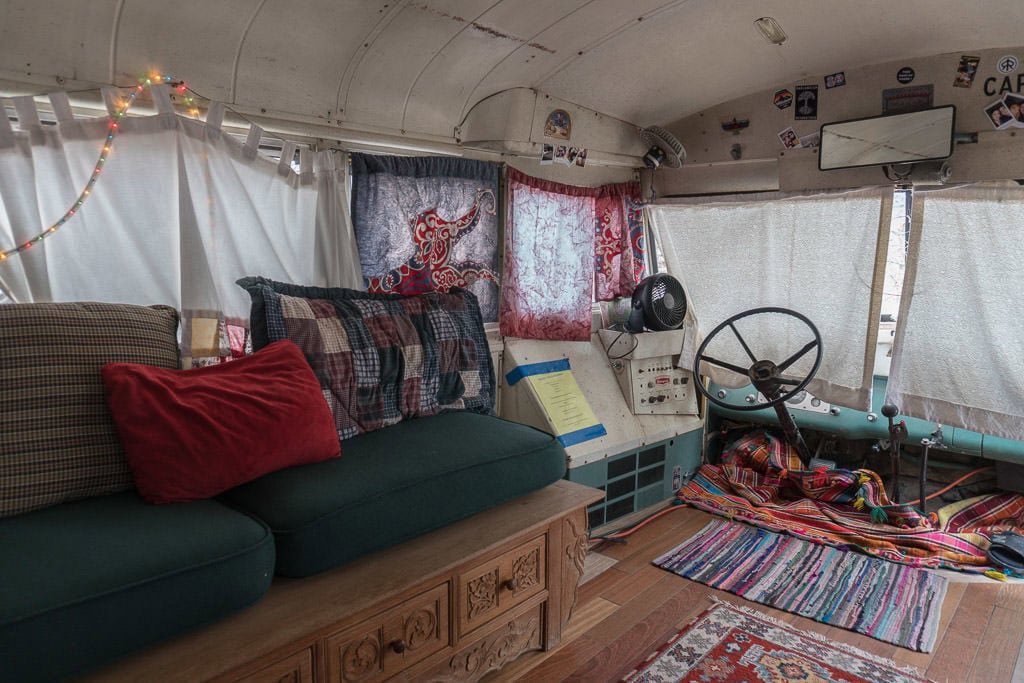 It is surprisingly cozy! The interior decor was colorful and charming. The bed was soft with lots of fresh linens and even a heated blanket. This, plus the space heater we had blasting, kept us toasty all night. Even with temps in the mid-teens outside.
The nearby communal restrooms were just a few steps away. And while Buddy said the men's room could use some love. The lady's was clean and very nice.
Although we had good signal, despite the remote location. We chose to unplug and spent our time there reading through the guest book about all the travelers who stayed in "The Ripple" at Mystic Hot Springs before us – a favorite pass-time of ours while visiting a unique place.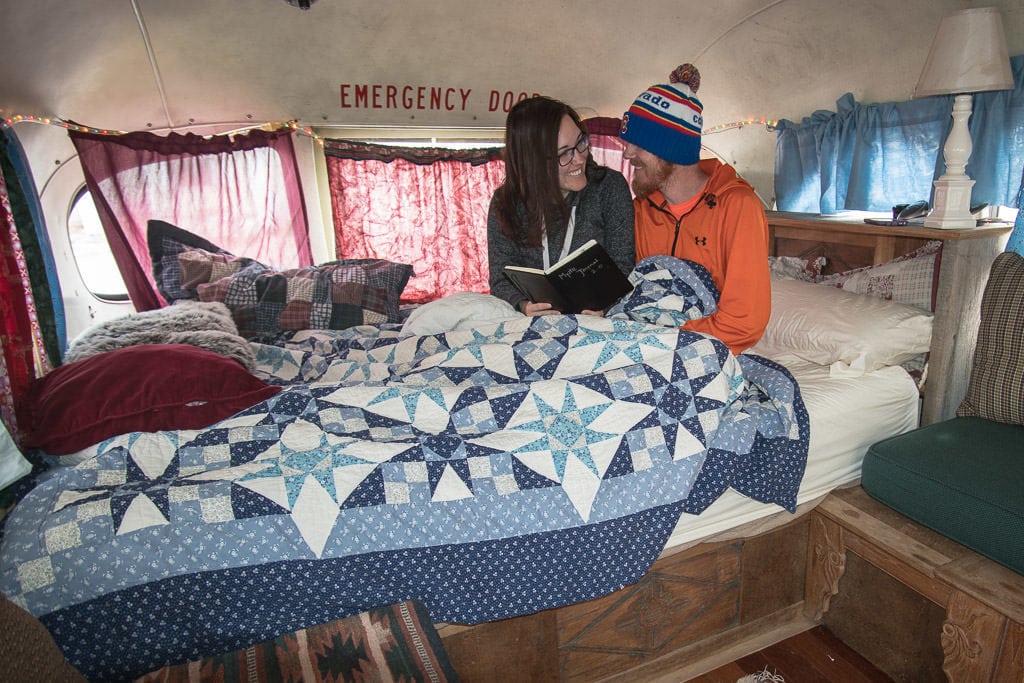 With our bodies and brains relaxed and refreshed, we slept better than we had in weeks.
Other notes about visiting Mystic Hot Springs
As of our stay, bus lodging was $60 for one person and $30 per additional – which includes soaking in the springs.
There are also cabins, RV sites and camping spots available.
Accommodations are listed on AirBnB, but we chose to book through the site which was really easy and hassle free.
Don't forget to make your own contribution to the fun guest book!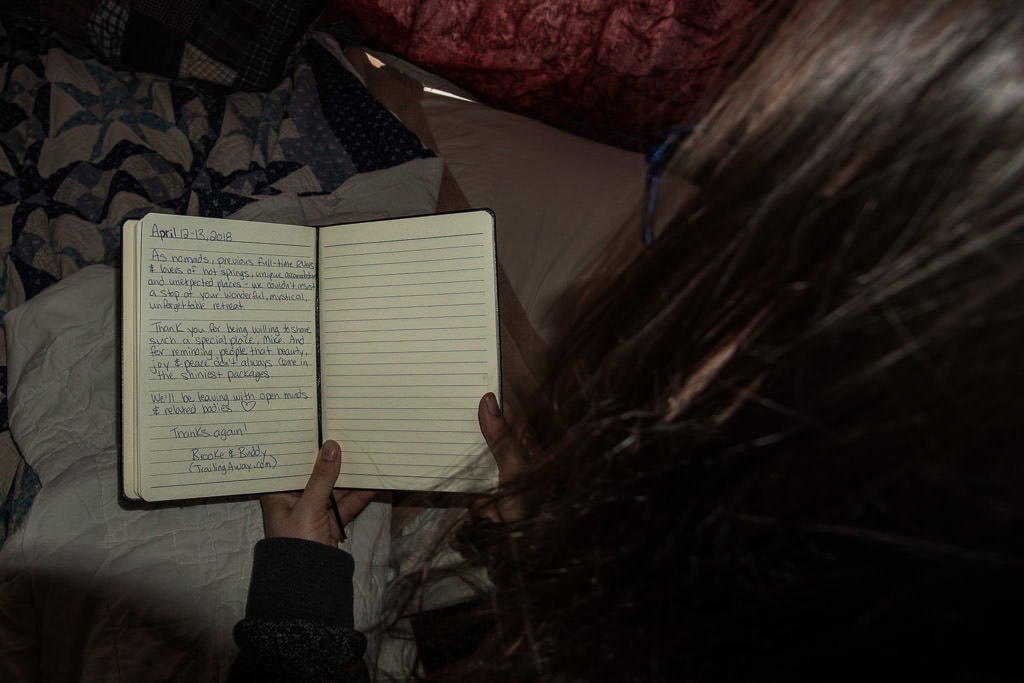 There is also a small mobile home community of permanent residents on site. However, they seemed to keep to themselves and we hardly noticed them.
We visited on a weeknight, so everyone there was pretty subdued. But there are concerts some weekends, so check before going depending on what you are looking for in a getaway.
However, they don't allow alcohol, nudity, glass containers of any kind, or any illegal activities in the hot springs or any public area. So, this probably won't become a crazy party place on any night.
If you don't want to stay overnight, you can also purchase a soaking pass for the day.
If you are looking for something a little quirky, very unique and 100% memorable, don't miss this spot.