As the day approached for our big Rotorua rafting adventure in New Zealand, I began to panic a bit. What if our raft tips over? What if we fall out? A 7-meter (23-ft) drop is no joke. A lot can happen over that distance, not to mention the risks once underwater. (All of which we have first-hand experience of now!!!) But at the time, the fear was overshadowed by the pure excitement for getting to experience the tallest commercially raftable waterfall IN THE WORLD! Plus, it's SO unlikely we'd flip, right?
While much of what we do during our travels is born out of pure spontaneity, this activity had actually been on our minds for years. We first heard of Tutea Falls after rafting Husum Falls in Washington a few years ago. Which is known for being the steepest drop over a commercially raftable waterfall in North America. Of course, after we successfully rafted over that 12-ft monster, we immediately looked up the highest commercially raftable waterfall in the world and set our eyes on it.
Not surprisingly, rafting was one of the top things to do in Rotorua, New Zealand – a country known for its adrenaline-rush activities. So we made a mental note to definitely do that when we visited … 'one day.' Little did we know, due to some huge travel-focused life changes, that we would be rafting in Rotorua sooner than we thought. And we were friggin' psyched to get in the water!
An Intro to Kaituna River Rafting & Tutea Falls
Although there are a few dozen things to do in Rotorua, we were on a solely whitewater-oriented mission. We plan to spend a few days there during the less busy season in April, but knew our waterfall rafting adventure would be much more enjoyable in warm water. So, we squeezed in a mid-February trip with Kaituna Cascades just before heading to the South Island.
This amazing whitewater rafting adventure takes place in Okere Falls – about 20 minutes from downtown Rotorua. Trout Pool Falls (not part of the rafting trip), Okere Falls, and Tutea Falls (the big drop!) are part of the Kaituna River (aka Okere River).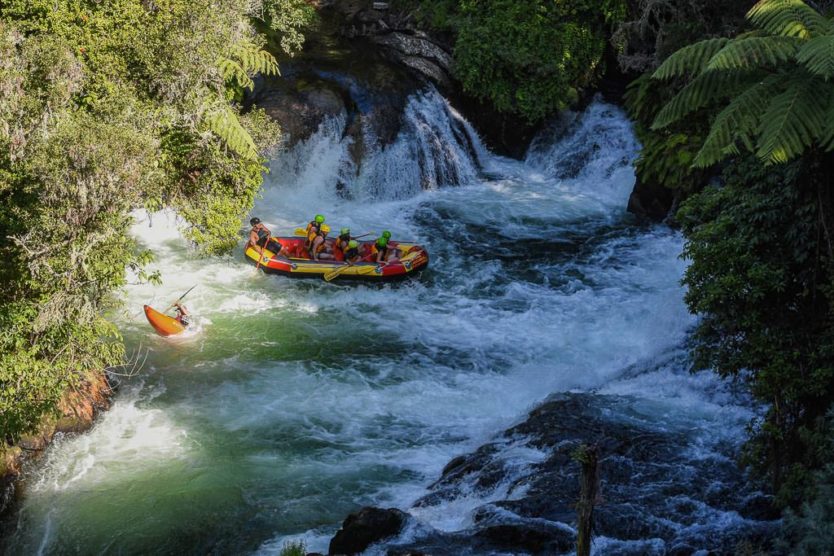 It only takes about an hour to complete the whole trip, but that is plenty of time to pack in lots of fun. While parts of this river – mainly waterfalls – are classified as Class V whitewater, most of it is much more relaxed and allows you to take in the gorgeous views!
Hiking the Okere Falls Trail
Like any good masochist, the first thing we did when we got to the area was go scope out this terrifying drop. Luckily for people like us, there is a short trail (about 1.5 miles long) that takes you right to Tutea Falls and some of the other waterfalls you'll raft over during your trip.
While going to check out the falls before might not be for everyone, we highly recommend going on this trail at some point. It gives you an entirely different perspective to see other people rafting over the falls and the area is absolutely lush and stunning.
It is also a great place to watch friends and/or family conquer the falls if you have chosen to stay behind. There's a great viewing platform to take in all the action, where the rafting companies actually send their photographers as well.
For me, it actually made me less scared to see multiple other rafts launch over the waterfall with little or no issues. However, I may have felt differently had a raft got dumped over like ours did … (more on that soon!)
As we walked away, I remember visualizing a perfect decent over the falls and how excited I'd be to pop back up below it. It was really so unlikely to flip, I had no reason to keep worrying …
Getting Rafting Ready with Kaituna Cascades
While there are quite a few Rotorua rafting companies to choose from that can take you over Tutea Falls, we highly recommend doing your research before picking one. Kaituna Cascades has hundreds of 5-star reviews on Google, is top-rated on TripAdvisor, and has a fantastic website (we aren't the only ones who this matters too, right?).
Reading a little further revealed they are actually the first rafting company to open up on the Kaituna River and have been locally owned since 1991. They are also closest to the river. Plus, they are focused on FUN. Safety, too – of course! But, let's be real. We're all in this for the fun. Knowing their years of experience and hand-picked guides would keep us alive and smiling was important to us. And they definitely delivered!
Our guide, Nick, was actually a fellow Coloradan (yes, we claim this state, even though we only lived there for five years). And he usually spends his summers on the White Salmon River up in Washington where we did our first waterfall rafting trip. It was clearly meant to be and made for some extra fun moments on the water. Like the ironic use of y'all whenever possible since he had some fellow Americans there.
"Y'all ready?" … "HELL YEAH!"
Our Rotorua Rafting Trip
After the obligatory safety overview and paddling instructions – which included some practicing of the 'get down' maneuver – we walked down to the river where our rafts were waiting. So nice to be so close by! Minutes later, we were holding on as we splashed down our first mini-waterfall, Okere Falls.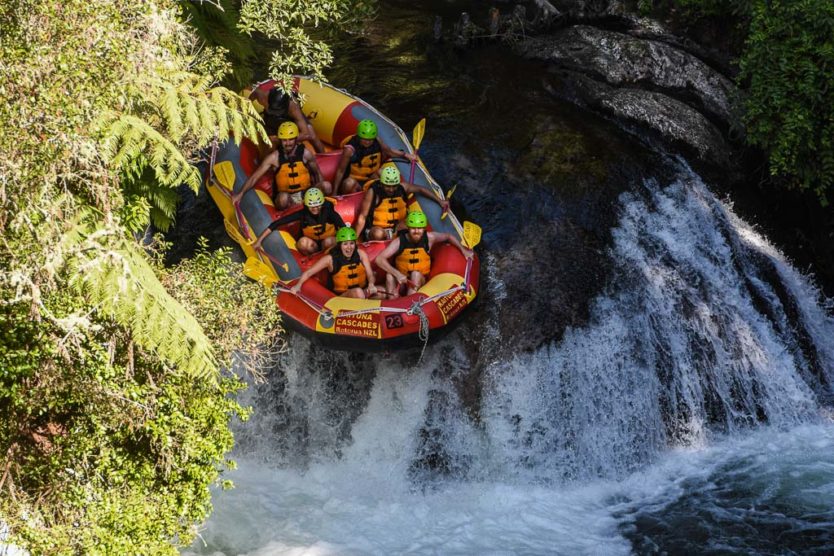 I loved that we were given the information needed but not made to feel terrified as we have felt on previous adventure activities in the U.S. This team is super relaxed, but also great at what they do and it makes for such a better experience.
Any anxiety or fears I had about this trip completely washed away as we glided through this beautiful area. Water is at the same time terrifying and blissfully peaceful, depending on how you look at it. I was choosing to enjoy the serenity of our gorgeous surroundings, the surprisingly warm clear water, and the excitement of being on such a bucket-list rafting trip.
We hopped out of the boat to swim at one point, tried out some different paddling techniques at another, and just had a fun time enjoying the perfect February weather.
By the time we got to the big 7-meter drop at Tutea Falls, I was so blissed out you would have thought I had been at a spa all day. Buddy and I smiled at each other as we started to paddle toward the falls. And he reminded me to make sure I look up toward the camera guy before we go over so we could have some awesome photos. "Good idea," I said casually.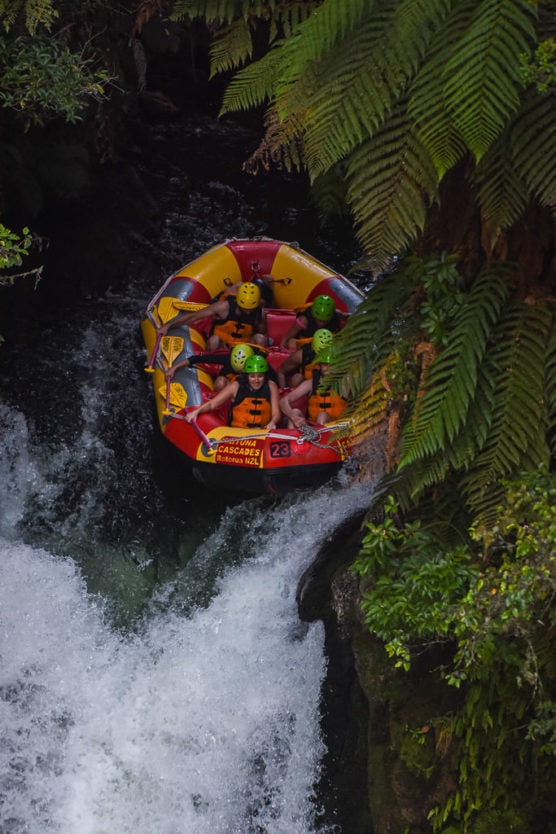 Flipping Over Tutea Falls
If you are wondering what it is like to flip over a 23-ft waterfall, the best description I can give you is that it is kind of like a car crash. During it, all you can make out are noises and strange sensations and flashes of color and the feeling of pure survival-induced adrenaline managing all your thoughts.
Before we even went over, Buddy and I both admitted later that we were pretty sure we'd tip. We aren't whitewater rafting pros, but it wasn't hard to see we were taking it at a pretty jacked angle. With so many changing factors to keep in mind – paddling power of each person, wind, and just luck – sometimes the rafts just end up flipping no matter how great of a guide you have. (And Nick was awesome!)
Since I've always regretted closing my eyes before we went over Husum Falls in Washington, I made sure to keep my eyes wide open this time. Well, at least for the 2.3 seconds I was above water. At first, I wasn't sure if we had flipped or were just getting poured on by the falls. But then I realized my legs were stretched out below me in the water when I accidentally tapped a rock with my toe.
Although they tell you to hold onto the raft as long as possible, my brain focused on the instruction to ball up if you end up underwater and out of the boat. This lets the waterfall just churn you up and spit you out. I can't remember, but I'm sure I also instinctively let go to hold my nose – a habit I just have never broken since childhood. Regardless, before I knew it I was tumbling around underwater like I was in a big washing machine and when I came up, I was about 25-ft away from the raft.
Piecing the Story Together
Completely disoriented, I looked around to spot our raft while the people in the rafts who had already gone over yelled at me to swim toward them. It was nice of them to try to help, but I needed to get eyes on my husband before I went anywhere. #Priorities
And there he was, just chilling, hanging onto the flipped over raft, holding some stray paddles that had floated by in an effort to be helpful, and clearly looking around for me. We locked eyes, exchanged shit-eating grins, and gave each other a thumbs-up before I fully caught my breath and swam over to a safer area.
When we flipped, my side got the brunt of it and me and the girl behind me got pushed out by the water. Buddy had a much more relaxed experience (as shown by his no-big-deal demeanor in the photos. haha!), and the other people in the boat seemed to not have had as of intense ordeal either.
The worst experience was had by the first-time rafter behind me. She was underwater the longest and looked totally rocked when she came up. There was a small scratch on both her hand and knee, but she was okay – just traumatized and probably ready to slap her husband for getting her to go waterfall rafting! Buddy and I, on the other hand, were super high on adrenaline and loving it.
Did that Still Count as Rafting?!?!
Similar to a car crash, we all exchanged stories once we were reunited in the boat and celebrated that we all made it generally unscathed. Although I'd definitely never choose to get in a car crash, I'd 100% go over Tutea Falls again – even if it meant another flip! It was actually absolutely invigorating to live out such a big fear safely. Yet, from the faces of the people who watched us plummet, I realize it could have been much worse and will always have a healthy fear of these kinds of adventurous activities. (Also a top reason we went with travel insurance that covers crazy stuff like this!)
However, knowing there were other guides capable of helping, in addition to a kayaker whose main purpose was to get over to help quicker, made us feel really at ease. Even when I realized I was underwater, I knew if I just followed what I was told, didn't fight the water or panic, and trusted this crew to help me if need be – I'd be just fine.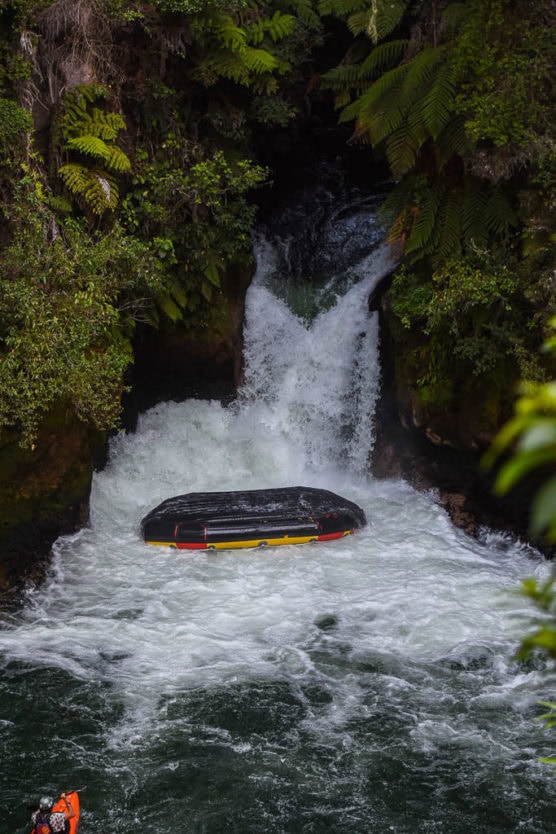 Paddling On
Even though the big Tutea Falls drop is seen as the main event of this Rotorua rafting trip, it certainly isn't the end. We still had about twenty minutes more of paddling and laughing and playing on the water.
Nick let us surf some of the rapids, we had the option to swim over a smaller waterfall, and you could even get voluntarily waterboarded … Not really, but that's kind of what it looked like when other rafters sat in front and let the waves crash over their heads. I was a little too water-logged for this activity, but the couple who did it seemed to like it as they laughed like crazy the whole time!
Overall, the trip was an absolute blast and the photographers did an amazing job capturing these exciting moments. For anyone who subscribes to the 'pictures or it didn't happen' belief, definitely budget the NZ$40 to have the photos emailed to you after (or a USB drive is available for a little more). Being all in at NZ$230 (US$146) per couple with photos is really quite a deal for this epic experience! And be sure to check their site for additional discounts and other rafting trips.
Final Thoughts of the Kaituna Rafting Trip
It's been a few weeks since this epic New Zealand rafting trip and we both still feel like absolute badasses that we got to experience not only rafting over the highest commercially raftable waterfall in the world, but flipping over it! That definitely wasn't the plan, but it made for a much more exciting trip. I'm sure the guides were sick of us talking about how awesome it was on the short ride back to the Kaituna Cascades base. Since they all raft this river multiple times a day, they have all experienced it before – which is one of the reasons we felt so safe. But, we don't have the privilege of feeling like such cool kids all the time, so we soaked it up.
Needless to say, this is one of those experiences we'll cherish forever. However, since we didn't technically land the waterfall rafting bit, we're pretty sure a return trip or two is in order during our next visit to New Zealand. I don't think we'll be able to resist another go at Tutea Falls if given the opportunity! WHAT.A.BLAST!
Have you been on any epic whitewater rafting trips you can recommend or do you have any questions about this one? Let us know in the comments!
Special thanks to Kaituna Cascades for providing us with a special rate for this must-do New Zealand adventure as well as use of the photos from our Rotorua rafting trip! As always, all opinions are our own.