Planning to visit Iceland in winter and looking for something that will make you feel like an epic explorer? Taking an Iceland snowmobile tour to a glacier ice cave after a 4×4 monster truck bus ride through a mountain landscape not accessible to cars … well, that should certainly do the trick.
Returning to our beloved Iceland in winter has been a dream ever since our first visit in September of 2015. We knew some adrenaline-filled winter adventures were a must, and getting to review this awesome tour offering from Mountaineers of Iceland was the perfect way to dive right into Icelandic winter fun.
It is a fantastic option for adventurous visitors like us wanting to explore the wilder side of Iceland – with a group of people who know exactly how to do it safely.
With this memorable tour leaving from the much-easier-to-access Gulfoss (the famous waterfall in Iceland's Golden Circle), it is also a great day trip option for those planning a Reykjavik-based visit to Iceland.
Going on the Mountaineers of Iceland Snowmobile & Glacier Ice Cave Tour
Although a bit bummed to see rain forecasted on the morning of our Glacier Ice Cave & Snowmobile Tour, we couldn't wait to get started. We woke up before the sun – which isn't that difficult this time of year – and made our way to the meeting point a few hours from Reykjavik.
Meeting at the Gulfoss Parking Lot in the Golden Circle
One of the top reasons that this tour from Mountaineers of Iceland was so appealing to us was that it was actually a realistic day trip activity from Reykjavik. We're based near the city on our extended visit to Iceland and wanted to be back for dinner, which was totally doable with this tour!
While it was very dark, the drive to Gulfoss on the Golden Circle route was easy to get to. However, it is important to check the weather and roads before leaving during winter. The websites safetravel.is and www.road.is are both good ones to check.
Make sure that the car you've rented at least has studded tires as well (most automatically do in winter). And definitely don't go past the Gulfoss parking lot onto the rough 4×4 road.
Journey to Langjokull Glacier on the Monster Truck Bus
While admittedly most excited for the ice cave tour inside Langjokull Glacier, the journey there was actually just as memorable and exciting. When we first arrived at the meeting point at the upper parking lot of Gulfoss, it was obvious we were in the right place with the multiple big-tired vans in the parking lot. We wandered over to the one with the Mountaineers of Iceland logo and got checked in. Surprisingly, they told us the "big bus" was on its way to pick us up.
While imagining how much bigger it could get, we saw a beast of a vehicle pull up with tires almost my height and seating for about 40-50. It was obvious we were in for a crazy ride if this is necessary to get there!
Views on our Way to the Glacier
Unfortunately, the rain made it difficult to get good photos of the drive, but just trust us when we say that this area of Iceland is beautiful. It was unreal to feel so far removed so quickly after leaving the tourist-heavy Gulfoss.
As we drove for about an hour, we passed by small frozen lakes, drove over rivers, and took in the jaw-dropping mountain views of the Langjokull Glacier area. Despite some bumps here and there, the ride was smooth and the bus powered through every obstacle – especially once the chains got added to the tires to keep us from slipping around.
The staff of Mountaineers of Iceland are very skilled and definitely as badass as the vehicles they get to drive in this epic landscape.
Suiting Up for Adventure
After hitting full white-out conditions toward the end of our wild drive, we knew we had arrived when we could make out our next mode of transportation! We had never been on a snowmobile before and were curious as well as a little nervous as to how we'd do driving one. Actually, I was just curious how Buddy would do driving it – I'd get lost or hold everyone up.
It was up to him to keep us upright, out of the snow, and with the group. But, like usual, he was confident his good driving skills would transfer over.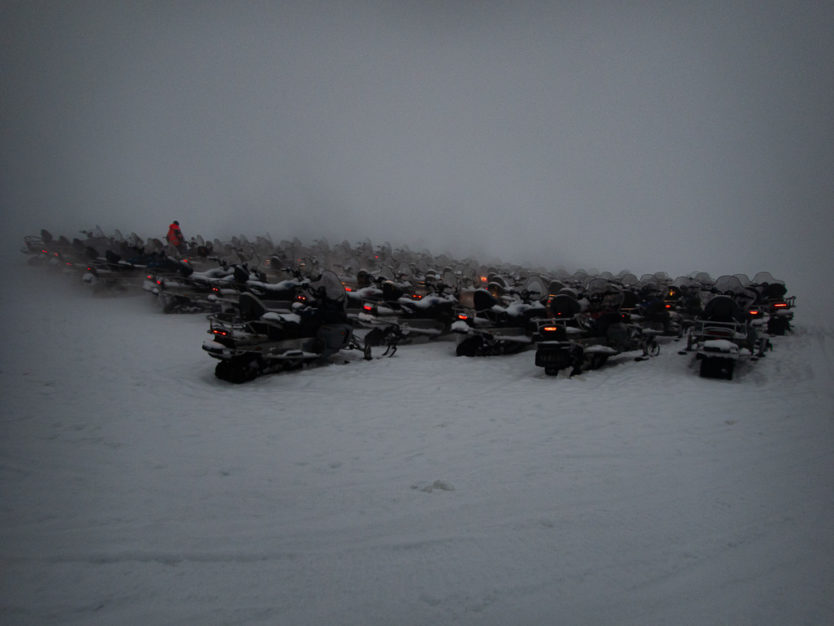 However, before we could enjoy our much-awaited Iceland snowmobile adventure, we had to suit up. Included with our tour was a snow mono suit, helmet, buff under helmet, gloves, and overshoes. The adventure marshmallow look may not be the sexiest, but it will keep you safe and protect you from the elements.
Although, wearing warm and waterproof layers of your own is highly recommended since you'll be out in the cold for a few hours and the suits aren't waterproof.
Our Epic Iceland Snowmobile Ride
Once we were all suited up, we wobbled our way to the snowmobiles where we got a rundown of how not to flip them, what to do if we got lost, and other safety guidelines. Then, we were off – two per snowmobile.
It was pretty simple and easy, really. Just follow along in the line and pay attention to where you are going as to not hit any large piles of snow. If you're lucky, everyone in your group will instantly get the hang of it and you'll cruise along to the glacier quickly. However, don't get your hopes up. In our group, a few people tipped over or stopped paying attention and forgot where to go. But, the guides were quick to come to the rescue each time and keep us on track. This team must have all the patience!
Wanting to wrap your head around driving a snowmobile before the tour? Mountaineers of Iceland has this handy and helpful guide!
Exploring the Glacier Ice Cave
Our snowmobile ride lasted about 30-45 minutes before we arrived at the main event: the ice cave tour in Langjokull Glacier, the second-largest glacier in Iceland. We had driven through what must have been an amazing mountain landscape on a clear day (example below). But all we could see was white on white on white through the raindrops on our helmets.
However, without speeding by, we got to enjoy our surroundings a bit more on our short walk to the glacier ice cave entrance. It was SO PEACEFUL! Just a silent white canvas in the middle of nowhere at the top of the world.
While we were quickly falling in love with our winter wonderland surroundings, we were also eager to explore inside the amazing ice cave we had seen so many photos of. The Mountaineers of Iceland team actually just carved out this cave from Langjokull Glacier earlier in 2019. So, it's a brand-new attraction in the area.
A little too eager, Buddy busted it as soon as we set foot in this epic ice cave, but was able to recover. Just be warned, it is slippery. Ice tends to have that feature (duh). Taking our time and stepping carefully, we happily wandered around for an up-close look while listening to the ice cave tour.
Inside Langjokull Glacier
We learned that the glacier ice cave took three months to carve out, the layered ash in the ice mark different volcanic eruptions, and that the ice inside is around 400 years old.
The ice is insanely clear and smooth. It is absolutely mesmerizing to look at. And they have some lights on inside the cave to get a better look at this magical environment.
Despite the hassle of waiting on others and the crazy, rainy, almost-white-out conditions, it was worth it to experience this glacier ice cave and the epic Iceland snowmobile adventure to get there!
Heading Back into the Real World
While it felt like we had reached the peak of our adventure, we still had the ride back on the snowmobiles. Plus, the journey back to our car via the off-road monster truck bus. Our Viking-style day trip was far from over.
As we rode back to the hut to catch our ride to Gulfoss, the weather worsened with more rain. We were all drenched completely through by the time we returned. But, everyone was smiling … knowing this would be a travel story to retell for ages.
However, the ride back in the monster truck bus really made for a last final hurrah! Although the rain had worsened, the white-out conditions lifted as we left Langjokull Glacier and we could see more of the mountainous, winter scene. One of the highlights was getting to see the river running down from the mountains to Gulfoss.
At one point, the giant wheels on the monster bus were really put to the test when we had to drive through a stream that had covered the road while we were out adventuring on the glacier. What a blast!
We arrived at our car exhausted and soaked, but excited to share all about our epic Iceland snowmobile and ice cave tour. It's unlike anything we've ever done and made us feel like our badass mountaineer guides!
Overall Review of this Mountaineers of Iceland Experience
If visiting Iceland in winter, we highly recommend getting out into the elements to really feel the intensity and spirit of this beautiful country. However, safety is key. Having guides who know the area and what important safety precautions to take is critical.
Mountaineers of Iceland know how to put on an amazing tour. It was professional, fun, and well thought out with everything included in one price.
We really appreciated the varied aspects of the Iceland Snowmobile & Glacier Ice Cave Tour. While getting out to the ice cave takes a few hours, it didn't feel boring at all. From bumping along on the rough mountain roads to getting a taste for snowmobiling and, of course, a look at a marvel of nature – the ice cave. The team executed each part perfectly.
Tour Details & What's Included
The Iceland Snowmobile & Glacier Ice Cave Tour takes about four hours and while it is an epic activity for a visit to Iceland in winter, it is actually available all year.
The price per person is 29.900 ISK (about US$250). When you think about the fact that a nice meal out in Iceland for two can easily set you back close to US$100, we think this is a much better bang for your buck. Definitely worth eating some cheap meals in to save for!
The tour fee covers everything you'll need for your day trip to the glacier, including the mono suit, helmet, and accessories for your Iceland snowmobile adventure.
Just note that you'll want to bring your own snacks and water, in addition to wearing appropriate clothing. A valid driver's license is also required and you will share a snowmobile during that part of the tour.
Other Tours Offered by Mountaineers of Iceland
In addition to the Mountaineers of Iceland Snowmobile & Glacier Ice Cave Tour, they also offer a handful of other tours. Two that stand out to us the most are the Northern Lights Snowmobile Tour and the Glacier Rush (a snowmobile tour on faster, more powerful vehicles – Buddy's dream! ha!).
They also have an option for a tour transfer directly from Reykjavik.
Tips for this Iceland Snowmobile & Glacier Ice Cave Tour
Check roads before leaving. As mentioned above, Iceland weather and roads can be very unpredictable in winter. Be safe if driving to the meeting point. If uncomfortable driving in winter conditions, consider the transfer option from Reykjavik.
Leave early. Due to the unpredictability described above, it is important to give yourself plenty of extra time to get there in case you get held up by poor weather. You don't want to get left behind!
Set your expectations. If your main draw to this tour is to blast through the snow at high speeds, this isn't the tour for you. It is slower-paced and you will be expected to follow along in a line. While still fun, we highly recommend considering the Glacier Rush tour if a higher-speed Iceland snowmobile ride is what you're dreaming of.
Dress appropriately. Warm, windproof and waterproof clothing in addition to good, sturdy shoes is recommended. However, layers are also key in case you get too warm on the bus.
Bring snacks and water. Aside from the bus ride to and from the Langjokull Glacier, you won't have much downtime to snack. But, since it is a longer tour, it's good to be prepared.
Most importantly, don't get hopes up for good weather. If you've done any research on Iceland, you should know that there are no guarantees when it comes to weather. We didn't even consider that we could get rained on in Iceland in winter, but it happened. Just go with the flow, dress accordingly, and don't let it ruin your epic tour!
Want more tips for visiting Iceland in winter or warmer times of the year? Click here!
Special thanks to Mountaineers of Iceland for hosting us on this tour. Their offering stood out to us in our research for visiting Iceland in winter and we were excited to work with them. As always, all opinions are our own.