We never really considered ourselves foodies. But after a few years of traveling, we've realized that trying the local cuisine is really a special way to get a genuine taste of a new culture.
When exploring Reykjavik, we were excited for the chance to do just that as well as try some delicious Icelandic beer. While dining is one way to explore a new culture, it turns out drinking what the locals do is a close second. And a combo of both can't be beat!
Read more about things to do in Reykjavik and all-around Iceland, here!
About Bryggjan Brugghús in Downtown Reykjavik
Located in the old harbor area of downtown Reykjavik, Bryggjan Brewery (Bryggjan Brugghús) is Iceland's first independent microbrewery. In addition to delicious and creative Icelandic beers brewed on-site, they also have wonderful food offerings with a menu as varied as their beer options.
As a very indecisive person, all of those choices sound both lovely and overwhelming. Luckily, Bryggjan Brewery also has a wonderful sampling option called the Cheers to Reykjavik experience for those wanting a little bit of everything delicious the Icelandic food and beer scene has to offer.
(Note: If you want to make gross faces eating fermented shark, you will need to try that elsewhere).
Getting there is also easy! It is just a short walk through Downtown Reykjavik or along the water – about 30 minutes from Hallgrimskirkja (the iconic church) or 20 minutes from Harpa Concert Hall. If driving, there is a huge parking lot by the harbor next to the brewery for easy parking. The bus is a reliable option as well.
Not interested in committing to a tasting experience, Bryggjan Brugghús also has a brewery tour that is only about 30 minutes and is offered daily.
Of course, the brewery and restaurant is also open daily beginning around lunchtime until 11 p.m. – or later on weekends. Plus, a happy hour and a special Christmas buffet and menu.
The 'Cheers to Reykjavik' Experience
Offered Thursday to Sunday throughout the year, the Cheers to Reykjavik experience is a popular pick for foodies and craft beer lovers that lasts about two hours. However, it is also great for anyone wanting to branch out into trying new flavors and ingredients during their visit to Iceland.
With everything being so fresh – fish caught that morning, meat from animals raised locally, craft beer made on-site – it is the perfect place to go for it! If you are going to try something new, making sure it is the best quality possible is always the best idea.
The Cheers to Reykjavik experience at Bryggjan Brugghús includes a tasting-size sample of six beers paired with tapas-sized samples of six classic examples of Icelandic food, each prepared with a unique twist. The beer and food will vary based on season.
For ISK 8,990 each (as of Dec. 2019), this is really a great deal for an Icelandic food and beer offering with such high-quality ingredients, as well as the educational aspect and beautiful atmosphere.
While close to US$75 may seem high to visitors, a typical sit-down meal in Iceland at an average-priced restaurant is around US$40. And a craft beer in Iceland is often US$10-12+. So, it is actually very reasonable.
Icelandic Beer Included in Tasting
While we loved getting to try some classic Icelandic food, we have become lovers of craft beer since our time living in Colorado with brewer friends. Getting to sample six delicious Icelandic beers from this fantastic brewery was the highlight for us. We really appreciated that each had its own unique, deep taste as well. So yummy!
The beer at Bryggjan Brewery is made from ancient glacier waters, unfiltered, and unpasteurized. It is so popular that most of the beer they produce is poured out of their own taps.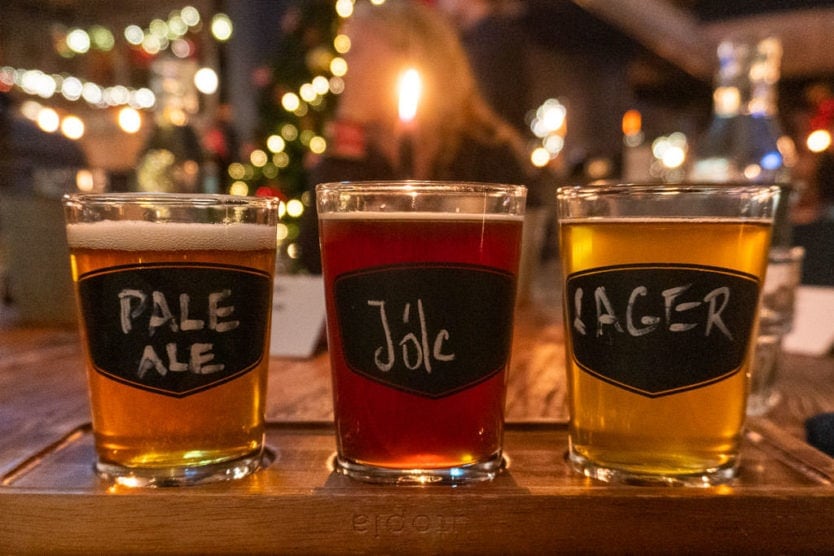 For our tasting, we tried the Pale Ale (light beer), Jóla (seasonal Christmas beer), a Lager, Mon Cherry (slightly sour seasonal beer), Hop Dylan (very hoppy New England IPA), and Omnom (stout made in collaboration with a popular local chocolate company). Jóla and Omnom were our faves!
Local Icelandic Food Sampled
It was obvious that each tapas dish was carefully selected to be paired with the Icelandic beer it was presented with because the beer lit up a bit after tasting the local food it went with. We were also given bread with a nice creamed butter, so they stole my 1/4-German heart pretty quickly.
Our first of two sampling dishes was fresh-caught shrimp paired with the light Pale Ale, smoked salmon with potato salad paired with the Jóla beer, and fresh oysters to go with the Lager. While never a big fan of oysters, the other two dishes were delicious and obviously fresh.
For our next sampling session, we were given a smoked goose with a small salad of local ingredients to pair with the Mon Cherry, tender local lamb with potatoes to go with the IPA, and ice cream made with beer and Valdís ice cream (across the street) to pair with the Omnom beer. Icelanders LOVE their ice cream – and so do we!
While I choose a vegetarian diet most of the time, I will taste dishes while traveling if they are made with fresh, local ingredients since food is such an important part of most cultures. In Iceland, the fresh-caught seafood, geese, and lamb (which roams free!) are all common focuses of local meals.
This tasting menu was perfect for me to not have to commit to an entire meal, but also get a sampling of dishes that are so embedded in the Icelandic culture.
Between Buddy and I, we devoured everything except the oysters, drank all of the beer, and ended the tasting feeling very happy with our experience and just the right amount of full.
A Look Behind the Scenes
After our wonderful multi-hour tasting which included many fun facts about the food, beer, and local area, we were invited to check out where the beer was made! Our guide for the night, took us behind the scenes and let us explore where the magic happens in the Bryggjan Brugghús.
After donning hairnets, we got a short tour and overview of what all the shiny machines were used for. It was quite impressive and a beautiful sight in the evening mood lighting. A great way to end the experience!
For anyone wanting to extend the fun, we also got a discount on beer purchases for the night as well! A great perk!
Other Things to Do in the Old Harbor of Downtown Reykjavik
Wondering what to do before the Cheers to Reykjavik tour in this area? The Old Harbor, is a bustling area of the city with plenty to do.
Just next to Bryggjan Brewery is the Reykjavík Maritime Museum which shares the fishing and sailing history of Iceland – a fitting activity pre-seafood tasting. (Included in the Reykjavik City Card).
Walk along the shore on the Sculpture & Shore Walk for scenic views of the area and local art, swing into Harpa for more unique views.
The Omnom Chocolate Factory also offers a tour showing how they make their famous chocolate. It includes 'endless samples.'
The new FlyOver Iceland ride also seems to be an interesting addition to a day at the harbor. If you want to go on a helicopter tour, but need something more budget-friendly, this may be your option!
To learn more about the Icelandic people and their traditions, check out the Saga Museum.
Take the climb up the Þúfa (small grass dome), for great views of the area and unique experience.
Craving more delicious ice cream after your tasting experience at the brewery? Valdís is just across the street!
The Reykjavik City Card is a great way to experience multiple museums in this unique area filled with culture!
Want more tips for your trip to Iceland & ideas of what to do in Downtown Reykjavik. Read our other Iceland content.
Special thanks to Bryggjan Brugghús for hosting us for their 'Cheers to Reykjavik' experience. As always, all opinions are our own.