We're in Iceland – just outside of Reykjavik – for ALL of December. That means we get to enjoy all four advent weekends at the Reykjavik Christmas Markets and others in the area (there are SO MANY ACTIVITIES)!
After visiting Iceland in September a few years ago, one thing that really stood out was the unique Iceland Christmas traditions and stories. I mean, they have a child-eating cat and 13 Santas!
It is an absolute dream to be visiting the most magical country we've ever been to at the most magical time of year. While the Christmas Markets in Iceland aren't as extreme or elaborate as the German Christkindlemarkts we experienced in 2018, they are so very charming, unique, and fun.
Read more about things to do in Reykjavik and all-around Iceland, here!
Reykjavik Christmas Markets & Events
Unfortunately, I couldn't find one source that listed all of these, which is why I wanted to share them. While the tourism sites and other blogs were very helpful, Facebook Event listings were surprisingly one of our best resources for finding Iceland Christmas Markets (Jólamarkaður) in and around Reykjavik.
However, as a non-local, I probably missed some – please comment and let me know if I did and I'm happy to add more! 🙂
Downtown Reykjavik Christmas Markets
This is the hub of holiday happenings in Iceland! The Reykjavik Christmas Markets are definitely the biggest and most activities are centered in the downtown area of town, although others do occur on the outskirts.
There are two main Reykjavik Christmas markets in the city center area that are easy to visit in one night, if you'd like!
Christmas Village & Ice Skating at Ingólfstorg Square
Dates: Usually open from 1-24 December
While there is a fee to rent skates, just wandering around is free! But, you'll likely want to at least sample some of the goodies at the couple of booths set up in this area. Read more about Christmas at Ingólfstorg Square.
Christmas Market at Hjartagarðurinn
Dates: Usually open from 14-23 December
Considered more of a classic European Christmas market, this market boasts 'highly praised mulled wine' as well as other festive products to consume or buy as gifts. Read more and see open times for Hjartagarðurinn.
Other Downtown Reykjavik Christmas Events:
Harpa has different events throughout the season and Harpa also has a Christmas Food Market (14 & 15 Dec.)
Walk through the Christmas Forest at City Hall – an annual tradition of decorating this building.
Dómkirkjan Church has a free choir Christmas recital. Kex Hostel is supposed to have free events also and the Big Lebowski bar has a Christmas-themed movie quiz with prizes!
Lighting of the Christmas tree in Austurvöllur Square (1 Dec). There is a big celebration with live music and an appearance by the Yule Lads. And still swing by to see the iconic tree, which is a gift from Norway each year to represent good relations.
The Imagine Peace Tower Lighting on Viðey Island happens on 21 Dec. and remains on for a few weeks. This piece of art was dedicated to John Lennon by Yoko Ono to help promote peace.
St Þorlákur's Day on 23 Dec.: This is the day everyone in town has the tradition of eating fermented skate fish and since many places are serving it (since locals often choose to not cook this stinky meal at home), there is a tendency for it to smell.
Reykjavik Christmas Markets & Events Outside City Center
Christmas at Árbær Open Air Museum
Dates: Usually open two Sundays over Advent
For two weekends of Advent, the must-visit museum in Reykjavik puts on a few festive days of fun. From 1-5 p.m., there will be many events at the Árbær Open Air Museum. See the making of traditional leaf bread, sing and dance around the Christmas Tree, look out for the Yule Lads, make a stamped postcard or craft, and other traditional activities. Read more about Christmas at the Árbær Open Air Museum. And if you have the Reykjavik City Card, it is free!
Laugardalur Valley for Christmas Activities
This area includes the botanic gardens, the zoo and park, sculpture museum, as well as a skating rink! Read more about the Laugardalur Valley Christmas.
Iceland Christmas Events Close to Reykjavik
While we haven't had any issues driving around the Reykjavik area of Iceland on our own – even in the snow – there is also a great bus system that goes to many areas outside of the city. However, having a car has been really nice for exploring further.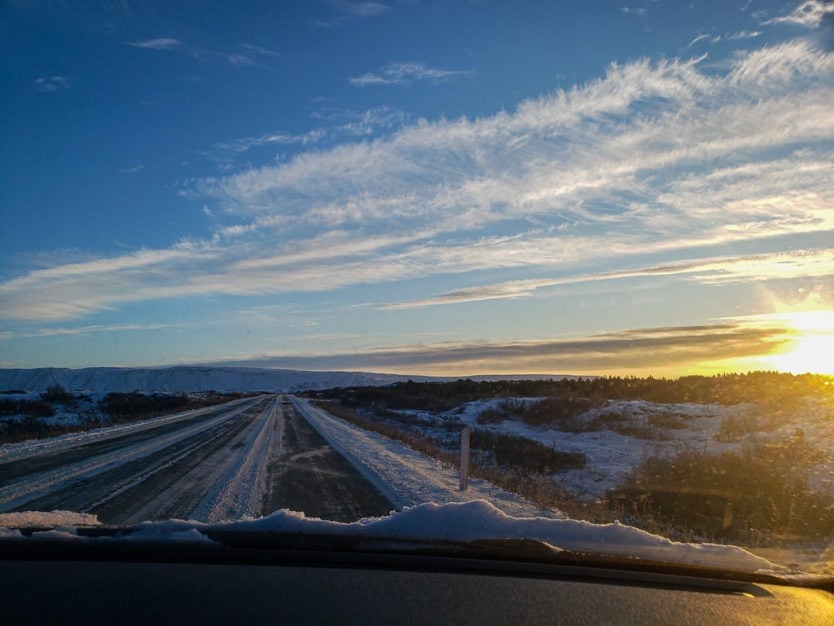 Hafnarfjörður Christmas Village
Dates: Usually open every weekend of December before Christmas.
Only a 20-minute ride on bus number 1 from downtown Reykjavik to the Thorsplan area of Hafnarfjörður, this market at a small harbor town is a charming option – and our personal favorite (the biggest offering near Reykjavik). In addition to the Christmas festivities and booths with surprisingly affordable offerings, this town has multiple options for interesting activities year-round. Read more about the Hafnarfjörður Christmas Village.
Christmas Market in the Woods at Heiðmörk
Dates: Usually open every weekend of December.
The Reykjavik Forestry Association puts on this event every year outside the city. Enjoy music and markets in a magical woodland winter wonderland. The Yule Lads should make an appearance also! Read more about the Christmas Market in the Woods at Heiðmörk.
Christmas Tree Lighting Events
Most small towns and villages in Iceland have their own Christmas Tree lighting event with musical guests, market booths, and an appearance of the Yule Lads. You can usually find them on Facebook if you look hard enough!
If wanting to explore further in Iceland this Christmas, Akureyri in North Iceland is another spot with a lot of activities!
Intro to Icelandic Christmas Traditions
When we visited Iceland for the first time five years ago, I fell absolutely in love with learning about all the unique Christmas traditions and other folklore. We even sent a letter to Icelandic Santa at a store in town!
What's the story with the 13 Santas & black cat?
This is my personal favorite aspect about Iceland Christmas. In Iceland, they don't have just one – there are 13 Santas, called Yule Lads. Each is named after his own quirky characteristic: Sheep-Cote Clod, Gully Gawk, Stubby, Spoon Licker, Pot Scraper, Bowl Licker, Door Slammer, Skyr Gobbler, Sausage Swiper, Window Peeper, Doorway Sniffer, Meat Hook, and Candle Beggar. (Of course, these are the translated names!)
The story goes that they hail from the forest of Myvatn where they live in a cave with their mean mother and father, Grýla and Leppalúði – grim ogres known to make a delicious stew every Christmas made from naughty children Grýla captures.
They are also known to show up at Christmas events this time of year. Very good motivation for kids not to act badly!
The lads are known to leave presents in the shoes of children who leave them in the windowsill – or a potato if they have behaved badly. One new Yule Lad comes to town each day beginning 13 days before Christmas, leaving gifts or potatoes in shoes.
But, it is key to at least get one item of clothing, or you'll get eaten by the Christmas Cat! Yes, the black cat you see around town in Reykjavik is indeed a child-eating evil beast – no surprise, the pet of the Yule Lads parents. Isn't that charming? I adore it!
How do Icelanders celebrate Christmas?
In Iceland, Christmas is celebrated beginning on the first weekend of Advent (four Sundays before Christmas). However, the major celebration is on Christmas Eve (24 December). That means the 23rd is more like their Christmas Eve, with last-minute shopping and drinks with friends.
Eating fermented skate fish this evening is also popular, making the city have a distinct, unappetizing smell to non-locals.
Speaking of gifts, books are such a popular gift that Iceland is known to have a 'book flood' each year where new titles are brought in. But, Christmas celebrations don't end once the gifts are exchanged. The Icelanders tend to keep on celebrating into the new year!
What Iceland Christmas food & drinks are popular?
Christmas buffets are extremely popular this time of year and a great way to try Iceland Christmas food. Some common go-to's are smoked lamb and salmon as well as rye bread, plus lots of sides to go with.
Visiting Iceland as a vegetarian or vegan? Although many of the typical Iceland Christmas foods are meat-based, some places do have veggie options. One Christmas Buffet with what appears to be particularly great vegan options is Bryggjan Brewery. And if all else fails, they have great beer!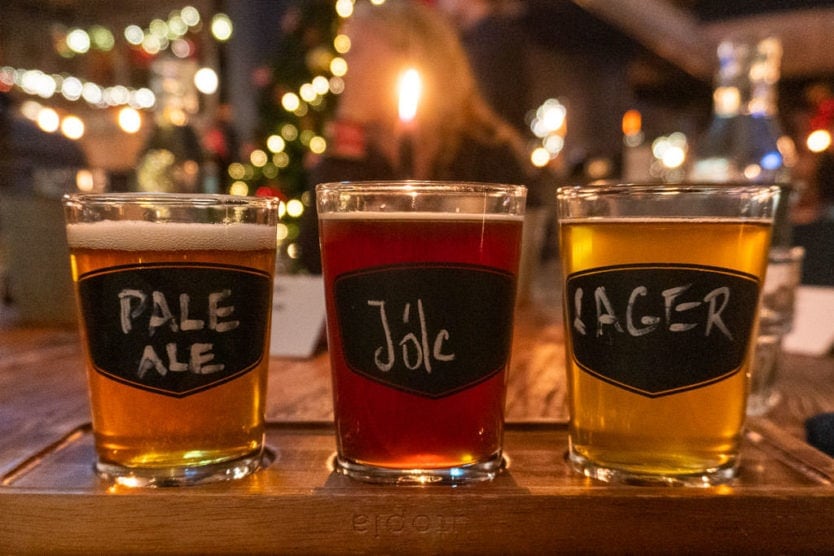 Another special Christmas dining option is the Perlan museum, with a rotating restaurant showcasing many meal options and views of Reykjavik with the mountainous surrounding area.
Apparently, a mix of malt drink and Appelsin is a popular festive drink. We tried it and it is not for us. But, the local Christmas beer sold at most local stores is fantastic! If you are feeling like baking, making the intricate leaf bread is a popular thing to do this time of year as well. Of course, treats like gingerbread cookies are popular and sold everywhere.
If you want more details about Iceland Christmas traditions, this article written by a local gives a great perspective!
Happy Christmas! May the Yule Lads not leave you potatoes!
If you plan on exploring these Reykjavik Christmas Markets and events on your own this December on an Iceland Christmas visit, we hope this guide was helpful in your planning! For other Iceland adventures and trip tips, click here.