Not every visitor to Iceland has the time, budget, or luck to see all of the natural wonders that make this amazingly diverse island so special. And, when it comes to more volatile wonders (like volcanoes), not everyone wants an up-close experience. That's why a visit to the Perlan museum in Reykjavik makes for a perfect first-day activity.
Whether you plan to see glaciers, journey into a dormant lava tube, or are praying the northern lights will make an appearance, a few hours at the engaging exhibitions at the Perlan will give you a much better understanding and respect for what you see during your trip.
Plus, a hearty taste of what you won't have a chance to see – including a look back in time through Iceland's history. Not to mention, amazing views of Reykjavik, and the surrounding mountain scenery, from the viewing deck.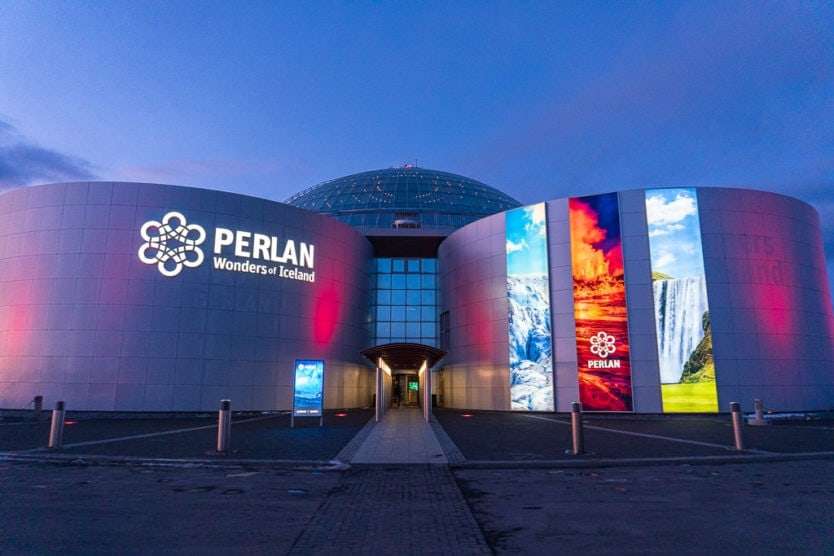 Perlan Exhibitions, Views & Restaurant
Let's be real. A lot of museums are really boring. However, the award-winning Perlan museum in Reykjavik does an amazing job at pulling you in and making you feel immersed in Icelandic nature.
The exhibits are fascinating, engaging, and interactive. We were intrigued by the deep look into the geological activity of Iceland and mesmerized by the beautiful videos – including the outstanding and moving Northern Lights Planetarium Show. Of course, taking in the roof-top views at sunset was an unbeatable way to enjoy the surrounding scenery.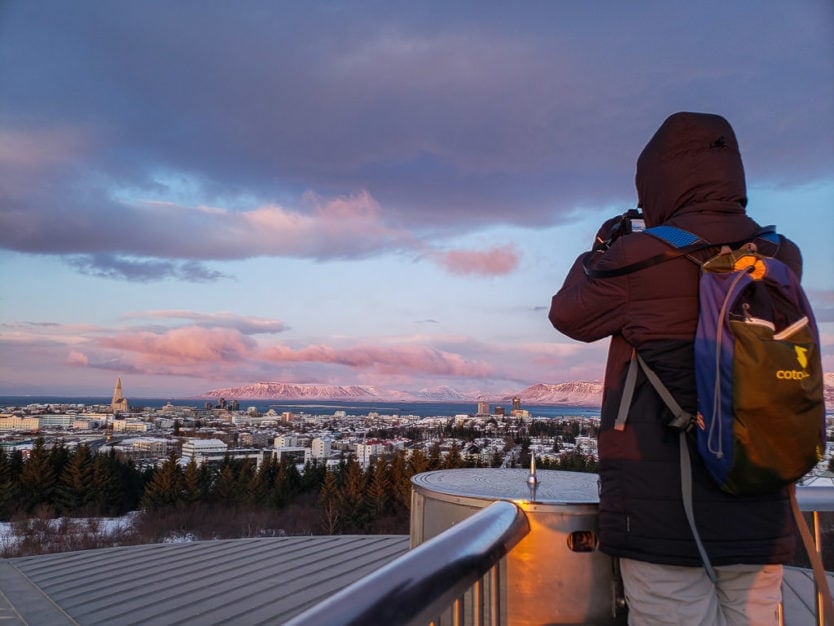 Wonders of Iceland
Iceland is one of the most geologically active places in the world – from volcanoes to earthquakes and, of course, glaciers. However, that's just a portion of the natural wonders that make Iceland so special.
Ever wonder why Iceland is so geologically active, what eats all the midges flying around Myvatn, or how the island of Iceland was formed? This exhibit will enlighten you and fill your mind with dozens of other interesting facts to ponder.
Forces of Nature
In this outstanding Perlan exhibit, we learned all about Iceland's 64-million-year geological history – with some fun historical facts thrown in. Land is actually created and destroyed in Iceland faster than anywhere else in the world, so there is a lot to learn. With its position on two divergent tectonic plates, Iceland is actually stretching a few centimeters per year, however, the sea is eroding the shore at about the same rate. And the landscape is always changing with the geysers, glaciers, earthquakes, and volcanoes.
It is actually so volcanically active that researchers usually speak of "volcanic systems" in Iceland rather than the individual volcanoes. In all, this scenic little island has 30 active volcanic systems with many types of volcanoes included in each. While many think of volcanoes as destructive, they actually are part of the reason it is so lush!
We had no idea there were so many different types of volcanic eruptions – including subglacial and submarine. The exhibit went over many interesting facts about the forces of nature in Iceland, with a great wild video, photos, volcanic rocks, and easy-to-understand snippets of info.
Látrabjarg Cliff Experience
If you ever get the opportunity to see the Látrabjarg Cliffs in person, do it! We loved our explorations of the West Fjords on our last trip. However, it is quite a trek to get out there and a bit challenging in the off-season. That's why we loved this exhibit so much. It gives visitors a taste of what makes this destination so special. The interactive aspect is also fantastic, with little videos shown in the viewfinder of the birds and other wildlife found on these iconic cliffs.
Underwater Journey
The Underwater Journey video exhibition is a wonderfully edited video presentation showcasing the underwater world of Iceland. This is one of those parts of Iceland you are really unlikely to get to experience when visiting on a vacation. However, for any fellow scuba lovers, it does make you interested in making a return trip for some diving!
Real Indoor Ice Cave
About 10% of Iceland is covered in glaciers and tours into or onto glaciers are a popular activity all year. However, not everyone has the time or budget to take one of these epic tours. This is why it is wonderful that Perlan has put together this very authentic look at a glacier ice cave.
It is cold (they even have jackets!), icy, and surprisingly similar to the real thing. We wandered through tunnels, looked into crevices, and were very impressed with this realistic exhibit.
Note that tours run every 15 minutes, so just take your time looking through the exhibit while you keep an eye out for your guide.
Interactive Glacier Exhibit
At the end of the ice cave tour is an interactive glacier exhibit that gives an in-depth look into these magnificent, shrinking wonders of nature. With hundreds of glaciers in Iceland and many around the world in danger, it is a meaningful topic to make an effort to be more informed about.
In addition to seeing time-lapse videos of shrinking glaciers in the exhibit, we learned about the Okjökull Glacier just before the ice cave tour. It made international news when it was pronounced dead once it shrunk to a size that no longer met the criteria to be a glacier. In the larger exhibit, a point-and-play interactive display shares how glaciers are created and how they affect the landscape, as well as what may happen if they melt.
Water in Icelandic Nature
This exhibition is particularly fitting for the Perlan, since the museum is actually surrounded by six hot-water tanks used for holding the geothermal water used by the city. The name Perlan was based on the shape of the design, which looked like a pearl.
In this water-focused exhibition, we learned about what is in the freshwater of Iceland and what that water is used for. Of course, water is a vital resource for the entire world, but it is especially important in Iceland where it is so richly available it is also used to produce energy.
Áróra – Northern Lights Planetarium Show
Even if you've seen the aurora in person like we have, this mesmerizing show explains so much of the science and mythology behind this mysterious natural light show. We don't want to give away too much about it, but the award-winning planetarium show is definitely worth your time. It brought me to tears and taught us so much about our beloved northern lights. We actually saw them the night after and thought they were that much more wonderful having learned what we did.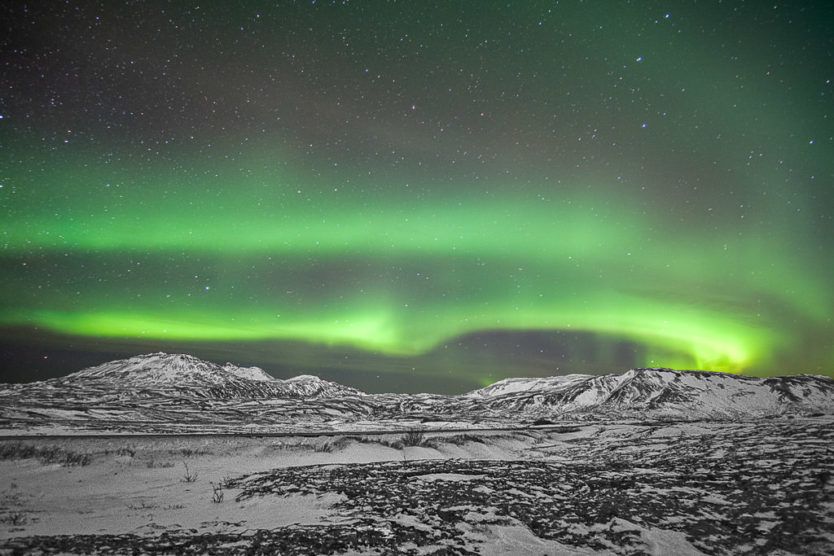 360° Observation Deck
Wow! Do not miss a visit to the observation deck of the Perlan. We highly recommend to time your visit in order to be up there before the sun sets behind the mountains. It offers a beautiful view of Reykjavik and the surrounding mountains.
While up there, try to spot Esja (the mountain beyond Reykjavík), Keilir Volcano, Snæfellsjökull Glacier, and Hallgrimskirkja Church.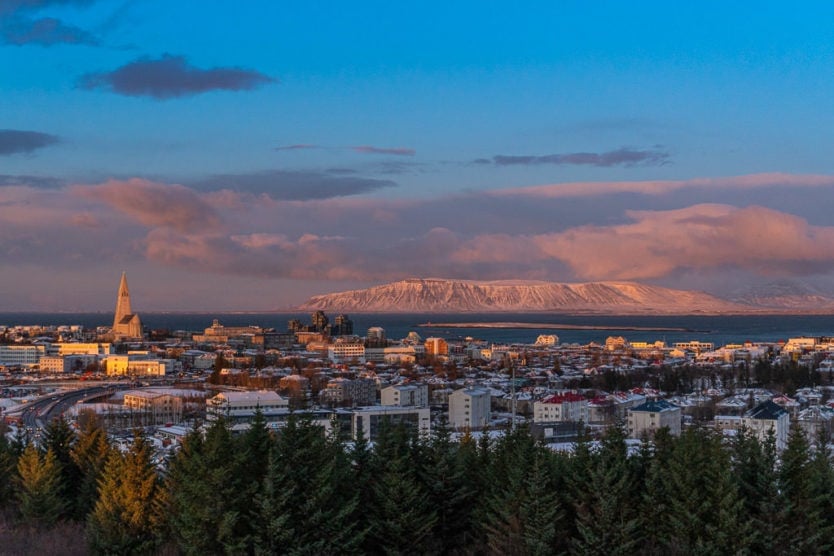 Perlan Restaurant, Cafe & Gift Shop
For an extra special visit, consider making a reservation at the Perlan's restaurant for dinner. For the holidays, they have special options like a Christmas buffet. Check out the menus here. There are also special events – including a New Year's Eve dinner and fireworks viewing.
If you aren't wanting a large meal, there is also a cafe with drinks, snacks, and desserts. They also have a happy hour with discounted prices on beer, wine, and some cocktails.
Don't miss the unique gift shop while at the top level of the Perlan for some surprisingly affordable souvenirs!
Perlan: Know Before You Go
Location: Öskjuhlíð, 105 Reykjavík (just outside of downtown).
Getting There: Perlan is accessible by bus, but they do have a large parking lot, if you'd like to drive yourself. A shuttle bus is also offered from a few hotels in town for guests with pre-booked tickets.
Hours: The Perlan opens at 9:00 a.m. and accepts last admission at 9:00 p.m. However, holiday hours vary, so check first.
Best Time: We think late afternoon is best so that you can go to the observation deck at sunset and also enjoy happy hour at the great little restaurant and bar at the top.
Perlan Tickets: There are multiple Perlan ticket options available. (NOTE: Perlan ticket prices are from December 2019)

The Wonders of Iceland Ticket, which includes the exhibitions and observation deck, is 3.990ISK (~US$33) per adult and 1.950ISK (~US$16) for kids 6-17.
Northern Lights Planetarium Show is 2.690ISK (~US$22) per adult and 1.450ISK (~US$12) for kids 6-17.
The Wonders of Iceland & Planetarium combo is 4.490ISK (~US$37) per adult and 2.450ISK (~US$20) for kids 6-17, with a family ticket also available (2 adults, 2 kids) for 9.000 ISK (~US$74).
All tickets include access to the observation deck, but if you just want to see the amazing views, you can buy a ticket to the observation deck for 890ISK (~US$7.50) and children 17 and under are free! Woohoo!
With a Reykjavik City Card, tickets are 20% off!

Visit Length: If you plan to see everything, it will take at least two hours. So, don't be in a rush to get through it if you really want a chance to learn and take in the wonders of Iceland.
We hope you enjoy the Perlan as much as we did. Of all the museums in Reykjavik we visited, it is definitely the one we were most impressed with. It's no wonder why it is the #1 attraction in the city.
Want more ideas for things to do in Reykjavik and the rest of Iceland? Click here.
Special thanks to the Perlan museum in Reykjavik for providing us with complimentary passes in order for us to review the exhibitions and northern lights planetarium. As always, all opinions are our own.