On the fourth day of our Iceland road trip, we awoke in beautiful Kirkjubæjarklaustur still riding the high we got from Day 3. We couldn't wait to go explore and photograph Fjaðrárgljúfur Canyon. After a quick breakfast of microwaved oatmeal (an upgrade from our usual granola bars), we backtracked a little to spend the morning there.
I had fallen in love with this other-worldly place during my Iceland research and HAD to check out! But the real highlight of this part of our Ring Road trip was Iceland's Glacier Lagoon.
Fjaðrárgljúfur Canyon
The road to the canyon is dirt and pretty bumpy, but totally driveable. Just make sure you don't accidentally go down the F-road right before this beautiful destination (you need four-wheel drive to go on F-roads).
When we got to the canyon, it was all I had hoped for and more. The couple of other people that were there all started up the trail to see the view from above. So we started by walking down to the water to take in the majestic beauty of Fjaðrárgljúfur Canyon from below. And we had it all to ourselves!
After taking our time snapping some pictures from below, we took a leisurely walk along the top of the canyon. The Fjaðrárgljúfur Canyon path was nothing short of breathtaking. Lush green grass and moss-covered the top of the canyon, while steep, jagged rock cliffs led your eyes down to the bright blue water below.
The walkway to the main viewing area was very narrow. It is only meant for 1-2 people at a time. And there weren't any ropes. So, I had to will myself across it as to not crawl like an idiot again (like I did on Day 2).
But the view of Fjaðrárgljúfur Canyon was well worth the few seconds of fear! After this short hike, we strolled back down to the car for our next adventure!
Hike to Systravatn in Kirkjubæjarklaustur
Even though our legs were still sore from the insane trek the day before, we had our hearts set on going up the mountain near our campsite. We saw people standing up there the night before, and after doing some research we learned that there is a large lake at the top too. We basically had to go.
The trail to the lake was very steep, but not too long. There are beautiful trees and other shrubbery lining the path making a difficult climb a little less painful. And there is even a waterfall that you can stop to admire at multiple different points.
Even though the hike up is a little tough, the view from the top is a nice reward for having burning thighs! You can see mountains, glaciers and farmhouses. All while enjoying the sound of the waterfall that you followed on your way up.
Unique Legend Behind Systravatn
A bonus to this hike is Systravatn, the lake on top of the mountain. It is gorgeous in its own serene and simple way. The story about how "Sister Lake" was named makes it much more interesting though (as do most Icelandic stories – make sure to read all the signs)!
According to the legend, two nuns saw a hand emerge from the lake "sporting" a golden comb and they drowned trying to get to it. Now this may seem like a huge sacrifice for a comb, but once you've experience the intense Icelandic wind (and the tangles it creates), you may understand why they desired it so badly.
Once we descended the mountain, we decided to head to East Iceland to see some glaciers and the awe-inspiring glacier lagoon we had been looking forward to since we first started planning our trip!
Skaftafellsjökull Glacier & Svartifoss
Almost immediately after getting back on the main road, we could see the huge Vatnajökull glacier in the distance. If you look at a map of Iceland, it is the huge white blob taking up almost a fourth of the country! It is also Europe's largest ice cap – super cool (literally)!
But our first glacier stop was at Skaftafell National Park to see Skaftafellsjökull glacier and Svartifoss, a unique waterfall that almost looks like it was planned out by an architect.
Svartifoss Hike
The hike to the waterfall was much longer (5.5km/~3.4 miles) than to the glacier. So we decided to do that first since we weren't sure how long it would take us.
The trail to this waterfall had exotic-looking plant life, other trail-side waterfalls and beautiful overlooks. It was like walking into a little jungle (minus the dangerous wildlife).
The waterfall itself was magnificent, with the dark basalt columns contrasting the white, steady flow of water. It was truly amazing, but there were probably more people at this location than anywhere else. Unfortunately, this took away from the experience a little bit for us.
This was the only time other people actually got in our way to the point of pissing us off. However, we tried really hard not to let it ruin the beauty of the majestic wonder in front of us.
And it did make us extra thankful for our decision to visit Iceland in shoulder season as opposed to the full-blown tourist season! I couldn't imagine if every destination was packed with other tourists.
We tried to walk off our lingering frustration on the way back to the visitor center. Then we realized one of the reasons we were on edge was because we actually hadn't eaten ANYTHING since that morning's oatmeal and it was about 4 p.m. Oops!
Luckily, our hanger didn't cause us to Hulk-out on anyone… yet. So, before the glacier we made some emergency PB&Js in the car. (Note: Don't forget to eat & always have some emergency food handy).
Skaftafellsjökull Glacier
The walk to the Skaftafellsjökull glacier was much shorter (only about a mile) and didn't have much of an incline at all. As you get closer to the glacier you can feel the temperature drop, and by the time we were staring right at it we were pretty dang cold, so make sure to bring a jacket!
We ended up turning around before we got all the way to it because we were honestly just exhausted from hiking all day on empty stomachs. And we knew the hanger would be back soon if we didn't get a substantial meal. But apparently, you can get pretty close since they needed such an intense warning sign about the danger of glaciers:
Sunset at Jökulsárlón Glacier Lagoon
Shortly after we drove away from Skaftafell in search of a nice place for dinner, the sun started to set. And when we looked in our rear-view mirror we realized the sun was setting over our giant glacier friend! It was like getting smacked in the face with pure beauty.
We pulled over in the first area we could find, which happened to be some sand hills. How convenient! We decided to walk up to the top of them to get some great pictures before returning to our search for dinner. But when we got to the top there was an amazing prize waiting for us. It was Jökulsárlón Glacier Lagoon.
Neither of us thought we would make it to the lagoon before nightfall that evening. So we were extremely excited. And the sunset made for perfect timing. I had been praying our day wouldn't end with a sour taste in our mouths over inconsiderate tourists and lack of food. This was clearly the answer to my prayers.
Another Black Sand Beach Near Jökulsárlón
After enjoying the sunset for a little while, we decided to drive a bit further to check out the rest of the glacier lagoon before it was dark (we clearly forgot about eating again). After crossing the bridge that I recognized from pictures, we parked near the beach and watched the glaciers float under the bridge from the lagoon out to sea.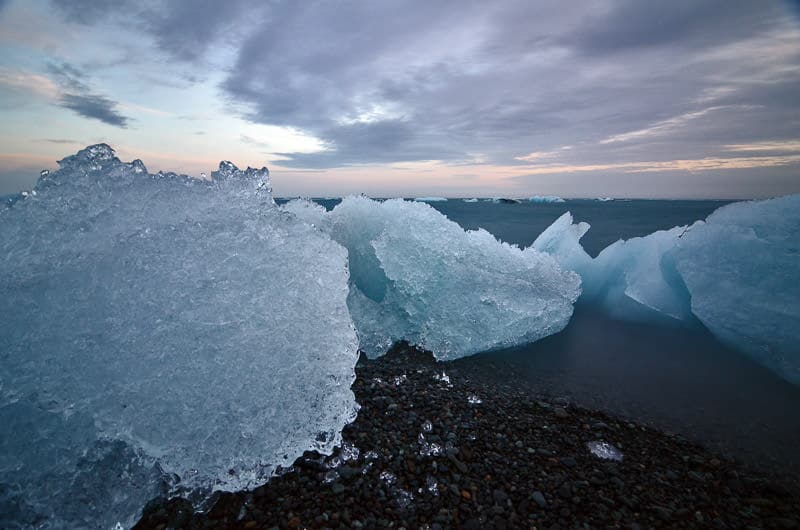 Before it got dark, we were able to walk down to the gorgeous black sand beach that was decorated with giant bright blue chunks of ice. This was exactly what we needed to bring our giant smiles back. It was freezing and windy, but we stayed until it was completely dark admiring the most strikingly beautiful and unique scenery either of us had ever experienced.
We left around 8:30 p.m in hopes of finding a place to eat a late, but filling dinner. And that's exactly what we found in Höfn (about 45 minutes later)!
But this trek was totally worth it! We ended up eating a fantastic meal at Kaffi Hornið where I tried an Icelandic beer (Myrkvi Porter from Borg Brugghús). And we had a delicious meal of lobster soup for me and a burger for Buddy. We even talked to a few other Americans who also got herded by a sheepdog like we had the day before. Too Funny!
Morning Glacier Lagoon Walk
Before we fell asleep at the local campground we decided to backtrack to the glacier lagoon in the morning to experience some more of its beauty. And I'm so glad we did! We walked along the lagoon as we watched seals play in the water, glaciers break apart and even a group of men take a dip! It was extremely relaxing and restorative after four days of running around like crazy.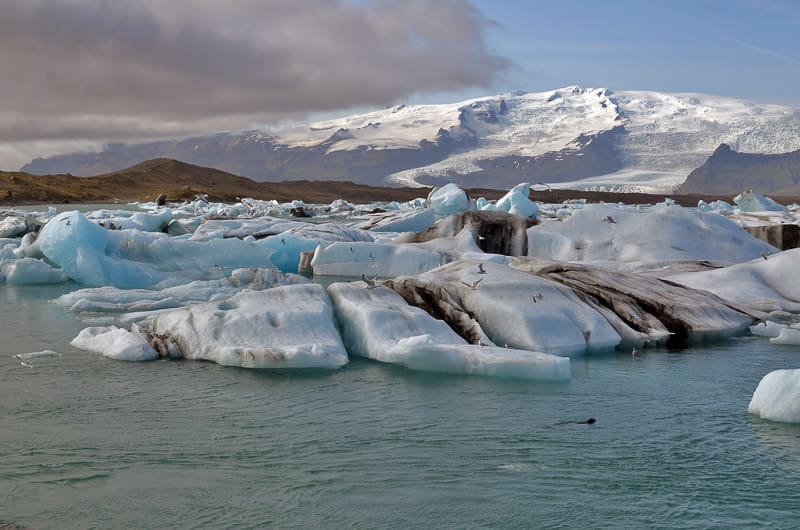 We probably spent about three hours at the lagoon admiring the chunks of ice streaked with black sand, before heading east to continue our adventure! It is definitely a must-see!
Read more about campervanning in Iceland and the top campsites!
Up next: East Iceland Fjords, the strange geothermal area of Myvatn & more: Myvatn & Akureyri: The Best of North Iceland
And for more Iceland travel stories from our fall Iceland campervan road trip, check out our Iceland page!