On Day 1 of our Iceland campervan road trip, it was sideways-raining and gloomy outside. But we were still excited to begin our day of exploring all the things to do in Thingvellir National Park Iceland and the Golden Circle route. Plus, we were psyched for checking out the best South Iceland waterfalls.
Armed with caffeinated beverages (since it was midnight at home in Denver) and water-proof gear, we set off to check out some of the most iconic things to do in Iceland over a few days of non-stop adventure! Plus, we would be learning about Icelandic history and folklore!
Navigating the Ring Road to the Famous Golden Circle
Driving around Reykjavik to get supplies was a bit stressful, as is navigating any big city for the first time. But once we got onto Route 1 (the Ring Road) it was smooth sailing from there. Everything is very well-marked and easy to find.
We quickly learned the symbol for point of interest and stopped pretty much every time we spotted it. We actually called it "the wonder symbol" because we have an unhealthy obsession with the show An Idiot Abroad and like to quote it whenever possible. (If you haven't seen it you really should).
We couldn't see much through the gloom, but what we could see was beautiful – moss-covered lava fields, lakes, and streams. And we could even see mountains when the fog momentarily lifted!
Stops Along The Golden Circle Route
By the time we reached the turn for the Golden Circle (the most popular tourist route in Iceland), it was around noon. So we decided to go to the amazing tomato soup place I read about in a blog. This isn't traditionally on the Golden Circle Route, but Friðheimar Greenhouse was a worthy detour. I knew I could get tomato soup anywhere.
But there was just something that sounded so lovely about eating fresh tomato soup in a warm Iceland greenhouse on such a gloomy day. I couldn't get that dang soup out of my mind! But first thing, we'd be stopping at some of the most popular destinations in the Golden Circle!
Geysir
However, after about an hour of searching, I reluctantly agreed to give up and instead we made PB&Js and headed to Geysir.
(Note: we decided to do our trip old school style with only a map. And ours didn't happen to have Friðheimar Greenhouse on it – go figure. And the "just in case" Google directions I printed out were 100% worthless).
Geysir was a quick stop, but definitely worth seeing. It is hilarious how excited people get when they are doused with thick, warm smoke!
Strokkur
Geysir, an erupting hot spring, is basically inactive now, but its close neighbor Strokkur is much more reliable, with an eruption about every 10 minutes. We watched a few eruptions and got warmed up by the smoke. Then we headed on our way to see our first waterfall of the trip.
Gulfoss Waterfall
I don't know if it was because the sun finally peeped out or because there were rainbows EVERYWHERE, but within minutes of arriving at the Gullfoss parking lot I was in absolute awe. This waterfall is huge and you can see it from pretty much every angle – above, below and right next to it!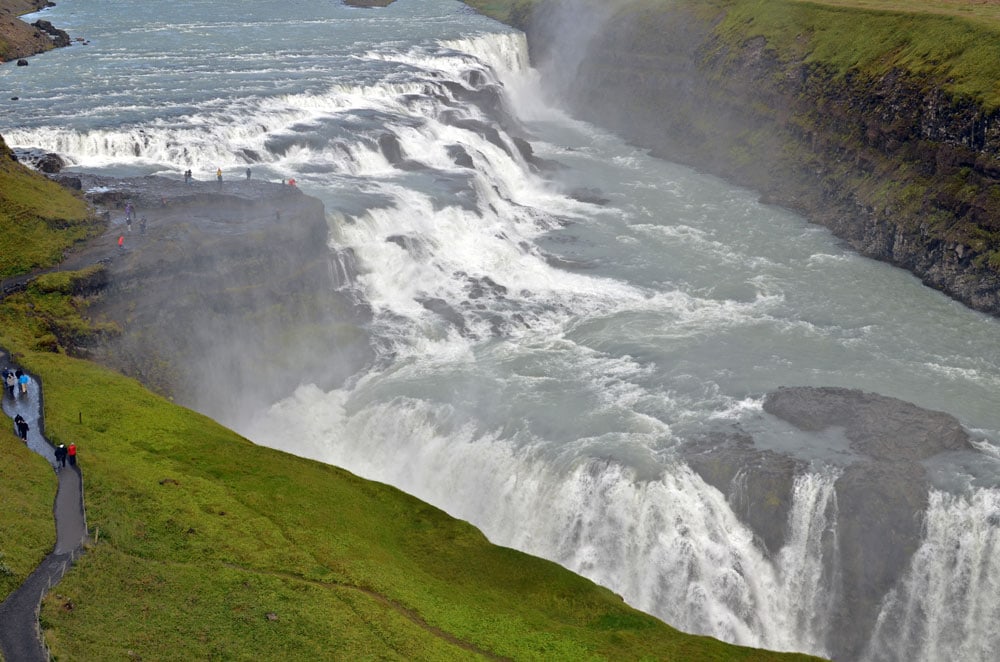 As we walked down to get closer to where the water was crashing, we were doused in mist and happiness. When we actually walked through one of the rainbows, I started questioning if maybe I had fallen and hit my head and was now dreaming.
After a quick search for a white rabbit with a pocket watch, I continued down the path to have a few moments of solitude by the water. And then a few more moments hugging my hubby and taking in how super-blessed we were to be in this magnificent place.
It was at this point that we realized our photos would never do Iceland justice … but that's no reason not to try!
Beyond Gulfoss is the off-road only road to Langjökull Glacier and many guided tour pickups for the glacier are here. (We went on a winter snowmobiling tour to the glacier and it was epic!)
First Night in our Happy Campers Iceland Campervan
After probably two hours of enjoying the first of many waterfalls and taking dozens of pictures, we made some Ramen in our camper van kitchen. Then we started on our way to Þingvellir National Park.
However, we only got about 15 minutes from Gullfoss before Buddy finally hit his limit and needed sleep. So we stopped in a parking lot overlooking some beautiful open space and passed out as soon as we hit the bed ­– at about 7 p.m.
Things to Do in Þingvellir National Park Iceland
Around 9 a.m. we awoke rested and excited for day two! And, what's that in the sky? The sun! It was a beautiful day for adventuring and we took full advantage of it when we got to Þingvellir.
This iconic national park is in the rift valley between the North American and Eurasian tectonic plates. It is one of the best places to see the results of tectonic movement since you can walk between continents! Due to its unique characteristics, it is designated as a UNESCO World Heritage Site.
Almannagjá Gorge
Our first unique experience in the park was Almannagjá Gorge. You could walk into it or on top of it. For some reason, I got a little freaked out exploring the top part. I actually crawled (like a huge idiot) over a particularly narrow part. Apparently, other tourists laughed and took pictures… but hey, maybe I'm a meme now? 🙂
We walked around the park for hours as we soaked up the sunlight and exploring both natural and historic places!
Historic Sites in Thingvellir
The open-air general assembly was established in Thingvellir; this was the site of the Icelandic Parliament from the 10th to 18th centuries! Law Rock also has distinct historical significance since that is where the laws would be recited. Thingvellir Church is another great place to check out while exploring Iceland's first national park!
Iceland's Largest Lake Thingvallavatn
Watching snorkelers waddle over to swim in the silfra fissure in Lake þingvallavatn (Iceland's largest natural lake) cracked us up! If we had been SCUBA certified during this trip, we definitely would have done this epic activity. It is the only place in the world where you can scuba dive, snorkel, or swim between two tectonic plates!
The lake only has three type of fish in it: Brown Trout, Arctic Char, and the three-spined Stickleback. But, getting to see the deep crevice of the Mid-Atlantic ridge in the clearest water you may ever swim in seems to be what brings people from around the world to experience it! You should know that the water temperature is always very cold though and a dry suit is required.
Öxarárfoss
Another Favorite stop while exploring all the top things to do in Thingvellir National Park Iceland, was taking in the gorgeous Öxarárfoss waterfall. It is so stunning with the basalt rock and the perfect photo opp! (We even went back on another trip to see it in winter and it is even more amazing covered in ice!)
There really isn't a "best time" to see it since it is always a beautiful waterfall! This is one of the natural wonders you'll definitely want to prioritize on your Golden Circle tour for your Iceland itinerary.
Thingvellir National Park was definitely a highlight of the Golden Circle Route and a must on the things to do in Iceland list! For another unique activity, you can go horseback riding in the Golden Circle OR take a northern lights tour at night out here. Swing by a visitor center for more information and fun options in the surrounding area!
Finding Friðheimar Greenhouse (FINALLY!)
After all that walking, we had worked up quite an appetite and I still had one thing on my mind – tomato soup! We decided we would try one more time to find the famed Iceland greenhouse, then write it off as a mystery.
They are only open from 12-4, so we had a little over two hours to find it. But, this time I had an X on a map that a nice gas station attendant had given me when I inquired. This had to work!
Flash forward to two hours later, after taking a wrong turn because I thought I saw a sign that actually wasn't the right sign, we made it just in time to order before Friðheimar Greenhouse closed for the day! I almost cried with joy! And let me just tell you, it was well worth the effort to find this unique Iceland greenhouse! (Note: it is right off of Route 35 in Reykholt).
Devouring ALL THE FOOD!
As soon as you enter this adorable place, the warmth of the beautiful Iceland greenhouse feels like a big hug from your grandma. The plants surrounding you make you feel like you are in a secret garden, because you kind of are. And the table in the corner with unlimited bread and soup are just the cherry on top of the most delightful place you will probably ever eat lunch.
We ordered the pasta because it came with bread and soup, and we were starving! After making a plate of bread and a big bowl of soup, I happily cut some basil leaves off the plant at our table, tossed them on my soup and dived right into the best bowl of tomato soup ever. The wonderful waitress, who may have actually been an angel, brought us a plate of accompaniments for our soup which made a simple dish feel quite fancy.
Then came the pasta, which despite our best efforts, we had to have packaged to-go. Because we just couldn't finish it all after the plate of bread we had destroyed.
I loved our entire experience at Friðheimar Greenhouse! I'm sure I'll be having tomato soup dreams long into the future. Luckily, they sell the recipe on a postcard at their shop, so I can try my hand at recreating it!
We left with full bellies and happy hearts. But Day 2 wasn't over yet – we still had more South Iceland waterfalls to see!
Read more about visiting Fridheimar Greenhouse here!
Soaking in Geothermal Waters at Laugarvatn Fontana
This amazing spa in the Golden Circle wasn't there on our first visit to Iceland, but it was a highlight of our most recent visit so I wanted to be sure to add it to this list! Laugarvatn Fontana is a great place for a soak in a natural hot spring pool, sauna session, and even a cold plunge in a lake! Read more about visiting here.
South Iceland Waterfalls
Of course, exploring the beautiful waterfalls of South Iceland is a must on the things to do in Iceland list. I knew you could see Seljalandsfoss from the Ring Road, so I had my eyes peeled. But you really can't miss it – it is huge!
There were a bunch of tourists taking pictures when we arrived. While we waited for them to clear out, we walked down to Gljúfrabúi. I had read that this was another must-see waterfall in South Iceland, but it really took our breaths away.
Gljúfrabúi
This spot was supposed to be somewhat of a secret, and hidden in a cave! I really wasn't sure what to expect, but it did not disappoint.
As we walked up to a wall of stones, we saw someone appear from behind it and walk across the rocks in the stream to where we were standing. Without a second thought, I started hopping rocks to get into this waterfall wonderland.
I was immediately taken aback by the unique beauty and cold mist hitting me when I turned the corner into the cave. Pictures don't even come close to capturing this spot. Even a video lacks the true essence. But I took one anyway: check it out here (excuse the poor video editing … it was my first one)!
I stood under this majestic beauty and laughed as the thick mist drenched me from head to toe, letting it wash away all of my real-life responsibilities and obligations. After a few minutes, I emerged a care-free adventurer who was head-over-heels in love with Iceland. And this was only Day 2.
Seljalandsfoss
Buddy and I walked out of the cave with huge smiles right as the sun was beginning to set. Realizing daylight was fading, we hustled back to Seljalandsfoss.
This waterfall is equally spectacular in its own way. We stayed here for a while to take lots of pictures and another mist-shower. You can actually walk behind this massive waterfall, which is another one of those "you had to be there" experiences. There are just some things you can't capture in pictures (or words). And I think that makes the experience even better. Like you are part of a big secret, or a winner of a special prize.
Skógafoss
Before the sun completely went into hiding, we went up the road a bit to see Skógafoss (another massive waterfall). We stayed there until it was dark then headed into Vik to camp.
There is actually a stairway that goes up the side of Skógafoss to the top where there is more hiking. But we were just too exhausted to make the trek and headed out to find a South Iceland camping spot!
Read more about campervanning in Iceland and the top campsites!
---
Day 2 had been nothing less than amazing, but little did we know it wasn't quite over yet. Check out the next blog, Blown Away by South Iceland: Adventures Near Vik, to read about our Northern Lights sighting & more on the wonders of South Iceland – including black sand beaches and the craziest hike of our lives!
And for more Iceland travel stories from our fall camper van road trip, check out our Iceland page!