During our Iceland Ring Road campervan trip, we had the pleasure of seeing THREE black sand beaches Iceland is famous for. Basing out of the small town of Vik for two and Hofn for another was ideal. We also had a lot of fun between the black sand beach explorations, which we've included as well (spoiler: we went on an epic hike nearby!!!).
Here is a look into how our explorations near Vik went:
"We have to go check this out, babe!" I heard my husband exclaim as I was finally falling asleep for the night. The aurora borealis had come out to play in South Iceland and he wanted to get away from the city lights to get better pictures. It only took about five minutes of driving before we were in total darkness.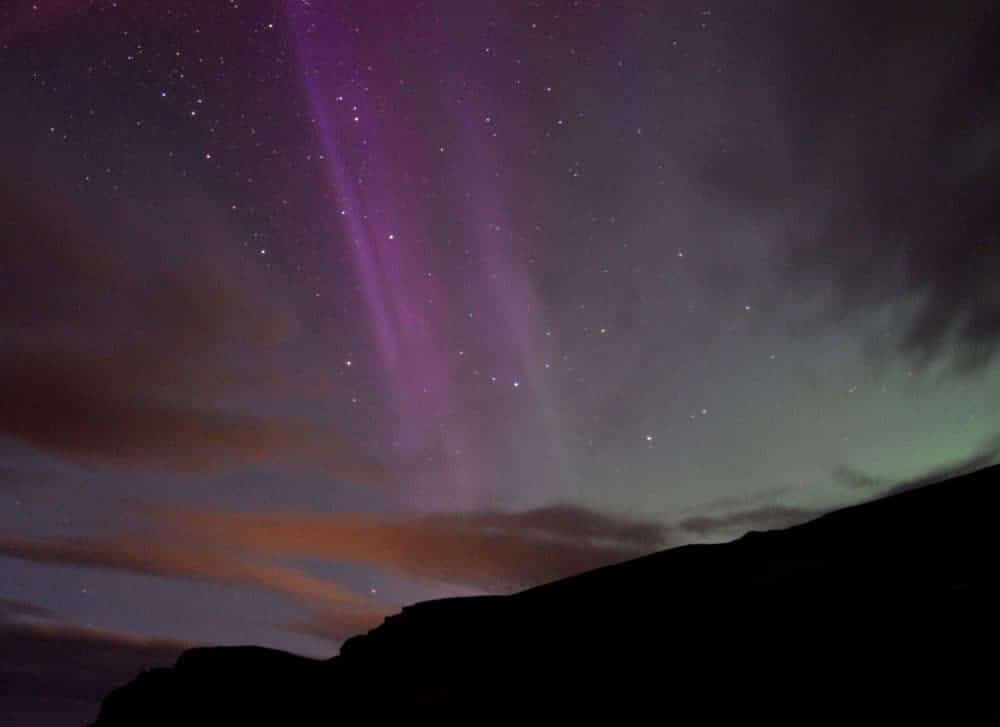 Vik, Iceland, (the city we had stopped to camp at) isn't very big. So, we stopped in an open area, turned off the car lights, and shivered in the brisk night air as Buddy captured some of our beautiful late-night show. However, it didn't take long for those colorful lights to disappear as mysteriously as they came.
We headed back to town to get some much-needed rest for Day 3 of our trip, when we planned to tackle the South Iceland black sand beaches near Vik!
Top 3 Black Sand Beaches Iceland is Famous For
We awoke to rain, fog and an overall gloom that kind of bummed us out. The day before was so pretty, what happened? A little disappointed, we decided to drive around for a bit in hopes the weather would clear up before we ventured to the black sand beaches (Reynishverfisvegur & Dyrhólaey).
After about half an hour, it became obvious that the gloom cloud over us was in no hurry to leave. So we decided to make the best of it and head to the beach anyway. That's why we brought all of our rain gear, right?
On our way to the beach, Buddy slammed on the brakes to point out some baby sheep! Not long after, we passed by an adorable little church with a beautiful mountain backdrop. The day was turning out to be pretty great despite the weather.
1. Reynishverfisvegur Black Sand Beach
The gloomy weather was even more intense at Reynisfjara Beach (known to be one of the best black sand beaches in Iceland). But it gave a kind of beautiful, dreary ambiance that we really loved. And flying over us were hundreds of birds searching for food to bring back to their cliff-side homes.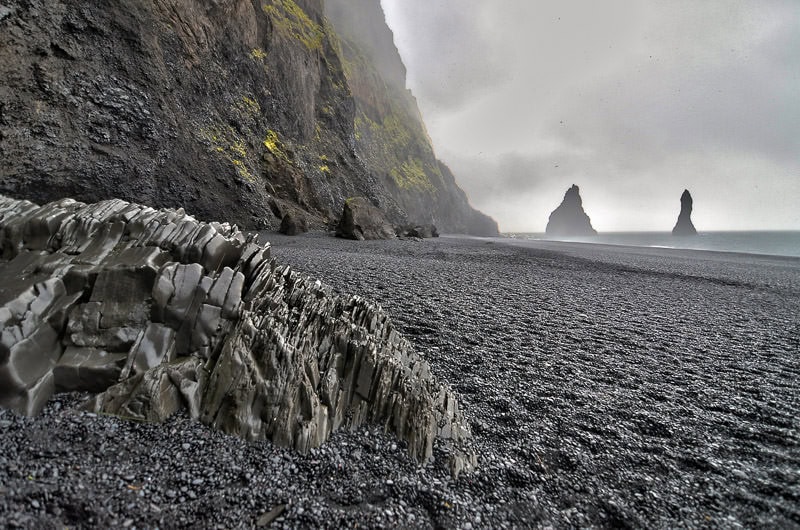 At first, I thought they were all seagulls but after closer observation, I noticed there were tons of puffins too! I was so psyched to get to check seeing these adorable birds off my things to do in Iceland list, I'm pretty sure I was squealing!
We ended up walking around and taking pictures for hours at Reynisfjara Black Sand Beach. It is most famous for the Reynisdrangar sea stacks, but it has so much more to offer.
We checked out the basalt columns, caves and basalt rocks and watched the waves crash! However, it is important to keep a safe distance from the waves. They are very powerful and can drag you (or your belongings) away before you know it.
Also, make sure to have a waterproof bag to put over your camera for photographing on rainy days. We found out later in the day that we actually broke our camera during this part of the trip. Luckily, we brought a backup so it wasn't a vacation-ruiner, but it very well could have been.
2. Dyrhólaey Black Sand Beach
Since we enjoyed the beach so much, we decided to check out Dyrhólaey for a cliffside view. Even though we couldn't see very far into the fog, getting to see the ominous black sand beach from above made for a beautiful vantage point. We even saw a seal playing in the waves!
It is only a short drive from the iconic Reynisfjara Beach, so you might as well check it out.
3. Diamond Beach at Jökulsárlón Glacier Lagoon
After our explorations near Vik (including the amazing hike we describe below), we moved on toward the iconic Glacier Lagoon. To our surprise, we found another amazing black sing beach at Jökulsárlón. This one was extra special because it had giant chunks of beautiful clear-blue ice on it.
No wonder it is named Diamond Beach! It was seriously the most stunning sight we had seen yet, and that is really saying something.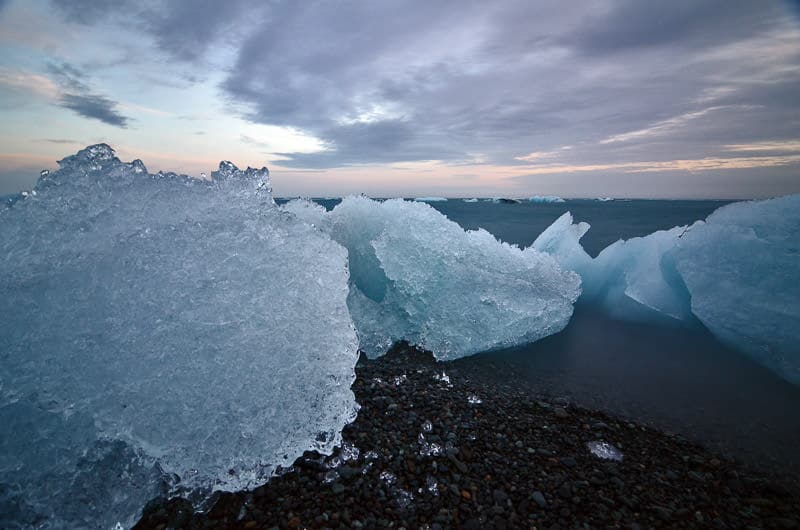 While Reynishverfisvegur is the most iconic Black Sand Beach Iceland is known for, photographing the ice on the black sand at Jökulsárlón Glacier Lagoon was just as scenic, in our opinion! It was especially scenic at sunset, but I can't imagine a bad time to go. It is seriously one of the best things to do in Iceland!
MORE Black Sand Beaches Iceland Visitors Love
These all sound like beautiful black sand beach destinations, and we hope to check them out next time!
Plane Wreck in South Iceland
While not specifically known as one of the most popular black sand beaches in Iceland, the popular plane wreck viewing area is so iconic because of the black sand it is on. The hike out takes about one hour each way, and it is a very popular spot to take iconic photos. It is also part of many guided tour options. Learn more about the Iceland plane wreck, here.
Black Lava Pearl Beach (Djúpalónssandur) in West Iceland
Djúpalónssandur is located on the Snæfellsnes Peninsula in West Iceland. You get to it by walking down a path, by a few lagoons, and multiple places steeped with Icelandic local folklore (like most natural areas in this country!). It is called Black Lava Perl Beach due to the smooth lava rocks covering the beach. Learn more here.
Dritvík Cove near Djúpalónssandur
Next to Djúpalónssandur is Dritvík Cove – a serene, crescent-shaped black sand beach that used to be a seasonal fishing station.
6 Things to Know Before Visiting Iceland's Black Sand Beaches
1. They are Mostly Day-Trippable
The top three beaches listed here are on the South Coast of Iceland and are easily accessible from the Ring Road. We didn't have any issues finding a spot in the parking lot at each with free parking. But we did go early or late when we visited.
You could definitely do a day trip to the two black sand beaches on Iceland's south coast in a rental car from Reykjavik! It is about a two-and-a-half-hour drive from the city, and it is also usually part of most South Coast Tour offerings. It is also less than an hour from the iconic Seljalandsfoss waterfall and Skógafoss waterfall.
2. Iceland Beaches are Dangerous Due to Powerful Waves!
Sneaker waves are a big issue at all beaches in Iceland and can be very dangerous. They are called this because they sneak up out of nowhere and are known to drag unsuspecting tourists into the rough ocean. Be careful and keep a safe distance from the water's edge. Be sure to also know when high tide and low tide is to avoid being in any ocean-side caves then!
You will likely see lots of warning signs, since injuries and fatal accidents have increased in recent years as tourism picks up.
3. Black Sand Beaches are Because of Volcanoes!
Black sand beaches are the result of volcanic activity – something Iceland is known for! It is a volcanic island, after all, with a volcanic eruption going off every few years these days!
The volcanic rock eventually gets broken down into a sand-like consistency and turns the beaches black. Knowing why these black beaches exist makes it even more interesting to see in person!
Getting to see the black volcanic rock and basalt rock formations that used to be molten lava hundreds of years ago is a very unique experience. That's why it is a main attraction in Iceland!
4. The Most Famous Black Sand Beaches will Likely Be Busy
Especially in the summer months, Iceland's most beautiful beaches will likely have a lot of tourists – maybe even tour buses stopping to unload in the parking area. Since many of these beaches are off the main road, offering easy access, it makes them super popular. That's why it is a good reason to go early and self-drive, so you can have as much time as you want to explore!
5. Black Sand Beaches are Part of Icelandic Folklore!
Want more reasons to think the black sand beaches are cool? When you look at the iconic basalt columns, imagine them as trolls! Locals believe they went out at night to try to pull ships in from the ocean but they stayed out too late and the sun turned them into stone!
6. Reynisfjara Beach is a Famous Filming Location
Another fun fact is that Reynisfjara black sand beach was used as a location for Game of Thrones! Other movies, like Star Wars and Star Trek have also used Iceland beaches and other scenery. That makes it an excellent place to have your "main character moment," right?
7. Timing Your Trip Right May Take Some Patience
The best time to go to the beaches is when the tides are not rising, weather cooperates, and ideally early in the day before it gets really busy. Some photographers like to go at night to capture the northern lights, but you should be extremely careful if you do this and let others know your plans.
BONUS: Hiking Hjörleifshöfði Near Vik Black Sand Beaches!
Next on our list was Hjörleifshöfði, a "haunted mountain path" I had read about in another blog. It sounded so peaceful and beautiful I had to check it out. Since it was still gloomy, we debated waiting a few hours before we tried to do this hike. But knowing this may be our best chance (weather can always get worse, you know?), we decided to just go for it.
Getting to the Trail
As we drove away from Vik, the sun finally made an appearance. And we saw 4 or 5 rainbows back to back! It was like God was shouting at us: "You're going the right way!"
When we saw the sign for Hjörleifshöfði with the ubiquitous wonder symbol next to its name, we knew we must be at our destination. However, the makeshift road made out of loose black sand made us weary to go too far due to fear of getting stuck. But we made it to the trailhead and couldn't wait for a leisurely mountainside hike.
As I tried to guess how long the picture of the trail looked, Buddy talked to some people that had just made their decent.
Apparently it was a semi-short loop (not more than two hours total). The way up was really difficult, it was super windy at the top, but beautiful and totally worth it. Not quite as relaxing as I had expected, but count us in!
Reaching the Top of Hjörleifshöfði
We weren't too concerned with the steep incline, since we are used to hiking in Colorado. And although it was a little harder than we had anticipated it was the wind that made it the most difficult.
Now when I say wind, I really mean multiple mini-hurricanes coming at you from random directions that can literally knock you off your feet. I honestly started wondering if the mountain was indeed haunted and there was a giant, Thor-like ghost trying to push me off the edge. At one point I dared Buddy to jump and he flew back about four feet – insanity!
After about an hour of battling the wind and hunting down trail markers in the thick fog, we finally found our way to the top. A burial site located there – the tomb of the brother of one of Iceland's founders.
There is even a little guest book in a wooden box that you can sign! I thought this was a super fun and unique way to commemorate the craziest, most intense hike we had experienced yet. I laughed as I flipped through notes ranging from years ago to the day before that all cited the crazy wind! It made me feel oddly connected to the strangers that came before us.
After hunkering down to sign the guest book, we started wandering around to find our path back. The fog was so thick that we almost had to crawl to find the marker that pointed us to the right way down. So we couldn't help but cheer when we found it! (Note: The way down is to the right if your back is to the guest book box).
Strolling Down the Mountain
Ironically, the path down the other side of the mountain was blocked from the wind and it was gorgeous. There was lush green grass, streams, and flowers, and did I mention way less wind? It would have been way easier to just go up that way too, but I wouldn't change our experience for the world. It was truly an epic, hilarious and unique hike we will always remember fondly.
Exploring Kirkjubæjarklaustur on the Way to Diamond Beach!
Once we said goodbye to the mountain and its ghost, we headed east to find a nice place to camp for the night. On our way, we were delighted to see some farmers herding sheep!
One guy and a dog chased after them on a 4-wheeler while another followed behind with a truck to put them all in. The sheep hauled ass to get away from them, but I have a feeling they didn't get very far. Check out a video here (including some brief, but useful commentary).
Meeting our First Sheep Dog
After having a good laugh at the sheep, we decided to turn around to go back to a nice camping area we had passed not too long ago. When we got to the end of the farm road we had gone down to turn around, a very eager sheepdog came running out to greet us. Wait. No. What is he doing? Yep, he is herding us. "Who's laughing now?" said a herd of sheep somewhere.
I laughed so hard I couldn't breathe as this dog ran circles around our van. He made it nearly impossible for us to move. It took us about 20 minutes of inching our way in the right direction (and me hanging out the window yelling to Buddy when he could safely go without hitting the dog) before we got away. We still laugh when we think about it, and probably always will.
Random Road-Side Waterfall
On our way back to the campsite in Kirkjubæjarklaustur, we stopped to take pictures of a drop-dead gorgeous roadside waterfall. There were no signs next to it. No name. No big deal, just some pretty nature to take your breath away. Iceland is my spirit country.
Camping in Kirkjubæjarklaustur
After getting set up at the beautiful campsite, we walked over to the nearby restaurant, Systrakaffi. It didn't look like much from outside, but the inside was super modern and chic. And the food … The food was the best we had during our entire trip! I had the most amazing fish stew and Buddy had a specialty burger with some super delicious fries. It was superb!Back at the campsite, we took quick showers. Five minutes to be exact because that's what our 600 krónur bought us. It was seriously like I was in a race.
I stared at the clock as it counted down, hoping I wouldn't end up soapy and half-clean with no water left. But I made it. I didn't have time to shave my legs (a theme on this trip)… but I made it. Back at the van, Buddy and I laughed hysterically about our speed showers and reminisced about our ridiculous day.
In hindsight, it always seems easy to pinpoint the best moments of your life. But I think it is very rare to be able to acknowledge those moments while they are happening. Throughout our Iceland vacation, but on day three especially, I kept having this overwhelming feeling that I was living what would be my all-time favorite memories.
Read more about campervanning in Iceland and the top campsites!
Iceland Ring Road Trip Vik Area Overview
The day didn't go as planned at all. We broke one of our (quite expensive) cameras, spent most of the day being cold, wet or scared, and we were completely exhausted by the end of it. But for some reason, to us it was perfect.
As we laughed ourselves to sleep, recounting our hilariously eventful day, I couldn't help but think this day might be the best day of my life. The one I look back on for a smile, the one I laugh about with my husband 20 or 40 years from now and tell all my friends at the nursing home about. But then again, maybe it is just one of many amazing days I'll have to look back on … maybe this day won't even make the top of my list when it is all said and done. And that, to me, is what makes this adventure called life so exciting.
But the Icelandic excitement had really just begun for us, we still had glaciers, adventures in North Iceland & more ahead of us! Check out the next blog to keep following our epic Iceland road trip: Finding the Ice in Iceland.
And for more Iceland travel stories from our fall campervan road trip and extended winter stay, check out our Iceland page!