After not one but two trips to Jökulsárlón Glacier Lagoon (because we just couldn't bear to cut our time there short), we started on our way back to East Iceland. We had plans to grab lunch in the cute, little fishing town of Höfn before exploring the Lake Myvatn geothermal area and Akureyri in North Iceland.
Along the Way from East Iceland
1. Meet the Icelandic Horses
On our way, we had the pleasure of finally meeting the friendly Icelandic horses we had heard so much about. You can tell these gorgeous creatures get a lot of attention since they come right up to you. And they seem to crave being loved on! But watch out, they may try to nibble on you a bit too, because they also crave food!
2. See the Scenic Eastern Fjords
We enjoyed a delightful, and surprisingly affordable, lunch at Ósinn in Höfn. Then, we ventured on to the winding and W-I-N-D-Y cliff-side roads of East Iceland.
At one point we stopped in a scenic area for photos and I almost got blown off a cliff! I literally fell over onto my hands and knees. Then I decided to run quickly back to the safety of the van.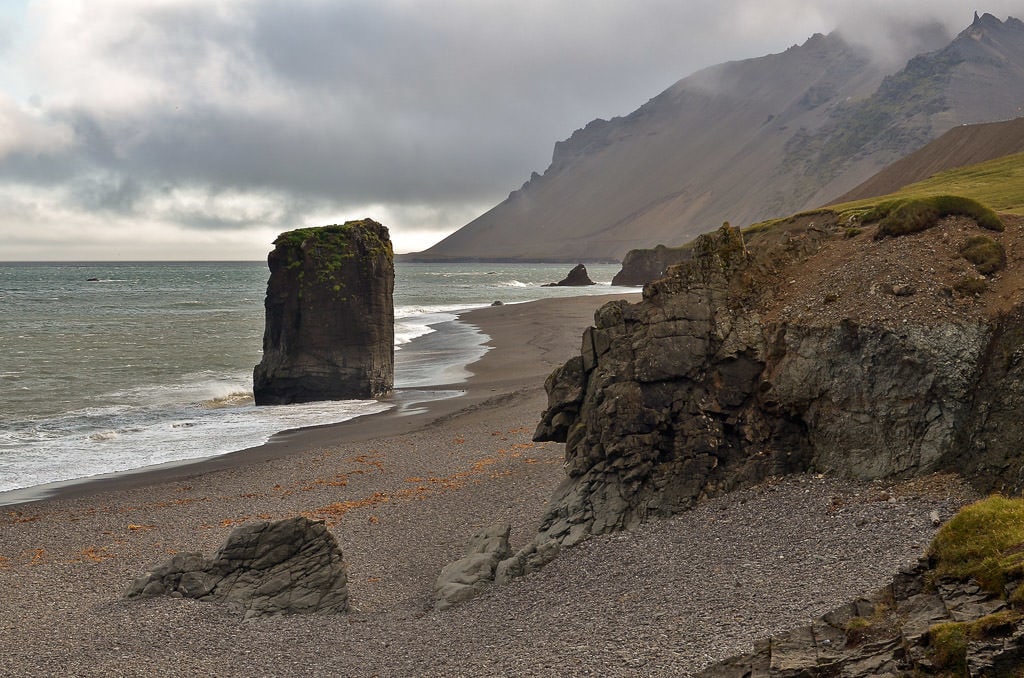 At one point, we took an uphill, dirt road detour to see a roadside waterfall. But otherwise, there weren't many places we felt compelled to stop in this area of the country. However, this was the best driving of the entire trip.
Every winding turn was another beautiful fjord with glimmering water and jaw-dropping views. We saw fishing boats, more sheep (not a big surprise there) and some adorable little fishing towns.
3. Remote Camping in Egilsstaðir
That night we camped in Egilsstaðir after grabbing some delicious gas station ice cream. Another great find at the gas station was an "Instant Iceland" trivia game that we actually thoroughly enjoyed playing. We took it up a notch by making it a drinking game. We had to take a sip of the national liquor, Brennivin, each time we got an answer wrong. It made for a really fun night filled with lots of laughter. And as a bonus, we got another northern lights show!
Soon after starting out on Day 6 we entered into a barren land of emptiness that lasted for hours. And the wind was even more intense than we had experienced the day before. At one point a semi-truck passed us and we almost got blown into it! (Note: if passing in high wind, slow the hell down … way down!)
4. Dettifoss in North Iceland
Eventually, we reached the road to our next destination, Dettifoss. I knew the road was dirt and pretty rough. But we felt it would be totally worth it. It was much bumpier than expected and was pretty annoying. Especially with all of our camper van cutlery and pots clanking around in the back.
However, Dettifoss – the most powerful waterfall in Europe – is truly a sight to be seen! It isn't the most beautiful waterfall in Iceland, but it is so immense it is hard not to be in awe.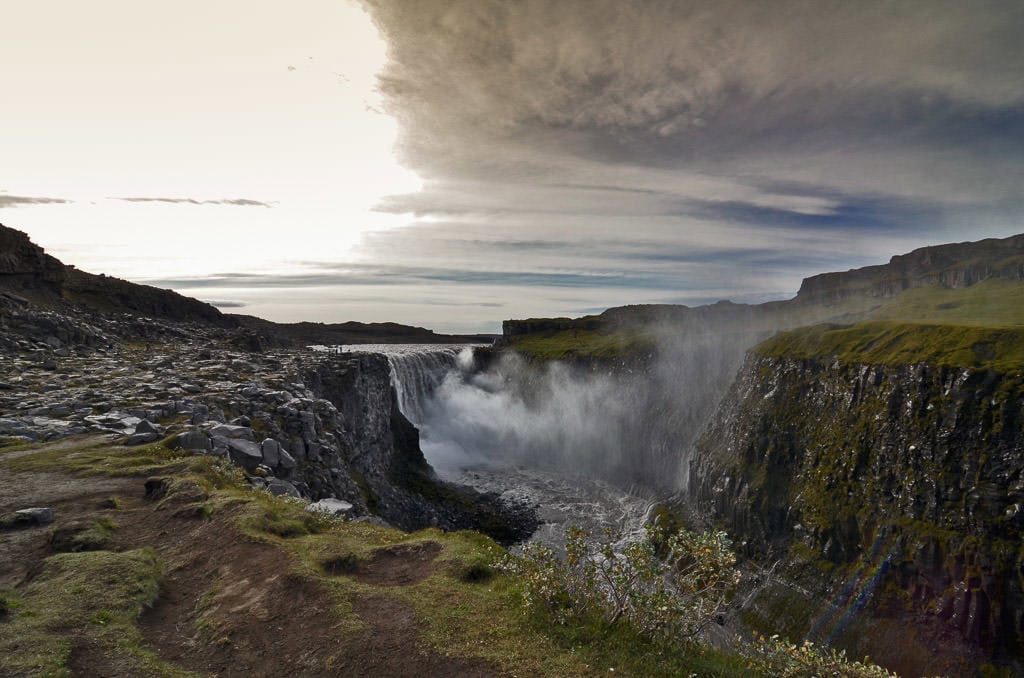 Ironically, after admiring the massive waterfall for a few minutes, we realized there were people on the other side too. And oh look… the map shows a paved road that leads there. Fantastic!
Dettifoss is worth the bumpy road effort. But trust me, don't just do it for your health. It is not fun in a camper! I was pretty pissed that we didn't go the easier way. This led to a hangry breakdown and a low point of eating instant mashed potatoes straight out of the pot while doing deep breathing exercises. I'll say it again: DON'T FORGET TO EAT!
Lake Myvatn Geothermal Area
Knowing I was over the dirt road, my dear hubby got us back down it in record time and we headed to our next stop, Myvatn. Before exploring this geothermally interesting area, we ate some real food (which was surprisingly inexpensive) at Fuglasafn Sigurgeirs. This cute little restaurant is right on Lake Myvatn and even has a bird museum inside.
5. The Hverir Mud Pots
After lunch we took a smelly walk around the Hverir Mud pots – an area with sulfurous, bubbling puddles that are actually kind of pretty in their own way.
And for the record, the Hverir mud pots actually weren't THAT smelly, just a very strong boiled egg smell that wasn't exactly pleasant. What's really worth noting are the gnats, or midges … whatever you call them. These things were everywhere and annoying as all hell. Luckily, they don't bite you, they just fly all around you and get up in your face.
6. Lake Myvatn
Before heading to the much-anticipated Grjotagja cave, we enjoyed another quick stroll next to Myvatn Lake. It was void of bugs thankfully! And a wonderful place for a walk.
7. Grjotagja Hot Spring Cave
Grjotagja is a hot spring cave we were psyched to see. But once there, we were surprised – and a little disappointed – at how easily accessible it was. We had pictured a secret cave on the side of a mountain that you had to hike to. But in reality, the cave is basically in the parking lot. We only had to walk about 5 feet after parking the van.
The cave itself is exquisite though! The blue water makes you want to dive right in. However soaking in it is supposedly not allowed, and there were too many other tourists there to make a dip enjoyable anyway.
We were a little bummed that the cave didn't really live up to our expectations and that we had to share it with 20 others. But on our way back to the car, we happened to see people coming out of another cave to the left of the other one! Score!
Although it was only about a minute away from the first one, it didn't seem like many people knew about it. We got to spend some time alone in this other kind-of-secret cave and liked the experience much more!
8. Myvatn Nature Baths – North Iceland's Blue Lagoon
Our last stop before leaving this strange town was the Myvatn Nature Baths. Dubbed the "Blue Lagoon of the North," this relaxing experience was just what we needed after a long day of driving and exploring. The warm blue water has a wonderful calming effect that makes you want to just float around for hours – which we did!
In hindsight, our experience here was actually better than the one we had at the famed Blue Lagoon. Although the Myvatn Nature Baths were smaller, they were WAY less crowded, making it much more relaxing. And the timing was perfect since we had been driving for two days and really craved a nice soak. The Blue Lagoon is really nice though, I just enjoyed this more. (Read our full comparison here.)
And yes, you do have to shower naked before going in! Just get over it. I actually appreciated it because it made me feel like people were at least semi-clean while soaking in the same water as me.
Akureyri in North Iceland
Although it was getting dark once we were done bathing, we decided to move on to Akureyri to camp for the night. When we finally got there it was about 9:30 p.m. and we could not find the campsite! The cause of our troubles was a sign that had been turned the wrong way, by the wind or a mean kid, making it very confusing.
After about an hour of searching, and turning around on a farm road with creepy scarecrows that about gave us both a heart attack, we finally made it! A map at the town entrance to town was our saving grace.
9. Walk through the Gardens & Around Akureyri
On Day 7, we started our day with a walk into town to have some pastries. We were surprised to see a couple we had met two nights before. So, we chatted in the street for a while before heading our separate ways. I always love getting to talk with other travelers!
Akureyri is a lovely city with lots of charming stores! And, for Iceland's second biggest city, it is very walkable! On our way back to the campsite we made a beautiful detour through the free botanic gardens. Definitely a relaxing spot to hang out before getting back on the road.
10. Jólagarðurinn (The Christmas Garden)
At the campsite, I found a flyer for Jólagarðurinn (The Christmas Garden), so logically we had to go. I realize there are Christmas-themed shops pretty much everywhere, but this is by far my favorite of all time and a highlight of our trip for me.
The exterior of the store is decorated with candy, and inside Christmas basically explodes in your face. There is a wood-burning fireplace, candy, Christmas decorations galore and it smells amazing. They even had the chocolate umbrellas my Omi used to bring me back from Germany!
I was in heaven. I looked at everything! And the sweet girl at the counter was nice enough to happily answer all of my questions about Icelandic Christmas traditions. She also gave me some helpful pamphlets that outlined the tales.
In Iceland 13 "Yule Lads" visit children on the days leading up to Christmas. They leave gifts in their shoe (or potato if they weren't well-behaved). These fellows look like 13 different versions of Santa. Each has its own unique characteristics and stories – think 7 dwarfs, but 13 Santas!
Their mother is Grýla, an awful troll-witch. She comes down from the mountains at the same time as her sons. However, she is in search of bad children to capture and eat while her sons get into happier mischief. If you go to the bottom floor of the store you can get a peek at her in her cave!
My favorite story is about Grýla's black cat, aka the Christmas Cat. When I asked about the significance of all the black cat ornaments I was seeing, the girl at the counter laughed as she told me that the black cat supposedly eats children who don't get a new piece of clothing before Christmas. I love it! It's like Christmas mixed with Halloween, my two favorites!
In addition to the adorable shop there was "the world's largest advent calendar" which I made a point to read each part of. This place made my heart so happy!
11. Víðimýri Turf Church
After leaving Akureyri we stopped at Víðimýri Turf Church where a cat was there to greet us. Luckily, this wasn't a child-eating black cat, just a friendly cat that wanted to explore its modeling career prior to being loved on. The old turf church was locked, but just getting to see the outside was worth the stop.
12. Camping in Sæburg
We tried to get as close as we could to the West Fjords. But, when the sun started to go down we decided to find a place to camp so we weren't lost in the dark like the night before. And we totally lucked out with our campsite in Sæburg! It was right on the water and there was even a natural hot tub to soak in that we planned to use before everyone else woke up in the morning. An added bonus was the free showers that we could use as long as we liked. Yes!
Read more about campervanning in Iceland and the top campsites!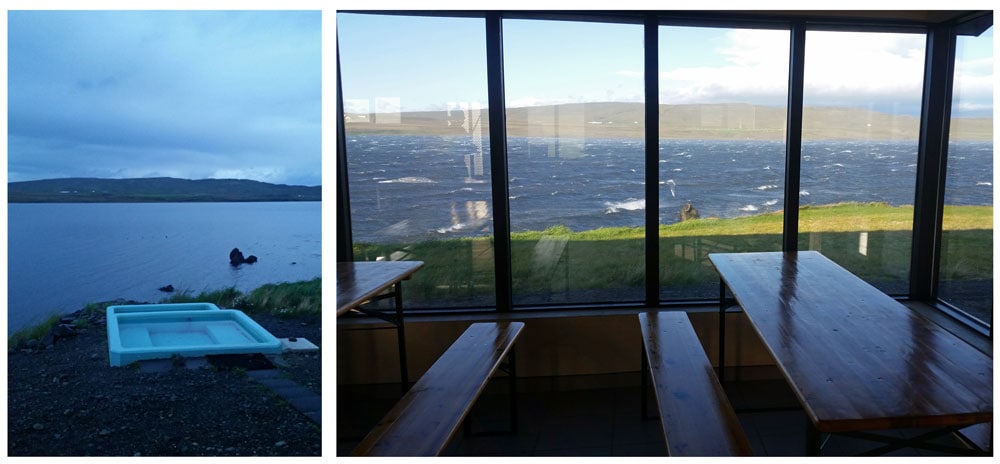 Day 7 was wonderful, but we couldn't wait to finally make it to the amazing West Fjords the next day. With it being off the ring road, we knew it would be remote and beautiful and we'd probably have places all to ourselves! Check out the next blog for more: Winding Through Iceland's Westfjords.
And for more Iceland travel stories from our fall Iceland campervan road trip, check out our Iceland page!