Some time after we fell asleep on Day 7 of our Ring Road trip at the beautiful campground at Sæburg, we were awakened by strong wind and rain hitting our van. At one point I actually asked Buddy if he thought it could tip over. Luckily in the morning, we were still upright, although the weather hadn't calmed down a bit, and we had the Westfjords on our minds!
After some long, hot showers we set out on our way for our two days in Iceland's Westfjords. We were excited for more adventures, but a little bummed that we didn't get to enjoy the seaside natural jacuzzi we had anticipated using that morning. (Note: when in Iceland, don't wait to do anything because the weather can change at any moment.)
It wasn't long after we got on our beloved and trusted friend the Ring Road, that we had to bid her farewell for an unknown dirt road that would take us to the winding and steep roads of the Westfjords. We were leaving her safety for the vast unknown and it felt wonderful.
Bonus: Historic Guðrúnarlaug Hot Tub at Laugar Before the Westfjords
Near the end of the dirt road was Laugar. We decided to check out this small town because there was a wonder symbol on the sign. Plus, it had stopped raining. It turns out the wonder was a historic, natural hillside bath called Guðrúnarlaug that was actually used by the Vikings way back in the day!
Next to it, there is even a convenient and adorable little changing room. We were the only ones there and were psyched to finally get to have a relaxing soak!
After quickly changing, we ran to the rock-lined bath in the chilly air and walked carefully down the slippery steps into the warm water. Then we looked down. There was seaweed everywhere! No wonder the steps were so slippery.
The dark rocks fooled us into thinking the water was peaceful. In reality, it was filled with creepy seaweed monsters that clung to our bathing suits and skin! However, we resisted our urge to jump out and soaked for a while taking in the beautiful scenery. If the Vikings could do it, so could we! And when in Iceland, right?
The seaweed, which I decided to think of as a natural skin treatment instead of a slime monster, didn't really take away from the experience at all once we got used to it. If anything it added to it because it gave us a pretty good laugh! I would definitely love to go back.
Apparently, there is a "water route" you can take to check out a bunch of these baths in the Westfjords! Yes, please! Also, make sure to bring quick-drying towels, ours were wonderful to have!
Want to learn more about the history of this place? This great article has a wonderful summary.
6 Top Things to Do in Iceland's West Fjords
1. Driving through the Westfjords
After channeling our inner Vikings, we went North toward the Látrabjarg Cliffs. We wanted to get there before sunset in case the weather took another turn the next day. And we also didn't want to be driving on any steep dirt roads in the dark.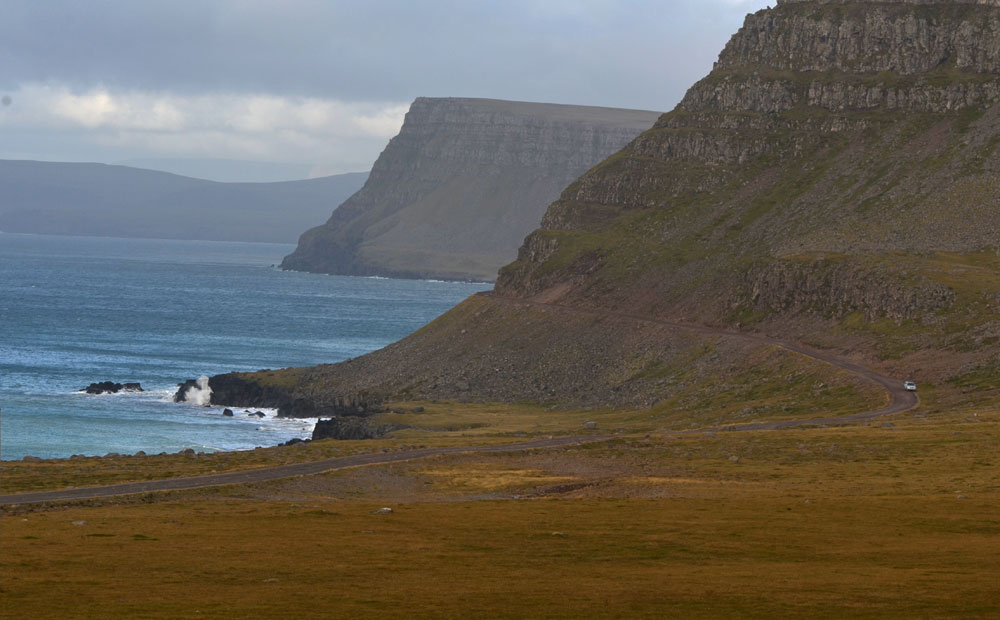 Speaking of roads, we knew we were in for a much different driving experience in the Westfjords since we would be on some non-paved roads. But we really weren't prepared for driving on dirt roads with 12%-grade descents and s-curves with a death-drop on one side and a mountain on the other.
Plus our big van didn't have any downhill assist so we were terrified we were going to burn the brakes out. And the intense wind and rain came back just in time for our first uphill climb. Awesome!
We laughed in utter fear during the entire drive. And the locals, of course, flew around the curves like it ain't no thang.
But the views… the views were worth it. There was hardly anyone around and you could see out to the ocean for miles. It felt like we were on our own island somewhere, removed from Iceland and the rest of the world. And it was astoundingly beautiful.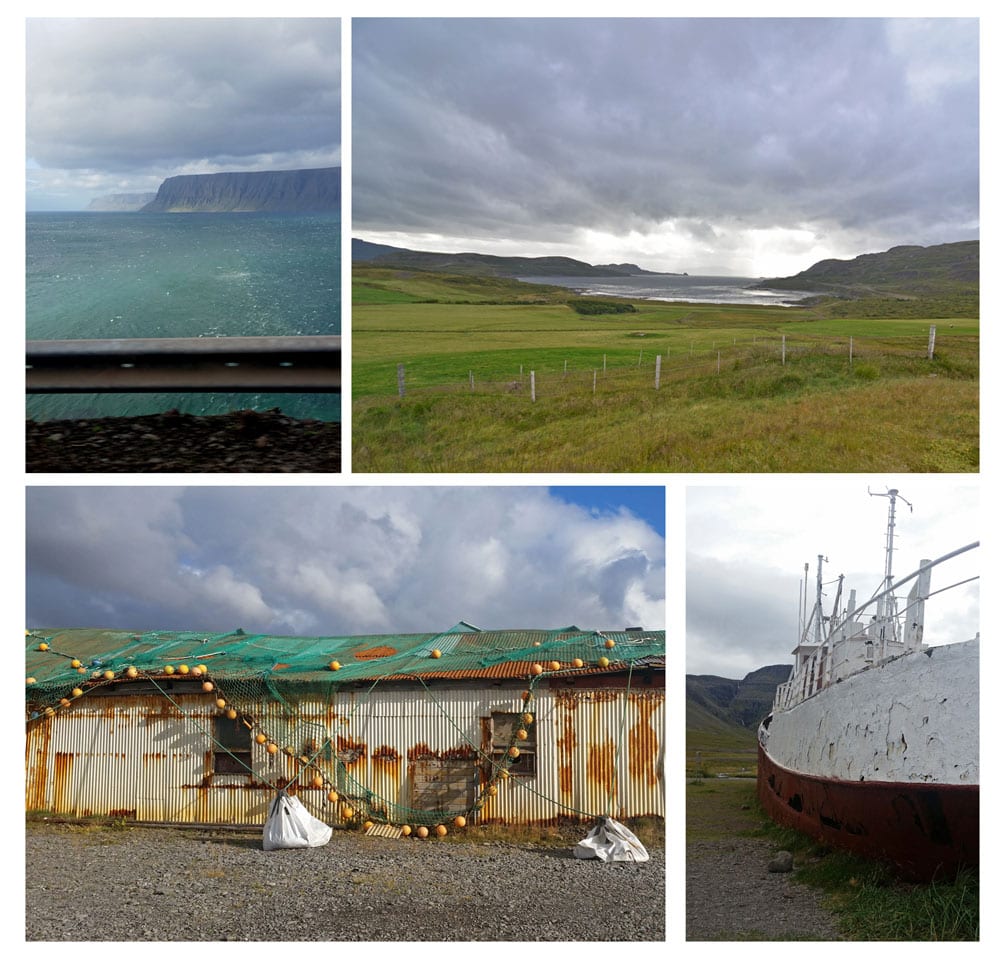 2. Hiking Along the Látrabjarg Cliffs
After a few hours of praying our way through the scariest roads ever, we made it to the Látrabjarg Cliffs just before sunset. There are signs that warn you not to go too close to the edges because the Látrabjarg Cliffs are fragile and may break off (sending you to your death).
But the wind is also super dangerous and was so strong it was literally blowing us over. So, needless to say, we stayed a safe distance away from the cliff edges.
Why the Látrabjarg Cliffs are Extra Special
The main appeal of the cliffs is puffin watching. And although we missed them, I'm still so glad we made the trek. The green cliffs against the blue, cloudy sky was gorgeous. And the cliffs are actually the Westernmost point of Europe, which means you can basically see into forever.
I have never seen the ocean in that way. You could tell it was freezing and powerful and massive by just listening to it. But watching the waves crash against the bottom of the Látrabjarg Cliffs was almost mesmerizing.
We walked along the squishy path until the sun started to go down. Then we took some pictures while we shivered in the frigid air and headed back to our campsite for the night.
3. Camping in Breiðavík
I loved this campsite! There were personal, large showers with no time limit, a restaurant and complimentary coffee and hot chocolate! And the close proximity to the cliffs was great. Not to mention the views around the campsite.
However, after a great meal and another windy, rainy night in the van, we did found one downfall to this great place. The grass lot we were told to camp in was almost impossible to get out of once it got wet. We COULD NOT get traction and neither could anyone else. (And by that I mean the 1 other couple). Eventually, after a short walk to calm our nerves, the hubby managed to 180-point turn our way out of there!
4. Rauðasandur (Red Sand Beach)
Our first stop on Day 9 was Rauðasandur, a red sand beach. However, shortly after turning at the sign for this interesting spot we regretted our decision to go.
This was by far the scariest road we had ever been on. Dirt? Check! Narrow? Check! Steep? Check! Death Drops? Quadruple Check!
If our brakes went out we would have flown off the road to our deaths for sure. We weren't laughing this time. We were freaked out, but there was no turning around so we just kept going. I'd love to say this drive was worth it, but alas, the beach wasn't much different than the one we slept near. My poor hubby endured that drive for nothing!
However, we did meet an adorable elderly sheepdog that came hobbling up to us when we stopped to turn around. He was SO EXCITED to see us! We were besties in like 1.2 seconds and I was kind of sad to have to leave him behind. But he seemed to have a pretty fantastic beach life.
After making it back up and over the mountain road of terror, we decided we were done driving for the day. Luckily we had tickets to ride the Stykkishólmur Ferry back to the mainland, so we didn't have to go on any more sketchy roads. But that did mean skipping Dynjandi (a huge waterfall down another dirt road). It was probably amazing, but not worth stressing my poor hubby out for.
5. Ocean-Side Hot Spring
We ended up finding an awesome natural seaside bath (near the Flókalundur restaurant) that we hung out at for hours. It was just what we needed after a stressful morning.
We chatted with other travelers. And watched as a few of them jumped into the cold ocean water then back in the hot spring-fed bath. I must admit, I regret not doing it too. But we didn't have water shoes and were worried we would cut our feet up on the rocks. Next time!
Also, make sure to go to this beautiful place when the tide is a bit higher, the view from when we first got there to when we left was exceedingly more beautiful.
6. Stykkishólmur Ferry Ride from the Westfjords
After a wonderfully relaxing day, we were excited to board our Stykkishólmur ferry for our next adventure.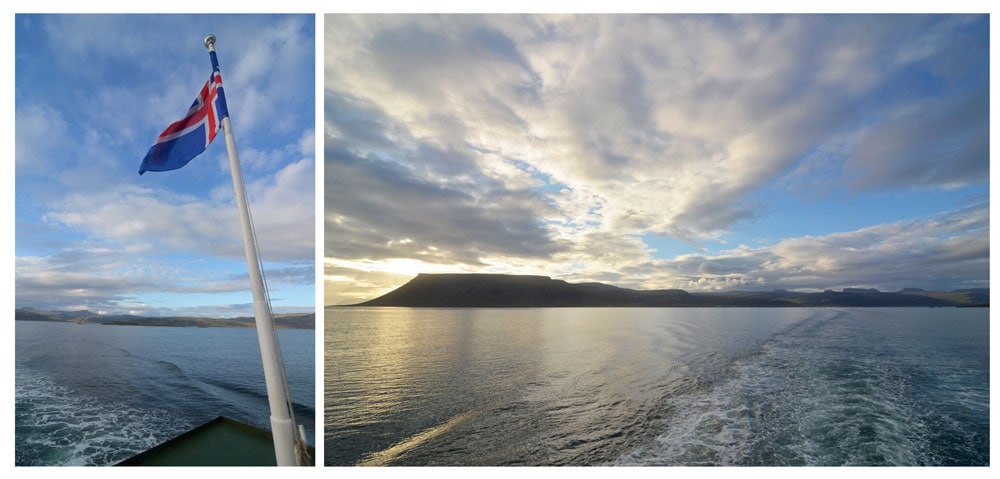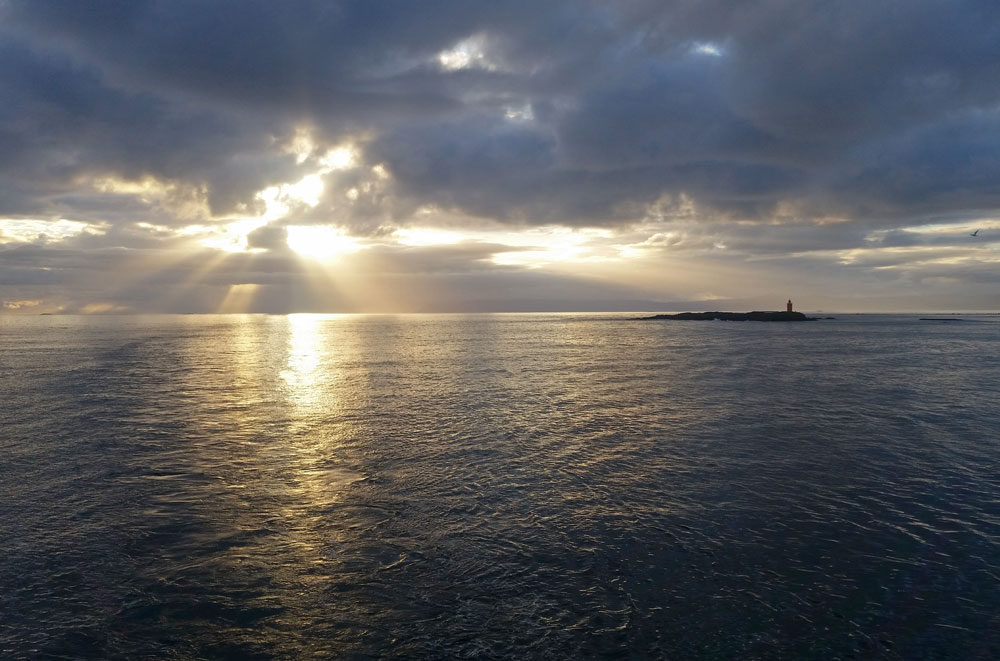 The weather was perfect, albeit a little chilly, for a boat ride. We got to watch the sun set over the Westfjords as we floated away. And even got to see the unique little island of Flatey on our way to the mainland. Oh! And a dolphin! I really loved the Stykkishólmur Ferry ride!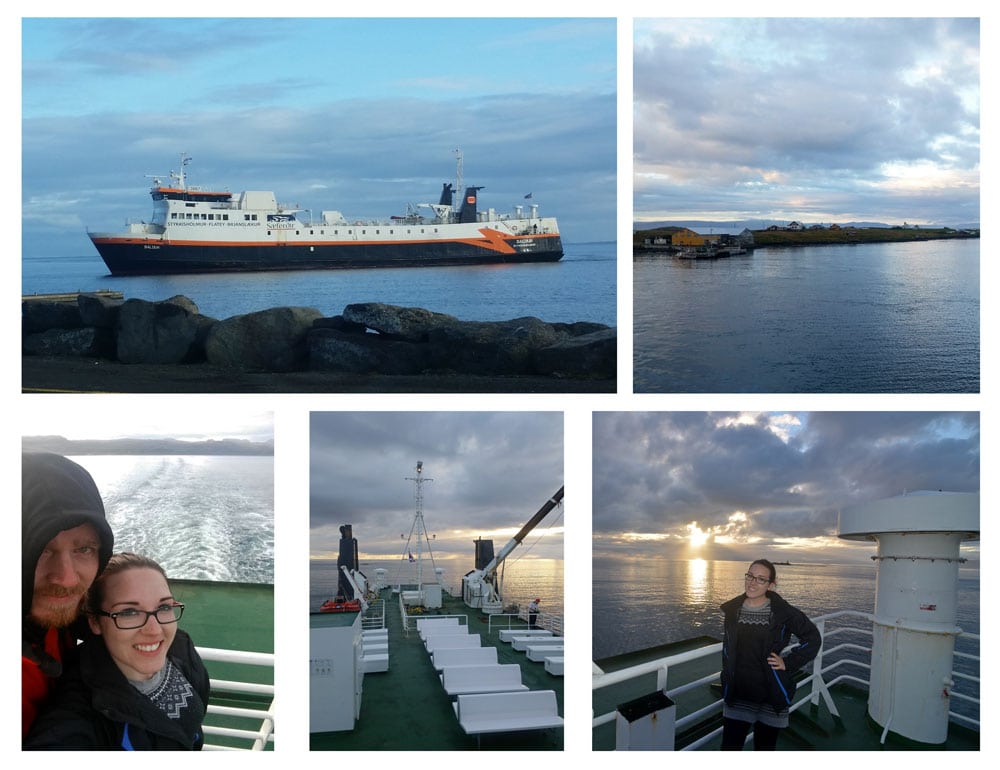 The food on board wasn't spectacular, but not bad. And it was so much more relaxing than driving for another 3-4 hours. And looking at the emergency signs were really entertaining too! Apparently, if something had happened we would have gotten to slide down a tube into an inflatable holding chamber? Good to know!
Camping Near the Stykkishólmur Ferry
We arrived at Stykkishólmur around 9 p.m and drove a little ways out of town until we found what our map said was a camping site. But it was empty. So we just decided to park there anyway and enjoyed another night of being rocked to sleep by the wind … in the middle of nowhere, all alone. It was kind of wonderful.
Read more about campervanning in Iceland and the top campsites!
Our two-days in Iceland's Westfjords was a whirlwind of trying to take in all the immense beauty whilst not falling off the side of a cliff. It was truly an adventure and was the most remote and unpopulated place we had ever been. We can actually say "we got away from it all" on our trip to Iceland.
But with the Westfjords behind us, we couldn't help but realize our trip would soon be coming to an end. We only had three full days left in Iceland. It would be time to go back home before we knew it. But not before a few more adventures!
The next day we would visit a troll-man's home, climb into a canyon and experience Reykjavik on a Saturday night. Check out the next blog for more: Raving About Reykjavik.
And for more Iceland travel stories from our fall campervan road trip, check out our Iceland page!