On Day 10 of our autumn Iceland campervan trip, we awoke to an empty campsite in what felt like the middle of nowhere on the Snæfellsnes Peninsula. Later that day, we would be diving into all the fun things to do in Reykjavik Iceland. But we were excited for a tour of Vatnshellir Cave in Snæfellsjökull National Park first!
Little did we know, about three years later, we'd be back in Iceland for winter and would have an extended stay in Reykjavik – which is why this list is so long! There is so much to do and we're excited to share all about our favorite places with you.
Planning to travel by van on your trip? Read more about campervanning in Iceland and the top campsites!
Best Things to Do in Reykjavik Iceland & Western Iceland
Here is our giant list of all the great things to do in Reykjavik Iceland and nearby around West Iceland. We'll start in the Snaefellnes Peninsula, share a TON to do in Reykjavik, and also top things to do in the Reykjanes Peninsula – including the iconic Blue Lagoon.
Exploring Snæfellsnes Peninsula – Northwest of Reykjavik
About two hours northwest of Reykjavik is the gorgeous and more remote Snæfellsnes Peninsula. It has tons of hiking, unique Icelandic folklore, and even some stunning black sand beaches. We spent a day exploring this area on our way from the Westfjords to Reykjavik and loved it!
Snæfellsjökull National Park spans the majority of the Snaefellnes Peninsula and is named after the stratovolcano in this area. It is basically a giant lava field with cool points of interest scattered about and it is absolutely beautiful. I wish we had more time to explore this area. But since it was Saturday we were trying to get to the first cave tour of the day to avoid huge crowds.
1. Vatnshellir Cave
We ended up having a bigger group than we had hoped, but it didn't really take away from the awesome experience. It was actually kind of fun to chat with other vacationers!
After signing up for the tour and receiving our gear (a helmet and "torch"), we were led to an entrance with a spiral staircase that led to the cave. The guide did a great job explaining all the geological points as well as the interesting folklore associated with the cave.
Apparently, this cave was a lava tube for a nearby volcano thousands of years ago. AND it is believed that a locally famous troll-man named Bárður used to live in the cave. There are even rocks thought to be his sofa and table. Every so often he is said to meet there with his troll friends to discuss important troll things. Maybe next time we can crash the party?!?!
The tour takes about 45 minutes and goes deep into the cave. At one point everyone is instructed to turn off their lights to experience complete darkness. So eerie! I highly recommend this tour, and for about US$32, it is definitely worth it.
2. Rauðfeldsgjá Canyon
A little bit beyond the cave we stumbled upon a gorgeous canyon with a trail that led inside, Rauðfeldsgjá. It is said that Bárður's nephew put his daughter on an iceberg as a joke and she went all the way to Greenland. Bárður was so mad that he threw his nephew into the rift and killed him!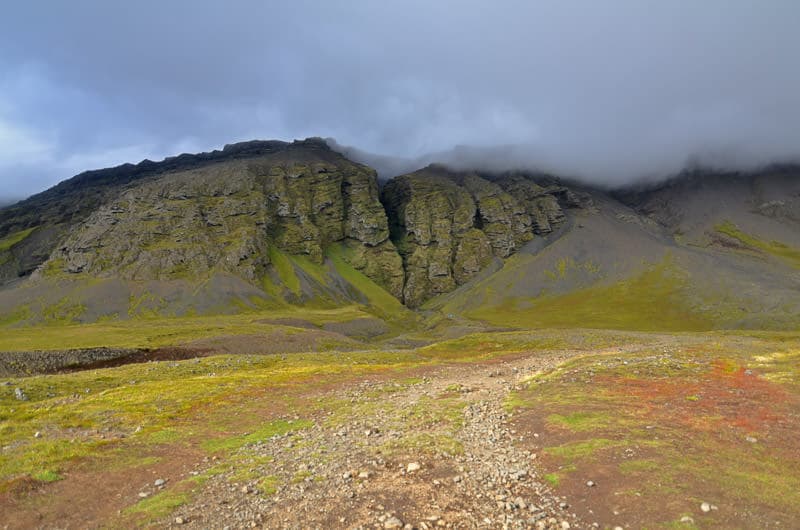 But this canyon has more than just a good story. It is beautiful and has a stream that leads up into the mountain that you can walk along. We were so excited that we wandered into this beautiful place on a hunch. It was such a unique find!
3. Akranes Lighthouse
After our adventures in Snæfellsjökull National Park, we stopped by the Akranes lighthouse. It was closed but still worth a quick stop. And the fun flag rocks next to it were neat!
Other Things to Do in Snaefellnes Peninsula:
These are all on our to-do-next-time list!
4. Skarðsvík Beach
A south coast beach with golden sand (unusual in Iceland).
5. Kirkjufell Mountain Views
Just outside of the national park, Kirkjufell mountain and the waterfall in front of it is an iconic spot in Iceland. It was even a Game of Thrones filming location.
6. Bjarnarhöfn Shark Museum
This museum also is a processing plant for Iceland's infamous fermented shark. You can try some while there, if you'd like.
7. Gerðuberg Cliffs
Towering Basalt cliffs with hexagonal columns.
8. Saxhóll Crater
A crater you can walk to the top of – if you want to tackle the 385 steps.
9. Búðakirkja Black Church
Small picturesque church amidst an ancient lava field.
10. Djúpalónssandur Black Sand Beach & Dritvík Cove
These beautiful black sand beaches involve a bit of a hike to get there, but look like a great stop!
11. Lodrangar Cliffs
Dramatic cliffs along the ocean with the nickname "the rocky castle."
Our First Impression of Reykjavik, Iceland's Capital of Cool
After a day in the remote Snæfellsnes Peninsula, we were excited to spend the final days of our epic Iceland campervan road trip exploring the beautiful city of Reykjavik, But first, we had to go through the underwater tunnel and a ton of roundabouts!
The tunnel was a first for us, but it cut out a lot of time and was inexpensive. It really isn't scary if you aren't claustrophobic. But definitely a unique experience. And once on the other side, we learned how to successfully complete a multi-lane roundabout: quickly but carefully!
In Reykjavik, we found the large city campsite and claimed our spot for the night early. Then, after some long showers, we set out on foot to explore.
A few years later, we spent SIX WEEKS in Reykjavik pet sitting over the holidays. It was a dream to get to be back over the festive Icelandic Christmas season and for the Reykjavik New Year's big celebration.
Top Activities in Reykjavik
1. Hallgrímskirkja Church
We lucked out with a free parking spot behind the church. Definitely go early in the day! This helped us beat the crowds also.
The outside of the church is very unique. It is designed to resemble the basalt columns found throughout the country. And the inside of the church was simple yet beautiful and it evoked a lot of emotions within me.
It just seemed like the perfect place to take a few minutes to thank God for helping us make this amazing trip to Iceland happen. And for keeping us protected on crazy roads, in troll caves and on top of windy mountains. I felt so blessed and overwhelmed with happiness as I sat in that pew far, far away from home. I couldn't believe the trip was almost over.
After my moment of appreciation, we took the tiny elevator to check out the view from the top of the church. The colorful houses below, plus the mountains and ocean in the distance made for some beautiful pictures!
2. Self-Guided Downtown Reykjavik Street Art Tour
When we left the church, we were ready for some food, but walking around the city in search of breakfast was a blast! It is covered in beautiful street art sanctioned by the government.
Our wanderings led us to the Laundromat Cafe for a wonderful breakfast. This cute restaurant is colorful, unique, and has delicious food!
3. Sending a Letter to Icelandic Santa
Next up was shopping! We looked around the stores for unique souvenirs. My favorite (of course) was the Christmas store. They have an option to send a letter to Icelandic Santa. (And at Christmas he sent me a note and an ornament!)
4. Finding Unique Icelandic Souvenirs
My favorite souvenir find was a craft store that sold lava rock beads which I've since hand-made into earrings! These were a fraction of the cost of the jewelry in Icelandic stores. However, not as nicely made… but I'm not picky! Wool sweaters are also a go-to souvenir for Iceland visitors.
5. Take a Walk Around the Pond
The Tjornin area of Reykjavik is a popular area to wander. Walking around the pond and watching all the ducks and swans enjoying their day is really fun.
6. Stroll Along the Ocean and by the Iconic Sun Voyager
Another great place for a walk is along the ocean and by the Sun Voyager sculpture. It's a popular selfie spot! We walked along the water on our way to see the famed Harpa Concert Hall and thoroughly enjoyed the scenery.
7. Go Inside Harpa Concert Hall
From far away Harpa looks like a normal building. But once you are inside it is truly an architectural wonder.
Some places were almost optical illusions, the way the glass and the sharp angles play off of each other. We hung out there for at least an hour taking pictures.
8. Visit Viðey Island
The ferry wasn't running on the day we planned to go, but this is a short and unique little trip to a small island off the coast of Reykjavik.
9. Enjoy Some Reykjavik Foodie Experiences &/or Drinks!
Reykjavik has a ton of unique and upscale dining options and it is well-known for its bar scene, which stays hopping until the dawn most nights. Icelanders also love to have ice cream no matter the weather!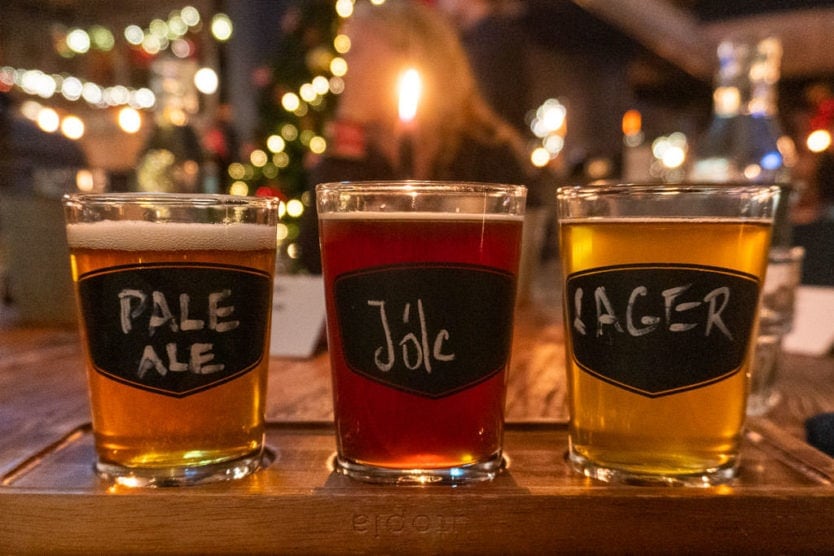 Here are a few specific places not to miss:
Beer Tasting at Bryggjan Brugghús: This was so much fun and the food pairings were delish!
Omnom Chocolate Treats: For unique local flavors of chocolate and ice cream, stop by Omnom for a treat!
Hot Dog at Bæjarins Beztu Pylsur: It's nothing groundbreaking, but it's cheap and an Icelandic must-try.
Check out this list of dining options in Reykjavik and top dishes!
10. Iceland Museum Hopping
If you plan to go to a lot of museums and galleries, the Reykjavik City Card is a great option!
Perlan Museum (see why we loved it!)

Includes a great aurora show in the planetarium and a glacier experience!

Icelandic Phallological Museum (it's a museum of penises, so odd and so intriguing)
National Museum of Iceland
The Culture House
The Settlement Exhibition
Natural History Museum in Kopavagur
National Gallery of Iceland
Reykjavík Maritime Museum
Saga Museum
Gljúfrasteinn – House of Laxness (Icelandic writer)
Tales From Iceland
Arbær Open Air Museum (really cool outdoor area with turf houses!)
Aurora Reykjavík
Volcano House
Whales of Iceland
11. Admiring Art Galleries
Hafnarhús – Reykjavík Art Museum
Reykjavík Museum of Photography
Kjarvalsstaðir – Reykjavík Art Museum
Ásmundarsafn – Reykjavík Art Museum
Gerðarsafn – Kopavagur Art Museum
12. Take a Guided Reykjavik Tour
Whale Watching Boat Tours & Oher Wildlife Tours
Harpa Guided Tours
Íshestar Horse Riding Tours
Reykjavik Bike and Segway Tours
Helicopter Tours
Glacier Tour Day Trips
13. Laugarvegur on a Saturday Night
On our very first day of exploring in Reykjavik, we started wandering around the popular Laugarvegur area to find food in the evening. However, Saturday night in Reykjavik is a bit more of a big deal than I had anticipated. Every restaurant was booked until 10p.m. (it was only 7)! If you like a hopping spot, plant to go here – just make reservations!
So, we walked around for hours, admiring the rainbow street leading to Hallgrímskirkja Church, having some delicious life-sustaining ice cream, and finally finding a pizza place with enough room to squeeze us in. That was the best pizza of my life.
We had initially planned to stay up until all hours of the night partying with the locals. But we were exhausted and a little unsure if we were dressed up enough. Everyone was dressed to the 9s. And we were in jeans. Although, our young waiter said we would be fine going out in what we had on, we felt more comfortable back at the campsite.
We ended up having a really nice night in the van playing our "Instant Iceland" trivia game and drinking an assortment of mini Icelandic liquor bottles instead.
14. Soak in the Local Thermal Pools
One of the typical pastimes of Icelanders is to take a soak. Luckily, there are a ton of local thermal pools to take a soak, if you'd like.
15. Reykjavik Flea Market
We read somewhere that the flea market was good for souvenirs, but it was a little hectic for me to focus on shopping. However, if you are looking for clothes or books this is definitely the place to go. And it was for sure an interesting place to have a more local experience.
16. Go to Sky Lagoon
Just ten minutes outside of downtown is a new hot spring option that looks lovely! We'll definitely be checking out Sky Lagoon next time we're in Reykjavik.
17. Chase Waterfalls
There are a bunch of waterfalls just a short drive from downtown. Read this blog post for our favorites!
18. Take a Day Trip Out to the Golden Circle
There is SO MUCH to do out in the Golden Circle area – definitely don't miss this when visiting Reykjavik. Gulfoss is a massive waterfall you can get right up close to, Thingvellir National Park allows you to walk or snorkel through a tectonic rift zone, and there is even a spa – Laugarvatn Fontana.
19. Spotting Northern Lights
While in Reykjavik, be sure to keep an eye on the aurora tracker. Sometimes, during certain months of the year, you can even see the northern lights in the city. But, your best bet is to drive away from the city lights a bit to be able to see the aurora more clearly. We had good luck out at the Reykjanes Peninsula as well as just a short drive out of town, between Reykjavik and the Golden Circle.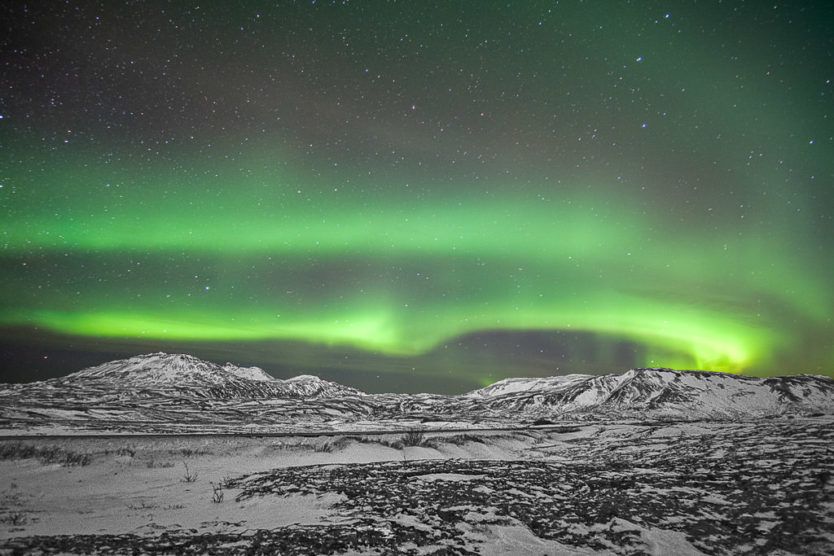 20. Enjoying a Holiday Festival or Event!!!
We loved being in Reykjavik over Christmas and New Year's Eve. There are multiple Icelandic Christmas markets and events during that season, which finalizes with a huge NYE celebration in Reykjavik.
Easter in Iceland is also a big celebration. Iceland Airwaves is a huge annual music festival and Menningarnótt (culture night) is another popular festival. Note that May Day is a common protest day, so best to avoid.
Reykjanes Peninsula
1. Blue Lagoon
We took the long way to the Blue Lagoon around the Reykjanes peninsula. Once at the Blue Lagoon, we checked in and went to our separate locker rooms. We took our naked showers (they actually had some private stalls too) and then met up for an afternoon of relaxing.
I didn't really like how busy the Blue Lagoon was. It was basically a little bit fancier, way bigger and way more popular version of the Myvatn Baths. Check out this comparison if you need help deciding which one is for you.
However, you can't complain about relaxing in warm water with a glass of wine! We did the silica masks too! I do have to say the warnings about the water drying out your hair are very true. I slathered mine with the complimentary leave-in conditioner. But it wasn't strong enough and my hair was dry and crunchy for days! Definitely bring your own heavy-duty conditioner.
2. Lava Restaurant
After a few hours at the lagoon, we changed and went to the Lava Restaurant which we had reservations for. Since we aren't overly adventurous eaters we opted for sharing the cheese plate and getting dessert!
Little did I know the cheese plate was a meal in itself. Our waitress rolled out a cheese tray with accompaniments and cut off big chunks for us as she explained what each one was. They were all wonderful, especially with the jams!
And the dessert was perfect! My poached pear with ginger sorbet was just sweet enough and Buddy's chocolate mousse was decadent in the most wonderful way. The restaurant was the best part, in my opinion. You even get to look over the calming waters of the lagoon as you eat.
3. Bridge Between Continents
We left the Blue Lagoon with full bellies and headed to Reykjanesbær to camp for the night. The Lagoon is close enough to go back to Reykjavik. But we wanted to stay further away from the city in hopes to see those playful Northern Lights one last time.
We also made a quick stop at the Bridge Between Continents This is the point where the Eurasian and North American tectonic plates meet. It was nice to walk off some of the calories we had consumed in such a beautiful setting.
And on our way to our campsite for the night, we even got to see a beautiful sunset before seeing the northern lights!
4. Gunnuhver Hot Springs and Geothermal Area
Similar to the offerings on the other side of the country in Myvatn, Gunnuhver is worth a stop to see the weird way the volcanic activity affects the island.
Other activities in the Reykjanes Peninsula:
Here are some more places we will plan to see next time. We could really spend years in this magical country!
5. Garður Old Lighthouse
6. Fagradalsfjall Volcano (erupted in 2021 and 2022, but is currently inactive)
7. Viking World Ship Museum
8. The Icelandic Museum of Rock'n'Roll
9. Ruins of Selatangar Fishing Village
10. Valahnúkamöl Southwestern Tip with Scenic Rock Formations
11. Viking Village Restaurant
We hope this list has been helpful in your planning to visit Reykjavik. It is such a vibrant, fun city and we hope to add more to this list soon when we are able to get back for more!
For a full list of everywhere we visited in Iceland on our campervan trip, and links to each blog post, check out our road trip itinerary. And for more Iceland travel stories check out our Iceland page!