It is no big secret that the Iceland New Year's Eve celebration is over the top. Locals often spend entire paychecks on fireworks and we were warned multiple times that it gets really crazy. We definitely wanted to check out the celebration! But I was a little stressed about finding a good place that was still safely away from the insanity. Thankfully, we found out about the Perlan Reykjavik fireworks viewing option just in time!
As we would soon learn, fireworks could be seen from all over the city, but taking in the 360-degree views of the Reykjavik New Year's celebrations was something we'll never forget. If you are looking for an amazing way to ring in the New Year, this is a bucket-list-worthy option. Plus, the city is just a fun place to be this time of year!
A Quick Guide to Iceland New Year's Celebrations
Why are the Iceland New Year's Eve celebrations so over-the-top?
First of all, Icelanders like to party and celebrate with family and friends. Secondly, fireworks are only allowed a few days every year. Plus, the meaningfulness behind burning away an old year and celebrating a new one easily gives you all the feels!
Fireworks are actually sold by the Search and Rescue Teams to fund their volunteer efforts. So, families can feel extra excited about their firework purchases since it goes to a good cause.
Where do you find all the Reykjavik bonfires & why are they significant?
It is customary all across Iceland to go to bonfires on 'Old Year's Day' to symbolically watch the old year burn away before bringing in the new one. There are about ten Reykjavik bonfires and close to 100 across the country. The bonfires vary in size depending on the area and weather. But they are quite the spectacle, so it is common to stop by a few.
This article lists the Reykjavik bonfires and also includes a download of the map above.
We chose to visit the Reykjavik bonfire by the water at Ægisíða. Usually, the Rekjavik bonfires do not have fireworks (unless someone breaks the rules), but some bonfires outside the city put on their own fireworks show!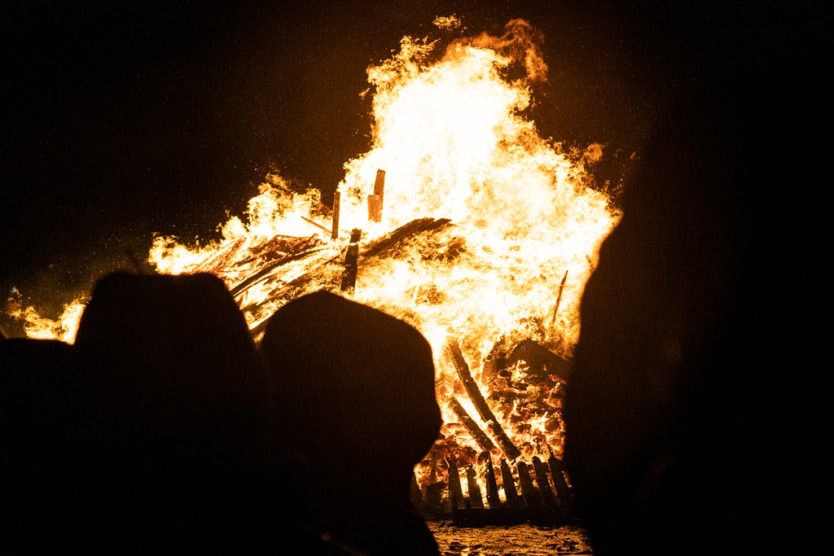 Then locals usually go home to watch a popular TV comic show that plays every New Year's Eve for an hour beginning at 10:30 p.m.
When do the Reykjavik fireworks start?
Since we've been house and pet sitting in Iceland for a few weeks, we've had the pleasure of also enjoying both the sneak-peek show and leftover-fireworks show. Fireworks are only allowed for the days before and after New Year's Eve, so people will be shooting them off sporadically during that time. However, as soon as it got dark around 4:30 p.m. on New Year's Eve (aka Old Year's Day), there were non-stop fireworks going up. Everyone is just so excited!
Unlike in many other cities, the major show is put on by locals. They purchase high-quality, light-up-the-sky fireworks that can be seen from miles away. It is absolutely spectacular. You'll also notice a distinct lull for an hour beginning at 10:30 p.m. while everyone is watching their traditional Iceland New Year show.
There are multiple places around town to watch fireworks – really you can't miss them! But, as a chronically indecisive person, the Perlan was a lifesaver since we got to see all of the fireworks in one place. However, if you prefer to move around, there are some tours going on over the evening as well.
Where are the Reykjavik New Year parties?
Similar to most weekends, if you are looking for a party it can be found in Downtown Reykjavik on Laugavegur Street and the surrounding area. There's a wide mix of bars, breweries, and clubs. Since we are light-weights when it comes to drinking and didn't want to deal with the crowds, we don't have any personal tips for best places to hit up. We were back at the flat snuggling cats around 1 a.m. But, we do know that it is important to book a spot!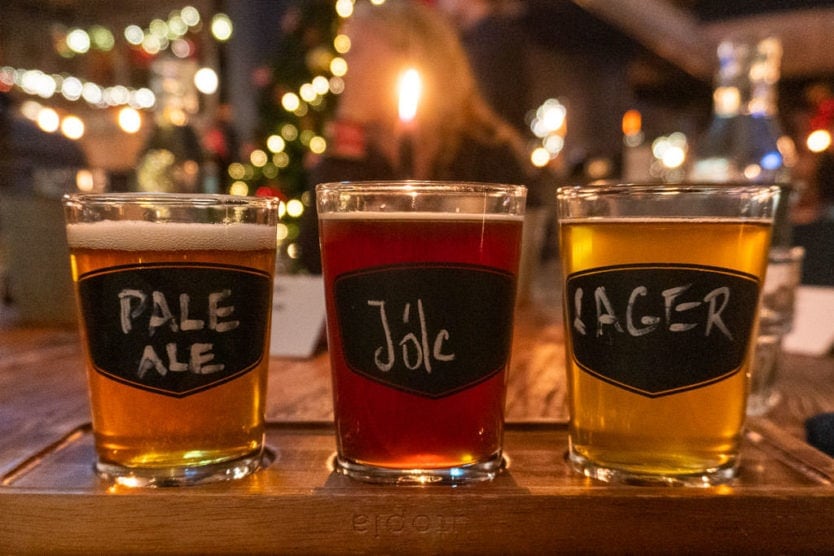 How do you get around on an Iceland New Year's visit?
It's important to note that buses don't run after about 3 p.m. on New Year's Eve and they have limited hours over most other holidays. Uber/Lift doesn't exist and taxis are expensive and can be hard to get – so book ahead, if going that route. As noted above, there are some tour providers as well as shuttles. We chose to drive on our own since we didn't plan to drink. However, it was quite the experience – with people shooting fireworks off everywhere and other drivers getting distracted on the roads by the colorful explosions.
Perlan Reykjavik Fireworks View
After visiting the Perlan museum as guests earlier in the month, we were excited to return to review the Perlan Reykjavik Fireworks Viewing Party. Not only is this a unique venue with a fascinating museum, it has amazing 360-degree views of Reykjavik.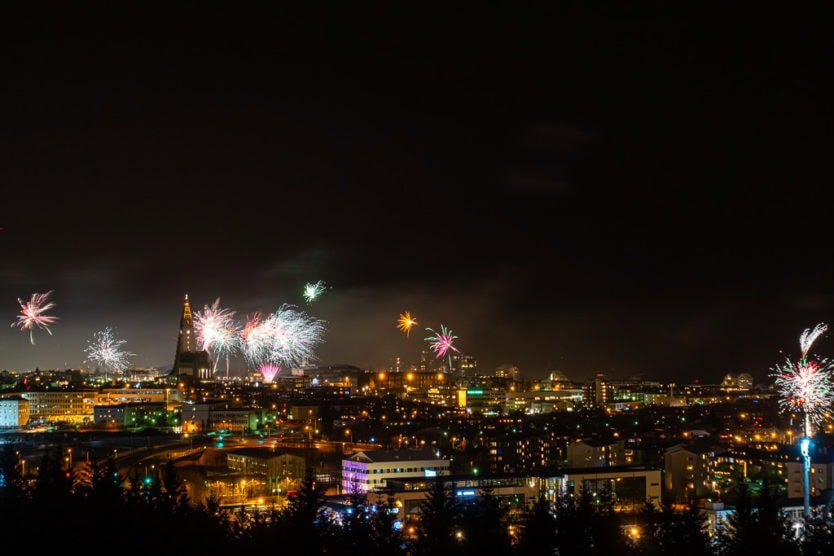 What is included in Perlan NYE ticket?
In addition to access to the best views of the city, the Reykjavik Fireworks Viewing ticket includes access to the fantastic planetarium show, and interesting exhibits, a New Year's drink to toast with, music after, and a shuttle to downtown locations after the Reykjavik fireworks show!
There was also an option to purchase a drink and food package for 5.000ISK (~US$40) with three drink and two small-bite food coupons. Noting that most drinks around town are close to US$10, this isn't a bad deal!
Parking is free, but not monitored. So, get there early, since the Öskjuhlíð Hill that Perlan is on is a popular spot for locals to watch fireworks. And, as we learned, shoot off some of their own!
Our experience at the Perlan Reykjavik fireworks viewing
Since we had already taken in the museum exhibits, we got to the Perlan around 11 p.m. and the main parking lot was already packed. There were also people hanging out in the lower lot, shooting off fireworks and taking in the city views. Picking a spot far enough away from the fireworks was a challenge, but once we got parked the night was a dream from there.
We'd highly recommend arriving a little before the opening time of 10:30 p.m. to find a good spot and make the most of your time to enjoy the exhibits. Don't miss the amazing planetarium show! For parking, aim for the middle of the upper parking lot, since people set off fireworks on the outskirts of the lot. (No complaints really, since it was fun to see!)
The Reykjavik fireworks viewing ticket gives access to the outdoor circular deck. Be sure to wear warm clothes – probably waterproof as well, depending on the weather. It was cold, windy, and rainy at times during our visit, but nothing could make us peel our eyes away from the show.
If arriving before 11:30 p.m., you may worry you picked the wrong spot since not many fireworks can be seen. Don't stress – the locals are just home watching their NYE comedy show! Once that is over, the sky will be lit up again and you'll be amazed by the number of fireworks shooting off as far as the eye can see.
While positioning yourself toward downtown probably has the best view, don't forget to loop the entire deck to really take in the immensity of this celebration. Just be sure to be back with your group for the Iceland new year countdown. What a way to bring in 2020 and end our time in Iceland! We were overwhelmed with gratitude that we were able to experience such a special moment together.
However, the fireworks don't stop at midnight, so there's no need to rush off right away. The clubs will be open all night, don't worry. I'd say stay to dance outside at the Perlan at least until the parking lot clears out a little bit. And be careful making your way back to your car, as locals may still be shooting off their firework stash!
Upgraded Option: Reykjavik Fireworks Viewing AND Dinner
For an even more special experience, the Perlan's Reykjavik Fireworks Viewing & Dinner option is another great deal. If we were to do it again, we'd definitely opt for this since this option gives you access to the very top of the Perlan, a fabulous dinner with drinks and a dancing area indoors. However, it was booked up by the time we heard about it.
Final Tips for a Great Iceland New Year's Eve Experience
Book early. Reykjavik is a popular option for a New Year's break. Be sure to book dinners, clubs, and other activities early. If you want to go on any other tours around this time, be sure to book those as well since it is a popular time to visit.
Plan ahead for transport. As mentioned, options are limited for getting around. Have a safe and smart plan for New Year's Eve in Reykjavik (or anywhere you may be!)
Keep in mind the weather. During our Iceland New Year's explorations, it was windy and rainy most of the night. It could have easily been snowy and icy had the weather changed. Remember this when packing and dressing up for the night, since you'll be outside.
Be safe. Reykjavik is a very safe city, but bad things can happen when you combine drunk people, fireworks, and lots of tourists not from the area. We'd recommend making sure you don't over-do the drinking or plan to have a sober person in your group to get everyone home safe.
Of course, a visit to Iceland isn't complete without some adventures and moments in the amazing natural environment. Check out some of our top recommendations for things to do in Iceland.
Special thanks to the Perlan museum in Reykjavik for providing us with complimentary passes for this amazing experience. As always, all opinions are our own.