Although we've managed to make carry-on bags work, we are far from pros at this minimalist packing thing. For our most recent five-month trip to Europe, I packed a thermometer "just in case we need to check if one of us has a fever." We also brought a Nintendo Switch that Buddy played twice and wayyyy too many socks.
However, we improve with each trip (mainly because traveling with your belongings on your back is good motivation to downsize). And we've learned a lot of important minimalist travel rules and packing hacks along the way. Plus, we've found some awesome carry-on bags to really help this process along.
Our first big trip after selling our motorhome was a four-day trip to Catalina Island and our final trip of that year was our first epic five-month European trip.
I think it says a lot that we packed less when leaving for that last huge trip of the year than the first short one. While better gear (especially good carry-on bags) and proper planning is key, there has been a ton of just old-fashioned trial and error!
Quick Guide to Travel with Only Carry-On Bags
We have a habit of traveling in the shoulder season (between the busiest and slowest months), so this means we often need clothes for various weather. We also have laptops and other gear to bring. We can let it get out of hand quickly when we aren't keeping ourselves in check. But it has actually become a fun challenge to find just the right options for us!
For us, we know we can do laundry at least every other week (either while house sitting or booking accommodations with laundry). This is the only way we can manage to bring a smaller amount of clothes. Plus, we don't want to add the cost of paying to check bags to all our other travel expenses.
So, we committed to becoming pros at minimalist packing. 'Operation: Carry-On Bags Only' wouldn't be a success without it!
Pros of bringing carry-on bags only
No hassle of checking in bags or the airline losing them en route.
There is also a big savings to not have checked bags!
You don't have to wait for bags before leaving the airport.
It limits what you bring to ensure you only have what you really need.
It's easier to travel between destinations with less stuff.
You can take advantage of storage lockers in airports, train stations, and city centers while off exploring, since your smaller bags will fit.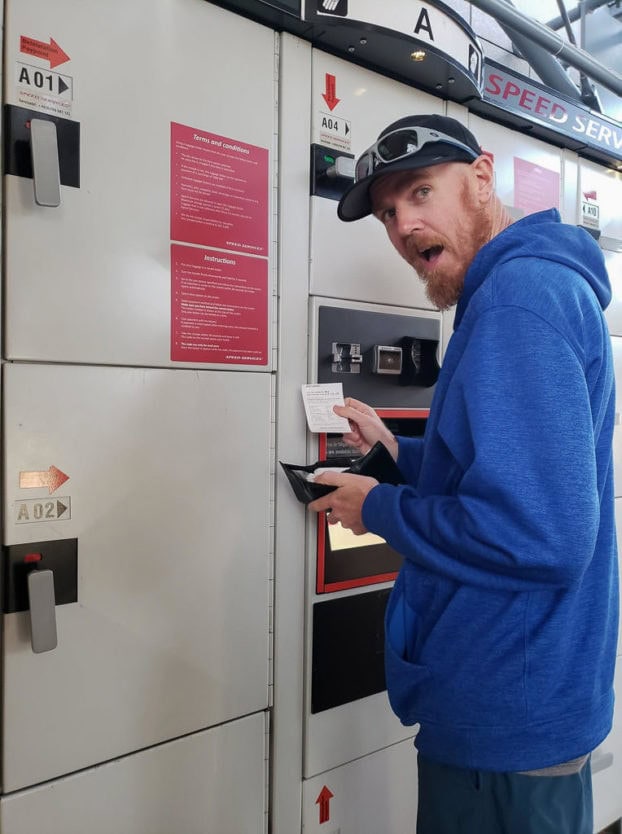 Cons of bringing carry-on bags only
You have to limit your liquid toiletries and have them accessible during security checks.
Carrying your bags through an airport can be a hassle at times.
Your carry-on bags have to fit in the overhead bins and you'll have to be able to lift it up there.
If you go over the size or weight limits, you could have to check anyway and pay even more.
Planning for Travel with Carry-On Bags Only
IMPORTANT TO REMEMBER: Most international airlines allow one carry-on bag under 21 x 15 x 9 inches and between 15-22 pounds, plus one small personal item (purse, briefcase, small backpack, etc.). So, unless you are taking a super budget option, you should have four bags to work with.
But it is extremely important to check the rules of the airline you are using before planning to bring carry-on bags!
Some planes we flew in while in Europe had much smaller overhead compartments than we were used to on our state-side or international flights. Trains and buses sometimes had even less room.
So, it is important to keep in mind that you may have to check your bags on occasion if you did not plan for this size change. But, in our opinion, planning ahead is the best move (which is why we plan to downsize even more!)
How to Find the Right Carry-On Bags
For us, getting the right bag was the most important part of our minimalist packing journey. It is amazing how much time you can spend researching things like "best backpack for travel." There are hundreds of options and just as many articles on which one is best. But after hours of research and watching videos, we finally decided on one. And oh my, do I love this freaking bag.
The Cotopaxi Allpa 35L Travel Pack is a beautifully made bag and the company has great values, which is a huge perk. I actually smile at our Cotopaxi backpacks sometimes, just because I enjoy the smart design so very much. Honestly, I just adore these bags.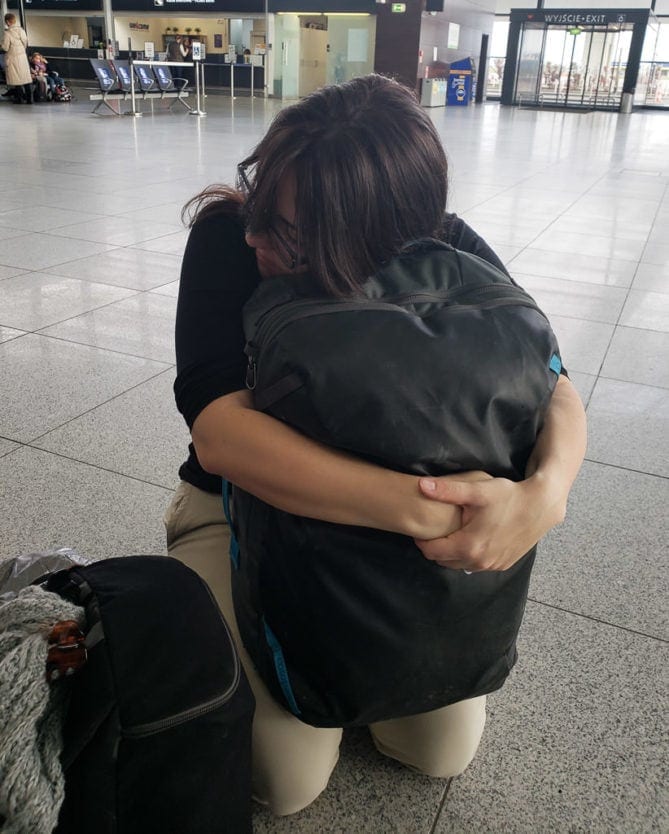 Why We Chose the Cotopaxi Allpa 35L Bag
After weeks of research, we narrowed down our musts for carry-on bags that would fit our needs as full-time travelers and digital nomads.
Our Carry-on Bag Must-Haves
We wanted a backpack because we like to have our hands free while traveling and like the security of having our belongings on us. And frankly, we hate the sound of those dang rolling bags – especially on the old cobblestone streets in Europe!
It needed to be easy to organize with pockets that make sense and don't just waste space. Practical pockets are paramount!
The bag needed to unzip like a suitcase. We had been living out of duffel bags for our first weeks of housesitting full time and hated digging through them all the time. There had to be a better way.
A laptop compartment that is easy to get to. A padded, safe place for our means of making money was a must for this bag.
Padded and adjustable straps. We knew this thing would be heavy and it couldn't kill our backs on travel days.
Great materials. We needed a bag that would last. We looked especially for strong zippers and durable fabrics.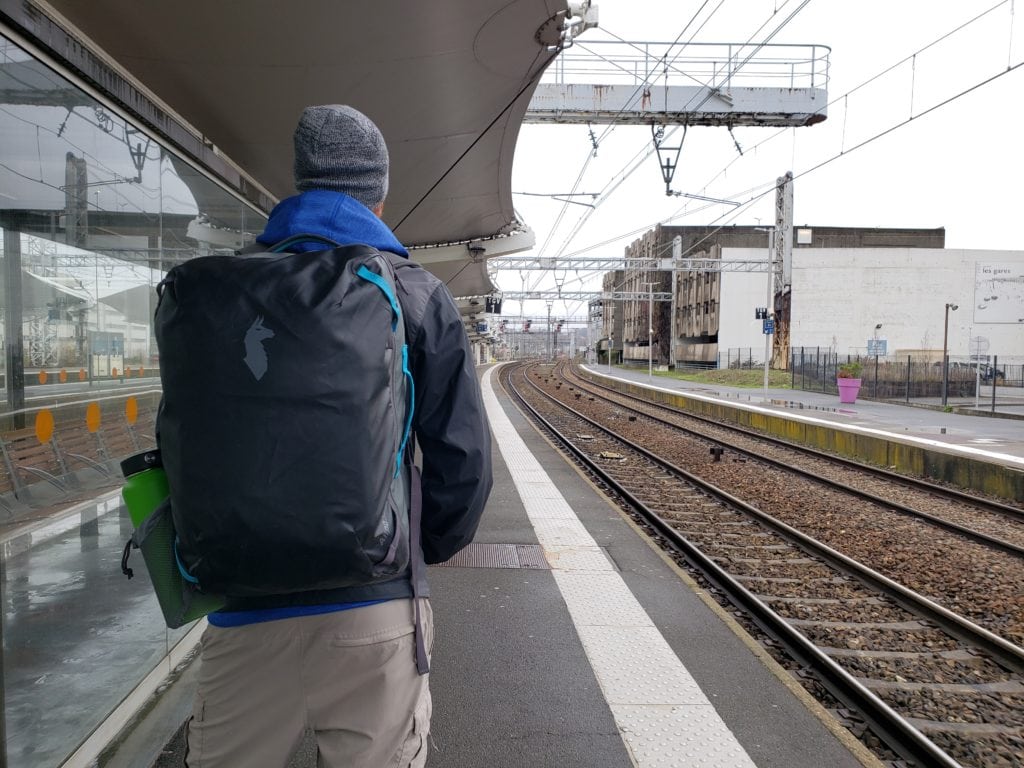 Cotopaxi Allpa 35L Overview
This Cotopaxi bag was the winner for all these reasons and more. We also really love the tuck-away straps and like that it came with a rain cover as well – although, only needed if really pouring. We opted for the bundle option which also came with a water bottle holder, shoe bag, laundry bag, and an extra, smaller day pack bag – perfect for that extra "personal item."
The bag itself is 20 x 12 x 8in (51 x 30 x 20cm) and weighs about four pounds with all the accessories added before packing. Fully packed, including laptop, our bags were usually about 24 pounds (11 kg).
These bags certainly aren't cheap at $200 for the bag and an extra $20-70 for the various bundle options. But after putting them through almost two years of full-time travel – through planes, buses, trains and abuse from dogs, cats, kids, all the weather – we continue to rave about the quality and ease of use. Without a doubt, one of the best gear purchases we've ever made!
However, there were a few smaller airlines that the 35 liter was just too big for, so we'll likely go for the same bag in 28 liters or the Nazca 24L. A good reason to downsize further, too!
As a company, Cotopaxi gives 1% of profits to non-profit partners and is a certified B Corp which is given to companies who have passed rigorous standards of ethical conduct. They also have a great repurposed bag option as well!
Our Best Tips for Packing Smart
Being minimalists already, you would think we have this packing thing down to a science, but we still struggle. We got spoiled with having everything we needed at all times when house sitting in the U.S. with a packed trunk. However, we still can't fit EVERYTHING we own on our backs (and fronts), so we have to decide what to leave behind for each trip. Here is how we make it work …
Plan to do laundry.
We decided, since we could do laundry once a week if needed (whether at housesits or a rental with laundry), we only needed one week of clothes each. For multiple seasons, that's two summer, two fall/spring, and two winter outfits each. Plus, about a week of undies and socks each.
If really in a pinch, you can use body wash to clean your undies and socks in a sink and hang them to dry overnight, so at least only your outer layer is dirty. Ha!
Flat pack instead of rolling.
We learned this new method of packing at the House and Pet Sitting Conference. One of the speakers showed a side-by-side and flat packing was the winner. Plus, it doesn't wrinkle your clothes like rolling.
Never heard of flat packing? It's pretty easy. Just lay your clothes into the bag flat and rotate around in a circle with an item in each direction, then fold them over each other – being sure to not stack too high.
Use compression packing cubes.
We just got some compression packing cubes on our last long-term trip and we love them. Anything to help get better organized AND save space is a win for me. We opted for the Gonex compression packing cubes from Amazon because the mesh allowed us to see inside. The key to these is finding out what the perfect amount to stuff into them will be.
For us, it is usually a couple of outfits in a medium-sized compression packing cube. To be a real packing pro, flat pack into the packing cubes for maximum space usage!
Consider vacuum bags for bulky, seasonal items.
Vacuum storage bags can be a pain if you are needing to constantly get in and out of them. But, if you are going to be in deep winter at a later point in your trip and need to pack bulky jackets, sweaters, scarves, and other layers, these can be a life saver!
We suggest placing the vacuum bag into the place in your suitcase or backpack that you want it, then packing it and removing the extra air via a vacuum. If no vacuum is around, you can push out the air manually, or our version came with a reverse pump.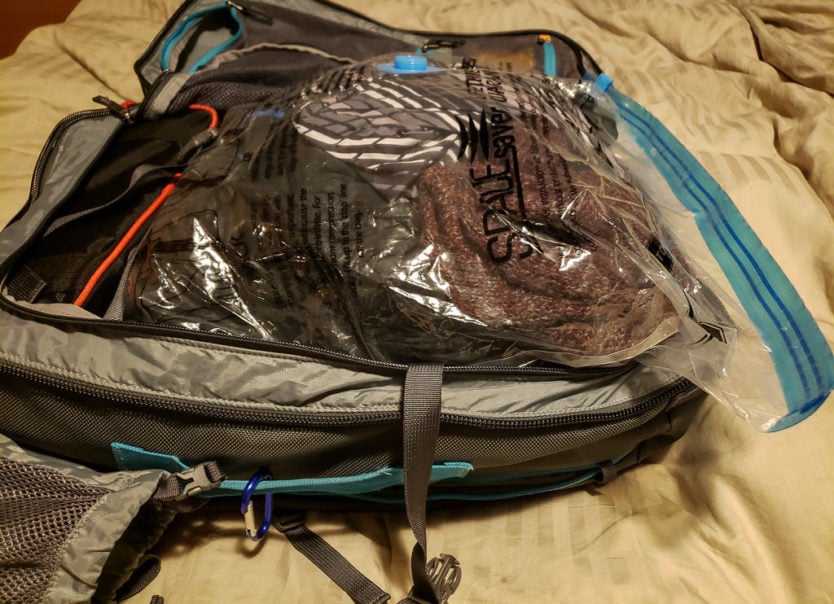 Leave room for unexpected additions.
You never know when you may need something, so having a bag bulging at the seems is never ideal. Before our first Hawaii trip, we picked up a last-minute order for waterproof housing for Buddy's camera and it was twice as big as we expected, so we were glad to have a bit of space!
Buy & trash/donate/mail as you go.
We used to bring things like granola bars, protein powder, just-in-case dressy clothes, and all sorts of first-aid things with us. Unless you are going to a third-world country, you'll likely have access to these things or close-enough options.
If you aren't sure you'll need it, don't carry it with you for weeks or months! We also knew we'd be in the UK just before our Iceland trip, so we decided to just buy Buddy winter boots for our Iceland trip there since we knew they'd be big and bulky. Plus, he wouldn't be needing them until then, so why lug them around!
Once we got the boots, he tossed his worn-out sneakers that were ready to be replaced anyway. We are also constantly donating clothes if we realize they no longer fit right or find something else that's more practical.
On occassion, we'll also mail back some items of more value to us.
Get solid shampoo & soap, rather than liquid.
Of course, you'll need to limit your liquids if going with carry-on bags only. Most of the time, you can't have more than 3.4 ounces of liquid in each container and no more than one quart-sized, clear bag of liquids per person. You should have this packed and ready to go – including things like hand sanitizer, eye drops, etc.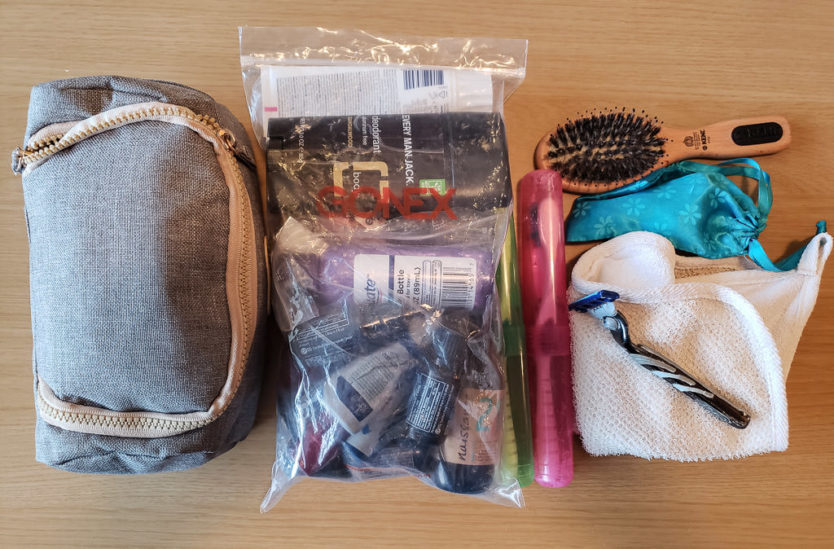 To make life easier and to reach our goal of being more sustainable travelers, we've ditched a lot of the liquids for solid beauty bars. We've been using bar soap and shampoo for a while, but have also just sampled some deodorant and lotion bars from the same company (Ethique) and are excited to add those to our must-have list.
Wear the bulky stuff.
While packing, be sure to plan out what you'll wear on your travel day and try to wear most of the bulkier stuff. Even if you need to wrap hoodies around your waist or tie them to the bags, saving valuable space is totally worth it! An easy swap is shoes. There's really no good reason to wear sandals and pack your hiking shoes.
Know what is in your bags.
When you are constantly going through security with your carry-on bags you need to know what is in them and have any of the items you'll need to remove in one easy-to-access place. We always know exactly where the toiletries bags and laptops are and can get to them easily!
Plan time to pack strategically.
If you rush to pack, you likely won't use your space as effectively as you could. Before going on a multi-month trip, we usually spend an entire day just getting organized (making giant messy piles) and packing really well. Then, as we move around, we only take out what we need and make sure we have time to put the rest where it goes before leaving.
Be ruthless.
The key to minimalist packing is to just be super strict with what goes in your bag and learn to distinguish between needs and wants. Do you need to bring a hair dryer if most places will have one or you can just let your hair dry naturally? Do you need multiple dressy outfits when you only have one nice dinner planned or could wear the same thing multiple times?
It can be difficult, but it becomes easier when you realize you'll have to carry all of the stuff you bring. And – especially if it is on your back – you'll regret any non-essentials fast.
We do feel that we need a few outfits each, laptops, camera equipment (ditched the drone after Europe because it was such a space killer and not a key piece!), toiletries, and other location-specific necessities.
For Hawaii, we needed bathing suits, rash guards, one fancy outfit each, and rain gear. (We brought snorkels and a hammock, but should have just rented there!) For Europe in winter, we needed bigger jackets, gloves, hats, under-layers, warm shoes, and scarves. That was really a struggle, but we made it work in just two carry-ons and two personal items.
Case Study: What We Packed for August to January in Europe
Our 3-season, 5-month, 18-country Europe Packing List
Our most recent trip started in Greece in August and ended in Iceland in December/January. We needed summer, fall, and deep winter outfits and gear, which made it extra challenging to pack minimally. Here's what we decided to bring…
Brooke's Europe packing list
Warmer weather: 4 tank tops (1 got tossed) and 2 camis, 1 black dress, 2 shorts, 1 hiking capri, one-piece bathing suit, two-piece bathing suit with two options for bottoms. Plus, sunglasses, hiking shoes (worn on first plane ride) and sandals I could hike in.
Cooler weather: 2 hiking pants (barely used these), dressier shirt and skirt (bought last minute for an event) worn with tights, long-sleeve black shirt, fleece vest, long-sleeve dress (barely used), rain jacket (barely used), and flats.
Freezing weather: 2 leg base layers, 1 top base layer, thick scarf, ear warmer wrap, gloves, balaclava face cover, waterproof and windproof pants, big puffy jacket, YakTraks, and winter boots (wore on the plane home).
Plus, enough undies for 10 days, about 3 cooler socks and 3 warmer ones, and a bra (I just don't wear one if I don't have to, so only needed one for special occasions. haha Also, don't wear an underwire through airport security – you will get patted down!).
Buddy's Europe packing list
Warmer weather: basketball shorts, 2 casual shirts, 2 hats (one for more sun protection), bathing suit, collared short-sleeve shirt (barely wore), and Salomon water shoes for hiking and other adventures.
Cooler weather: 3 hiking-style pants (only needed 2 max), long-sleeve shirt, hoodie, rain jacket (barely used), and sneakers (wore on first plane ride & tossed when it was time to buy winter boots to make room).
Freezing weather: 1 leg base layer and 2 top base layers, 2 beanies, gloves, balaclava face cover, big puffy jacket, waterproof and windproof warm pants, YakTraks, and winter boots (wore on plane home).
Plus, enough undies for 7 days, and about 4 cooler socks and 2 warmer ones.
We also came home with two great wool socks as gifts! And wore all of our bulkiest stuff on the plane to make it work.
Our Gear, Toiletries & Other Must-Haves
Tech: 2 laptops with chargers, mouse and mousepad for Buddy, Sony A6300 camera with a few lenses and accessories – including rain cover and chargers, tripod, waterproof/shockproof Olympus TG-6 camera, flashlight for night photos, phones, chargers, adapters, portable battery pack, and a Nintendo Switch (barely used).
Toiletries: Toothbrushes and toothpaste, contacts, back-up glasses, vitamins, sunscreen, lotion, menstrual cup, small hairbrush, deodorant, soap and shampoo bars, loofah-like washable cloths, a little makeup, nail clippers, bandaids and other random just-in-case things, and eye drops. Plus, DoTerra essential oils (DigestZen for tummy, DeepBlue for aches, Lemon & Wild Orange to flavor water, Serenity to smell good, OnGuard for germs, Frankincense and Melaleuca with fractionated coconut oil for DIY face serum).
Other: Notepad and pens, small purse for nights out, reusable bags for shopping, extra Cotopaxi day pack (didn't need), locks for when we stored the bags occasionally, 2 big Hydroflask bottles (will likely get smaller ones or bring one),
Things We Wouldn't Bring Again
Non-prescription sunglasses and back-up glasses in case I broke mine. Just no. I could just wear contacts if all else fails and I always wear my prescription sunglasses.
Nintendo Switch. For a couple who games together, this is a great travel option. That's not us. I'm not into it and Buddy preferred his phone games on travel days.
Extra toiletries and just-in-case first aid randomness. As mentioned earlier, just get these as needed unless going somewhere that doesn't sell them.
Liquid body products. We will buy sunscreen, bug spray, and coconut oil (for lotion) when we get to our next destination and everything else will be in bar form! Except for toothpaste, just can't find another option we like for that …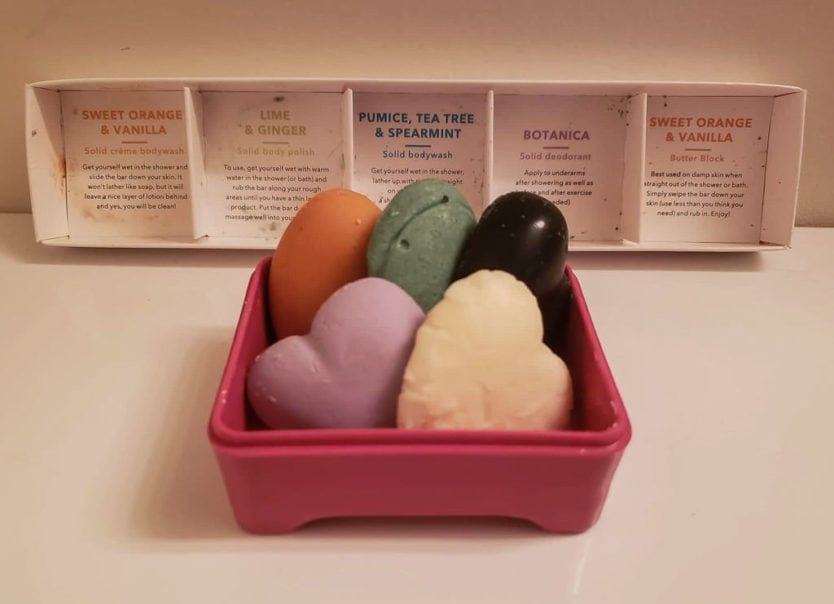 Our Next Minimalist Packing Goals
Be More Sustainable. We're switching to more solid beauty products and are always looking for other ways to be more green as we travel – like less plane rides and more public transport!
Bring Less Clothes. There's ALWAYS things we don't wear, but it still feels weird to only bring a few outfits. We're getting over that next time!
Use Smaller Bags. As I write this, our next trip is only two weeks away, so this may not happen. BUT, we are at minimum challenging ourselves to only fill our current bags halfway to make them lighter and easier to shove into smaller overhead bins!
Are you a minimalist packer or trying to be? Let us know your best tips or top struggles!