The daylight hours may be limited from November through February, but the unique holiday traditions and amazing activity options make it so worth it to visit Iceland in winter! We were fortunate to spend six weeks at a pet sit in Reykjavik from late November to early January a few years back and we loved seeing this stunning country covered in snow!
While the weather can get intense in winter, you can really get a feel for how this culture embraces their extreme country and get to witness some sweet traditions as communities celebrate the holidays together.
Top Activities to Do When You Visit Iceland in Winter!
1. Natural Hot Springs
While we love a good dusting of snow, we also enjoy being warm. Thankfully, Iceland has some epic natural hot springs and spas. There's the Blue Lagoon near the airport, the Laugarvatn Fontana Spa near the Golden Circle (our fave!), and even an option way out in Myvatn.
Of course, there are springs you can hike to as well and soak in for free! However, in winter, we do like having a place with indoor areas to change, take a hot shower, and have a break from the elements.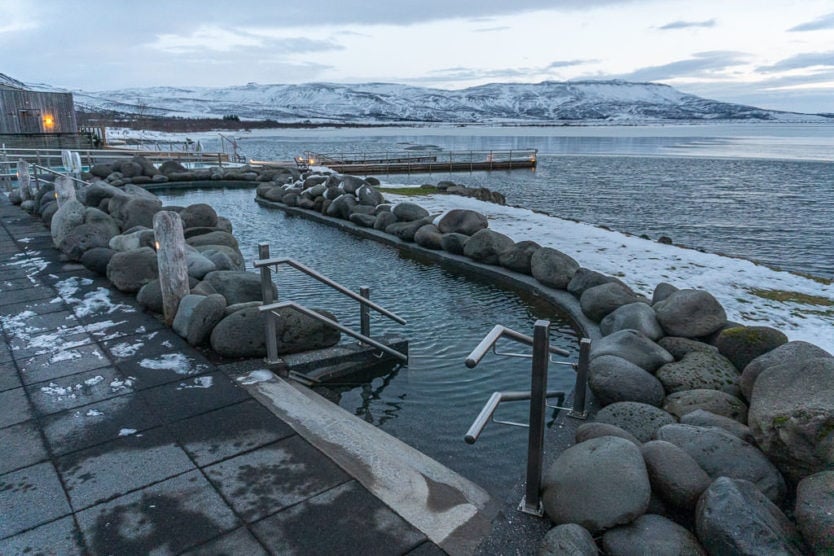 2. Aurora Borealis (Northern Lights)
You can have a chance to see the Aurora Borealis from September through March in Iceland. With only about five hours of daylight in December and January, that gives you many more hours of darkness to keep an eye out for this wonder. We went out one night searching for it when the roads weren't too icy or snow-covered and had a phenomenal show!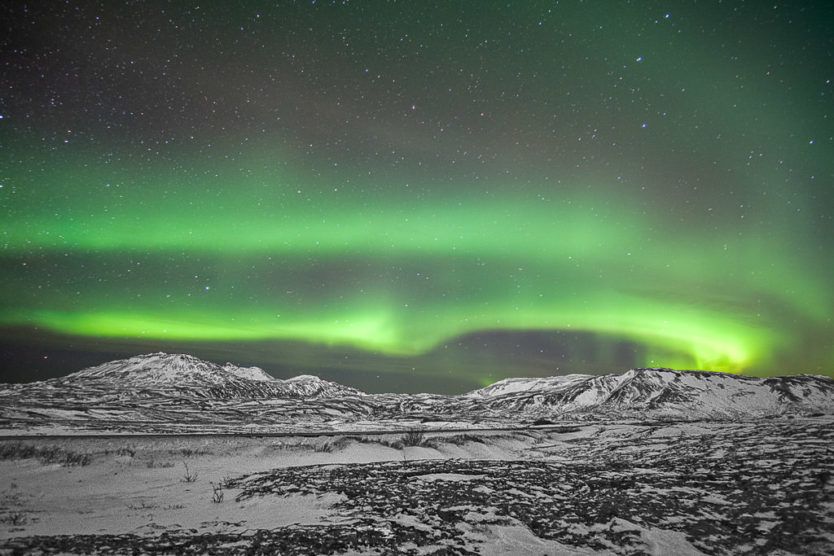 You can check the aurora forecast here. And remember to check the weather also. Don't go out if there is a blizzard or other intense weather warning, it can get treacherous very fast!
3. Frozen Waterfalls
We lovvve waterfalls and frozen ones are even more stunning! Many days of our winter visit to Iceland were spent chasing frozen waterfalls.
The Golden Circle and the southern part of the country has some of the most iconic (Gulfoss, Seljalandsfoss, and Skogafoss to name a few). However, there are also smaller, hidden-gem waterfalls in Reykjavik and along the roads nearby.
4. Unique Icelandic Christmas Traditions
The Icelandic Christmas traditions are really unique. There are 13 Yule Lads (think mischievous, younger versions of Santa) who take turns visiting leading up to Christmas day. Their mother is a mean old witch and she has a cat that eats children. So, yea. Not your typical holiday story! But, we love it!
There are also some cute little Icelandic Christmas markets in and around Reykjavik worth visiting and special "Yule Beer" available at this time that is certainly worth trying, as well as some delicious hearty meals being served.
Bryggjan Brugghús is a great place to do some sampling! However, Icelanders do have some not-so-yummy traditions this time of year (like eating the infamous fermented shark). You are more than welcome to try those also, but we passed on it!
5. Glacier Tours
You can actually visit Iceland's glaciers for most of the year, but visiting in winter definitely pumps up the adrenaline. We went out to the Langjokull Glacier on a very snowy and windy day.
The snowmobile ride out was intense and visibility was low. I was actually pretty terrified we'd lose track of the group and freeze to death out there, but we survived. AND we saw inside a glacier! It's something I'd highly recommend, albeit not in those white-out conditions if you can avoid it!
We took the option closest to Reykjavik since we were pet sitting, but there are other amazing-looking ones down south, too!
6. New Year's Celebration!
Probably the most memorable day of our six-week trip was New Year's Eve. We had heard Icelanders really go all out with their New Year's celebration, but it far exceeded our expectations! Bonfires were lit all over the city after the sun dropped mid-day.
Then the fireworks started a few hours later. We were fortunate to be guests of the Perlan for New Year's Eve and got to see a 360-degree view of the city. It was incredible.
We're obviously big fans of Iceland in Winter, but this country is honestly amazing no matter when you go! However, if you do visit in winter be very aware of the weather. It can get extremely dangerous to go out in certain conditions.
Although we went on a lot of adventures during our extended stay, many days were spent hunkered down inside waiting out a storm! Just be realistic when planning and don't go out if there are any warnings listed. Sometimes just watching the snow fall from inside is nice, too! See all of our Iceland content here!