The entire island of Iceland is insanely gorgeous. But there is something extra special about South Iceland. Maybe because it is jam-packed with beauty at every turn. Or maybe because there is such a variety of unique experiences to be had.
Either way, we could have easily spent our entire two weeks in this area. If you are doing a stopover for a short Iceland road trip, this is the perfect area to focus on.
With only four and a half days in South Iceland, we didn't have time to see all of the many wonderful sights, but we saw a ton! Here's a quick recap of our South Iceland road trip adventures:
Top Stops on the Golden Circle Route
1. Geysir & Strokkur
Located on the Golden Circle Route, Geysir is a quick, but worthwhile stop. Make sure to watch the reliable Strokkur shoot into the air a few times before you leave!
2. Gullfoss
Near Geysir in the Golden Circle, this huge waterfall is a must-see! Go on both paths (above and next to the waterfall) for the full experience.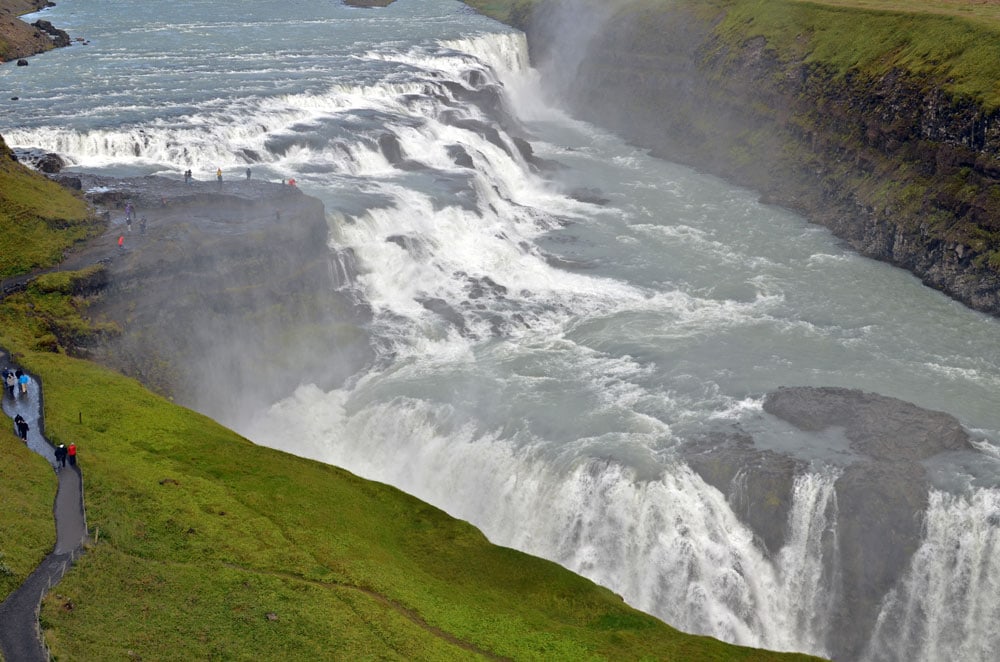 3. Þingvellir National Park
Also located on the Golden Circle Route, this is an extremely geologically interesting and historical area. Plan to explore here for a few hours with a definite stop at Öxarárfoss! And, if you have time, look into snorkeling or scuba diving in the fissure. An experience you won't find anywhere else!

Read more about our Iceland Road Trip around the Golden Circle Route.
South Iceland Coast
1. Seljandsfoss & Gljúfrabúi
The latter of these waterfalls is not quite as well known, but it should be! After walking behind the enormous Seljandsfoss, make sure to walk down to check out Gljúfrabúi in the moss-covered cave!
2. Skógafoss
If you have time, there is a trail on top of this gorgeous waterfall that we heard is nice for a stroll on a sunny day.
Read more about our South Iceland Road Trip waterfall stops.
3. Dyrhólaey Black Sand Beach
This is a great overlook of the black sand beach. Keep an eye out for seals in the water!
4. Reynishverfisvegur Black Sand Beach
This black sand beach is a must-see. The caves and the waves crashing on the black sand coast are just breathtaking. Oh, and you may get to see puffins if you're lucky! This area is even beautiful on overcast, foggy days. But regardless of the weather, bring rain gear!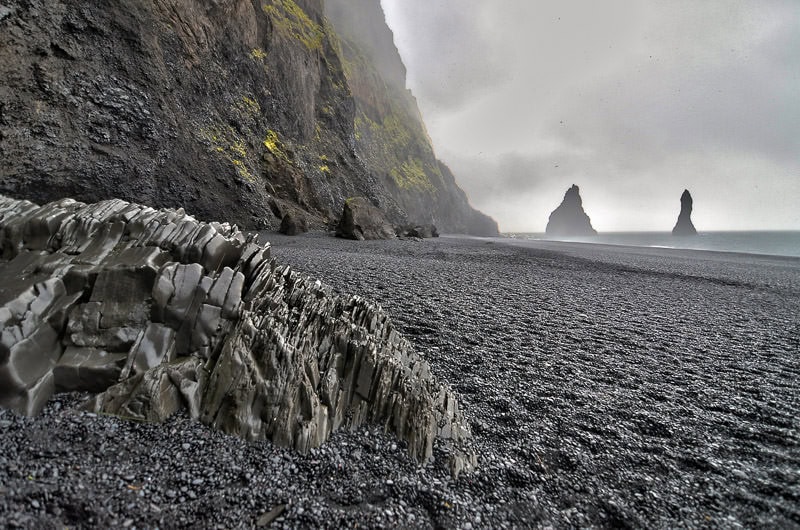 5. Hjörleifshöfði Hiking Trail
This haunted mountain hike is well-worth the 1.5-2 hours of effort. It can really be difficult on windy days, so be careful not to get blown away. Also, keep an eye out for the purple and orange path marker sticks so you don't get lost. And, don't forget to sign the guest book at the top near the gravesite.
Read more about our explorations around Vik during our South Iceland road trip.
Journeying South East
1. Fjaðrárgljúfur Canyon
You will have to go down a bumpy dirt road to get to this unique spot. Once you are there, make sure to check out the canyon from above and below! Both viewpoints have breathtaking landscapes.
2. Systravatn Hike in Kirkjubæjarklaustur
This hike follows a beautiful waterfall up the side of a mountain to an amazing overlook. There is also a large lake with an interesting legend.
3. Skaftafell National Park – Svartifoss & Skaftafellsjökull Glacier
The basalt column framed waterfall, Svartifoss, is well worth the ~3.5-mile trek. And Skaftafellsjökull glacier is an easy walk with a great, yet chilly, view.
Read more about our favorite hikes in the Skaftafell National Park area of South Iceland.
4. Jökulsárlón Glacier Lagoon
If you only have a few days in Iceland, make sure you get to this amazing location if at all possible. I'd suggest planning a few hours here to walk around the glacier lagoon and the black sand beach lined with giant chunks of ice. Watch the chunks of glacier float out to sea while seals play in the water.
Aside from the Golden Circle loop, all of these destinations are located off of the Ring Road and are well-marked. The drive time from Reykjavik to Jökulsárlón is only about 4.5 hours, and another hour if you want to go to the adorable little fishing town of Höfn before heading back.
Read more about our epic visit to the Glacier Lagoon on our South Iceland road trip.
---
South Iceland Favorites
Best South Iceland Restaurants
Friðheimer Greenhouse in Reykholt (near the Golden Circle): The tomato soup is delightful. But it is the wonderful greenhouse setting that truly makes this eatery special.
Systrakaffi in Kirkjubæjarklaustur: This place doesn't stand out from the road, but the food is outstanding! Try the fish stew!
Kaffi Hornið in Höfn: this place had delicious lobster soup, burgers, and craft beers. Plus a bunch of great-looking langoustine options (a popular Icelandic dish).
Ósinn in Hötel Höfn: A surprisingly inexpensive lunch spot with lots of great options!
Best South Iceland Road Trip Camping
Our favorite campsite was in Kirkjubæjarklaustur. But the campsites in Vik and Höfn were very nice and conveniently located too. All of the campgrounds were clean and well-maintained and usually had Wifi available. Camping at designated campgrounds is preferred.
Read more about campervanning in Iceland and the top campsites!
---
For more in-depth information about South Iceland, check out our blog posts detailing our adventures:
And for more Iceland travel stories from our fall camper van road trip and extended winter visit, check out our Iceland page!