Visiting Iceland is always a good idea – with countless waterfalls, epic hiking, gorgeous glaciers, unique beaches, and let's not forget, the crazy geothermal activity (hello volcanoes & hot springs)! But, fall in Iceland is an extra special time. It has lots of bonus benefits you won't find at other times.
When we visited Iceland in September, we felt that we were getting the very best of what this gorgeous country has to offer, all with a lower price tag due to visiting outside of the busy season. Ready to visit? Just check out these four reasons to visit Iceland in autumn…
1. SO.MUCH.SAVINGS
Iceland in September is the beginning of the shoulder season, which means prices drop significantly compared to the summer months. Just do a quick search on Icelandair, to see that the difference in round-trip flights from end of August to the beginning of September is $200-$300!
Plus, there are many special packages you can take advantage of during fall in Iceland. And it is just as gorgeous (if not more so) at this time of year!
We also saved about $40 per night on our Happy Campers van by picking it up in the beginning of September instead of August. And hotel prices drop too, plus many activities like the Blue Lagoon have lower prices beginning Sept. 1.
However, if you are hoping to stay on farms or B&Bs while visiting Iceland in autumn, you will definitely want to check that they are still open since many places shut down after the busy summer season, but most campsites are still available!
2. More Wide Open Spaces, Fewer Crowds
Iceland is becoming more and more popular each month. According to the Icelandic Tourist Board, the number of foreign tourists continues to climb and the majority of visitors come during the summer months. With children out of school, warm weather, and the midnight sun offering extra hours of outdoor time to enjoy, it is obvious why it is popular!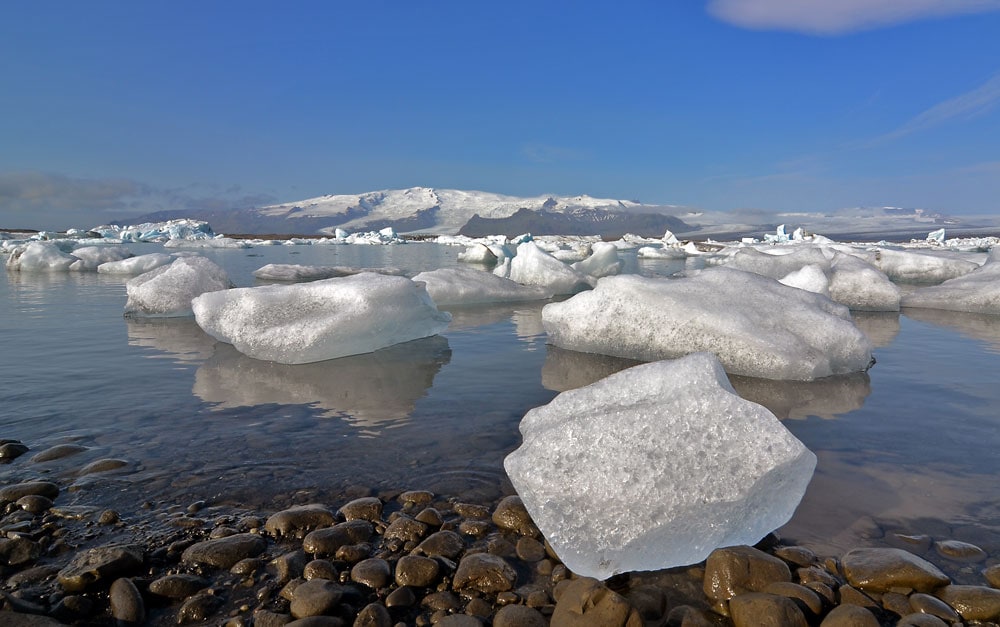 However, since summer can be so hectic with tourists, planning a trip in the shoulder season not only saves money, it saves you the frustration of having to push your way through hoards of other people at popular spots.
You may not be the only person, especially at the most popular locations, but you will be way more likely to enjoy some solitude than in peak season.
If you are really craving some time alone in nature, get far away from the city. We went on many hikes and explored multiple waterfalls all by our lonesome because we were in the middle of nowhere.
Most guests tend to stay near the capital city of Reykjavik when visiting Iceland. That's why taking off to a more remote area to stay in a cute accommodation or at a campground in a campervan is a great way to escape the crowds! (Read our list of top Iceland campgrounds!)
If weather allows, the Westfjords are definitely your best bet for solitude – we had a hard time finding places to eat it was so empty in this area of Iceland in September!
3. Better Chance to See Aurora Borealis in Iceland
Iceland is just outside of the arctic circle – making it a fantastic place to view the northern lights! In the summer, the midnight sun prevents visitors from checking this amazing experience off of their bucket list, but if you're lucky, you will get a great show during fall in Iceland.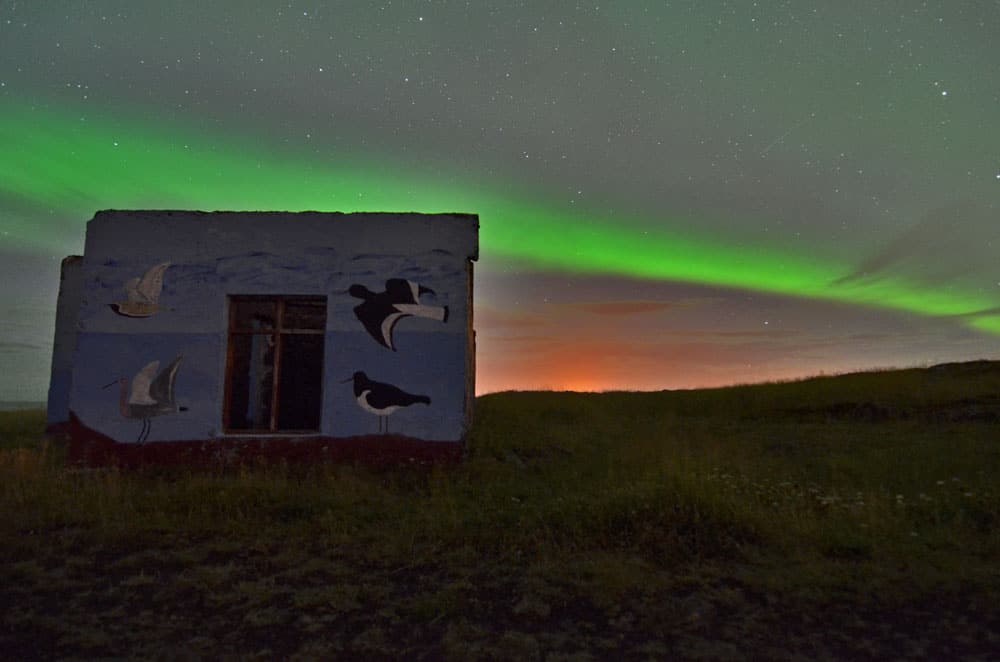 Sightings of aurora borealis in Iceland often begin in mid-August and the official northern lights season starts in October. During our visit to Iceland in September, we saw these gorgeous lights three times. Plus, a really short show on the airplane ride there!
Of course, winter is the best time for viewing this wonder, but if you don't like to be cold, fall is best! While it may not show up quite as often, it is also easier to get to in autumn since there could be blizzards preventing you from driving out to see the northern lights during winter. Storms could also prevent you from having a clear sky in winter! (Read about Iceland in winter here!)
Dark, clear nights are the best for seeing the northern lights. And the aurora forecast can be helpful to determine your chances of seeing those colorful lights! Plus, patience is key – so don't give up on your first try.
We found that 11 p.m. was the sweet spot, but this phenomenon is very unpredictable. If planning a trip to Iceland in autumn, don't get your hopes up to see the aurora, but be sure to look for it!
4. The Weather During Fall in Iceland is (Usually) Just Right
Although the temperature begins to drop in September, it is still really comfortable most of the time – albeit a bit windy on occasion. (Full disclosure: the wind was actually kind of crazy during our trip in September, but nothing unbearable).
However, Iceland's weather is very unpredictable all year and there is always a chance of a freak storm as you get closer to winter. So, keep that in mind and be flexible with your travel plans in case a road ends up closing (note: this usually doesn't affect the main Ring Road), and check the weather regularly.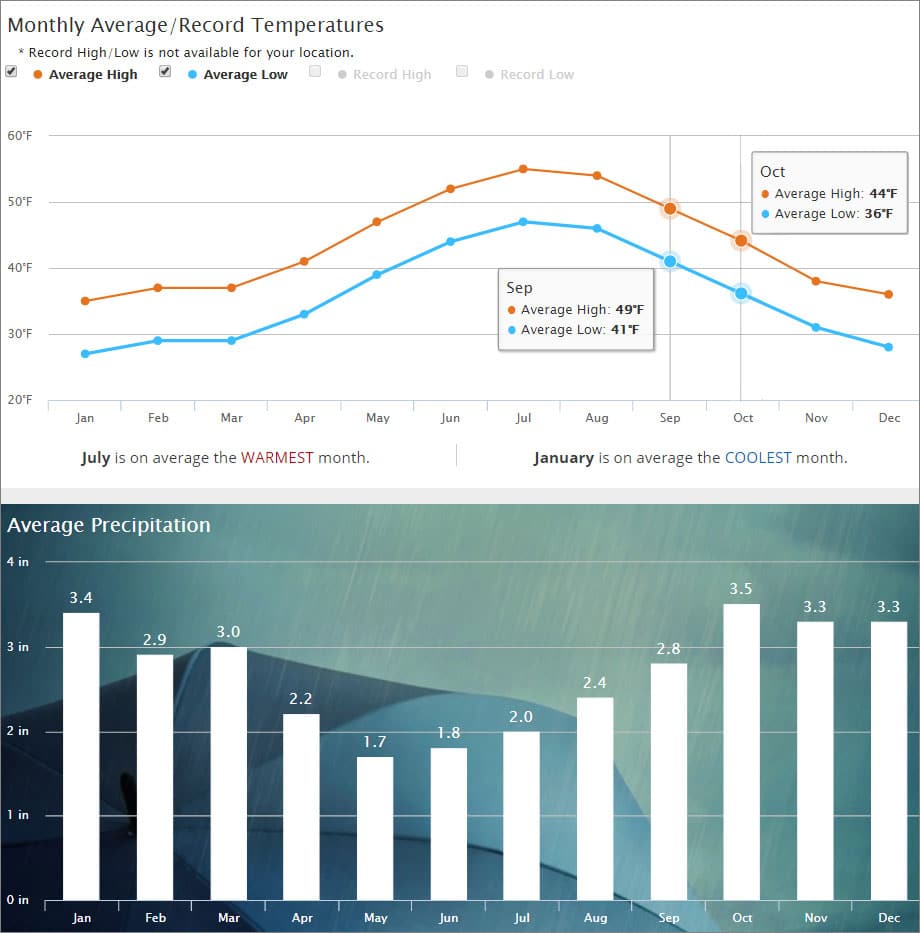 The average highs for September in Iceland (as well as October) range from the mid-to-high 40s (Fahrenheit), with lows getting down to the mid-30s in October. Precipitation is also higher during fall in Iceland than in summer, but in our experience, it was mostly in the form of fog and drizzle.
Plus, the beautiful Icelandic nature begins to change colors this time of year. And, let's face it… the black sand beach looks pretty damn majestic on a foggy day.
Recap of Our Trip to Iceland in September
We arrived in Iceland in September, early in the month, and hopped straight into our campervan for our road trip. As we made our way down the iconic Ring Road, we passed gorgeous, gushing waterfalls on the south coast, as well as black sand beaches, and glaciers. Winding our way up the east coast brought more and more solitude and great views. However, the scenery and peaceful emptiness of the Westfjords was the most memorable.
During our visit to Iceland in autumn, we also saw the northern lights multiple times, had plenty of great hiking weather, and saved a bunch. It was a little chilly during our trip, especially at night. But, nothing unbearable and we had plenty of sunshiney days.
We did a ton of research before our trip to Iceland in September and choosing this perfect time of year really paid off. We'd highly recommend it for a first-time visit to Iceland. Although, anytime is a good time.
See our entire Iceland Ring Road itinerary 10 days self-drive campervan trip here!
---
Additional Tips for Fall in Iceland
Always have a jacket & rain gear on hand (for your camera too)
Don't be afraid to go exploring on your own – the Ring Road is very driveable, and most people speak English and are happy to help.
If you are driving the Ring Road, make sure your car rental has unlimited kilometers included (or enough to make it around without extra fees).
For a better chance of seeing the Aurora, get away from city lights (not a hard task in Iceland).
Grab any alcohol at the duty-free store in the airport before starting on your adventure for even more savings.
If you don't mind camping, every single campground we went to was very well-kept and beautiful – so this may be another great way to save some money.
You need a credit card with a pin number in order to use many of the gas stations.
If you want to go to the Westfjords, the ferry is a convenient option that gives you a break from driving.
MOST IMPORTANT: Watch out for the sheep! They will run into the road like little fluffy crazies and cause an accident if you aren't paying attention!
Are you ready to plan your trip yet? Read our Iceland travel stories and tips, including many more photos, details & tips.