Want to start your day with a great workout, fresh air AND amazing views? Going on an early-morning hike to the top of Mount Sanitas in Boulder, Colorado is a great way to get your blood pumping while enjoying the outdoors. And it can even be completed before you have to be at your 9-5 (if you go extra early, so just go for sunrise).
The Mount Sanitas hike is one of the best hikes in Boulder and is very popular. So, you may want to go early to get parking and have a less busy trail to enjoy.
Getting to Mount Sanitas
The trail up Mt Sanitas is a very popular trail for many locals and visitors. So parking is usually pretty full. When I got there at 6a.m. on a Tuesday morning this summer, the Mount Sanitas trailhead parking was already full and many people were parked along the road.
Luckily, I knew the Centennial Trailhead was only a short drive up Sunshine Canyon. And it had plenty of parking available. It is shortly after the Mt Sanitas trailhead, on the left side of the road.
The Mt Sanitas Hike in Boulder
The Mount Sanitas loop is 3.1 miles long and has a 1,343 foot elevation gain. It took me (a moderately active person) about 2.5 hours with a short break at the top to complete the loop. I would consider this trail somewhat challenging. Because, although it isn't very long, the stair-stepper nature of the first half definitely makes your legs feel like they are on fire.
(NOTE: Depending on your physical activity level, the Mount Sanitas hike may be considered a difficult hike for you. I tried it a few years ago, before I was a seasoned hiker, and remember thinking it was extremely hard to finish).
However, for an easier climb, you could do an out and back hike through Sanitas Valley instead. Check out this map for route options.
Difficult? Maybe. Worth it? Definitely! As you make your way up all of the many steps to the top of Mount Sanitas, make sure to take a break every now and then to reward yourself with some amazing views of the foothills and the city of Boulder. And once you make it all the way to that glorious marker at the summit (at 6,863 feet in elevation), reward yourself with a nice break on a rock and a light snack before making your way back down.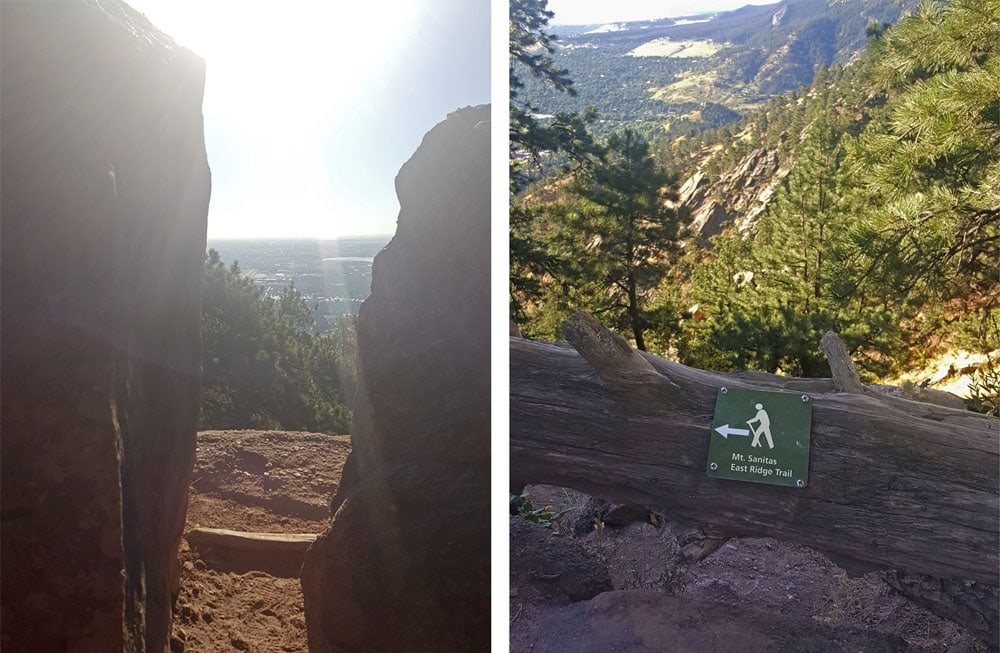 Heading Back Down the Sanitas Valley Trail
To take the Sanitas Valley trail back to the parking lot, climb over the rocks at the summit and follow the signs. This part of the trail can be a bit confusing if you aren't paying attention because you have to go through rock formations and around tight curves. You also want to be careful about your footing since there is some loose gravel in spots.
When you make it down through the rocky part of the trail it opens up into this gorgeous valley. Feel free to run back to your car if you still have some energy to burn (and your legs aren't too wobbly) or take a relaxing stroll along the trail to enjoy all of the beauty around you while you catch your breath.
And don't forget to take a moment to be thankful for beautiful places like this that can fill your heart up and bring you peace, and try to carry that serenity with you throughout your day. Oh, and start planning your next adventure – of course!
Did You Know?
Mount Sanitas was named after a local sanitarium, and that most of us are pronouncing it wrong? The City of Boulder explains that, "instead of the popular san-'ee-tis, with the emphasis on the 'ee' sound, the correct pronunciation actually sounds like 'san-eh-toss, with the emphasis on the first syllable, 'san.'" Read more about the history behind this hike in this article.