In 2014, I climbed my very first 14er, by hiking Mt. Bierstadt, one of the easiest 14ers. For you non-Coloradans, that's a mountain peak with a summit above 14,000 feet! As I reminisce on that awesome, challenging and emotional experience,
I can't help but laugh at how utterly unprepared Buddy and I were. The hike to the top of Mt. Bierstadt was a beautiful and unforgettable experience, filled with wildflowers and gorgeous views. But it definitely would have been way more enjoyable had we not made the 5 major first-time 14er mistakes, listed below.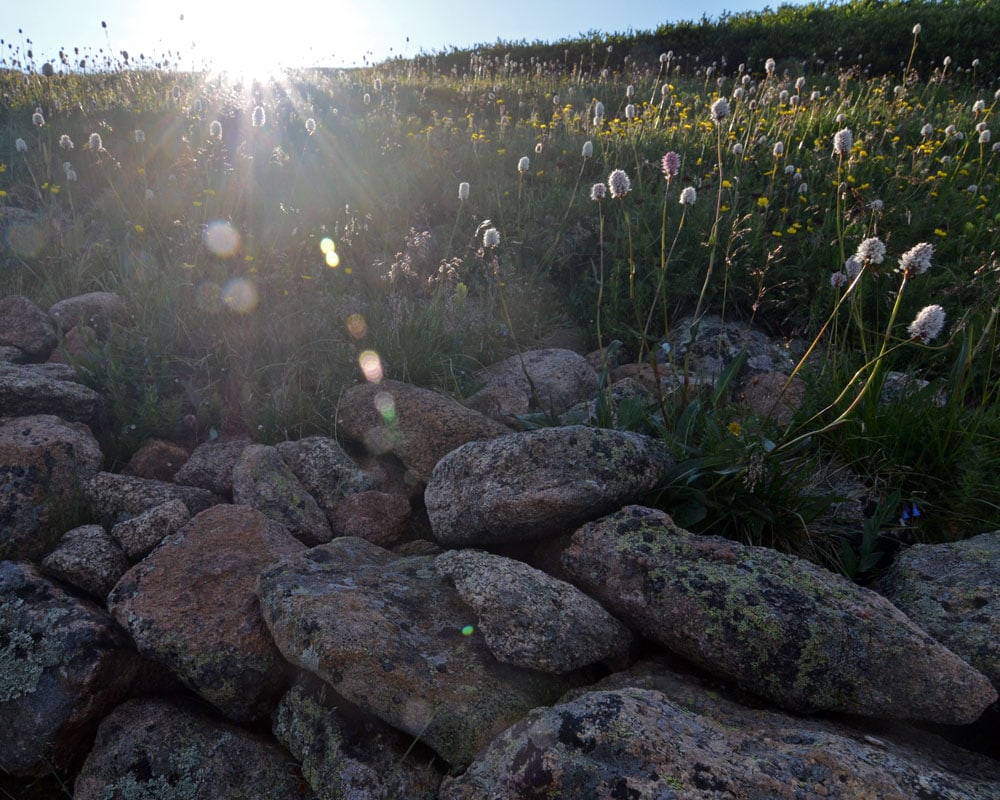 5 Mistakes We Made Hiking Mt. Bierstadt
Fail #1: Not Bringing Enough Water (our biggest mistake!)
Thinking one 1.5 liter camel bag would keep two adults hydrated on a 7 mile hike in the summer sun with a 2,850 foot elevation gain is just flat out dumb. It was absolutely idiotic for us not to bring more water on our hike up Mt. Bierstadt.
By the time we made it back down we felt extremely sick and I actually threw up. Luckily, after a few hours, and a lot of water, we felt better. We are very lucky it wasn't any worse. Now I know each person needs at least 1 liter per 3 miles, so we should have more than double!
Fail #2: Not Hiking More in Preparation
We had talked about hiking Mount Bierstadt all summer. So, when August came around and we still hadn't done it I decided we just had to go… regardless of how out of shape I was. We hadn't really done much exercising or hiking so far that summer (we were actually going through a little bit of a party phase… so quite the opposite). But it was a bucket list item I just really wanted to cross off my list before the summer was over.
While Mt. Bierstadt is one of the easiest 14ers in Colorado, my little legs didn't have much muscle to them at all. And my lungs still had a hard time adjusting to the thin mountain air. (Despite moving from Florida two whole years ago). However, I had done some 3-4 mile hikes with little to no complaining. So I thought that was good enough, but I was sorely mistaken.
Hiking up a freaking mountain is no joke. For the record, Mt. Bierstadt is 14,060 feet high! It didn't take long into our hike for me to realize my lack of exercise and hiking prep was going to make this experience even more difficult than it normally would be. Oh boy.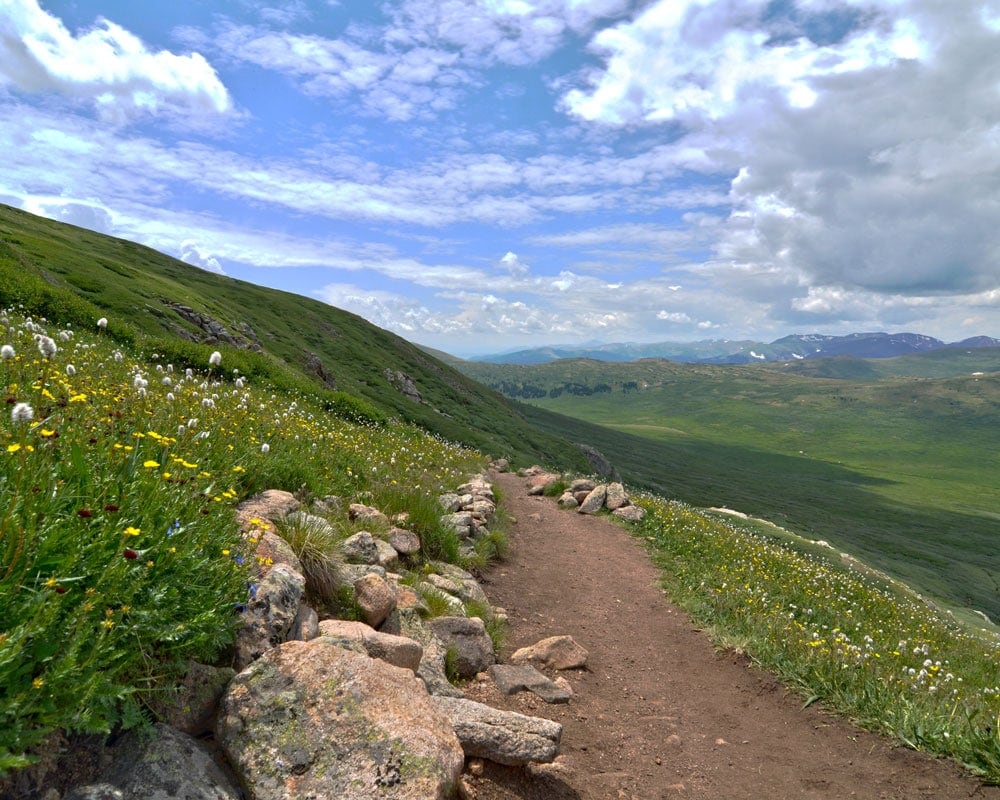 Fail #3: Not Getting to Mt. Bierstadt Early Enough
We expected the hike up Mt. Bierstadt would take about 6 hours total… try 8. By the time we made it to the summit clouds were rolling in. The rain started before we had time to make it back to the car. And a full-on storm was upon us by the time we got back on the highway.
I had heard that making it to the summit by noon was really important. I thought we would be able to, but it ended up being closer to 1 or 1:30. We were lucky, but many hikers get struck by lightning every summer in Colorado.
So be very careful if you are hiking a 14er, or really any hike above tree line. Do not discount the danger of storms. Get there early so you will have plenty of time, and if you are close to the summit when a storm is rolling in turn back immediately!
Parking is also key when trying to hike up a 14er in Colorado. As you can imagine, most of the easy 14ers are very popular for tourists, and even some locals. With the small parking areas, they often fill to capacity, sometimes even before sunrise. Just be sure to get there early for parking, so you aren't adding another mile each way to reach the trailhead.
Fail #4: Not Bringing Enough Food
We each burned over a thousand calories before we reached the summit of Mt. Bierstadt… and what did I have for us to eat? Two granola bars each. Wah wah wah! Those 200 calories worth of blandness were not going to make a dent in replenishing all the calories we had just burned.
As our fellow hikers enjoyed giant burritos, pasta bowls and sandwiches, we begrudgingly ate our granola bars and planned out the enormous meal we would have after we made it back home.
Fail #5: Getting too Excited for the False Summit
Maybe if I had bothered to do any research, I wouldn't have gotten so excited when we reached what I thought was the top of Mt. Bierstadt. After reaching the nice flat area that I had been looking up at in anticipation for hours, my dear husband about broke my heart when he pointed to a pile of rocks and said, "No babe, that's the summit."
I just thought people were climbing that part for fun. I almost had a full-on mental breakdown/cryfest when I learned I wasn't finished yet. After almost quitting prematurely, I gathered what little strength I had left and spent one and a half more hours scrambling over rocks to reach the real summit of Mt. Bierstadt and get a picture of the little gold emblem for proof! Apparently, false summits are very common… so don't get your hopes up like I did!
Making it to the Top of Mt. Bierstadt, Despite our Mistakes!
After taking a few awesome, celebratory pics at the summit of Mount Bierstadt and eating our lame "meal" we hustled down the mountain to try to beat the incoming storm. When we finally got back to the car I was soaked, exhausted, sore, dehydrated and starving, but damn proud of myself.
I sat in the car crying tears of accomplishment, relief and happiness as I shoved gas-station food down my throat and guzzled water.
A year prior I could barely hike 3 miles at a slight incline. I had just hiked up a mountain, a 14er at that, even if it was one of the easy 14ers. It was probably the biggest physical and mental challenge I had conquered yet. And, I was so excited to have shared the experience with my supportive, wonderful husband. (He deserves endless praise for listening to my countless complaints).
Mt. Bierstadt was more beautiful than I had ever imagined it would be. And, despite our major fails, the experience was so rewarding! I knew this would be the first of many epic adventures. But hopefully, the rest will be better executed.
Additional Tips for Hiking a 14er
Are you planning to hike a 14er? With only one under my belt, I'm far from a pro. However, here are some helpful tips I've found through my research.
Wear sunscreen. Protect your skin!
Get good shoes & hiking poles. Well worth it!
Tell someone your plans. Just in case!
Do your research. Find out what you are signing up for. Is the trail well marked? Will you have to do any scrambling or climbing?, etc.
Bring a sign! It is a fun tradition to get a picture of yourself holding a sign with the name of the mountain and its elevation. Just make sure not to leave it there (you don't want to be the one littering the beautiful landscape)!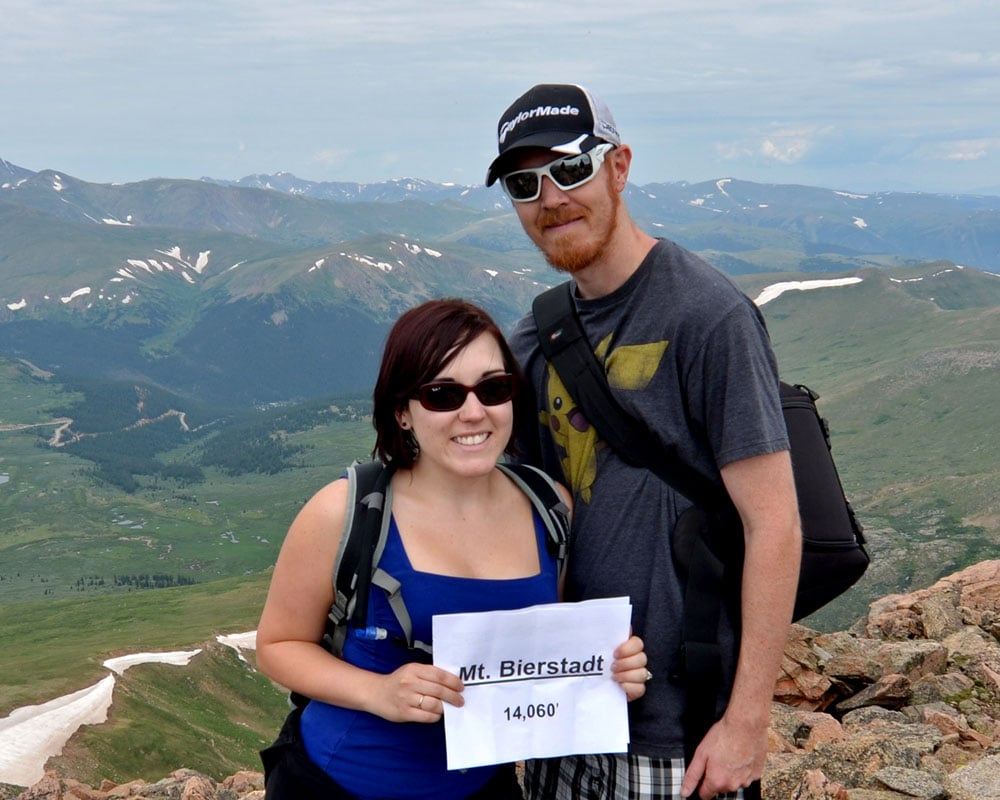 Other Colorado 14er Mountains You Could "Bag"
There are more than 50 mountains in Colorado that are more than 14,000 feet. While some 14ers may be about the same elevation, that does not mean they are the same difficulty. Check out this list to see the 14ers ranked by difficulty to plan out your hike.
Mt. Elbert 14,440
Mt. Sneffels 14,150
Mt. Massive 14,421
Capitol Peak 14,130
Mt. Harvard 14,421
Pikes Peak 14,115
Blanca Peak 14,345
Snowmass Mtn. 14,099
La Plata Peak 14,336
Mt. Eolus 14,083
Uncompahgre Peak 14,321
Windom Peak 14,082
Crestone Peak 14,294
Challenger Point 14,081
Mt. Lincoln 14,293
Mt. Columbia 14,077
Castle Peak 14,279
Missouri Mountain 14,074
Grays Peak 14,278
Humboldt Peak 14,064
Mt. Antero 14,276
Mt. Bierstadt 14,060
Torreys Peak 14,275
Conundrum Peak 14,060
Quandary Peak 14,271
Sunlight Peak 14,059
Mt. Evans 14,265
Handies Peak 14,058
Longs Peak 14,259
Culebra Peak 14,047
Mt. Wilson 14,246
Ellingwood Point 14,042
Mt. Cameron 14,238
Mt. Lindsey 14,042
Mt. Shavano 14,231
North Eolus 14,039
Mt. Princeton 14,204
Little Bear Peak 14,037
Mt. Belford 14,203
Mt. Sherman 14,036
Mt. Yale 14,200
Redcloud Peak 14,034
Crestone Needle 14,197
Pyramid Peak 14,025
Mt. Bross 14,172
North Maroon Peak 14,019
Kit Carson Peak 14,165
Wilson Peak 14,017
Maroon Peak 14,163
Wetterhorn Peak 14,015
Tabeguache Peak 14,162
San Luis Peak 14,014
Mt. Oxford 14,160
Huron Peak 14,010
El Diente Peak 14,159
Mt. of the Holy Cross 14,009
Mt. Democrat 14,155
Sunshine Peak 14,001
And don't worry! If high-elevation hiking and difficult terrain isn't your thing, there are tons of other gorgeous hikes in Colorado that won't take as much time or effort!
Want more ideas for Colorado adventures? Check out our other Colorado content, including this guide to Rocky Mountain National Park.