Are you thinking about taking your first hot air balloon ride? As a surprise for his 30th birthday, I took Buddy on a hot air balloon experience for the first time and it was amazing. We got there at the crack of dawn excited for a new adventure, and somewhat unsure of what it would entail. It was definitely beautiful, a little scary and above all else, a unique and wonderful experience! But, before you check this item off your bucket list, read over these five hot air balloon ride tips for first-timers.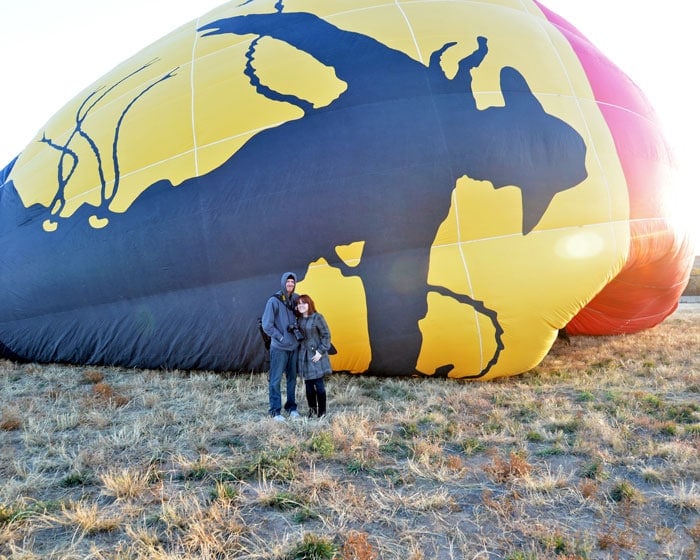 5 Tips for a Great Hot Air Balloon Experience
1. This is a very weather dependent activity.
If it is too windy or too hot you may not get to take off. I was told when making a reservation that we may have to reschedule if weather didn't cooperate. Being a control freak, and hoping to make this a birthday morning surprise for Buddy, this stressed me out quite a bit – thankfully, my constant prayers for good weather were answered!
The weather in Colorado Springs was beautiful! We had clear skies, minimal wind and that nice brisk mountain air. Taking a hot air balloon ride in Colorado Springs is really a great idea as you won't have too many morning rides cancelled due to the weather being too hot.
2. Watching the balloon inflate is really fun!
I hadn't even thought about this part beforehand, so I was surprised by how exciting it was to get to see the balloon get set up for our ride. It was really impressive to watch the team at Adventures Out West setup our hot air balloon. Watching the roaring fire inflate the colorful fabric to create a flying vessel is kind of amazing… and also a little bit scary. "So that bag of hot air is going to keep us from falling to our deaths?… ok!?!" But once we were floating around in the beautiful blue sky of Colorado Springs, I wasn't afraid at all!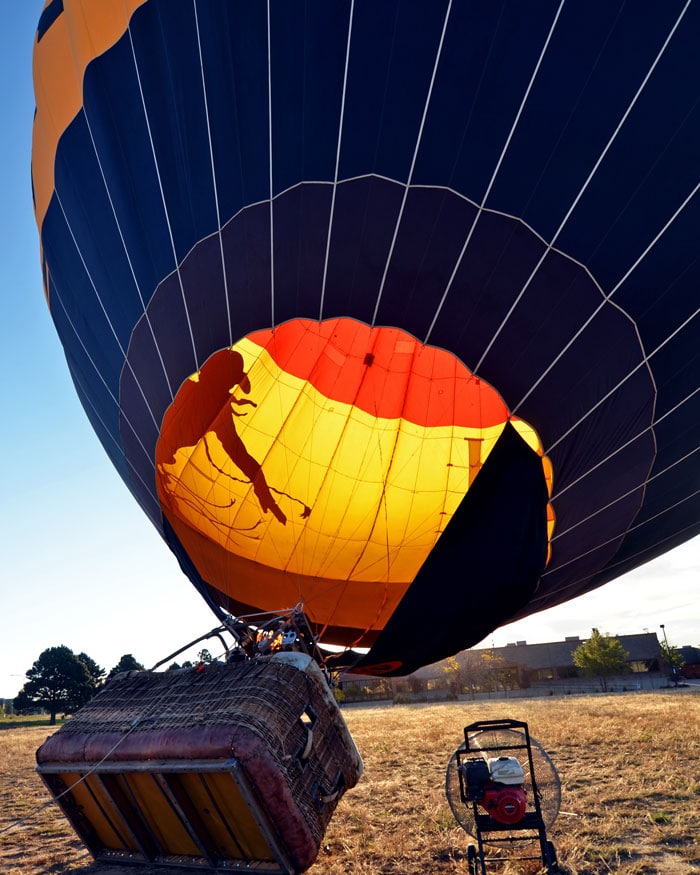 3. The views make a great hot air balloon experience better.
Make sure you pick an area with great views… that is the best part. Luckily, we were in the beautiful Colorado Springs area – with Pikes Peak and other mountain ranges in the background, beautiful open spaces, creeks and even some wildlife. As photographers, we were in love with the views! Taking a hot air balloon high up over the plains in Colorado Springs was a truly unique experience. The great guide even snapped a few of us too!
4. The landing can be a little bumpy.
As we began the descent from our hot air balloon experience, the pilot warned us that it might be a bit bumpy. Luckily, we had a pretty smooth landing since the wind wasn't very strong on that beautiful October morning in Colorado Springs. Apparently, bouncing a few times before finally coming to a stop is common.
5. The basket usually tips over when you land.
And… we were in a cow pasture. In order to let the balloon deflate, they let it tip over during landing. Luckily, there were four separate compartments in the basket so we weren't all squished together too badly. We also managed to miss all of the cow poop in the field we landed in… success! After we climbed out of the basket, we participated in a champagne toast with some snacks to celebrate a great ride!
For our hot air balloon experience, we found a great deal on LivingSocial.com with Adventures Out West. We really enjoyed the pilot who made us feel safe and helped us have a great time (he offered to take a picture of us while up in the balloon and also hopped out to get the cute picture of us all when the basket tipped over). At the end, we got a little hot air balloon patch and certificate of accomplishment for this fun adventure! A fun memento for an awesome day.