2022 Update: The Cog Railway just recently underwent renovations and has re-opened after a long pause in operations. There are now new trains, as well as a new track, depot, and Pikes Peak Visitor Center. Tickets are now $58+ for an adult (up $20 from their pricing before these updates!).
Thinking of taking a trip to the summit of Pikes Peak? Experiencing the views at the top is a classic Colorado bucket-list item. And at 14,115 ft, it is literally a breathtaking experience. But the journey to the top is a huge part of the fun. So make sure you choose wisely! Check out the reviews and photos below to decide which option is best for you, Driving Pikes Peak highway or taking the railway?
Pros of driving up Pikes Peak Highway
Adrenaline Rush
Driving up Pikes Peak Highway is definitely more of an adventure than taking the railway. The 19-mile highway is lots of fun and you may even feel a little bit of an adrenaline rush driving up the steep curvy mountain roads with death drops on both sides. Or at the very least it will get your heart pounding.
Your Own Pace
Plus, driving allows you to go at your own pace and stop to snap pictures or take in the views wherever your heart desires – instead of being on the train tour's set schedule. There are plenty of pull-offs and places to stop to take a break on the drive.
No Reservations
Another perk to driving up Pikes Peak is the ability to take a spontaneous trip up the mountain without planning ahead. The cog railway suggests making a reservation in advance, as they can book to capacity, you don't need to worry about this if you are driving.
Less Expensive
At only $12 per adult vs. $38 plus a $5 parking fee, driving is definitely the more cost-effective option.
Cons of driving up Pikes Peak Highway
Not for Nervous Drivers
There are steep grades of up to 13%, sharp turns and many places with no guardrails. Also, riding your brakes could cause them to overheat and possibly fail. Inexperienced drivers or those who are not comfortable with these circumstances may want to take the cog railway. You definitely don't want to be the jerk driving in the middle of the road causing problems for everyone else. Or that person doing an 18-point turn on the edge of a switchback because they freaked out and had to turn around (yes, we've seen this)!
Need to have a Semi-Decent Car
If you opt to drive up Pikes Peak, you need a car that can handle the climb and descent. The grades up to the top of Pikes Peak at 13%, and some of the curves on the edge of the mountain cliff does not have guardrails. If you opt for the drive, make sure you have a reliable car, with good brakes.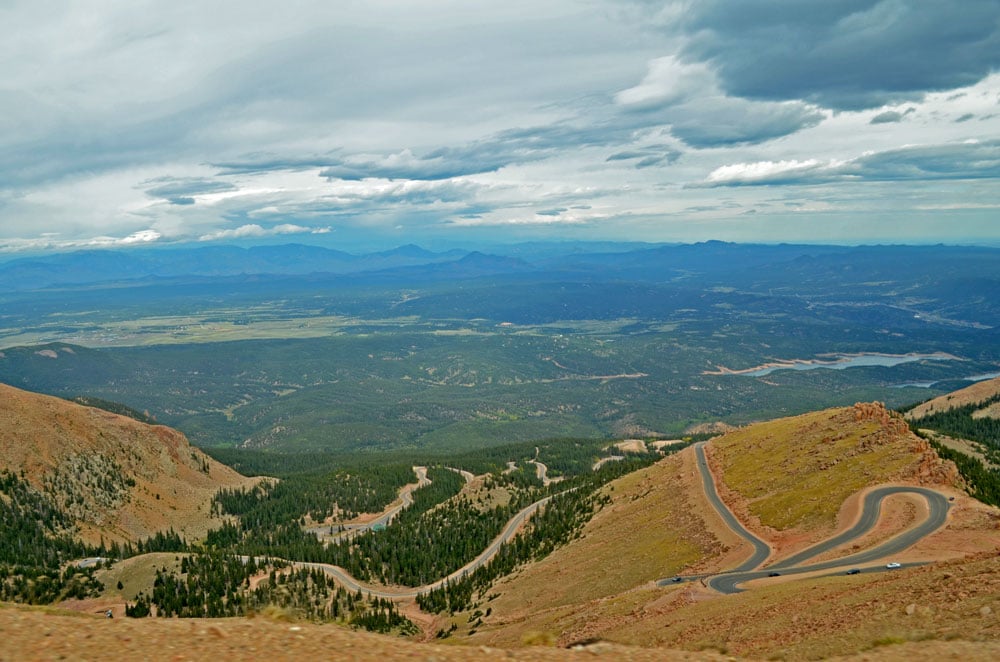 Pros of the Pikes Peak Cog Railway
Unique Experience
The Pikes Peak Cog Railway is the highest in the world and is a really unique experience. These beautiful Swiss-made cog trains head up the mountain about once an hour. And since they have been climbing to the top of Pikes Peak for more than 125 years, this trip is both beautiful and historical.
Relaxing Trip
It is especially great for people that don't want to deal with the drive, are afraid of heights (this is way less scary), or just don't have a reliable enough car. You will get to leisurely climb up the mountain with stunning scenery all around you. They even have a stopping point where you can get out and stretch your legs.
More Educational
If you want to gain a little bit more knowledge of the area on their way up the mountain, then the Pikes Peak Cog Railway is a better option than driving up Pikes Peak. You still get to the summit and get to ride in a super-cool cog train!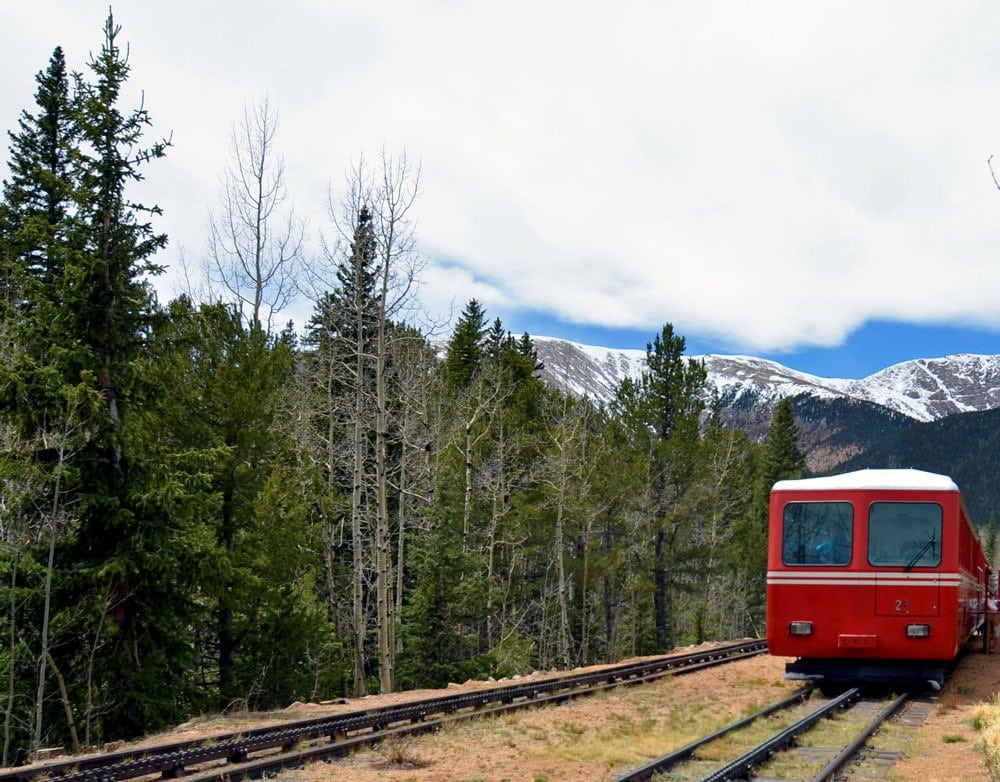 Cons of the Pikes Peak Cog Railway
More Expensive
At $58+ per adult, plus a $10 parking fee, this option is much more expensive, but likely worth it if this is your only way to see the summit (or if you are not up for the drive up Pikes Peak Highway).
Reservation Needed
The cog railway usually requires a reservation ahead of time. And, tickets should be picked up 30 minutes in advance. So, this may not be the best option for a spontaneous trip up the mountain. This option in busy months also books up far in advance, so if you don't plan ahead, you might not be able to go last minute.
Not on Your Schedule
Another thing to keep in mind is that the ride on the cog railway takes a little over 3 hours roundtrip, including 30-40 minutes to take in the views at the summit. Roundtrip on the highway takes at least two hours, but there are countless beautiful places to stop to take pictures or have a picnic – not to mention the awesome views from the top and the fun gift store (with unique souvenirs and delicious snacks). You may want some more time to check things out or if the altitude gets to be too much, it is nice to have the option to turn around.
Other Options to Reach the Summit of Pikes Peak
Is the idea of riding, or even driving, to the top of Pikes Peak just not doing it for you? Do you crave a little bit more adventure and effort in your explorations? If you are hoping for an even more exciting experience try biking or hiking to the top! The cog railway even has a one-way option for hikers that don't want to commit to going both ways.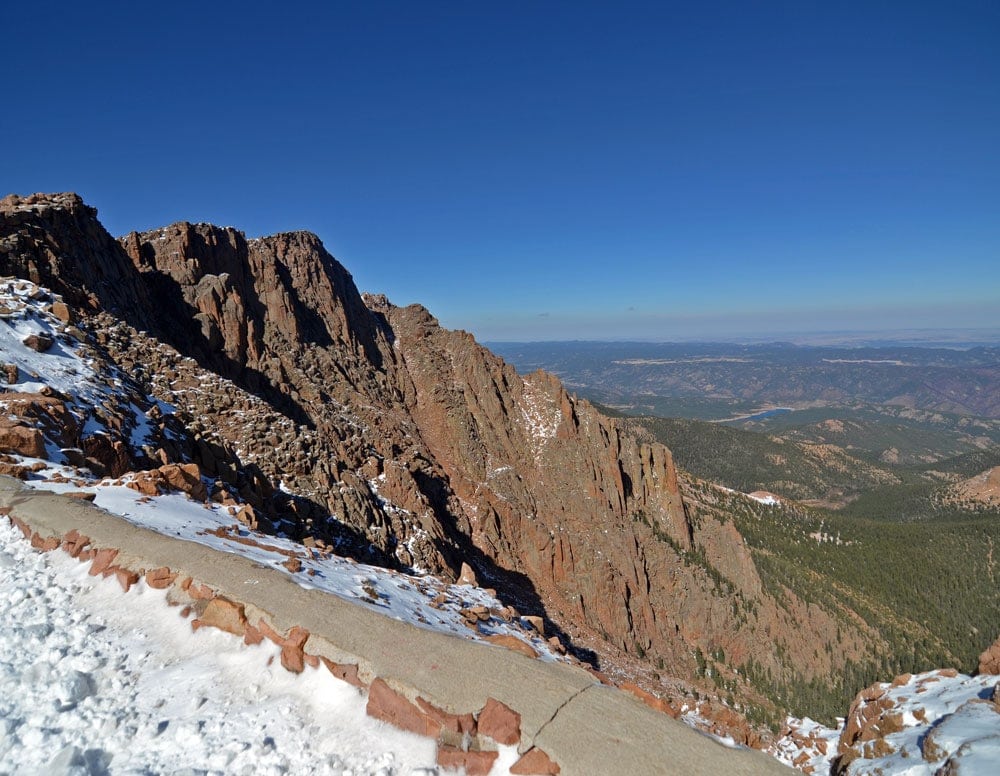 No matter what you plan to do, make sure you drink plenty of water… the altitude is no joke! Also bring a jacket, the temperature at the top can be pretty chilly. And definitely take an obligatory picture next to the summit sign and get some unique gifts in the shop.