Coloradans often take all of the awesome views, activities, food, and brews available to us for granted. So. sometimes it is hard to decide where to visit in with friends visiting Colorado from out of town.
However, with the right plan, it is the perfect opportunity to experience some new places (or re-experience old favorites), all while giving your guests a taste of what makes Colorado so RAD! From downtown Denver to the Rocky Mountains, there are unlimited possibilities, so we recommend a unique mix.
Want more? Click here for a HUGE list of things to do in and around Denver, Colorado!
My best friend and her boyfriend came to visit us recently and since it was their first trip to Colorado, I was so psyched to show them our favorite things to do in Denver and the surrounding areas.
Plus, getting to check out some places that have been on my list for a while was an extra bonus. After lots of deliberation, these are the top five places we just had to visit.
1. Take a Drive Through the Rocky Mountains
A trip to Rocky Mountain National Park is always a good idea at any time of year. It is only about two hours to drive to the park from Denver, and a must-see for Colorado visitors. In the summer, driving across Trail Ridge Road is an experience that will leave your guests speechless.
And – with an elevation of over 12,000 feet – maybe even breathless. Just make sure everyone stays hydrated and takes it easy when walking around, since the altitude changes quickly.
While driving around will offer plenty of memorable views and places to stop for photos, if time allows, plan to hike or have a picnic in the park as well. There are tons of options in every season!
Read our entire guide for visiting Rocky Mountain National Park.
2. Rock Out at Red Rocks Concerts
Voted time and again as one of the top music venues in the country, catching a concert or a movie at Red Rocks Amphitheater will be sure to impress visitors. This is one of the top things to do in Denver and a memory your guests visiting Colorado won't soon forget. (Note: For out-of-towners the stairs can be a bit rough, so take it slow).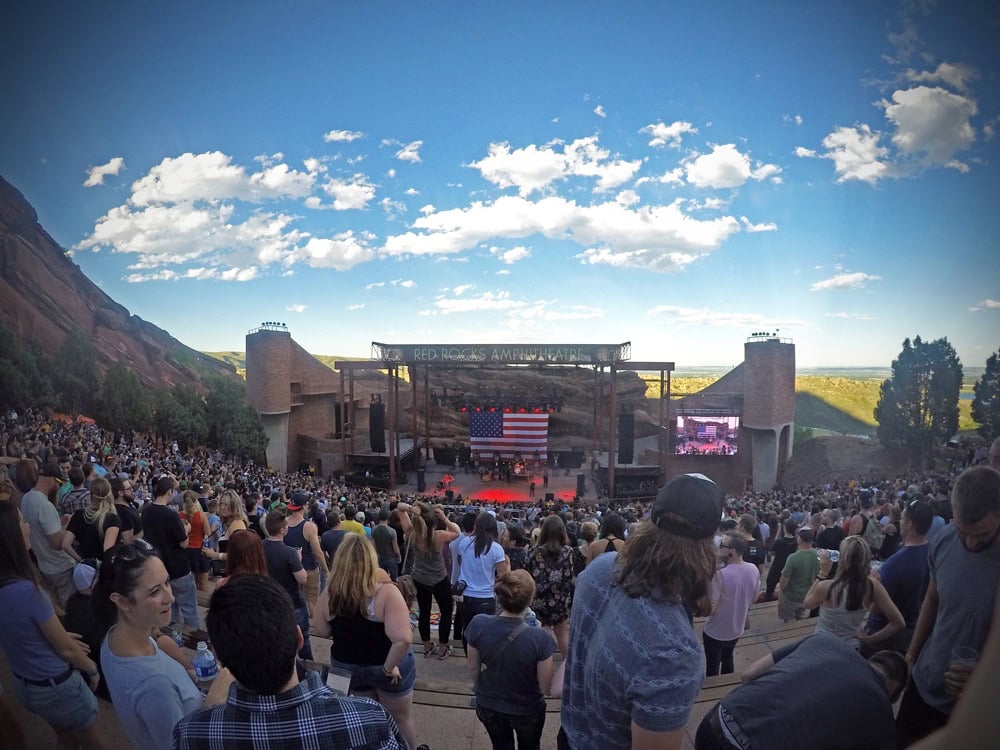 Make sure to go early and eat at the Ship Rock Grille on-site. You can even bring a few drinks from the restaurant up to your seats with you. Just call ahead to check the hours on concert nights. And make a reservation in case everyone else has this genius idea.
3. Spend a Day in Boulder & On Chautauqua Park Trails
The quirky, unique city of Boulder is a must-experience place that I personally love and always recommend to those visiting Colorado. Take a stroll on one of the Chautauqua Park trails, walk along Boulder Creek, and hit up the shops on Pearl Street.
There are also lots of awesome restaurants and breweries nearby – including T|ACO, Mountain Sun, Pizzeria Locale, West Flanders Brewing Company, and so many more!
If you have time, stop by Celestial Seasonings to taste all of the free tea samples. And take part in the free tour if you are craving some in-depth tea knowledge. Avery Brewing and Finkel & Garf Brewing Co. are also great options in the Boulder area if you want some alcoholic drink options.
For more tips on how to plan a Boulder getaway, read our guide.
4. Relax on a Mountain Lake or Reservoir
In the summer, after the snow melts and the lakes are no longer frozen, the fresh mountain water is insanely refreshing. Renting a SUP board or kayak is a great, relaxing way to spend some quality time with your guests while showing off how stupid-gorgeous Colorado truly is.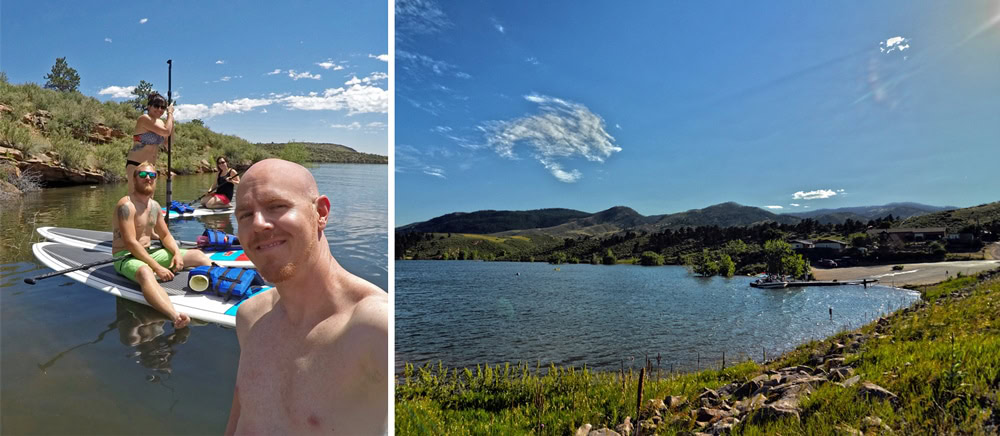 Horsetooth Reservoir is a favorite spot of ours for stand up paddle boarding near Denver, but Bear Creek Lake, Boulder Reservoir and Union Reservoir are also great options. A lake day is a must when visiting Colorado in summer.
5. Plan a Night Out in Downtown Denver
We usually plan for outdoorsy things to do in Denver, but the nightlife scene is fantastic and not to be missed when visiting Colorado.
Start the night with a drink at one of the super-trendy bars downtown. Going back in time to prohibition by walking through the bookcase at Williams & Graham will surely be an experience your guests won't be able to stop talking about.
Checking out Union Station is always fun as well! Then get a delicious dinner at one of the many wonderful downtown options. A few of our favorites include The Source, Biker Jim's Gourmet Dogs, Illegal Pete's, and The Old Spaghetti Factory.
Make sure to walk off some of those calories by closing down the gorgeous Denver Botanic Gardens – the grounds don't close until 9 p.m. in the summer and it is the perfect place for a relaxing stroll.
If you are up for a late-night, take in one of the burlesque shows at Lannie's Clocktower Cabaret. These creative and fun shows are set in an awesome basement lounge and are ridiculously entertaining.
Also, don't forget to stop by the always-open Voodoo Doughnut for a late-night snack – they even have vegan doughnuts, and they are damn good.

Be Sure they are Only Visiting Colorado 😉
If you manage to pack all this fun into your guests' vacation, you will be sure to win the host of the year award! But just make sure to complain a lot about our "harsh" winters and unpredictable weather in between all these adventures … Colorado has enough permanent residents.
Read more ideas of what to do when visiting Colorado here!