Staying at Mountain Home Inn, the perfect weekend getaway from San Francisco, was something out of a dream. As we drove across the Golden Gate Bridge away from the insanity of the city and toward our peaceful escape for the night, the stillness of the fog-covered forest washed away the stress of San Francisco's traffic and brought our focus back to our gorgeous surroundings.
It is almost unbelievable that this quaint getaway was only a short trip from the city!
Getting to Mountain Home Inn
We were thrilled to see the adorable Mountain Home Inn when we reached the top of Mt. Tamalpais' winding road. It was perched above the beautiful redwoods, inviting us to take a much needed break from reality. This is what vacation should feel like, ALWAYS.
We were greeted by a kind staff member. (Note: they were all awesome). And once we had the key to our mini-oasis for the night, we couldn't wait to get settled in. We adored our cozy room. Especially our gorgeous deck views – which looked down upon the Mt. Tamalpais ridgeline.
However, we couldn't help but check out the local ares. So, after a nice dinner upstairs in the Inn's restaurant, we headed out to explore.
Top 6 Activities Near Mountain Home Inn
Across from the inn is an overlook of Muir Woods, as well as a trail that leads down into this magical area – a four-mile round-trip hike. Since it was later in the afternoon, we didn't do too much hiking. But we definitely want to go back with more time to explore! And there are so many other great hiking options in the area, listed on the inn's site HERE.
1. Mount Tantalus Hiking Trails
The Canopy View Trail and Redwood Trail are short hikes that you can take right from the property!
2. Beach Walks near Mountain Home Inn
Knowing we were only a short drive to the ocean, we had to venture out to the Pacific Coast Highway to catch the sunset on the Pacific Ocean.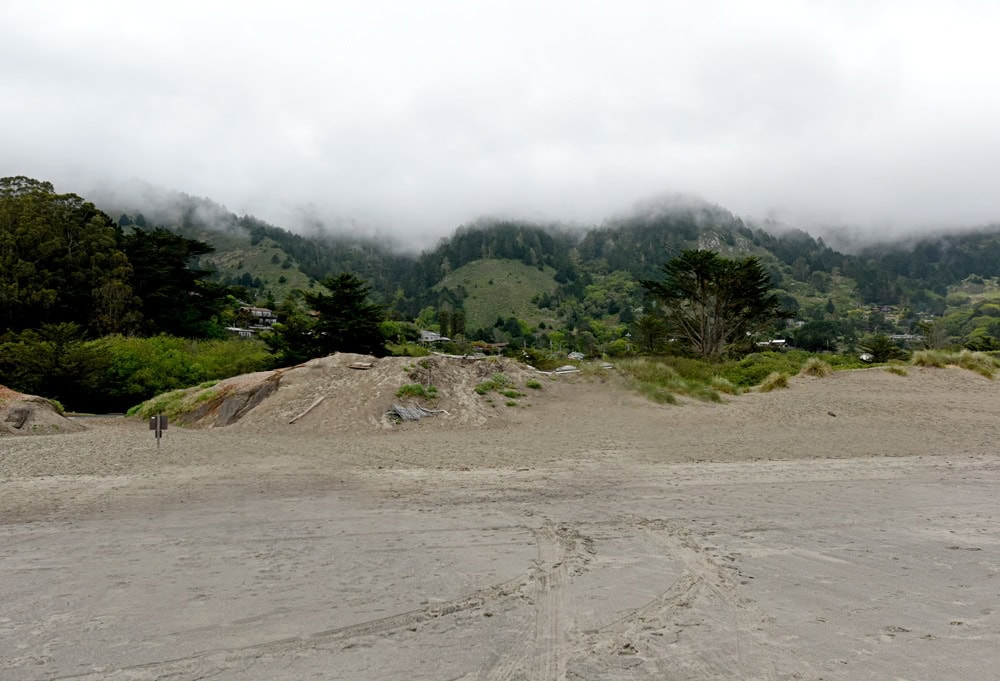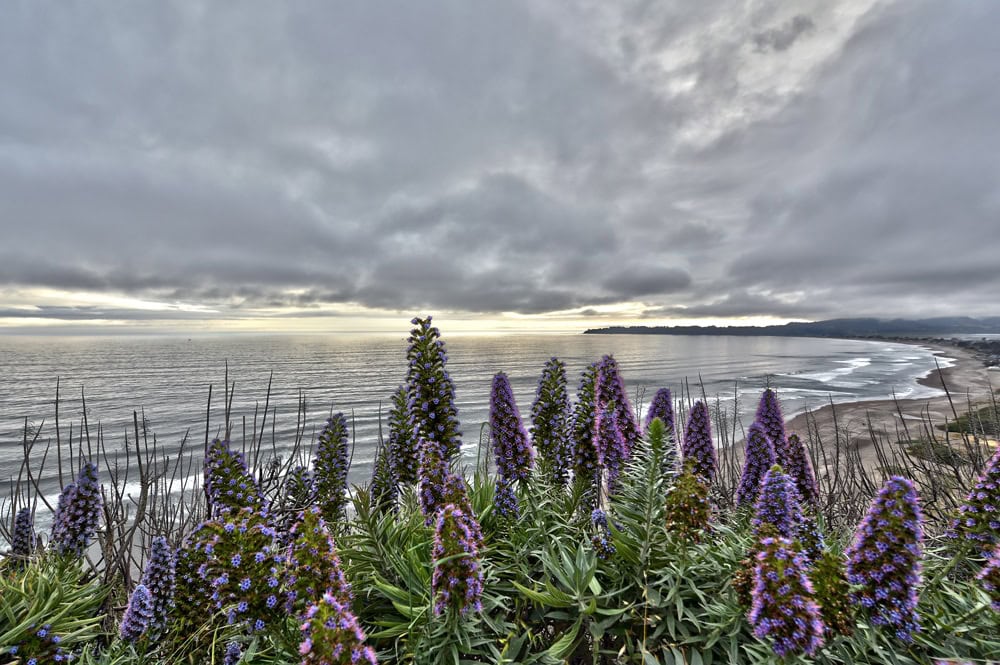 We started by getting our toes in the sand at Stinson Beach, then we hopped back on the scenic highway and got to the stunningly gorgeous Muir Beach Overlook just in time to take in the sunset.
3. Sunset at Muir Beach Overlook
Those Cali sunsets don't disappoint and Muir Beach Overlook was especially stunning.
This is a must if you are staying in this area. This place was basically built to watch the sunset. And don't forget to look in the water for seals!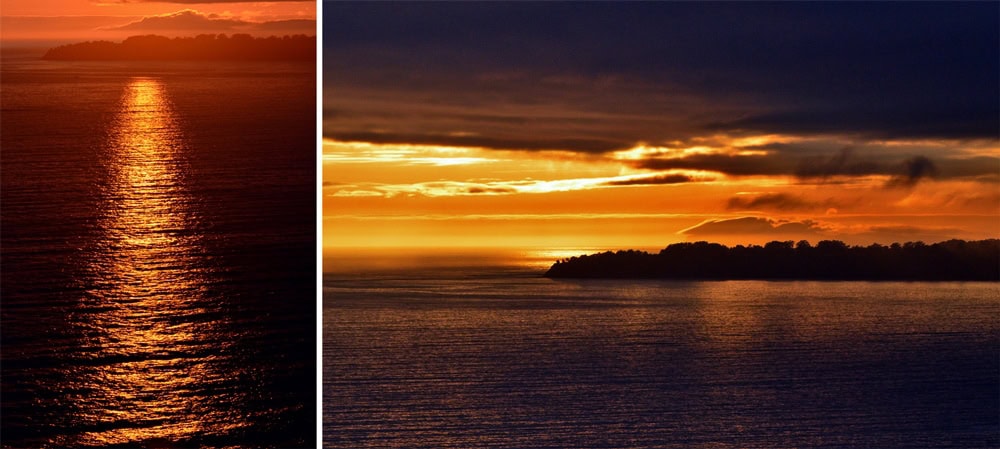 4. Exploring Muir Woods
The next morning, we woke up to the sun rising and shining the daylight into our room (all the decks face the sunrise here). We set out early to get to Muir Woods as soon as it opened (unfortunately, we didn't have time to take the trail from the inn).
The main parking lot was already full when we got there, but we were able to find a spot in the overflow lot and luckily the trails weren't too busy until we were leaving. This is another must-do activity when staying in this area, but it gets busy fast – so go really early.
5. Breakfast at Mountain Home Inn
After a few hours in Muir Woods, we went back to Mountain Home Inn to indulge in a wonderful breakfast (included in our reservation). As we sat on the porch, looking out upon the beautiful views, we regretted not planning a few more days in this wonderful place.
But, a mini-vacation is better than no vacation, right? So, we begrudgingly packed our things and said farewell to the wonderful Mountain Home Inn – just the escape we needed!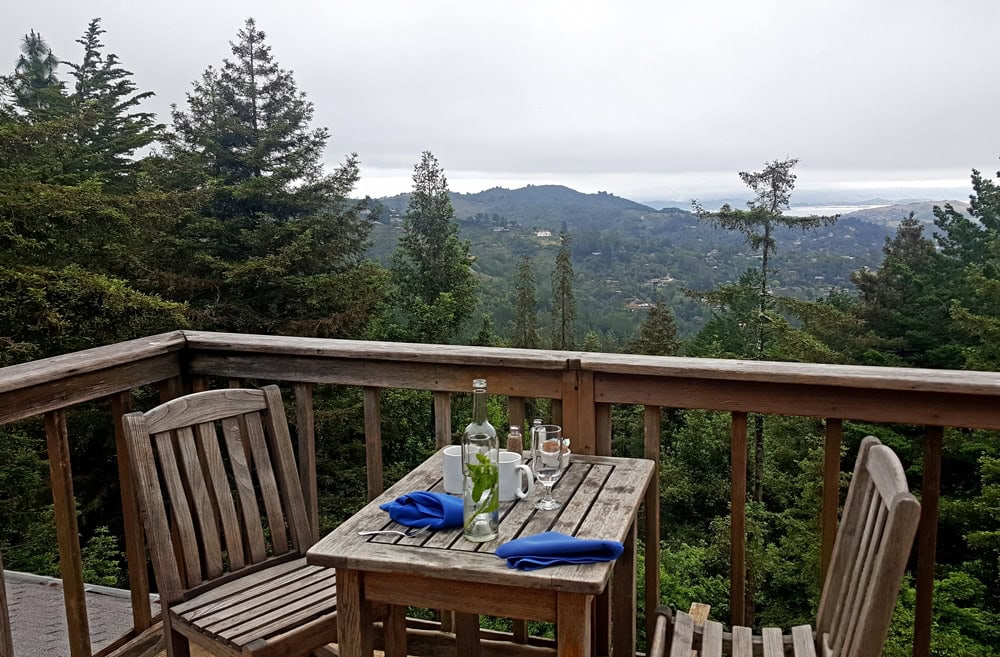 6. Golden Gate Bridge Park
Don't forget to snap a few obligatory pics of the Golden Gate Bridge before heading back to the city (or in our case, to the airport to catch a flight home).
Read more tips for things to do and hikes to go on in California!