When you walk along the Muir Woods Trails, it feels like you are getting a GIANT HUG from nature. The redwood trees tower over you while the lush foliage seems to move closer around you, and the stream whispers soothing songs of peace. It is enough to turn anyone into a poet!
But as much as we try to capture its beauty in words, or photos, the overwhelming connection to nature that you feel in a special place like this can't be explained. But, here are 10 amazing photos to inspire a walk in Muir Woods of your own:
"Everybody needs beauty as well as bread, places to play in and pray in, where nature may heal and give strength to body and soul alike."
"The clearest way into the Universe is through a forest wilderness."
"When we contemplate the whole globe as one great dewdrop, striped and dotted with continents and islands, flying through space with other stars all singing and shining together as one, the whole universe appears as an infinite storm of beauty."
"Keep close to Nature's heart… and break clear away, once in a while, and climb a mountain or spend a week in the woods. Wash your spirit clean."
"Come to the woods, for here is rest. There is no repose like that of the green deep woods."
"Nature's peace will flow into you as sunshine flows into trees. The winds will blow their own freshness into you, and the storms their energy, while cares will drop off like autumn leaves."
"When we try to pick out anything by itself, we find it hitched to everything else in the Universe."
"There is not a 'fragment' in all nature, for every relative fragment of one thing is a full harmonious unit in itself. "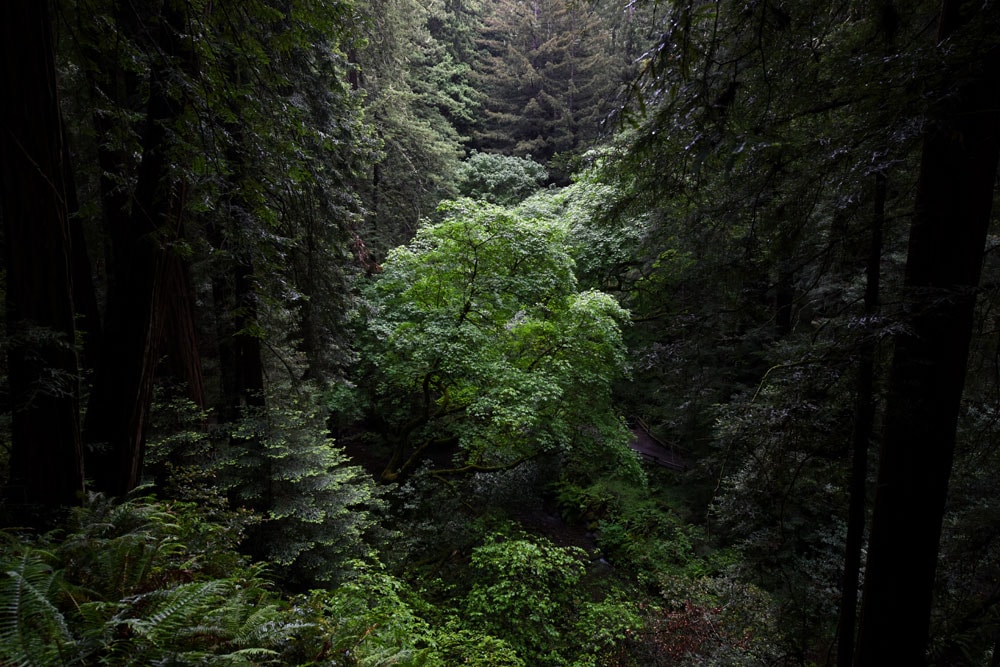 "I know that our bodies were made to thrive only in pure air, and the scenes in which pure air is found."
*Photos by Buddy Baum & quotes by John Muir*
---
About Muir Woods National Monument in Mill Valley, CA
Muir Woods is an old-growth redwoods forest that is home to some of the tallest trees in the world. This coastal redwoods area has stunning hiking trails for admiring the giant sequoia – some are close to 1,000 years old!
You could easily spend hours hiking through Muir Woods trails in this majestic redwood forest outside of San Francisco, looking for banana slugs and bugs, admiring the moss, and staring up, up, up at the ancient trees. But even if you only have time for a short trip to this area (a short drive from the Golden Gate Bridge), definitely try to make it!
However, to truly enjoy this nature-lovers paradise, make sure to get there really early to be one of the first ones on the trails of Muir Woods. Taking one of the trails off of the main loop is also a nice way to stay further away from the crowds.
There are even longer trails that extend into the surrounding Mount Tamalpais State Park. Plus, there are many shorter options, including a loop that will only take about half an hour if you are short on time. The fee to get into the park is only $10, and well worth it! Or get a National Parks Pass for $80, and then you will have an excuse to see more beautiful places in the next year!
There is never a bad time to take a Muir Woods hike, but the best time tends to be early morning to avoid the heat – especially on a longer hike.
7 Muir Woods Trails to Explore
Here are some of the amazing hiking trails in Muir Woods and the surrounding area. Learn more here.
1. Main Trail: There are multiple options on this route that goes through the flat main area. Options range from half a mile to two miles, depending on how far you'd like to go. It starts at the Muir Woods Visitor Center and it is easy to take one of the bridges to make it a shorter loop. You can also go up the Hillside Trail that looks down onto the creek and trees. Other trails go off of this main one as well.
2. Fern Creek Trail to Camp Alice Eastwood Loop: This three-mile trail goes through the redwood canyon and past Cathedral Grove.
3. Canopy View Trail to Lost Trail to Fern Creek: A three-mile trail into a deep forest of Douglas firs.
4. Ben Johnson Trail with return via Dipsea Trail Loop: This four-mile round trip trail has more elevation gain (almost 1000 feet), but also gives great views of Mt. Tamalpais. the Pacific Ocean, and San Francisco. This ocean-view trail is a popular option in the area, especially on a clear day.
5. Muir Woods to Muir Beach via Redwood Creek Trail: If you have more time and enjoy a longer walk, this six-mile trail to Muir Beach may be a great option for you! However, you can also dirve over to Muir Beach.
6. Muir Woods to East Peak of Mount Tamalpais: This all-day hike is eight miles and goes to the top of the tallest peak in Marin County, at 2,600 feet. It also goes along the Panoramic Trail and near Mountain Home Inn – which is a lovely local place to stay!
7. Muir Woods to Stinson Beach: Another all-day hike with a steep elevation gain of 2,860 feet and eleven miles. The steep climb back up from the beach includes a 10-foot ladder climb.
We hope you have time to enjoy some of these Muir Woods trails and that you love this area as much as we do!
Want more ideas for outdoor-focused fun in California? Read our other blog posts!