Since moving from Colorado, we've really enjoyed taking advantage of being able to be tourists in familiar areas when we return for visits. Colorado's front range has always been a favorite place in this beautiful state and Boulder especially holds an important place in our hearts. What better way to see this vibrant city than to stay in the iconic and historic Hotel Boulderado? It made for quite the luxurious getaway – with plenty of time for hiking and partaking in delicious food and drink options.
Our Luxurious & Historic Base at the Hotel Boulderado
When you go to Rome, you visit the Colosseum. When you go to Boulder, you stay at the Hotel Boulderado. There's just a magnetic pull to historic places – and they really help set the stage for a great trip. For more than 100 years, this elegant hotel has been a landmark in Boulder.
The decor makes you feel like you are in something out of the Great Gatsby. And checking out all of the old photos in the hallways is definitely a great excuse to wander around the property. You'll find some great hidden gems this way, too. No wonder it is also a popular wedding venue (with the first taking place in 1913!)
The water fountain is the only remaining one that is still made from marble. Back in the day, all the water came from the Arapahoe Glacier – now it is only a percentage. And the telephone records are updated each day to reflect the list from many years prior!
While visiting, don't miss a chance to go up the old elevator – it's the original that the hotel was actually built around! The bellhop will hand-crank it which is such a unique experience.
And don't forget to look up to admire the stained-glass ceiling when you arrive – which was put in piece by piece by the woman who designed it while she hung suspended from the ceiling.
Our Boulderado Review
It can be expensive to stay here, yes. But (in our humble opinion) it is also the best place to base yourself when visiting Boulder. Its central location allows you to park once and never get in your car again until it is time to check out – which really helps you get into the chill vibe of Boulder.
And staying in this fancy, historic hotel where everyone is helpful and professional and the rooms are sooo clean, really is a treat!
Often when we stay in historic hotels I prepare myself for cobwebs in the corners, creaky floors, and an overall dated feel. This is not the experience at the Hotel Boulderado. They somehow maintain the historic look without it feeling old, which is something we've never experienced before.
We had great interactions with every staff member – from the valet team (who arranged to have our car out front for us at 4 a.m. for our ridiculously early check out) to the helpful front desk staff who answered all of our questions. And we loved all the on-site dining and drinking options, too!
Hotel Boulderado's On-Site Options
When we booked our room at the Hotel Boulderado, we were excited to get the opportunity to stay in such an iconic and historic property that was so central to all the things we love about Boulder – great hikes and amazing dining/drinking options.
However, we were pleasantly surprised to find out that we didn't even have to leave the hotel to enjoy some of those great options.
Spruce Farm & Fish
While this restaurant has many delicious, fresh offerings to choose from … what stood out to us the most is that they have brunch EVERY DAY until 3 p.m. Do I really need to say any more? I mean, this should be a standard for hotel restaurants. It was wonderful to wake up early for a sunrise hike, take a nap after, and still have plenty of time to wander down for breakfast.
Buddy indulged in a giant stack of apple cinnamon pancakes that were perfectly soft on the inside, with just a little bit of crispiness on the outside. And I had a delicious avocado eggs benedict paired with a lavender mimosa. See the Spruce menus here.
And if you just want a quick caffeine fix, Boxcar Coffee is attached to Spruce and offers plenty of coffee and tea options.
The Corner Bar
The Corner Bar was our go-to for late-night snacks or drinks during our stay. In addition to some tasty apps and cocktails (like a burnt orange old fashioned!), they also have sandwiches, burgers, and salads if you want more of a meal.
Plus, their location on the corner of Spruce and 13th makes for excellent people watching. In the summer, the weather is perfect for sitting on the porch after dark and taking in a quieter look at the bustling city of Boulder. See The Corner Bar menu here.
License No. 1 Liquor Bar
Located in the basement of the Hotel Boulderado, this unique speakeasy-style bar is a must-visit when in Boulder … regardless of where you are staying. (But, it was super convenient to end our nights at this unique spot, then stroll back up the stairs). We loved hanging out in this historic and classy place. And having to ring the bell when coming from inside the hotel made it feel like entering a secret party – love it!
They got their name because they were one of the first establishments to receive a liquor license in Boulder after prohibition. As their logo states, they began serving alcohol in 1909, legally in 1969.
It is a surprisingly large place – with multiple bars, game machines, a photo booth, and plenty of room to have live music regularly. You can even see the mechanisms that power the Hotel Boulderado's elevator in one area!
License No. 1 has a daily happy hour from 5-7 p.m., live music or a DJ Thursday through Saturday, industry night on Sunday, open mic night on Monday, and many other events every month. Check out their calendar and menus here.
Other Places to Eat & Sip in Boulder
When we lived in Colorado, I worked off of Pearl Street for a few years – which is the main road through downtown Boulder. With so many great restaurants, bars, and breweries, my paycheck didn't stand a chance. It was so much fun to go back and just indulge in some of the delicious, fresh, and internationally influenced food and drink offerings in this vibrant city!
You could easily spend a fortune trying all the wonderful options, but there are some great happy hour and other deals to help make your money last as you eat and drink your way through Boulder.
The vast majority of the best options are in the Downtown Boulder area as well – within a mile of the Hotel Boulderado. There's really no need to drive, if you don't want to. It's almost too convenient! 😉 And, walking allows you to pop into all the cute, unique shops along the way!
Breakfast, Brunch & Coffee/Tea
For breakfast and brunch, some of the go-to options are:
Lucile's (yummy Cajun-inspired dishes)
Spruce Farm & Fish (mentioned above)
Foolish Craig's Cafe (crepes, omelets, and more)
Snooze – an A.M. Eatery (to-die-for pancakes!)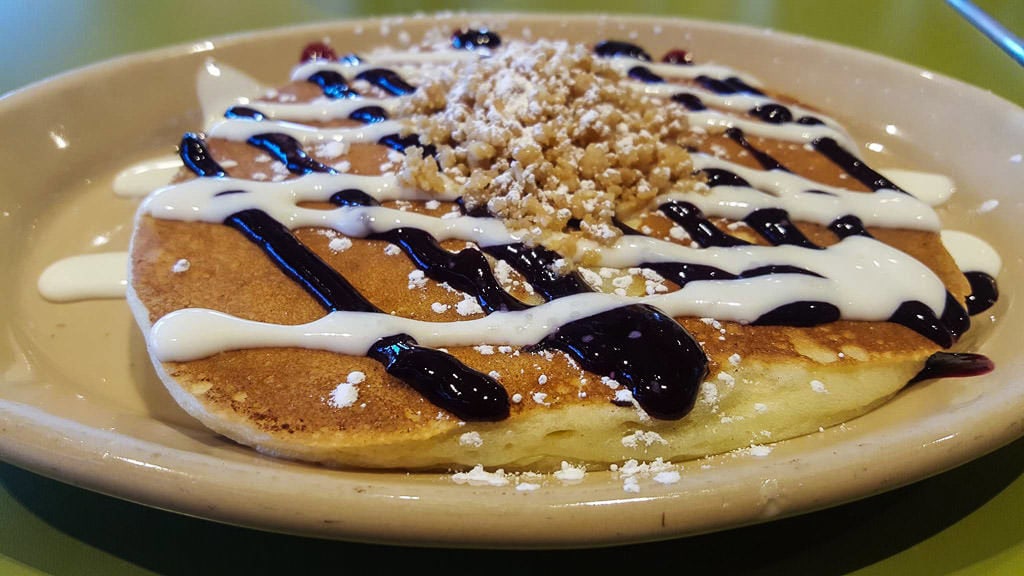 For coffee or tea, you are going to want to skip Starbucks this time, with so many amazing local options:
The Laughing Goat (hip spot with organic options)
Ozo Coffee (cozy local chain)
Ku Cha House of Tea (exotic tea options)
Boulder Dushanbe Tea House ( a must-visit with unique teas, food, and cocktails).
The colorful and ornate Boulder Dushanbe Tea House was shipped PIECE BY PIECE(!!!) from Tajikistan and rebuilt in its current location. You really need to prioritize at least peeking inside!
Lunch & Dinner
There are so many great options just in the downtown Boulder area – all with fresh ingredients, creative dishes, and plenty of international inspiration. You could tour the world through food here!
T/aco (street tacos and great margaritas)
Leaf (delicious vegetarian restaurant)
Japango (modern spot for Japanese food)
The Med (tapas in a great atmosphere)
SALT (classic dishes with local ingredients)
Pasta Jay's (a go-to for Italian dishes)
Sherpa Restaurant (unique spot for Tibetan & Nepalese food)
Pizzeria Locale (drool-worthy authentic Italian brick-oven pizzas)
This is just a short list! If there is something you are craving, be sure to look it up and you are sure to find a great option in Boulder.
Breweries, Distilleries, Bars & More
Well, you're in Colorado, so this list could get very out of hand quickly. This is just a small sampling of the options in and around the downtown Boulder area. (See our notes on the Boulder Passport Program for a great deal for a DIY brewery and bar tour).
Mountain Sun Pub & Brewery (unique cash-only spot)
West Flander's Brewery (great Belgian-style beers)
Oskar Blues (a Colorado staple with wonderful beer options)
West End Tavern (yummy beers and creative cocktails)
Rayback Collective (fun spot with tons of beer on tap and rotating food trucks to try out)
License No. 1 (speakeasy bar in the Boulderado, mentioned above)
Press Play Bar (cheap drinks, plus pinball and other cheap games, and dancing on some nights)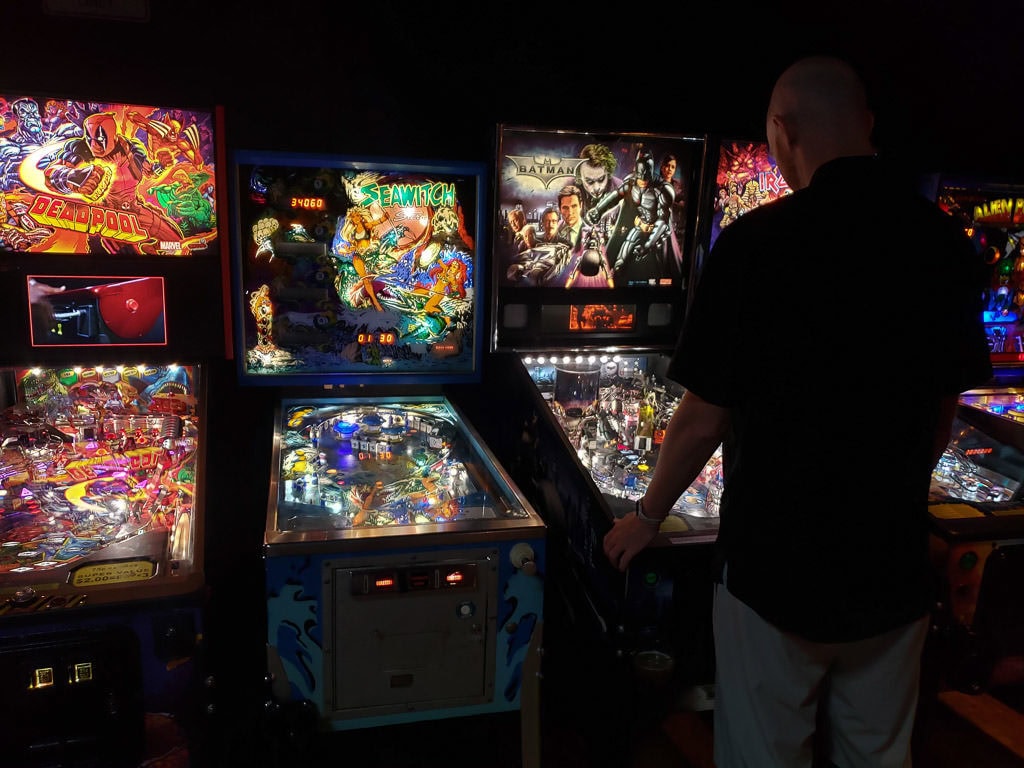 Boulder Beer Co. (great beer garden with yummy food, too)
Finkel & Garf Brewing (unique child-like themes brewery with beer flights paired with junk food and lots of toys)
Avery Brewing Co. (this huge brewery is worth the trek outside of downtown for the great tour, food and beer)
Red Stone Meadery (unique honey mead tastings and tours)
Vapor Distillery (craft spirits in cool environment)
Bookcliff Vineyards (North Boulder winery with views)
Acreage (more of a trek – but a scenic must for cider lovers!)
Happy Hour Deals
Many of the places listed above have awesome happy hour deals for food and drinks – many of which offer discounts daily! Check here for deals on the day you are visiting.
Boulder Passport Program
This is another great option if wanting to explore the more boozy side of Boulder. With two-for-one drink offerings at 46 places in the Boulder area, you'll definitely have plenty of options for tasting a large variety of what makes this area such a libation lovers paradise.
A few of our favorite stops with the Boulder Passport were:
Fancy rose-petal-topped cocktails at the Boulder Dushanbe Tea House
Ciders with views at Acreage in Lafayette (just outside Boulder)
'Not Your Grandma's' Bourbon & Gingers at West End Tavern
Flagship beers at Oskar BluesTaproom
Boulder Hikes & Walks with Great Views
If staying at the Hotel Boulderado, or elsewhere in downtown Boulder, many of the trailheads for these hikes are a short walk, drive, or bus ride away and all offer amazing views!
Mount Sanitas
This local favorite will get your heart racing! The Mount Sanitas loop is 3.1 miles long and has a 1,343-foot elevation gain. It can be quite the workout, but the views at the top are fantastic – a great option for sunset or early morning. Read more here.
Settler's Park
For a less-intense sunrise hike, the Red Rocks Trail at Settler's Park is a lower-elevation, shorter hike that still offers great views with interesting red rocks formations. From the Boulderado, this hike is a straight shot up Pearl Street and is only 1.5-miles long. Read more here.
Chautauqua Park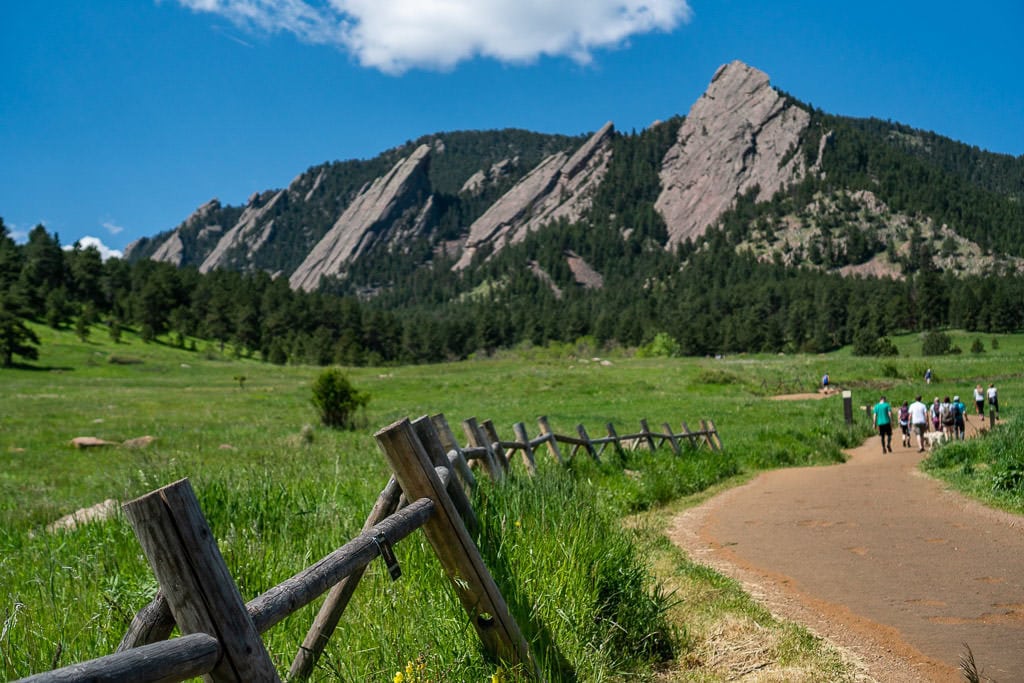 Another historic area (dating back to 1898 – when locals approved to preserve the area), this iconic park is the starting point for many wonderful local hikes. Hiking up to one of the iconic Flatirons is always a good time. Or the Royal Arch Trail is another local favorite. Afterward, the 100+-year-old Chautauqua Dining Hall offers a good excuse for a break with yummy food and drink options. Read more here.
Stroll Along Boulder Creek
Miles of hiking, biking, and picnicking options are found along the scenic Boulder Creek. At certain times of year, people will even tube down it! It's a great place to stroll along, read a book, or people watch. And you can just pop over or spend hours wandering.
Other Gorgeous Local Options
Trails at NCAR – like Mesa Trail & Mallory Cave
Panorama Point on Flagstaff Mountain
Wonderland Lake in North Boulder
---
Final Tips for a Getaway to Boulder
Ready to plan your trip to Boulder? Whether for a staycation or vacation, Boulder – and especially the Boulderado – is a great base for exploring everything that makes Colorado wonderful.
Be sure to check out special events that may be going on during your visit as well for some bonus fun. The annual Boulder Creek Fest is a blast and the twice-a-week Farmer's Market is another must-try if you're there on a Wednesday or Saturday.
This area really has it all and is a great place to enjoy the outdoors followed up by some good food and drinks. Cheers!
Headed to Colorado? Read our giant list of things to do around Denver and Boulder!
For more Colorado fun, check out our other Colorado articles on our favorite hikes and activities in this stunning state.
Special thanks to the Hotel Boulderado for hosting us on this trip – they were our top choice for our visit and we were ecstatic to work with them! And thanks to the Passport Program for providing us with a Boulder Passport to review as well. As always, all opinions are our own!