We've been extremely fortunate to have just spent our second summer house sitting in Hawaii and enjoying island life. It's such a unique and special place – far removed from the hectic hustle of the mainland. We have truly found our happy place there, with its calming island breeze, sweet people, and one-ness with nature. But island life in Hawaii can take some getting used to, especially if you are from a big city and haven't been to any tropical locales before.
As house sitters, we have an added responsibility to take care of pets and a home while visiting. So, it is important for us to do our research and be prepared for anything that may happen on our watch. While many of these tips will benefit fellow pet and house sitters, it will also help anyone planning to live like a local during their visit – outside the resort areas.
(Interested in more house sitting stories and insights? Check out Brooke's book:, Home Flexible: Stories from Life as a Nomadic Traveling House Sitter. Available in print and ebook.)
23 Tips for Island Life in Hawaii
1. There will be bugs.
We grew up in Florida, so bugs don't bug us too much (ha!). But seriously, as long as they aren't crawling on us, we can usually deal. If you've never seen a roach the size of a child's hand crawl across the floor before, it can be a bit unnerving. You'll likely also see many spiders, praying mantis, beetles, and more.
However, THERE ARE NO SNAKES! Coming from Florida and Colorado, where snakes are a constant concern, this makes up for any bug issue we may encounter!
2. Some of those bugs bite and sting.
While you won't be worried about snake bites, there are some bites you should worry about. This is important to remember – especially if you have children or are in charge of some curious pets. Hawaii has fire ants, scorpions, and the most feared creature of all – centipedes. While it is unlikely to die from a sting or bite from these bugs, it won't be pleasant. The centipede sting is actually one of the most painful you can experience, according to locals.
Just check your shoes before putting them on, and watch where you are walking at night – since that's when the scorpions and centipedes usually come out.
3. Don't leave food out.
Speaking of bugs, if you want to help manage the problem, keep all of your food in the refrigerator or tightly sealed in the pantry. Be sure to also wipe down the kitchen to remove any crumbs and sweep often. Especially in lower areas, ants and roaches will be attracted to the food and will find their way to it quickly.
With the humidity, things like chips will also go bad quickly if left out. So, just get in the habit of sealing everything up.
4. Take your shoes off inside houses.
The Japanese culture is very prevalent in Hawaii, so many homeowners ask you to remove your shoes before entering as a sign of respect – and also not to track anything in! You'll even see reminders to remove your shoes at AirBnBs. Sometimes house 'slippers' (aka flip-flops) will be worn while indoors and they may have an extra pair you could use.
5. Many houses won't have air conditioning.
Since there is usually a great breeze over the islands, many locals just have fans and open windows. However, on occasion, it can get very hot and the breeze may die down for a few days – that's when you go to the beach asap. If staying in a hotel or most AirBnBs, this won't be an issue – but for my fellow house sitters, keep this in mind!
6. The ocean's rip current can be deadly.
Every year multiple people die in Hawaii's oceans – usually tourists who have underestimated the power of the tides. Be extremely careful when in the water and know what to do if pulled into an undertow!
7. Invest in reef-safe sunscreen and/or protective clothing.
Hawaii is in the process of banning sunscreen that is harmful to the reef systems. If planning a trip, do some research to find a sunscreen that is allowed when snorkeling or doing other water activities. (We use this). Wearing clothing that protects against the sun is another option.
8. Wear shoes to any rocky beach and even in the water.
Hawaii was made by volcanoes – which means there is a ton of gorgeous black, volcanic rock everywhere. This stuff is also extremely sharp. Don't go out on it without proper footwear – ideally with an ankle strap to keep yourself from slipping. There can also be rocks in the water, as well as spikey sea urchins that pack a mean punch. So, wearing water shoes or sandals in the water can help as well!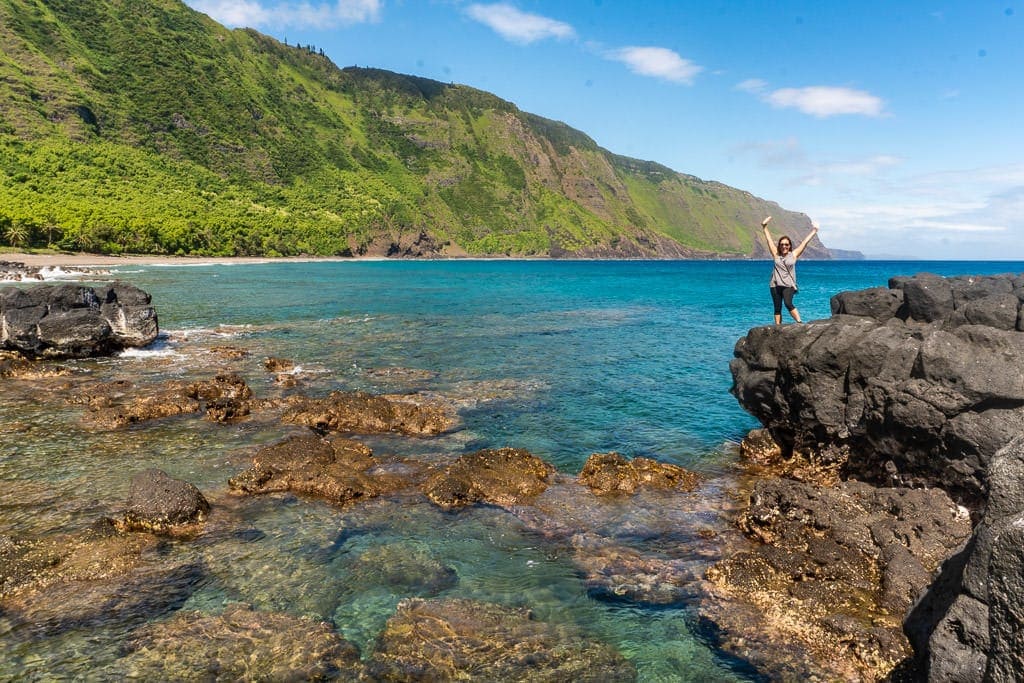 9. Be careful not to walk dogs when it is too hot & always have water available for them.
The weather is usually very comfortable, but it can get hot in the summer. As a rule, we usually walk dogs in the morning and evening to be sure the pavement isn't too hot and that they don't overheat. Be sure to always leave water out for them as well!
10. Most cats and some dogs live mainly outdoors.
With such perfect weather most of the year, animals love to be outside as much as people. Don't be surprised if the animal you are watching is mainly or only outdoors – or perhaps only allowed on the lanai (enclosed porch).
11. You may also see chickens, roosters, pigs, or goats wandering around.
Kauai is notorious for the number of roosters that wander around. In neighborhoods, you may also see chickens in yards. And some areas have wild pigs and/or goats.
12. The traditional Polynesian culture, beliefs, and customs are still very prevalent.
The current protests by locals at Mauna Kea about the TMT satellite are a prime example of how many locals maintain traditional belief systems passed down through the generations. They are a proud, kind people with a strong connection to nature and love for their island chain. We have fallen in love with the Hawaiian culture and island life, but even if you don't love it – you need to respect it.
This place and its people deserve your respect. Be sure you aren't entering any sacred areas, clean up after yourself, and be kind.
13. It isn't uncommon to hear people speaking Hawaiian or Pidgin.
The more tourist-centered islands like Oahu and Maui don't seem to have as many locals that prefer to speak Hawaiian. But on Molokai and some areas of the Big Island, you'll find people who pretty much exclusively speak Hawaiian. There are also many people who speak 'Pidgin' which is a language that developed through the mix of Hawaii's multiple cultures. From our experience, it seems to be widely used as a type of slang in addition to English or Hawaiian.
Regardless of where you are staying, it will do you some good to learn a few basic words in Hawaiian and Pidgin. Both are fun languages to speak!
14. Yes, island time does exist.
On our first-ever tour in Hawaii, while in Molokai, we went to meet our guide and began to worry the tour wasn't happening when he wasn't there. Fifteen minutes later, he shows up – like, no big deal! – and says let's go. Ha! We just laughed and were thankful we still got to go on the awesome waterfall hike. Trust us, the faster you just accept island time and the island lifestyle in general, the happier you'll be.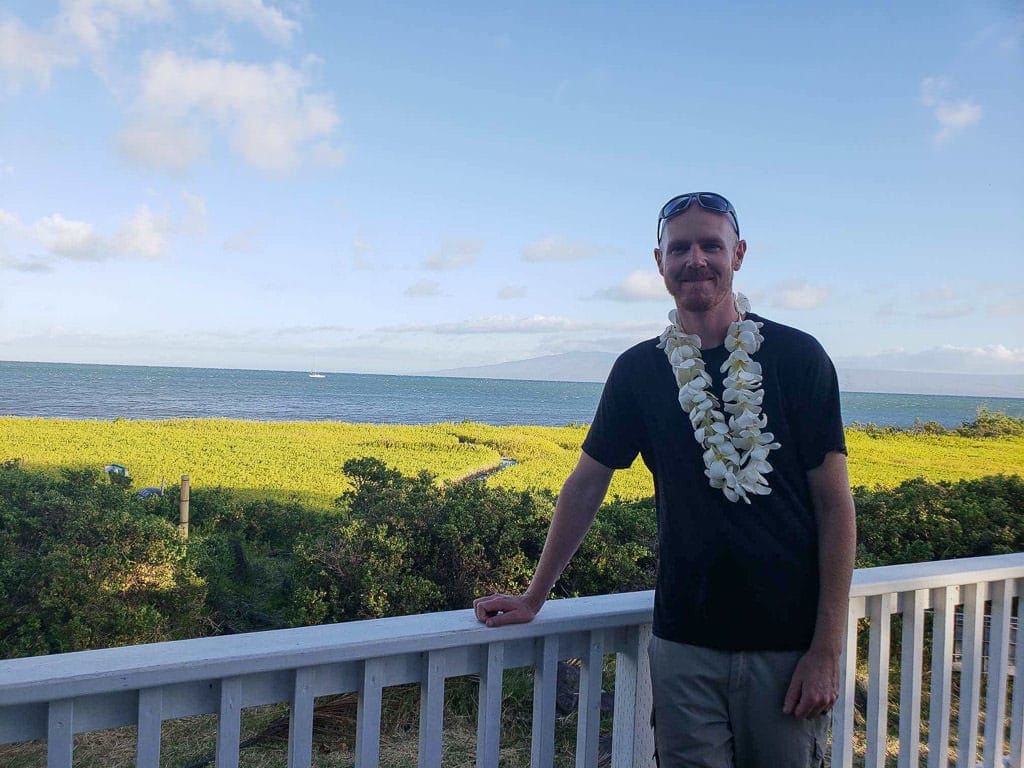 15. Summertime brings hurricanes to Hawaii.
I guess since we grew up in Florida, our news just showed our local hurricane threats. But, turns out, Hawaii has this worry, too! If visiting or house sitting during hurricane season (June through November), be sure to know the plan of how to evacuate and/or board up the house. Just in case. Also, make sure there is plenty of water and other essentials.
For the record, we've visited for more than three months total during this time and never had an issue other than some super rainy days. But last year we just missed a hurricane that caused major flooding in Hilo on the Big Island and issues elsewhere, so it is something to watch for!
16. Every Hawaiian island is different.
If you visited Hawaii once and didn't love it or did enjoy it but don't think there's a reason to go back, it's worth exploring other islands. We've been to all six and can say each one has its own vibe, unique activities, and reasons for visiting.
Here's our impressions from our travels: Oahu is the most well-known with all its resorts and activities, the Big Island has the volcanic activity and a more old Hawaii feel, Lanai is split between quaint and fancy – with the Four Seasons taking up much of the small island, Molokai is basically anti-tourism in a good way – since it offers a genuine local experience, Kauai is a hiker's paradise with the NaPali Coast, and Maui feels very much like a super tropical version of California.
We love different things about each and would highly recommend a visit to any of them!
17. Don't leave valuables in your car!
This is a given everywhere, but especially in popular tourist destinations like this. If you are driving a more local-looking car it isn't as likely to be targeted, but those dang rentals stand out and are an easy target since many travelers bring cameras, laptops, fancy phones, and passports.
Just be cautious and store belongings somewhere safe.
18. Yes, the food and drinks are often expensive. But, you'll adjust.
Really, this shouldn't come as a surprise. If you bring up going to Hawaii, this is usually the first thing people say. But, food in most popular areas in the U.S. is getting expensive – at least for dining out. Just do some comparison shopping, couponing, and adjusting to help stick to your budget. For example, dairy is pricey – so if you can limit that, you'll save a ton! And we always opt for a six-pack of beer rather than going out, if on a tight budget. But, these pricier products are seriously such a small negative to an amazing place!
19. Farmer's markets are amazing for fresh produce and cheap lunch.
Most cities have a weekly farmer's market. Hilo on the Big Island has one of the largest and most famous. Sometimes the produce here can be over-priced, so just look around and make a judgment call – as it still may be better than a normal store (and fresher)! But, there are often food vendors with yummy cheap eats – definitely worth checking out even just for that!
20. You're going to see all sorts of fruit you've never heard of – try it!
While wandering, you'll see things like breadfruit, lilikoi, egg fruit, sweetsop, apple bananas, cherimoya – and many more! We met one couple that likes to just buy a bunch of abstract things and do a tasting. This is one of the joys of being somewhere tropical – so take advantage of the abundance of delicious fruit!
21. But, beware of the leafy greens.
On our last trip, we were warned about Rat Lungworm Disease. It's spread through slugs and can cause paralysis or worse. It is a common concern in Hawaii due to its tropical climate. Just don't use local lettuce or greens and you should be fine. Some say washing the greens thoroughly will prevent issues, but better safe than sorry.
22. Costco does exist in Hawaii (& its a budget saver!)
This has to be one of our favorite finds for a long-term visit to Hawaii. We save so much by being able to use our Costco membership! Currently, there are only two Costcos – one on Oahu south of Honolulu and one on the Big Island north of Kona. We love that they have some local options like shrimp chips or furikake popcorn. As well as lots of fish options and local Kona beer.
Plus, they have an open-air dining area that doesn't require a membership card, so you can still take advantage of their cheap pizza, hotdogs, and acai bowls. It's such a win for the budget travelers!
23. Island life may change your perspective forever.
Every time we leave Hawaii and return to the mainland, we feel burdened by the hustle and bustle of what most American cities look like these days. We yearn for the slow pace, island breeze, easy-going people, closeness with nature, and spirit of aloha that soaks into every aspect of island life in Hawaii. Being able to be house sitters in this amazing place has given us a total shift in perspective because we now know the kind of lifestyle that suits us best and we love any chance we have to get back there.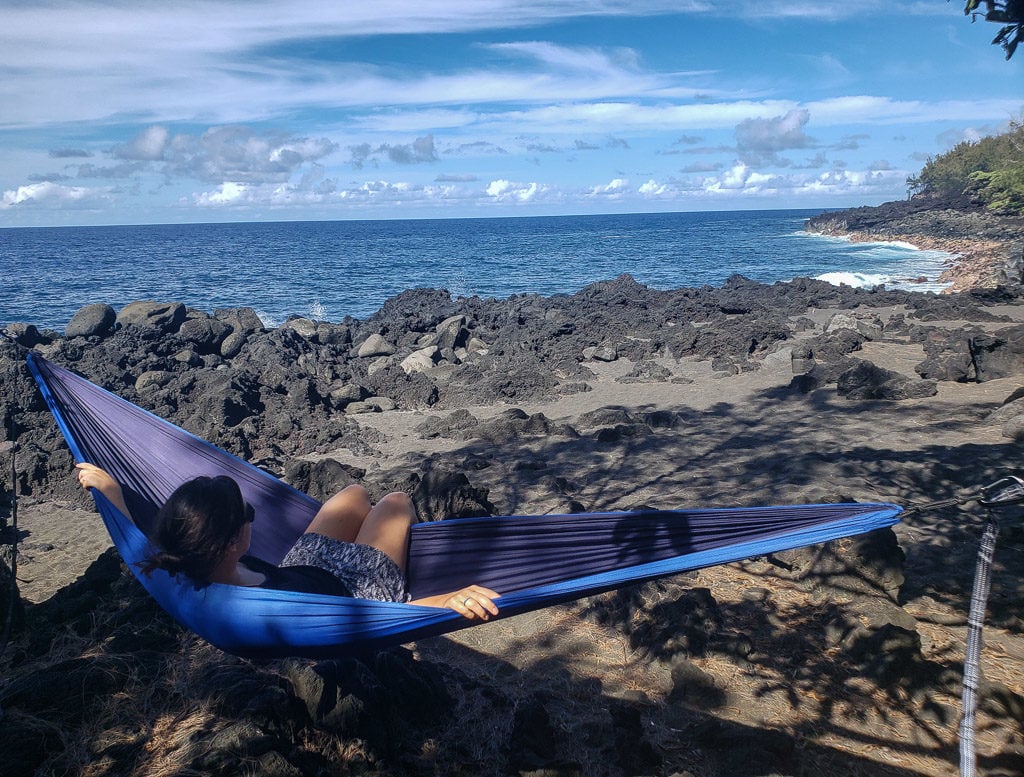 Read more about why Hawaii is special in our other articles about things to do and experiences to cherish across all six islands! And if you want to know more about how we manage to plan long-term visits to Hawaii, check out our guide to pet and housesitting!