When we heard we could swim with wild dolphins on the Big Island of Hawaii, we knew we had to prioritize this unique activity. No tour guide needed! We just got set up with a tandem kayak from Bay Side Adventures and were on our way to search for dolphins and go snorkeling near Kona.
Renting Kayaks with Bay Side Adventures
After doing some research, we realized picking the right company to rent with was important. Kayaking in Kealakekua Bay requires a permit and only certain companies are allowed to operate there. It was also important to us that we weren't responsible for moving the kayak on our own. Bay Side Adventures checked these boxes and then some.
We also got a free dry bag to keep our things in, had the option of renting additional snorkeling equipment for only $10 each (definitely a must, if you don't have your own), and were given great directions and tips for our adventure!
For the $60 fee for the tandem kayak rental, you can pick up at 7 a.m. (recommended) and have it until 5 p.m. We were worn out after four hours, but it was so nice to know we didn't have to rush back! If paddling together isn't your thing, you can get a single kayak for $40 each or a SUP paddleboard for $60 each. They also have triple kayaks available for $80.
About Kealakekua Bay: The Go-To for Snorkeling Near Kona!
The gorgeous Kealakekua Bay is actually a Hawaiian State Historical Park and Marine Life Conservation District. Which makes it a perfect place for snorkeling and exploring the untouched, protected area.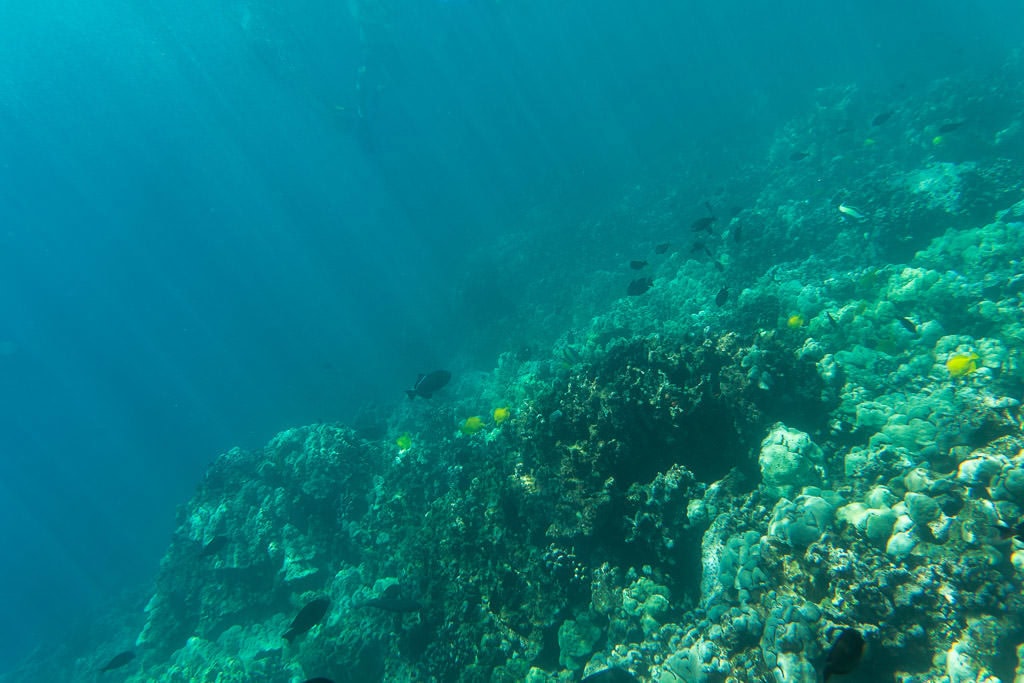 The Captain Cook Monument is also on the edge of Kealakekua Bay. The white obelisk marks the spot where Captain James Cook died – which is also the same area where he landed on the island of Hawaii in 1778. He was the first British explorer to make contact with the Hawaiian islands and he died during a skirmish with native Hawaiians. Understandably, the monument – which was erected by his countrymen – is controversial since their arrival also meant the beginning of many changes for Hawaii.
Regardless of your feelings about this historical marker, the area is stunning and getting to explore the underwater treasures around the monument is a treat!
Getting Out on the Water
We knew it was important to get there early in order to get out before the tour operators and hoards of tourists. So, after arriving a little before 7 a.m. and parking up the road from the put-out area, we packed up the dry bag with our snacks, water, and snorkeling equipment for our adventurous day. The team also kindly helped us strap it all down, so we didn't lose anything!
Then, we got a short introduction to the area, directions for where to go and where not to, and tips for kayaking – like how to get in and out of the kayak to go snorkeling … and SWIMMING WITH WILD DOLPHINS!
Dolphin-Focused Explorations
Clearly, the big appeal of this kayaking adventure was getting to see and swim with wild dolphins. But, since this wasn't a pool with dolphins in it that some resort created for us (read: NOT our thing), we had to just hope and pray we'd get to see and interact with these amazing wild creatures. So, we left early because that's usually when they are out.
But after a short paddle over to Kealakekua Bay and about an hour sitting on the water with a growing group of kayakers, we began to think we missed our window. Did they come out earlier that day, before us? Were we in the wrong spot?
With how many others were out there with us, we were pretty sure we were in the right place. So, we eventually decided to move onto the snorkeling portion of our adventure since we were seeing more and more tour boats pulling up across the Bay.
Just as we were beginning to paddle away a guy floated by on a SUP board and told us they were in a different spot than usual – just a few minutes of paddling from where we had been waiting!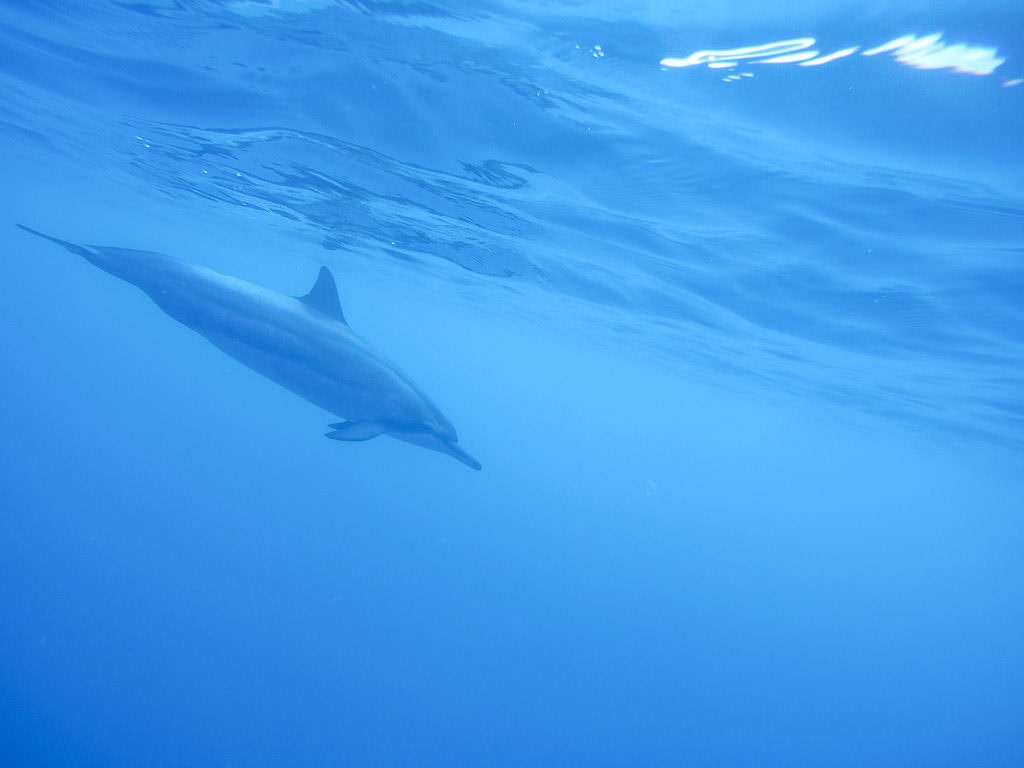 Swimming with Wild Dolphins
As we got closer to the area where the dolphins were, we began to see a few dolphins swimming around. So, we quickly put on our snorkeling gear and jumped in the water just in time to see them swim by – only a few feet away. It was magical. Absolutely everything we had hoped it would be and more.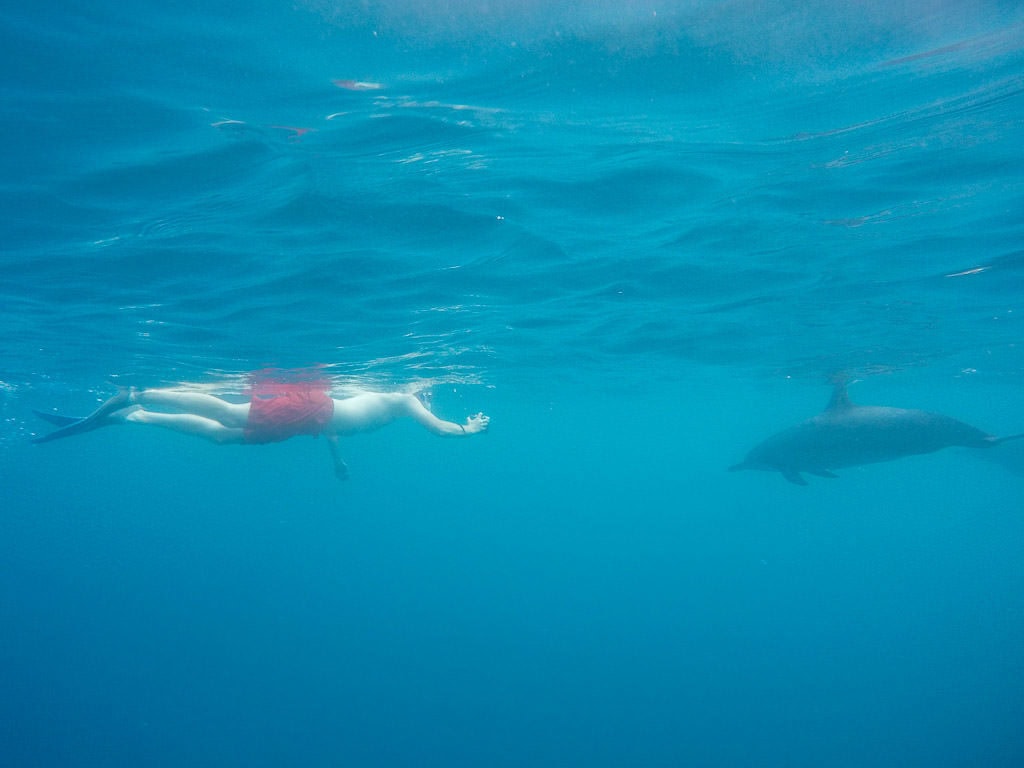 For more than an hour, we swam around, trying to follow where the dolphins were going. But, those little spinner dolphins are fast! However, they came by multiple times and it was amazing to see them enjoying their natural habitat.
At one point, I had gotten back into the kayak to observe from above and Buddy had about four swim circles around him for a few seconds. He came back up above the water with a giant smile! And I was so psyched to see it happening. What a fantastic interaction with these gorgeous creatures.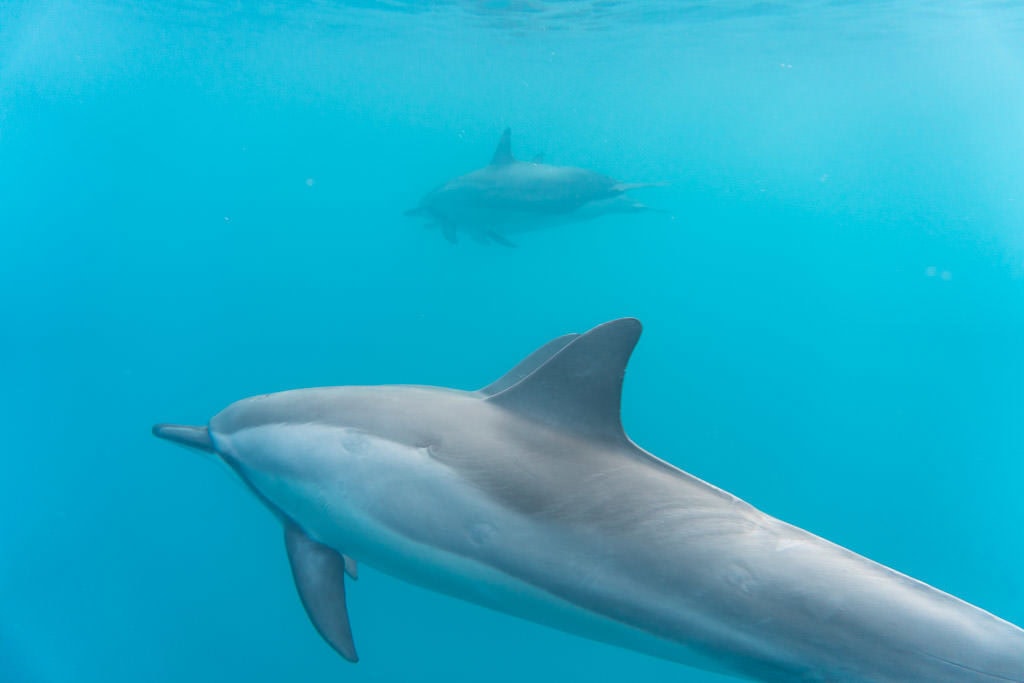 However, one of the most memorable moments was watching a local woman and her special connection with these wild dolphins. She would swim around, humming a tune and making dolphin-like noises, then all-of-a-sudden a group of dolphins would go rub up against her and swim with her. You could tell they just had a very special connection. I teared up watching her with them. It was such a beautiful scene!
While we might not be dolphin whisperer status (yet!), getting to swim with these majestic creatures was such a treat and something we'll never forget.
Snorkeling Near Captain Cook Monument
Eventually, we pried ourselves away from the wild dolphins to go check out the awesome snorkeling in front of the iconic Captain Cook Monument.
It was fun to swim around and check out all of the different colorful fish. We even spotted a little reef shark! But it eluded the camera.
However, it was BUSY! Definitely try to get over there early if you want the snorkeling area all to yourself. By the time we got there, it was about 10 a.m. and there were already a lot of boats – and hundreds of people.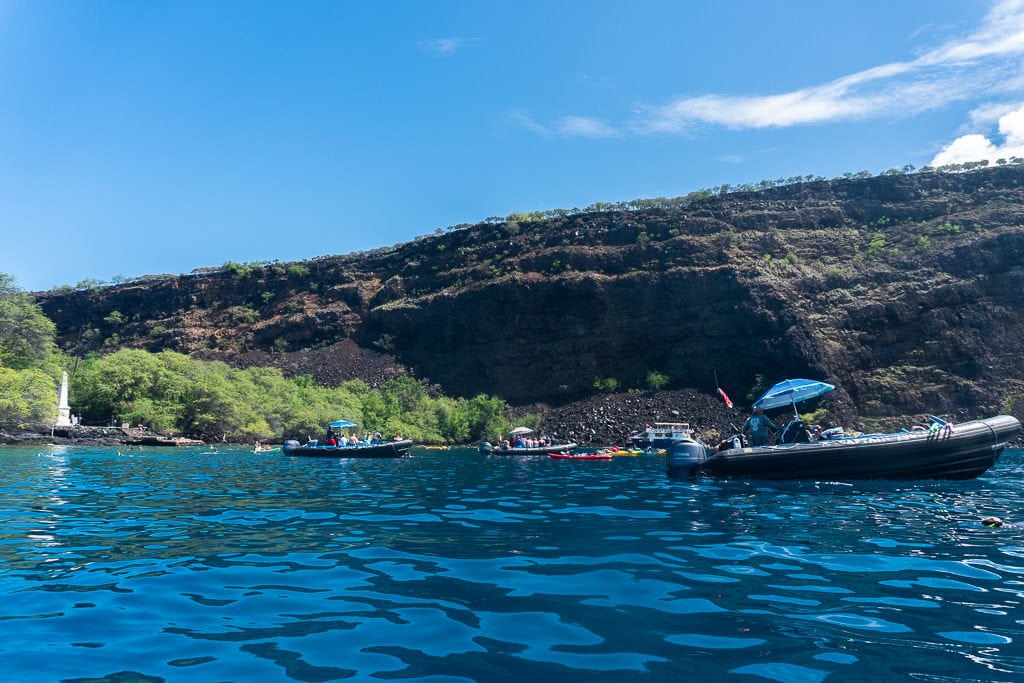 This area is beautiful and definitely worth a big chunk of your time. Just be prepared for it to get a bit crowded. And remember you aren't allowed to dock your kayak with most rental companies! You'll have a rope to hold onto, so you don't lose your kayak while snorkeling. For us, it was easiest to just take turns in order to navigate around the people easier.
Afterward, we had a hard paddle back because it got a bit windy and we overshot our route and were more on the outskirts of the bay. Definitely not recommended! Stay within the bay for an easier and safer paddle.
But, we made it back safely to rave about our experience and thank the awesome team at Bay Side Adventures over and over. What an unforgettable, stand-out experience from our Hawaii adventures!
A Few Final Tips & Reminders
Don't forget to bring food, water, and reef-safe sunscreen.
Keep everything strapped in when you aren't using it!
Bring a waterproof camera, if you have one.
Be sure to bring along or rent snorkeling equipment.
When getting in and out of the kayak, counter-balance each other!
Stay within Kealakekua Bay.
But, most of all, just have fun and enjoy this amazing Big Island Kayaking adventure with WILD DOLPHINS and some of the best snorkeling near Kona.
Special thanks to Bay Side Adventures on the Big Island of Hawaii for hosting us on this amazing experience.