Like any new activity, travel involves a bit of a learning curve. While there are hundreds of lists out there in the blogging world suggesting which travel services to invest in, not all travel-related offerings are as useful as others. After almost three years of full-time travel, these are the programs, websites, services, and travel apps that have made the biggest difference in the quality of our travels.
Please be assured that we have personally used every item on this list and only recommend the very best to our readers. While we may still have a few more continents to see before considering ourselves to be pro travelers, we're well on our way – with the help of these travel services.
Our Favorite Travel Services
Travel Services to Help Save Money & Hassle
Sometimes saving money means added hassle (looking at you, budget airlines). But it doesn't always have to if you find the right options.
1. Avail Car Sharing (FREE- Actually, WE GET PAID!)
This peer-to-peer car rental service in Denver (and a few other cities) has been a great solution for storing our car. Last year, our car just sat when we were away for eight months of the year. This year, we parked our car for FREE at the Denver International Airport with Avail Car Sharing (previously Drift) and get paid every time someone rents it. No work on our side, other than to transfer the money once it is in our account. We usually make a few hundred per month with this!
They have locations in Salt Lake City, Chicago, Houston, and Phoenix as well, with plans to grow. Plus, the Allstate Insurance coverage included puts us at ease.
March 2020 Update: Be sure to be part of the Avail Plus option in order to not have to be hassled with any issues while away. This should give the team permission to take your car in for any fixes. We have confirmed this, but be sure to get this in writing from your local office as well before taking off to a far-off land! We recently had some confusion on the Allstate side after some damage, but the Avail team was really helpful to sort it all out.
January 2021 Update: We ended up leaving our car with Avail for most of the pandemic and were very grateful we were able to do that. When we came back for it, there was some cosmetic damage that we thought was taken care of but hadn't been. The process of getting this fixed has been very complicated since we picked up our car in Colorado and had to immediately ship it to Hawaii where we moved a few weeks later. Ideally, if renting your car out with Avail you could be more on top of ensuring any fixes are done in a timely manner. Just know you will likely have to push to get some things done. We do still feel like this was a valuable service to have a safe place to leave our car while making some money on it when not using it.
2. TSA Precheck ($85)
Why did it take us so long to do this? Usually, this gets us through TSA quickly while stateside. But, even when there is a bit of a line, it is so worth it just not to have to unpack all our liquids and electronics. Plus, as we'll note later, our credit card has a reimbursement option for getting this! Learn more about TSA Precheck here.
3. Mobile Passport (FREE!)
We were bummed we didn't have the time flexibility to get an appointment to get Global Entry (the version of TSA Precheck that includes a supposedly faster option when re-entering the U.S.). However, we found the free Mobile Passport App and most major international airports use it! We breezed through with it when returning from our last international flight.
4. Luggage Lockers (~$2 per hour)
We discovered these gems at the end of our first round of Europe travels and we've been using them a ton since! If you are between AirBnBs, hotel rooms, or (for us) house sits, these are great to drop your things off at to go explore the area! They are often found in airports (as left luggage centers) or train terminals and city centers (as luggage storage lockers). We prefer the ones we lock ourselves, but have used left luggage at airports with no issues (including on a recent layover in Barcelona!). Just ALWAYS take a photo of your receipt to have a backup!
5. Southwest Companion Pass (Free, annual fee for card)
We actually started using the benefits of the Southwest Companion Pass long before we became full-time travelers (you can read more about that and how it works here). However, the gist is that it is a reward for getting enough Rapid Rewards points through Southwest Airlines. The easiest way to do that is signing up for the Chase Southwest Visa when they have a large points bonus, then hitting the minimum. Once you get the Southwest Companion Pass, your companion flies free every time you do! We use this for travel in the U.S., but have also used it to get to cheaper hubs for international travel, and are also planning a Caribbean trip using points!
6. Chase Sapphire Reserve Credit Card ($499 annual fee)
Okay, I know. The annual fee is a little bit of a shock with this one. But, this card seriously saves us so much, we wish we had gotten it years ago! While you do need to make smart decisions when it comes to credit (please don't take this as financial advice, since we are NOT equipped to give that), points cards can be very valuable if you travel a lot!
With the Chase Sapphire Reserve, in addition to racking up points for flights and other travel, there are a ton of other perks! We receive free car rental insurance (saving us at least $150/week when renting a car), a lounge pass (saving our sanity and wallet on airport trips), $300 of travel credit per year for related expenses, and even a credit towards getting TSA Precheck or Global Entry. We LOVE this card and use it for everything since it also covers anything travel related that we use it for – including lost baggage on flights and medical emergencies. Honestly, the Priority Pass lounge access is worth it alone!
7. Booking.com (Free – with discounts for use!)
We've really gotten away from booking AirBnBs because we can often find better deals on Booking.com for our own apartments or cheap hotel rooms. Plus, we use it so much we get their 'genius discount' each time! We've had pretty good luck with it, but will note that it is good to make sure you don't have to wait for someone to meet you with a key because it is, more often than not, a big a hassle.
Travel Services for Digital Nomad Life
While we think all of the above services are also key for making our life of travel a success, these travel services are more specific for digital nomads. Although all travelers could benefit from them, we feel that they are more suited to long-term travel.
8. VPN (~$150 for three years)
I don't know how we lived without this. Nord VPN gave us an account to review the service and we are really loving it. A VPN (which stands for virtual private network) has been such a sigh of relief when using the wide-open airport or sketchy AirBnb WiFi. It lets us connect to a private internet connection no matter where we are, which is much more secure. It's just great to know we're protected and also so easy to set up on our devices. We just download the software and log in with a quick click. Plus, we can tap into the U.S. network to get into our Amazon Prime movies (since they limit what you can watch abroad)! We've used it in places like Romania, Montenegro, and Lithuania with no issues.
Note: We've noticed that, for some reason you need to make sure your VPN isn't on before getting on new WiFi or it will prevent the connection.
9. Escapees Mail Forwarding & Scanning ($10 per month)
It is amazing how many nomads get asked how they get their mail! There are actually really easy solutions. Since we needed to establish a home base, we chose Escapees because they help with that as well as offer mail forwarding and mail scanning services that are very reliable.
10. Adventure Travel Insurance ($1,000 for 6 months)
Last year, we just got basic travel insurance and realized after doing some digging that it didn't actually cover us on our hikes or other outdoorsy pursuits. So, this year we switched to World Nomads to be covered for things like scuba diving, snowmobiling, and pretty much everything except squirrel suiting! If we didn't tend to be more adventurous (and clumsy), we'd probably just use the generic version, but this is worth it for peace of mind. We actually got rid of our general coverage in the U.S. and use this on its own since we travel full-time. A huge savings, for us!
11. International Phone Plans (~$20/month each)
We purposefully switched to unlocked phones when we realized we would be traveling extensively abroad, so that allows us to switch our SIM cards. In Europe, Vodafone has a great plan that we love. We got the SIM cards for it in the UK, but it offers free roaming through most of Europe and plenty of data. It's great to have access to Google all the time! We also have been able to pause our usual Verizon plan for additional savings.
12. Trusted Housesitters ($119 per year)
This is the most obvious one for us since we spend a lot of our time house sitting. We actually just signed up for other sites to test out our options for house sitting, but TrustedHousesitters is by far the cleanest, easiest-to-use site, with the most options for areas we want to be – so far, at least! They even have a great app we use all the time! Read more about our house sitting tips here.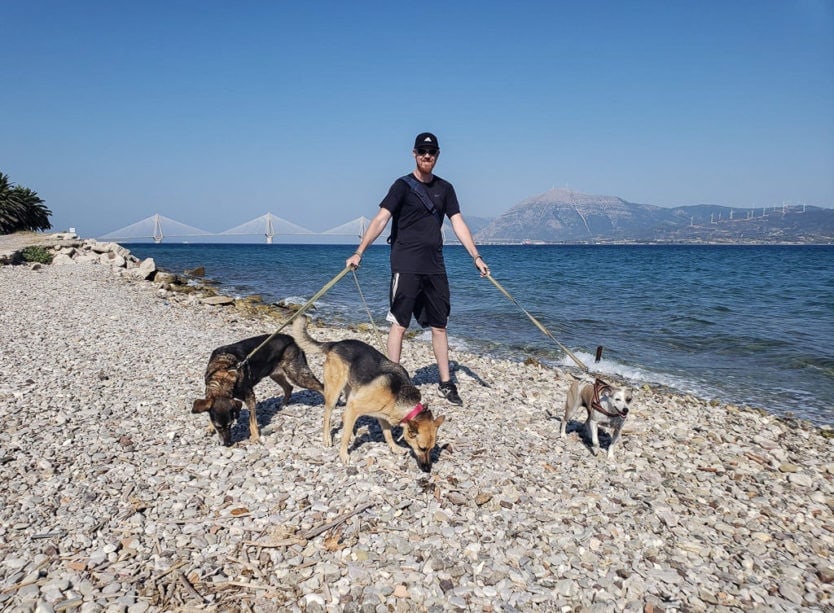 PLEAAASSSE share your tips for other great travel services with us in the comments! Like every traveler, we're always learning. And once we review your suggestions, we'll be sure to update this list!