While the cruise-lined city of Kotor draws in a vast majority of tourists who visit Montenegro (and for good reason), there's a small town just a short drive up the scenic Bay of Kotor offering equally amazing views and fewer crowds (for those who time their visit right, anyway!). If you have time to explore a little further on your trip to Montenegro, going to the island of Our Lady of the Rocks in Perast is an easy, yet memorable outing.
(Interested in more travel stories from Montenegro and beyond? Check out Brooke's book, Home Flexible: Stories from Life as a Nomadic Traveling House Sitter. Available in print and ebook.)
The Charm of Perast, Montenegro
If you can manage to visit Perast, Montenegro, during off-season when no cruise ships are in town, it is like something out of a storybook. This quaint old town by the bay just oozes charm and has a very distinct Italian feel – enough to make you second guess where you are.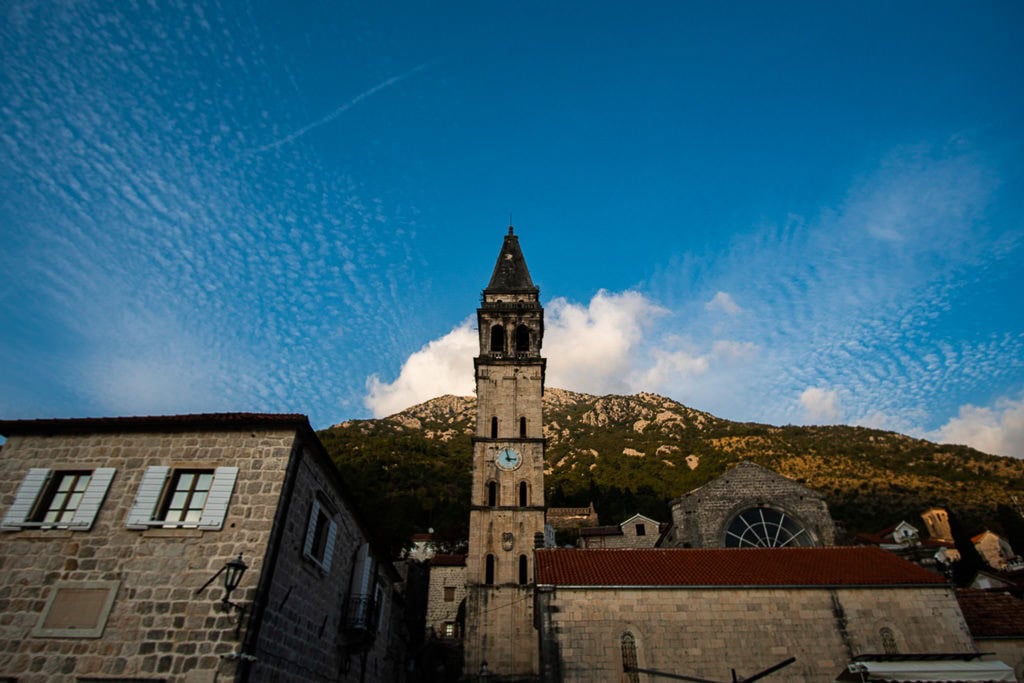 It's such a romantic setting for a sunset stroll down the one road in town. Admire the churches and gorgeous architecture of the buildings below the imposing mountains that seem to rise directly out of the sea. Or sit at a water-side restaurant to enjoy a meal as you look out at the tiny islands in the bay and wonder what surprises they hold – or hop on a water taxi to visit one and see!
Visiting Our Lady of the Rocks
During our trip to Montenegro, we were working on a fun video project with our friends at TrustedHousesitters to showcase what a house sitting adventure in a new country can look like. Although we were based in Tivat for our house sit, we all agreed a trip to Perast to visit Our Lady of the Rocks was a must. Getting to hop on that little, fast water taxi and get dropped off on what felt like our own little mini island was one of the most memorable things we did in Montenegro – and made for some awesome video content (which we'll share once it is live)!
For me, one of the best parts was our cheeky boat captain. He was an older guy wearing a sailor hat that looked like it was especially made for tourists. While he seemed serious at first, he grinned like a schoolboy when we smiled and said hello. During our trip, he would smile like that every time I caught his eye and it made me just want to hug him. When he dropped us off, he said "Okay, see you tomorrow" in his strong accent and broke out into a maniacal laugh. Loved him!
While on the island, we walked around the circumference of it in about five minutes, spent some time going up to the church, and just taking in the jaw-dropping views – made even better at sunset. It was also fun having our very own film crew to capture that magical place and the brief time we spent there.
The views from this island of the Bay of Kotor and nearby Perast were outstanding. However, about 15 minutes was plenty for us and totally worth the €5 each for such a unique experience.
Significance of Our Lady of the Rocks
Our Lady of the Rocks is the Roman Catholic Church that has made this mostly man-made island off the coast of Perast famous. Legend has it that the island was originally formed over many centuries by seamen who laid a rock on this area of the bay after each successful voyage. They began this tradition after finding the icon of Madonna and Child on the rock in the sea on July 22, 1452. The custom still takes place every year at sunset on that day, when local residents go out in their boats and throw rocks into the sea to widen the surface of the island. The event is called fašinada.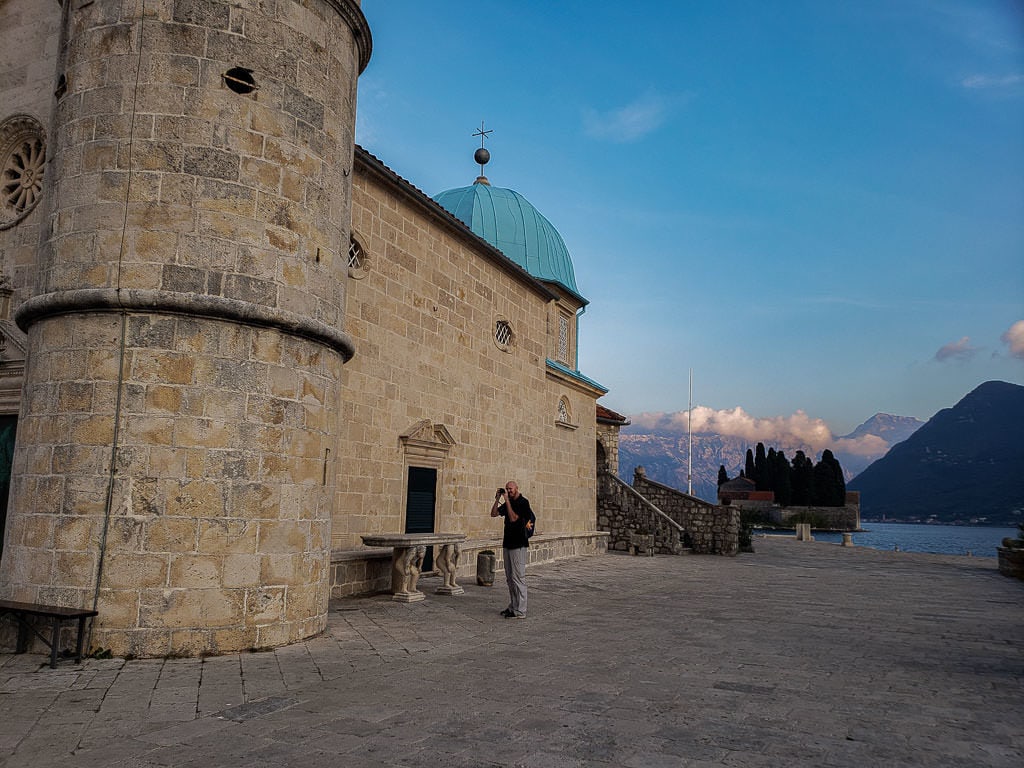 Getting to Our Lady of the Rocks in Perast
Coming from Kotor, Perast is only about 15 beauty-drenched minutes away by car. As you draw nearer to the city, you'll see cars parked along the road. Just find a good spot and walk the rest of the short journey to the city. A cheap bus is also available, but plan for at least double the time.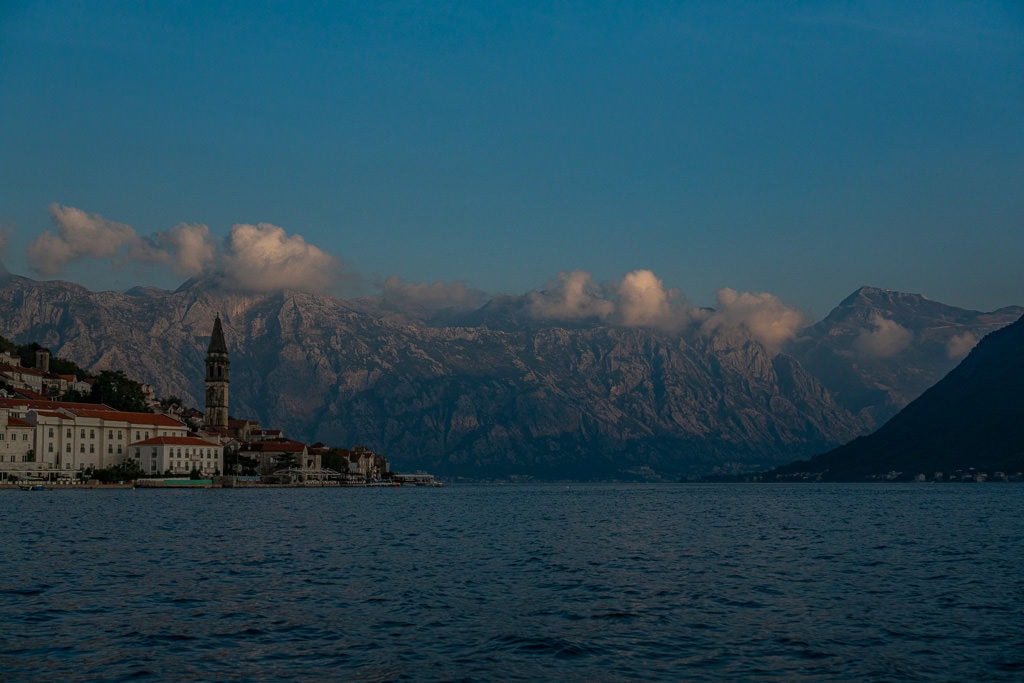 Once you've soaked up the views of this Mediterranean gem, simply walk along the water until you find someone offering a reasonable rate to take you by water taxi over to the islet to visit Our Lady of the Rocks. Prices and boats vary, so just use your judgment and bring some Euros. Also, be sure to dress appropriately if going inside the church.
It's also a good idea to confirm when you want to be picked up. It's a TINY island, so 15 to 30 minutes would be fine. And, remember, smile at your captain – it goes a long way!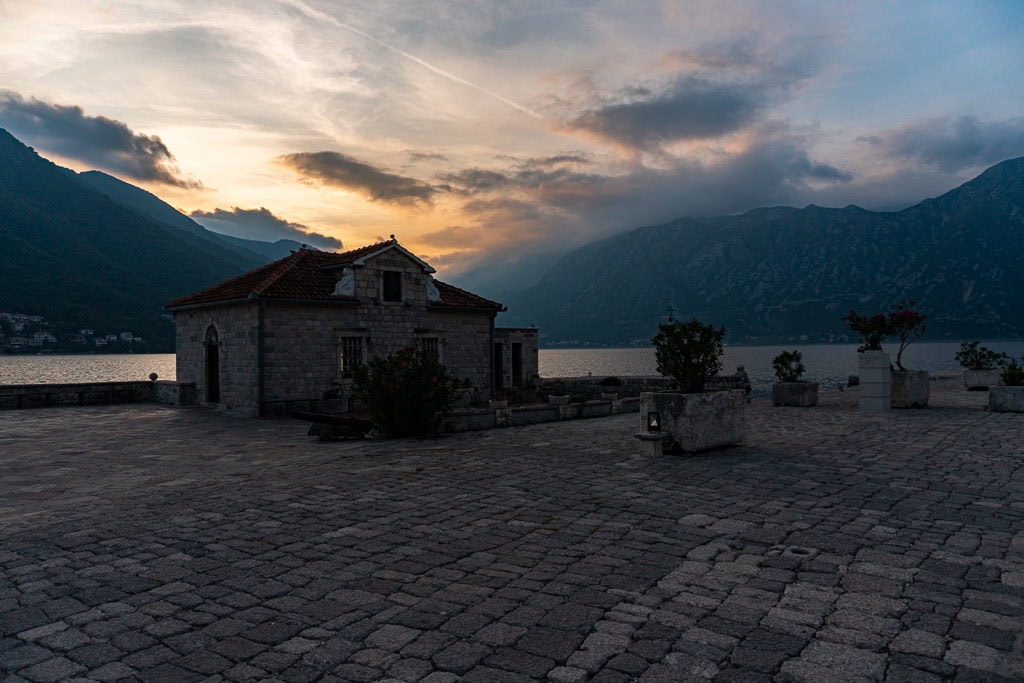 Have you been to Montenegro? Where is your favorite place? We also LOVED this scenic hike in Kotor.