Kotor is one of the most well-known tourist destinations in Montenegro. But where does one go to get the best view of Kotor and the beautiful Kotor Bay? Well, luckily for you, it's pretty simple! You just need to take a little stroll up the Kotor City Walls and make your way to Kotor Fortress (aka St. John's Fortress).
What exactly does this stroll up the city walls entail, you ask? Well, let me give you a little more information and you can decide for yourself if it is worth visiting, or if you just want to live vicariously through these photos.
(Interested in more travel stories from Montenegro and beyond? Check out Brooke's book, Home Flexible: Stories from Life as a Nomadic Traveling House Sitter. Available in print and ebook.)
City Wall Hike to Kotor Fortress
When you first arrive in Kotor Old Town, most likely by a cruise ship (unless you are like us and happened to house and pet sit in Montenegro for a week), you will notice the Kotor City Walls. You can pretty much see the city walls from anywhere in Kotor and parts of Kotor Bay as well. You will also start to notice other things on St. John's mountain including the Church of Our Lady of Remedy, as well as Kotor Fortress.
It may not seem possible from far away, but you can actually hike up the city walls and visit all these lovely spots, not to mention get some of the most amazing views of Kotor and Kotor Bay! So, what are you waiting for? Oh right, probably some more logistics …
Cost to Hike Up to Kotor Fortress
Hiking up the city walls to Kotor Fortress is not free, unlike Fort Imperial in Dubrovnik. The hours of the city wall are 8 a.m. – 8 p.m. However, the wall is always opened, so you are able to go before or after and not have to pay. The Kotor website has some information, but it does seem to be pretty dated with old pricing.
The website states that they charge from May – September, however, we were there in late October and still had to pay. Maybe it'll be free when you go, but just have cash and be prepared to pay, just in case. You'll get to a turnstile before getting too far up.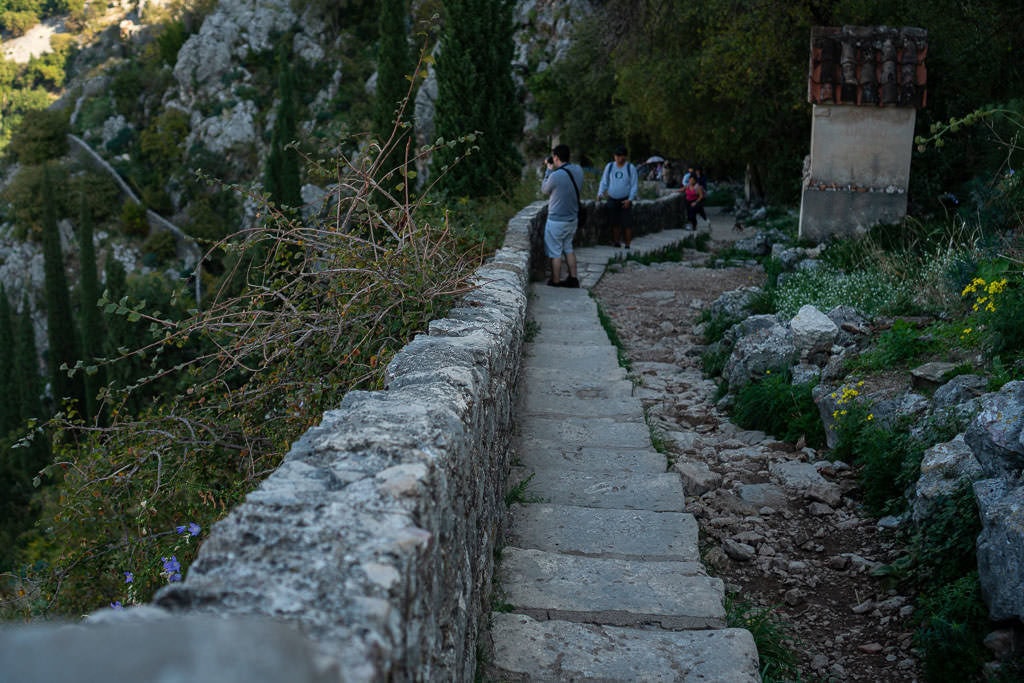 The entrance fee per person to access the city walls is now €8, up from €3 earlier in 2019. They clearly know this is one of the most popular attractions! And it truly is one of the most wonderful things you can do while visiiting.
The €8 each (about US$8.50) may seem pretty steep to pay to hike up a ka-billion stairs … pun intended. But we think this hike was well worth the cost, at least if you are in good enough shape to do the hike and actually enjoy it. We loved the adventurous nature of it, and views – of course!
Note: There was a lot of trash in some of the structures and throughout the trail. I hope that as the cost has risen this year, that this extra money does go to help cleaning up and preserving this amazing UNESCO World Heritage Site. Please, do your part and don't leave your trash and/or help clean up the trail.
About the 1.2-km Hike
Stairs, stairs and more STAIRS! That is what you will deal with on this hike. These aren't normal stairs either, they are old stairs that vary in height. If you don't like stairs, or aren't capable of going up 1,350 stairs, you should probably save the money and go grab something nice from the bakery and just enjoy Old Town Kotor. (Totally worth doing also!)
Honestly, on our way down, we saw plenty of people heading up asking 'how much further?' and looking like complete death. Maybe they started too late, as it was much warmer at that point. But I do believe a good portion of those people were very ill-informed and were going to stop at Church of Our Lady of Remedy, if that, and go no further. That isn't even the half-way point and it's a shame to miss the fort!
Ok, you know about the stairs and still want to go? Perfect! Well, head to one of the two entrances, one is near St Mary's Church and the other is from Square of Salad. Feel free to grab a city map if needed, or just wander as we did.
The total length of the trail to Kotor Fortress is 1.2 km, or roughly 0.75 miles. Really not bad, but you will be going up ~850 feet during your 1,350 stairs.
If you are short on time, yes, you can just quickly rush to the top and back down, just to say you did it … probably still worth it. But there are plenty of stopping points and views to enjoy, so try to take your time and really take it all in.
Wander into the abandoned and overgrown structures, look for the famous Kotor cats (we saw kittens!), and stare out to Kotor Bay. If you took the cruise ship, laugh at how little it looks from way up there … really, just enjoy it.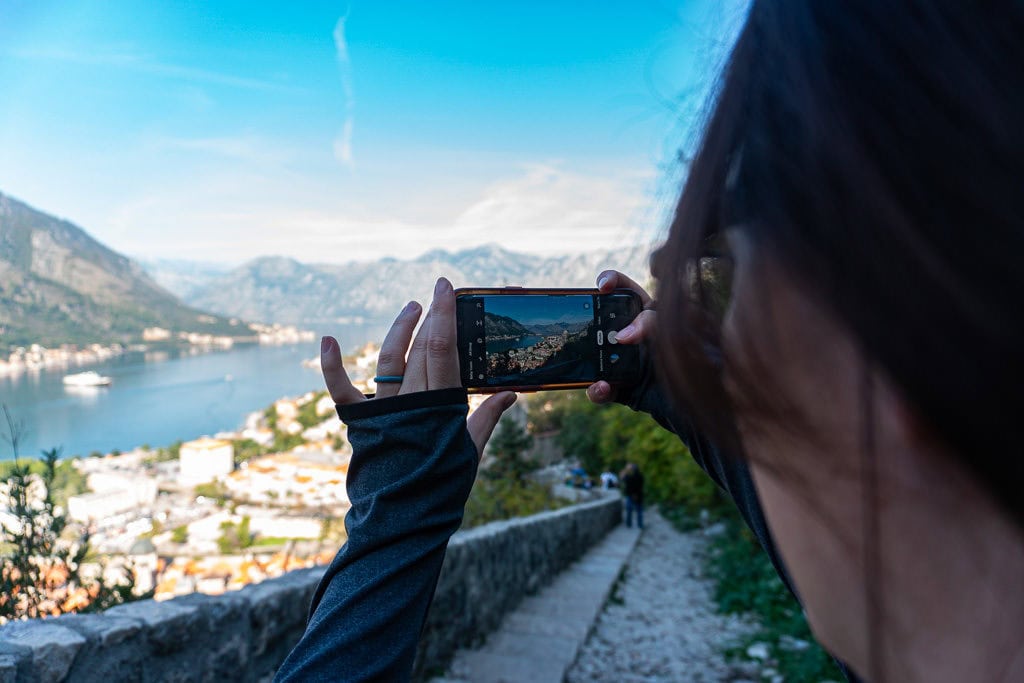 Tips for a More Enjoyable Hike
I highly suggest you head out early in the day for the hike. In October, we started at about 9 a.m., which was a bit later than we intended. However, on our way up we had plenty of shade throughout the trail. It wasn't until we got to the Kotor Fortress that the sun started to really warm things up. The way down was much warmer and sunnier, so I'm really glad we did start early.
If you do leave a bit later, just be prepared for the sun and the heat you will need to endure. There is minimal shade on the trail midday, so bring sun protection. Hats, sunglasses, sunscreen … bring it all!
Bring plenty of water, regardless of when you leave. Chances are you will get thirsty. While there are a few vendors throughout the trail, I suggest just bringing your own to save a few $$. So, don't forget to bring your reusable water bottle filled with cold water.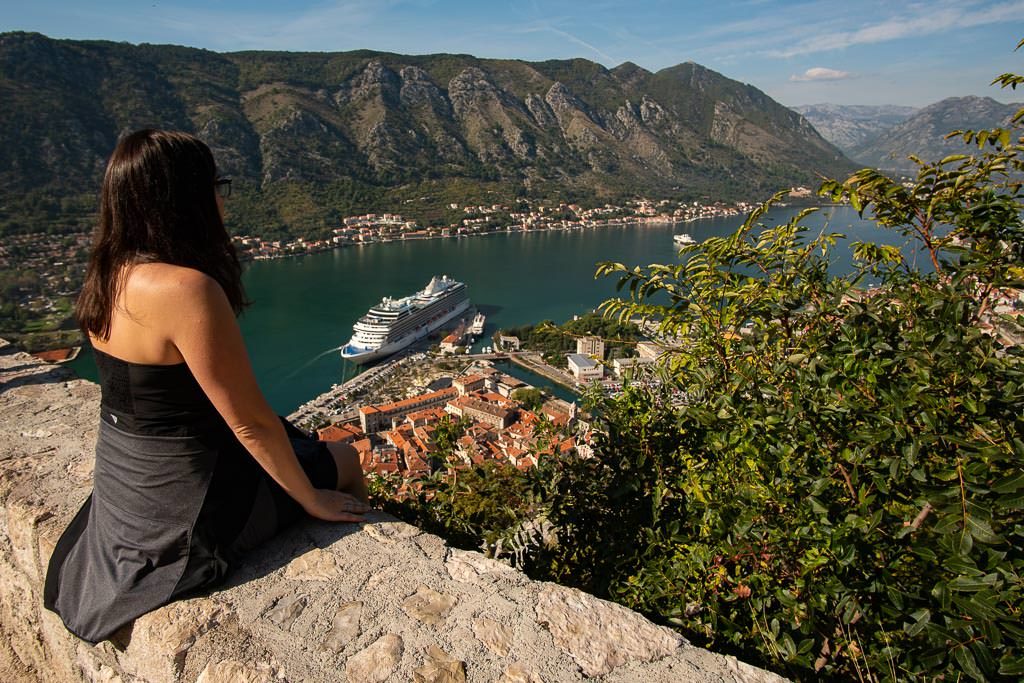 Wear actual shoes for the hike, some with grip as it can be a bit slick in places, especially after a good rain. I was supposed to remind Brooke to bring hers when we left our house sit in Tivat, but I failed. She does have some great North Face sandals though and she really enjoyed the hike in them, so it is doable. Don't wear heels or flip-flops … really!
If you have the ability to plan your hike over multiple days, try to plan it on a zero or one cruise ship day. If you go on a two cruise ship day, chances are things will be hectic, as they are anywhere when cruise ships are ported. We learned how bad two cruise ship days were when we visited Catalina Island a few years ago. Luckily for you, you can check this website to see the cruise schedule.
Being so close to the Adriatic Sea is a perk, aside from it bringing the cruise ships. If making a day trip to the Old Town of Kotor, planning a less busy day can make a big difference -especially in the busier summer months.
Bonus: Kotor Cats
Have I mentioned the colony of Kotor cats yet? Well, it is likely if you have done the hike to the Kotor Fortress Walls, or even stepped foot into Old Town Kotor, you have seen some of the cats of Kotor!
Apparently, the cats came in on Slavic ships during the revolt from the Austro-Hungarian navy in 1918. The ships would sail into the Bay of Kotor and with them came cats from all over the world. The cat population in Kotor is very big and very diverse.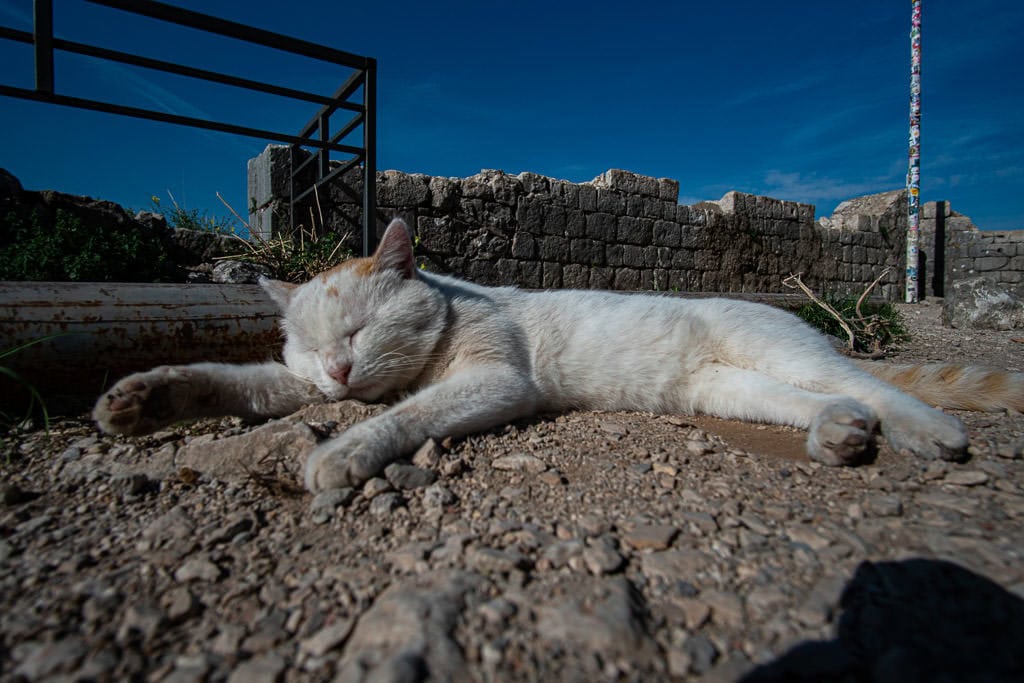 Unlike most stray cats, most of these cats are extremely friendly, unless of course, you are another cat walking through an area that is not yours. It seems that many of these cats 'own' their turf and will stand their ground when a fellow feline tries to invade it.
These cats clearly run the city, and really pay little to no attention to the crowds of humans wandering about. There are even themed stores and restaurants due to their presence! One of the best things about Kotor, in our opinion.
Hopefully, you enjoy seeing cats! They will be sitting on window sills, at restaurant tables, on walls, laying in the shade, laying in the sun, and just about everywhere you look. These cats also appear to be extremely healthy and well-fed. Some of them might even be too well fed, perhaps the Kings and Queens of the Cats of Kotor?
Other Things to Do in Kotor while in Montenegro:
Wandering around the cobblestone narrow streets of Kotor with no plan is a great way to spend the day. But, here are some more specific places and other main attractions to check out to help guide your explorations or create a Kotor itinerary:
St. Tryphon Cathedral
Shop at the Old Town Market
Kotor Cats Museum
Hike the Ladder of Kotor (if you want more switchbacks!)
Take a boat tour to the Blue Cave
See the Clock Tower and Bell Towers
St. Nicholas' Church
Admire the Sea Gate (main gate of the city of Kotor)
Maritime Museum
Go to sandy beaches nearby
Visit on of the national parks nearby: Lovcen National Park (less than 45 minutes)
Go to Our Lady of the Rocks (read more about this unique little island here!)
We hope you love this area as much as we do! It is just a short drive from Tivat and an amazing way to experience the rugged mountains as well as beautiful buildings from medieval times. It's a rich history!
Have I talked you into hiking up the city walls to Kotor Fortress, or will you stay more sea level?