No trip to Dubrovnik, Croatia, would be complete without visiting, and taking a dip in, at least one beach. So, we have listed the best beaches in Dubrovnik right outside of the Old Town walls. You won't need to rent a car, take a bus, or hire a taxi to get to these beautiful sandy beaches!
With the rich history and Game of Thrones relevance, this Croatian city can be really busy! But, once you leave Dubrovnik's Old Town Walls, the area becomes much more relaxing. So, visiting a beach is a great way to escape the crowds and get a little R&R.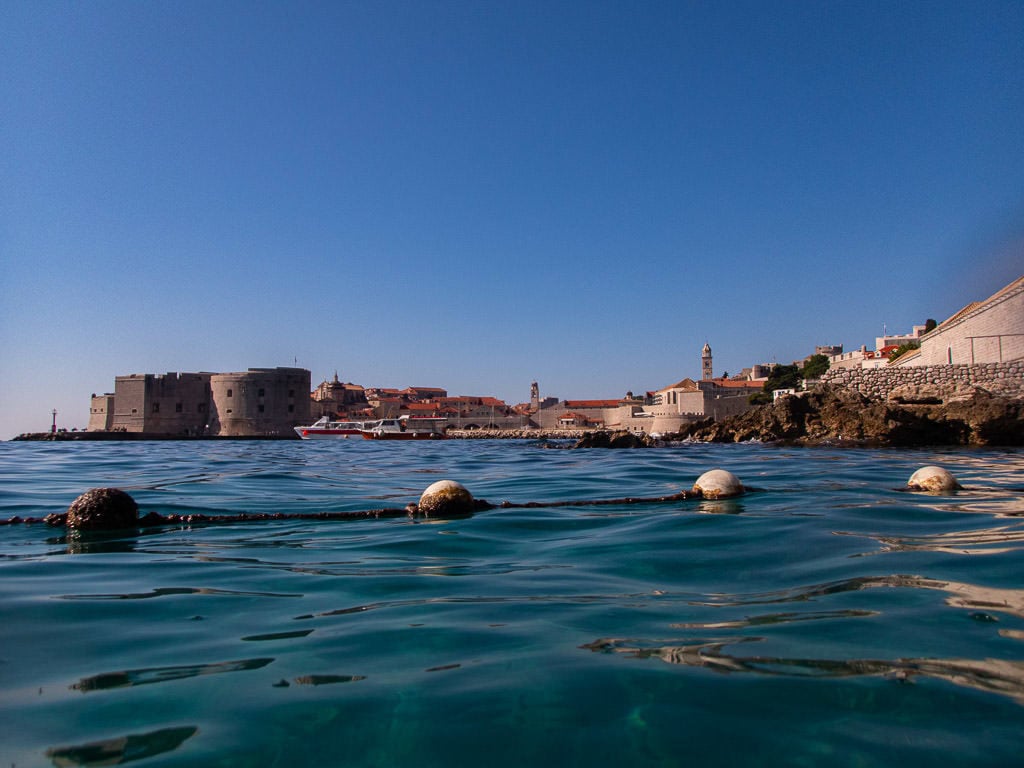 The 3 Best Beaches in Dubrovnik
1. Danče Beach
This was by far the best beach in Dubrovnik, at least in our opinion! We actually stumbled on this beach as we were wandering aimlessly outside of the city walls one day. We happened to be in Dubrovnik on a double cruise ship day, which meant everything was packed. However, after leaving the city walls, and passing the bus station, we felt like we were the only ones there.
Why You Should Visit Danče Beach
If you are looking for a relaxing and secluded place to get away from the madness that is surely ensuing in the Old Town, then Danče Beach is the beach for you. Do you enjoy being able to buy a local beer while enjoying some sun? Well, there is a small locally-run beach bar here as well, and while the selection is small, it is nice to be able to grab a nice cold beer on those warm summer (or autumn) days!
Danče Beach really is the most authentic and local beach we found in the area, and we love getting the local feel, which is why we put it at the top of the list for best beaches in Dubrovnik.
Since we started traveling full-time by pet and house sitting, we crave the local feel of places, even while no pet sitting. Nothing beats being in a place and escaping the hordes of tourists and actually feeling like a local living there.
Getting to Danče Beach in Dubrovnik
Getting to Danče Beach from the old town is very simple and should only take about 10 minutes.
First, you will need to leave the city walls through the Pile Gate. This will put you right near a very hectic bus and taxi stop.
Continue going straight from the gate and make your way past the crowds waiting for rides.
From there, you will walk down a narrow path/sidewalk for about five minutes.
Once you get to Dante Alighieri you will need to make a left. If you don't see a street sign, just look for Restaurant Sesame as it is on the corner there.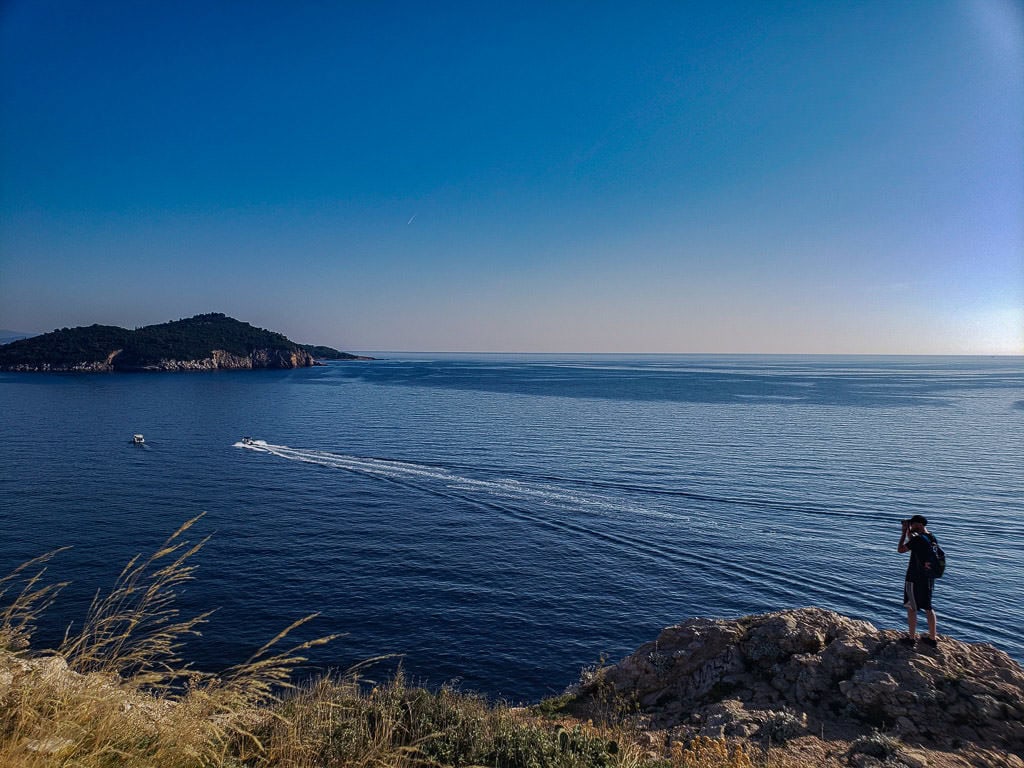 Make your way to the end of the path and turn left on Ul. don Frana Bulića.
Follow Ul. don Frana Bulića up the hill and stick to the right going up at the fork, not down and left.
Continue on the road up and stop and admire the view of Fort Lovrijenac across the water. You can also see Sulić Beach from this viewpoint, so you can plan your next beach stop.
When you are done enjoying the view of Fort Lovrijenac, continue up the road and past the parking lot.
At the end of the road is Sveta Marija na Dančama (Saint Mary in Dance), and you will take a left down a footpath and some stairs.
Follow that path down for about two minutes and you will be greeted with the amazing, and very local, Danče Beach.
However, if you don't like my directions, or would rather trust Google … here is a handy map of the location!
Information on Danče Beach
I wouldn't really even consider Danče Beach a traditional beach. There are no lounge chairs, or nice sandy places to layout on. It is more of a cliffside beach to me. While the cliffs aren't high, you don't actually walk into the water as you do at most beaches.
There are a few places with stairs and ladders leading in and out of the water. Or, of course, you could just jump in, since the water is deep enough in most places. The swimming area of this beach is MASSIVE, definitely one of the largest we saw. This just means you can really swim in peace and not have to worry about crashing into other people if you wanted to get a good cardio workout in.
If you want to layout and work on your tan, there are plenty of places to do so. But just be aware, you are laying on rocks and cement areas, so be sure to bring a towel. There are even some more secluded places you can swim over to and enjoy getting a tan without the pesky tan lines, if that is what you desire.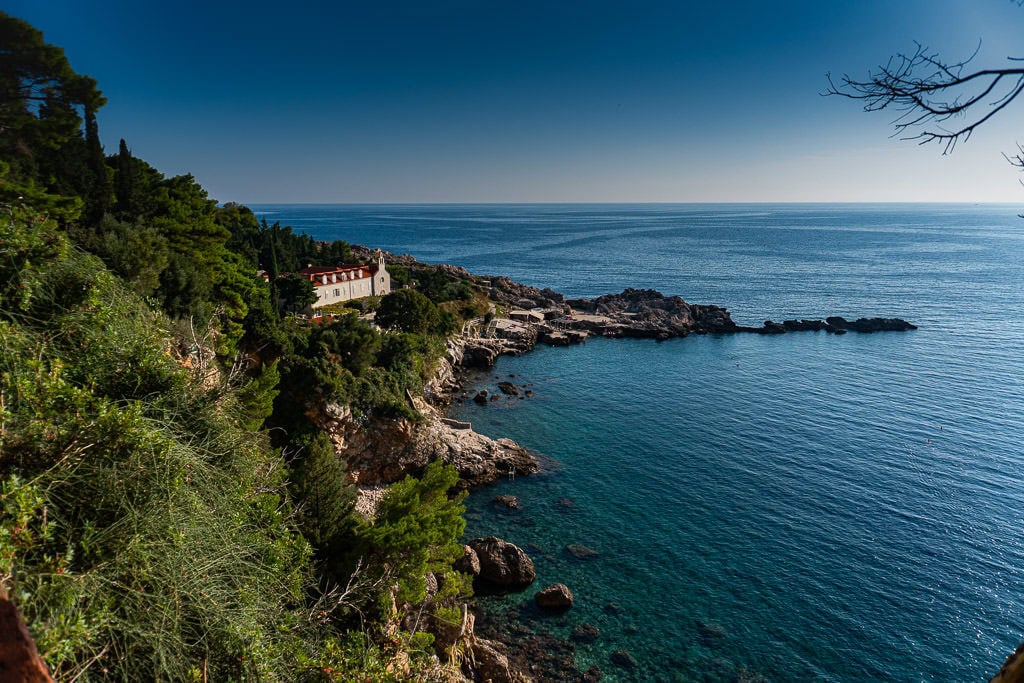 While you are over here, you might as well pop over to Gradac Park as well and take a wander around some of the trails up here. This park provides some pretty great views of Danče Beach, and is a nice little stroll either before or after your dip.
2. Sulić Beach
If you went over to Danče Beach already, I'm sure you want to make your way to Sulić Beach now. This beach is very unique as it is in a pretty narrow cove surrounded by towering cliffs. On top of one of those cliffs is Fort Lovrijenac, which is just beautiful to look up at while soaking in the cool Adriatic Sea. For these reasons, this is #2 on our list of best Dubrovnik beaches!
Why You Should Visit Sulić Beach
Do you want to swim in a narrow cove with beautiful cliffs surrounding you? Does the thought of being able to backstroke in the Adriatic Sea while staring up at Fort Lovrijenac sound appealing to you? At just a five-minute walk from Pile Gate, with no big hills to climb, Sulić Beach is extremely easy to get to. There are also a few restaurants and bars in the area, so a great place to spend the whole day.
Getting to Sulić Beach
Similar to getting to Danče Beach, you will want to leave Dubrovnik Old Town through the Pile Gate.
Instead of powering your way through the people at the bus station, you will need to find the set of stairs hidden among them. The path with stairs leading down is a bit before you get to the Tourist Information Office. If you get to the Tourist Office just turn around and find the stairs, they are easy to miss with the number of people there.
You will notice that the crowds die down the moment you go down the stairs, which is great … so don't let them follow you! From here, you just continue to follow the walkway down and follow signs.
You really can't get lost, but just in case you are like me and wander down secret alleyways on occasion … here is a map!
Information on Sulić Beach
Sulić Beach is pretty easy to get to, but does have less of a local vibe. There are typically more tourists here as it is easily accessible. A few restaurants and bars are on-site, for when you get hungry during all your relaxing and soaking.
This beach, unlike Danče, has plenty of flat places to layout, some even on the pebble beach. There are also public bathrooms, showers, and numerous benches (some even in the shade).
The water here is amazingly clear as it is relatively shallow, with a rocky/pebble bottom. Being in a cove means minimal waves, along with no sand means you can see to the bottom regardless of where you are. While you won't see tropical fish here, there are plenty of other marine animals you might come across.
You are able to drive to Sulić Beach if you have rented a car. The parking lot is just a short walk (1,000 feet) from the beach. However, it is small and does fill up quickly, so to avoid the hassle, I really suggest just walking there from Old Town.
3. Banje Beach
This is the tourists' beach since it has shallow waters and is the closest to the city center! While still a beautiful beach, and great swimming spot, Banje Beach is likely to be very packed, pretty loud, and with plenty of kids running about.
We still enjoyed our time here, as we managed to get there early before it got too busy. Regardless, it is still a must-visit, which is why it still makes the list of best beaches in Dubrovnik.
Why You Should Visit Banje Beach
If you are a tourist in Dubrovnik, I think you are obligated to swing by Banje Beach for a visit. You don't want to be a bad tourist do you? In all seriousness though, this is the most beachy beach of the three. Plenty of lounge chairs and places to layout. There are also actual 'waves', or at least movement of the water, as it is in a more open area.
This location also has views across the Adriatic Sea of Otok Lokrum (Lokrum Island), and views of Porat (Dubrovnik Old Town's port). Banje Beach is a very family-friendly beach, with options for everyone and colorful sea glass to admire (not to take)!
Getting to Banje Beach
There is probably a reason this is the most touristy beach, as it is also the easiest to walk to from Old Town. This is just a three-minute walk away from the Ploče Gate, and very straight forward.
Pretty much once you walk through the Ploče Gate you will continue just going straight.
There will be a sign leading you down some stairs to Banje Beach, but you should really pass that sign first and walk another 100 feet or so to take in the view from over the beach.
Then you can proceed down to the beach as you prepare yourself for your Dubrovnik Tourist Beach Experience!
In case you are like Brooke and can get lost quickly, here's a map:
Information on Banje Beach
While being the 'tourist' beach, it is also the most welcoming … even more welcoming if you want to spend some $$! You can enjoy this beach for absolutely no cost, like we did, or you can spend a little more to be just a bit more comfortable.
There are plenty of lounge chairs and cabanas that you can relax in, however, as we learned … they are not free. Don't be like us and roll up like you own the place and plop down in an empty spot. These prime lounging areas do come with a cost. (Unlike in Greece, where you just had to buy a drink or food and could stay!) So, once we were made aware of the 'more than we were willing to spend' rental amount, we laid closer to the water in the actually comfortable rocks.
As mentioned, being in a more open area, this beach does have some 'waves.' But, these aren't like the waves you see in Hawaii … more just ripples in the sea. As little as the waves are, they do sound beautiful as they move the pebbles around in the water.
If you are up for a little adventure, you are able to rent kayaks and paddleboards from Banje Beach as well. There seem to be a few options for rentals, and this would allow you to get a bit more away from the 'noise' and maybe get a bit of solitude.
Banje Beach also has plenty of food and drink options. This is really a place you could spend all day, assuming you don't mind sitting at a busy beach all day. However, the party really starts once the sun goes down, as there is often music and plenty of dancing on the dance floor. I mean, of course … tourists + drinks + music = DANCING!
Other Popular Dubrovnik Beaches
The Mediterranean has some of the most beautiful beaches in the world. And the Dubrovnik area is a perfect place to mix lounging in the sun with learning history and sampling some delicious local cuisine. Here are some additional beaches to add to your list:
Sveti Jakov Beach (surrounded by steep cliffs)
Lapad Bay Main Beach (surrounded by trees)
Coral Beach Club (great spot to enjoy the beach and a meal)
Copacabana Beach (an iconic beach with clear water)
Sunj Beach (on island of Lupod)
Uvala Lapad Beach (more peaceful and quiet)
Buza Beach (great views of the island of Lokrum)
At some beaches you can rent jet skis or other water sports gear, or just find a great spot to relax and tan – some even have sun loungers with sun umbrellas to rent.
Things to Bring When Visiting Dubrovnik Beaches
There are a few essentials you should bring to any of the beaches in Dubrovnik. Here are a few things we recommend that you pack, as they often aren't available, or would be much more expensive there.
Towel: Most beaches here don't provide towels, so it is best to bring your own. Otherwise, you will be laying directly on rocks, which really isn't as cozy as it might sound. We use quick-drying travel towels, which come in handy and pack down very small.
Reusable Water Bottle: This is a given really when doing anything outside in the heat. We love our Hydro Flasks, as they keep our water cold, because who likes drinking water that has become warm from sitting in the sun? Not us. And we are much better hydrated now!
Water Shoes: These are just useful anytime you might be near water. I actually have a pair of Solomon Techamphibian that I love, as they work for hiking, water shoes, and are extremely stylish (for nomads, at least!). They are useful when walking across the rocks in the water, as they have great traction. I'm also not concerned about stepping on things, like sea urchins, and they dry very quickly.
Reef-Safe Sunscreen: Another must, especially if you are prone to burning, like me. Heck! Even if you aren't prone to burning, wear sunscreen because it is good for you and your skin. Do you want to look like an old leather satchel when you get older? Neither do I!
Did we miss any great beaches in or near Dubrovnik? Please share!