If you have ever looked into Dubrovnik, or Croatia for that matter, I'm sure you have seen the photos of Dubrovnik Old Town from above. These photos are often taken on Mount Srd Dubrovnik, the hill where Fort Imperial sits. You can see the fort as well as a large cross from nearly anywhere in Dubrovnik.
While popular activities in Dubrovnik include walking the famous city walls or taking a tour to see the Game of Thrones filming locations, getting to the top of Mount Srd is a unique activity many other visitors miss. (And it's a great budget option!)
There are multiple ways to get to these unbeatable views, but two of them stand out above the others. You can either hike to the top for free, or pay to take the Dubrovnik Cable Car up. Either option is great and both provide you amazing panoramic views of Dubrovnik and the Adriatic Sea.
History of Fort Imperial on Mount Srd
Fort Imperial sits high above Dubrovnik on Mount Srd (Srđ hill). Construction began in 1806 by French troops that entered the Republic of Dubrovnik, as there were no defense fortifications set up there.
At the time of construction, the French were fighting with the Russians and Montenegrins. Dubrovnik wanted to stay neutral during the war to try to save the Republic. However, after the fall of Napoleon, Dubrovnik belonged to the Austrians.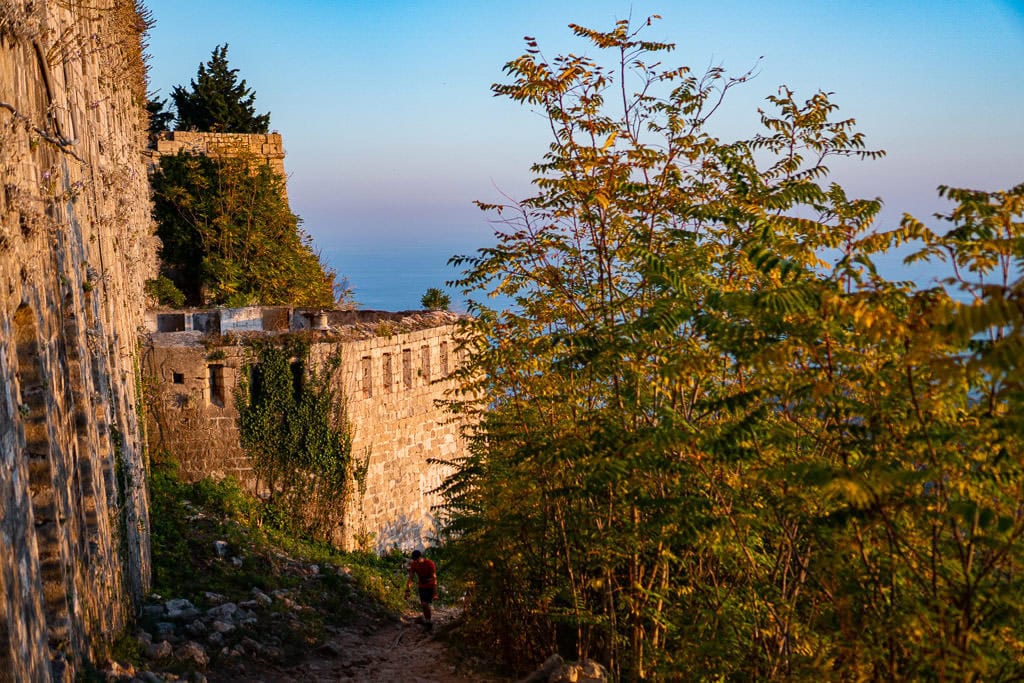 The Austrians continued to build and strengthen Fort Imperial as its proximity to the Ottoman Empire was important to them. Then, in 1882, the Austrians occupied Bosnia and Herzegovina and the fortress stopped being used as a military base.
However, in 1991, Fort Imperial was once again used by the Croatian Army when the Serbian-Montenegrin army launched a large attack against the fortress on December 6. While the fighting around Fort Imperial lasted all day, the few Croatian defenders managed to hold back the forces and keep their land.
The fortress did suffer significant damage during the attack, but as you can see today, it did hold up. Afterward, the Dubrovnik defenders offered their thanks to the French and Austrians who built such a great fortress.
Today, Fort Imperial is home to a museum, which shows the defense of Dubrovnik during the Homeland War.
Hiking to Fort Imperial for Epic Panorama Views of Dubrovnik
After spending multiple days in Dubrovnik staring up at Fort Imperial on Mount Srd, I just knew I needed to get up there for sunset before we left. However, I needed to make the decision to either hike it, take public transportation, or hop on the cable car.
Since I enjoy hiking, it is FREE, and I knew I would get special views on the way up, I opted to do the hike. (With the idea of possibly taking the cable car down). But the hike up was so absolutely beautiful, I decided to hike down in the dark after sunset, as I came prepared with my handy flashlight.
The Trail Up Mount Srd
The 1.5-mile trail itself is pretty easy to hike, once you get there. The trailhead starts right off of Jadranska cesta and begins with a lovely stroll through the woods. At the first switchback, the woods open up a bit to provide your first view of Dubrovnik Old Town below. I didn't really feel like I was going up much, but after that first view, it was clear that there is a nice gradual incline.
Once you pass a few more switchbacks, you will emerge from the forest into a much more open hike to the top. From here on out, you have views of Dubrovnik Old Town, Fort Imperial and amazing views of the Adriatic Sea and beyond! At each switchback, you pass 1 of 14 brass reliefs illustrating the 14 Stations of the Cross (a traditional devotion depicting Jesus' journey from trial to tomb), plus many wooden crosses along the way.
You will be rewarded with great views as you continue your climb up to Fort Imperial. You should also be able to enjoy watching an extremely packed cable car pass on occasion, which will make you appreciate your calming hike even more.
The Perfect Sunset Spot on Mount Srd
Once you reach Fort Imperial, you can continue along the trail northwest -further up Mount Srd, which is a great location to enjoy the sunset over Old Town Dubrovnik and the Adriatic Sea. Or you can visit the Homeland War Museum and continue a bit further and head over to the Cable Car and take in the views there or grab a bite to eat.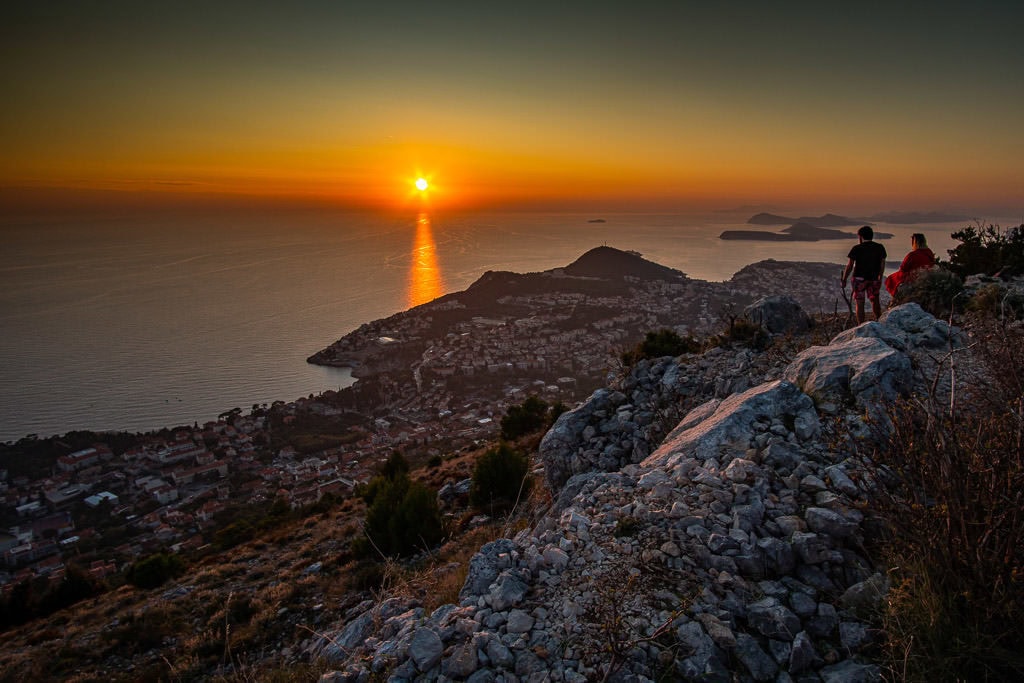 Once at the top, you get great views of Dubrovnik and the Adriatic Sea to your east. And to your west, you get mountainous views of Bosnia and Herzegovina. These are million-dollar views…that are available for FREE!
Overall, I think the trail was amazing, very easy to navigate (once you find it), and worth it compared to taking the much more crowded cable car for $25. Honestly, I think the hundreds of stairs to get out of the city were harder than the hike itself. While I did decide to walk down after sunset, you could always get a one-way ticket on the cable car to head down if you aren't up for the night hike down.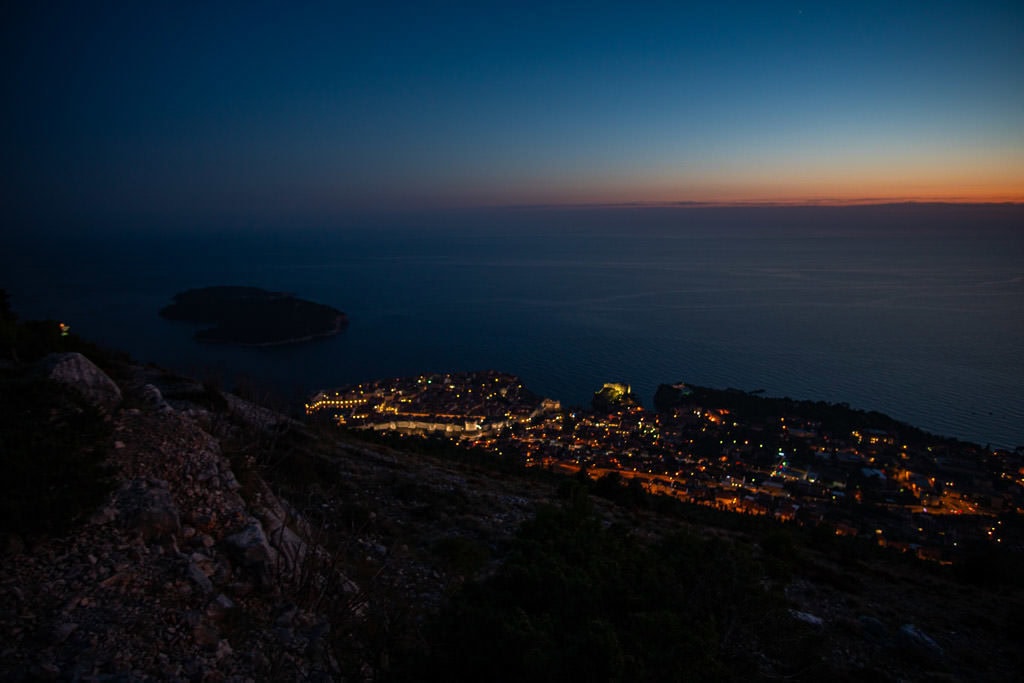 Tips for Taking the 1.5-Mile Hike to Fort Imperial
While the views of Dubrovnik along the hike up Mount Srd are worth it, the hike itself does involve a little research and preparation.
Getting to the Mount Srd Trailhead
The Mount Srd trailhead is not in an ideal spot. If walking there, like I did, you will need to cross at least one, if not multiple, major roads. My path actually had me walking down the main highway as well as through a tunnel … not an ideal way to take me, Google!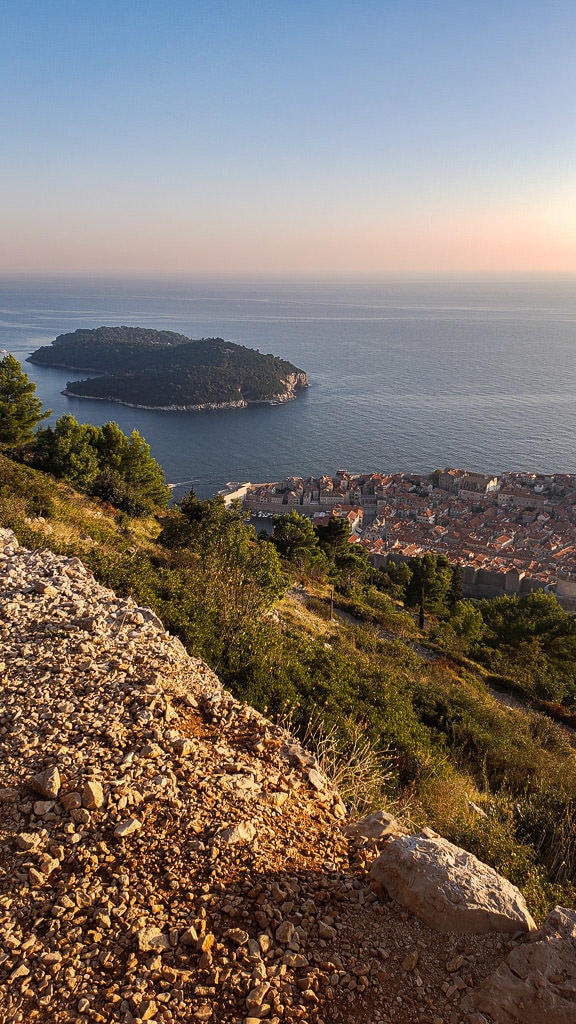 To find the trailhead using Google Maps, you can search for 'Staza Prema Utvrdi Imperial'. The trailhead is actually off of Jadranska cesta, which is a major highway leading through Croatia. If you have a vehicle, there are a few parking spots nearby, but I would just suggest parking a bit further into town and walking there.
To get to the trailhead from Old Town Dubrovnik, it is about a 20-30 minute walk, but just be prepared as there will most likely be a large number of stairs you will need to take. You will also need to cross some more major roads, so just be aware and prepared.
Mount Srd Trail Considerations
The Mount Srd Trail is about 1.5 miles each way, from the trailhead up to Fort Imperial. The incline is pretty gradual the whole way and doesn't seem to get easier or worse as you progress.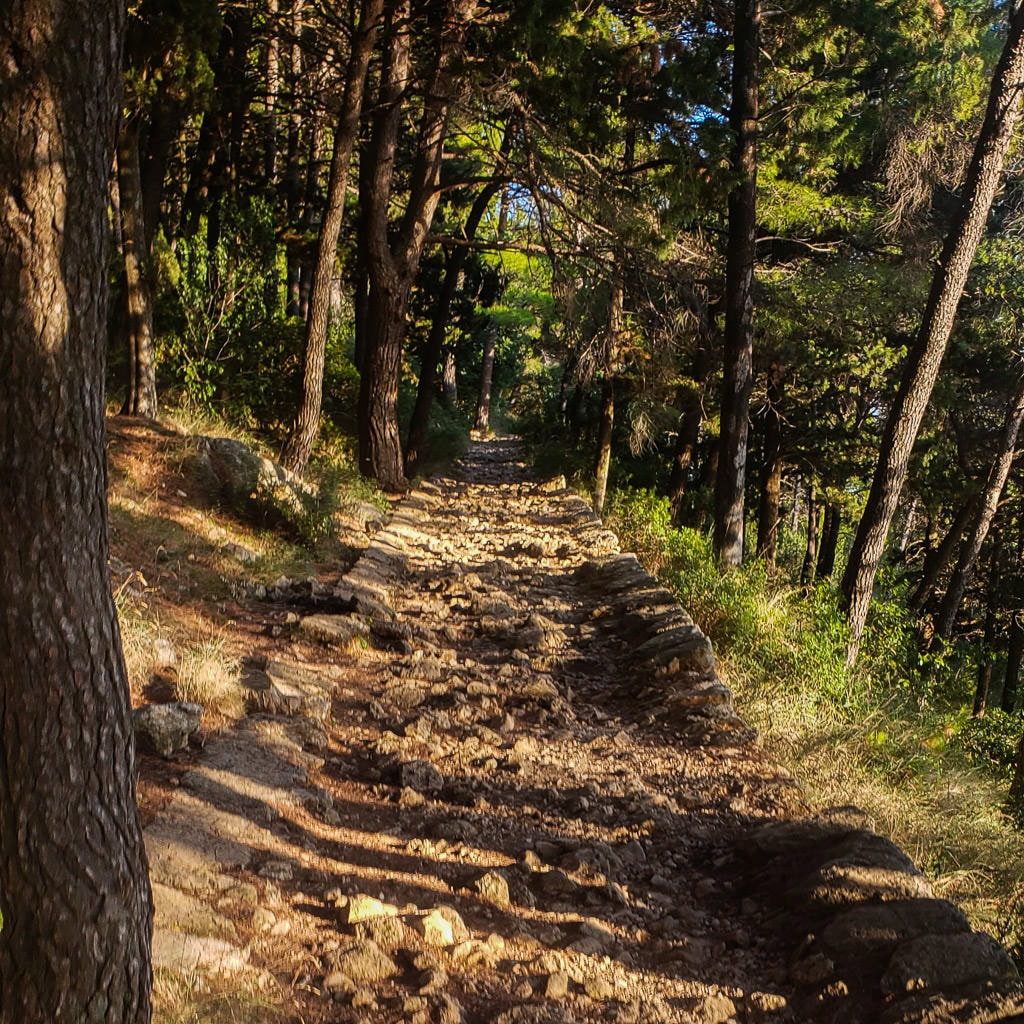 Mount Srd has an elevation of 1,362′. So if you are coming from Old Town Dubrovnik, be aware of the elevation. While the trailhead does start a bit above sea level, you will actually ascend roughly 918′ from the start of the trail.
The trail is much easier in the wooded section as it is mostly larger rocks and hard ground. However, once you get out of the wooded area, the trail does have a lot of very loose gravel and stones. Most of these stones are pretty sharp, so I would really suggest closed-toe shoes or boots for the hike.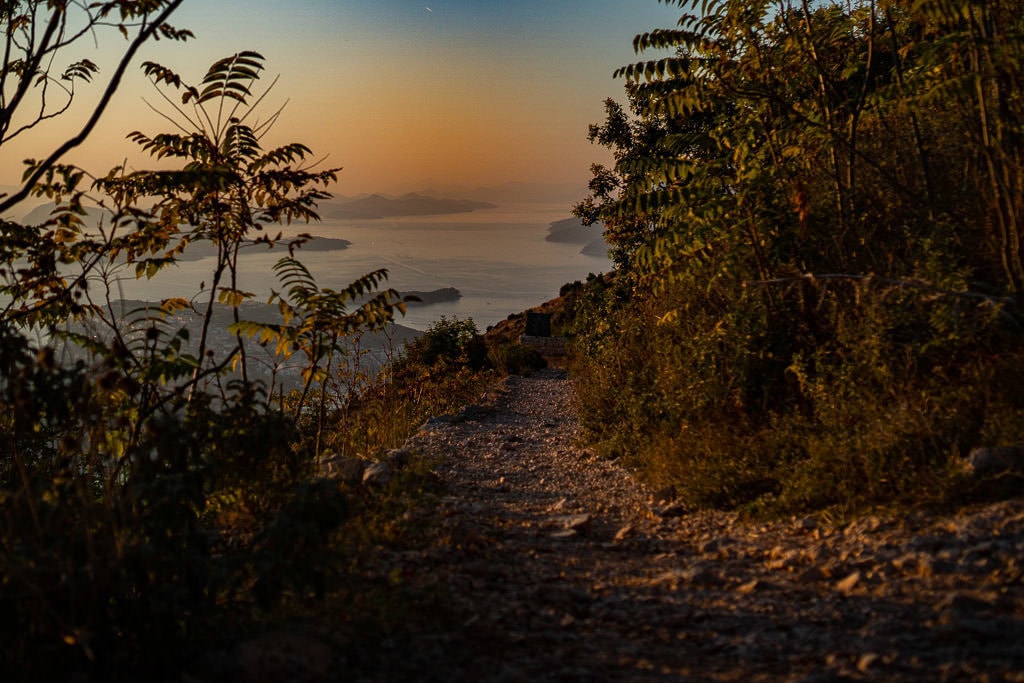 It took me about 30 minutes to reach the fort, and that included plenty of stopping along the way. But, as my wife reminds me, I have long legs and walk quickly, so I'd give yourself an hour to reach the top – just in case.
Essentials for the Hike
Water: The hike isn't overly strenuous, but it will get warm, especially once you get out of the shade of the trees. So just be sure to bring plenty of water to drink on your way up. My Hydro Flask goes everywhere I go, as I prefer cold water and don't like to use single-use plastics.
Sunscreen / Hat: After leaving the shade of the trees, you are fully exposed to the sun on the remainder of the hike. It is best to have some options to prevent getting burnt, especially if you are a ginger, like me. I have started traveling with a very goofy looking Columbia Schooner hat, but it is extremely comfortable and I don't need to worry about my neck getting burnt.
Light Jacket: Chances are, it will cool down a bit once the sun goes down. Plus, if you pick a windy day, you have nothing to block the wind, so bringing a light jacket might be a good idea.
Closed Toe Shoes or Boots: It is not advised to do this hike with sandals due to the loose and sharp rocks throughout most of the trail. I did mine in my everyday trainers, but it really wouldn't hurt to wear actual hiking shoes or boots.
Food: I mean, you could eat at the pricey restaurant once you are up there, or you could just pack a delicious picnic to bring with you and eat it in peace while enjoying the amazing views.
Flashlight (if hiking after sunset): If you plan to hike down after sunset, I do highly suggest bringing a flashlight as the way down is a bit harder with the loose rocks. I travel with my Fenix TK32 nearly everywhere we go as it has a rechargeable battery and multiple brightness settings including a red and green light option.
Taking the Dubrovnik Cable Car to the Top of Mount Srd
If you aren't feeling the hike, another option to reach the top of Mount Srd for some epic panorama views of Old Town Dubrovnik is taking the Dubrovnik Cable Car. While nowhere near as scenic as the hike up, it will be much easier and quicker. But you will need to pay for those conveniences. While not as budget-friendly, this is a great option if you are short on time.
Just be prepared for it to possibly be very busy if you opt for this choice, especially on cruise ship days. While you will still see some great views on the way up, the ride will be quick, so you won't have time to just stop and admire it as much, although you can do this when you reach the top.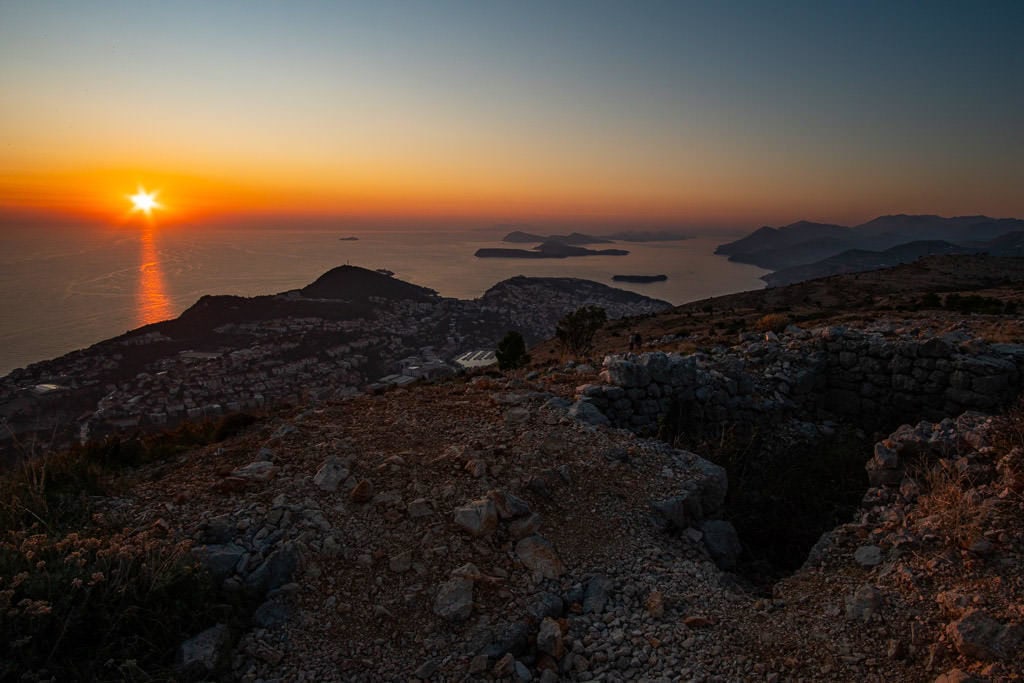 During the hike, I saw the cable car pass on many of my turns and each time it was pretty packed. This was also in shoulder season, so I could only imagine it is always packed during summer months.
If you are planning to use the cable car to watch sunset on Mount Srd, be sure to arrive early as there could be a large queue to ride. It would be unfortunate to not make it up for sunset as you were stuck at the bottom waiting in a queue.
Information for Dubrovnik Cable Car
The Dubrovnik Cable Car was built in 1969 and, at the time, was the only cable car in the Adriatic. Originally, the cable car could only hold 15 people, whereas today each of the two cars has a capacity of 32 people and WiFi.
The less than four-minute trip takes you 2,552 feet from the bottom station to the top and passes just one column.
Dubrovnik Cable Car Price
Tickets can either be purchased using Croatian kuna or most major credit cards.
| | |
| --- | --- |
| Adult Round-Trip Ticket | 170 kn |
| Adult One-Way Ticket | 90 kn |
| Children Round-Trip Ticket (Ages 4-12) | 60 kn |
| Children One-Way Ticket (Ages 4-12) | 40 kn |
| Children Under 4 | FREE |
Dubrovnik Cable Car Hours of Operation
Be sure to check the website for updated hours of operation and prices. As of November 2019, the opening times for the Dubrovnik Cable Car are as follows.
| | |
| --- | --- |
| January | 9 AM to 4 PM |
| February | CLOSED |
| March | 9 AM to 5 PM |
| April | 9 AM to 8 PM |
| May | 9 AM to 9 PM |
| June | 9 AM to 12 AM |
| July | 9 AM to 12 AM |
| August | 9 AM to 12 AM |
| September | 9 AM to 10 PM |
| October | 9 AM to 8 PM |
| November | 9 AM to 5 PM |
| December | 9 AM to 4 PM |
It is also worth noting that the last departure from the lower stations is thirty minutes before closing time. During lightning storms and high winds, the cable car will not run until the conditions clear up. Also, there are no set run times, the cable cars will run when there are enough passengers.
Other Options for Reaching the Summit of Mount Srd
There are a few other ways outside of hiking and taking the cable car to the top of Mount Srd. While I do think that the hike is the best option if you are fit and have the time, the cable car does come to a close second.
If neither of those options suit your style or budget, you can always drive up to the top if you have a vehicle. I wouldn't suggest this during high season – as the parking lot at the top is relatively small, and I'm sure it fills quickly.
If you don't have a vehicle, you can opt for a taxi or tour to get you to the top – which will be the most costly option. There is also a local bus that can take you from Old Town Dubrovnik to close to the top of Mount Srd. This bus won't get you all the way there, so you will have to walk a bit, but it is probably the cheapest option outside of the hike.
Where to Stay in Dubrovnik
Funny enough, we found a perfect place on Booking that happened to be right above the cable car station, so we could see the cable cars go over our apartment all day. It was only about 10 minutes from Old Town Dubrovnik as well as five minutes from the Dubrovnik Cable Car lower station. It is a great location, as it was much cheaper and quieter than the spots we looked at in Old Town Dubrovnik.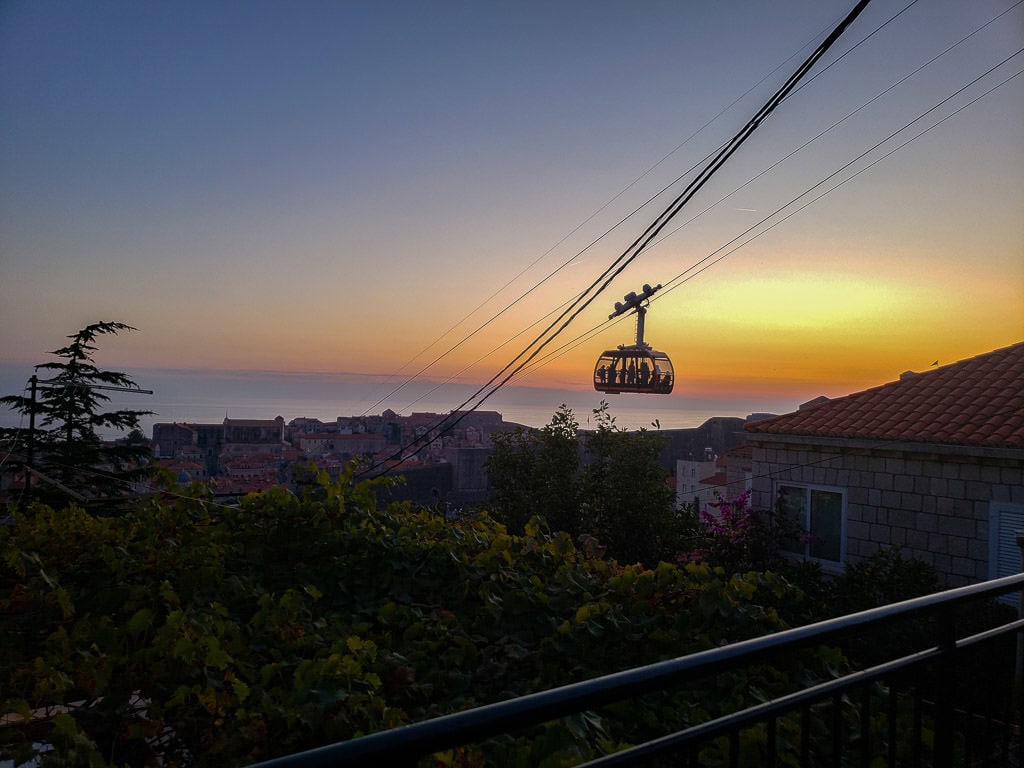 Studio Apartments Magnolia had everything we needed, including a mini-fridge, cooktop, outdoor lounging area, and a very quiet room. If you are planning a trip to Dubrovnik, we highly suggest you check them out, as their price was great and we loved everything about our stay there.
So, what do you think – will you hike, ride the cable car, or drive to the top of Mount Srd on your visit to Dubrovnik?