Budget travel and Hawaiian resorts don't often go together … ever. Unless you use travel points, then you may be surprised how cheaply you can get away with visiting a hotel you'd never dream of booking. We recently took a points trip to Hilton Waikoloa Village on Hawaii's Big Island, and it was an amazing trip that only cost us about $50 for a lovely two-day, one-night stay.
If you are considering a visit, here are our best tips and insights for doing so with points! We really enjoyed almost everything about this experience, but think it is important to mentally prepare for a busy Hawaii resort.
Note: If you aren't a Hilton Honors member, we get great perks with our American Express Hilton Honors credit card and highly recommend it. The best perk by far is the annual free night that we like to use at the fanciest hotel we can find!
Hilton Waikoloa Village Overview
When researching the best Hiltons in Hawaii (or resorts for that matter), this option shows up on pretty much all of the lists. It's a truly stunning property. The Hilton Waikoloa Village Resort is huge. I mean, they have a tram to take you across the property as well as a little boat that runs throughout. It's kind of wonderfully ridiculous. And the grounds are stunningly landscaped with great ocean views!
Nearest Airport: Kona International Airport (note this is a small, open-air airport with limited food options).
Location: North of Kona in Waikoloa, About 20 minutes from the Kona airport.
Dining Options: I really appreciated how many options there were for food. While some were expensive, many were really affordable. And there is a shopping center a few minutes away with many more options as well!

Legends of Hawaii Lua
Kamuela Provision Company
Nui Italian
Lagoon Grill
Kona Tap Room
Orchid Marketplace
Waikoloa Coffee
Kona Pool Bar
Shaka Cones

Pools: There are multiple large pools!

Kona Pool: Largest and featuring a slide and volleyball net.
Kohala Pool: Great for familis.
Ocean Tower Adult Pool: Small and had mostly an older crowd
And don't forget the lagoon – our favorite!
Amenities& Extras:

Tram & Boat around Resort
Multiple Pools, Bars & Restaurants
Shuttle to Shopping Area
Cultural & Fitness Classes
On Free Printed Photo
Want to just spend the day living that #resortlife? You can get a day pass! This would be fun as a Hawaii island hop day trip!
Highlights of our Stay at Hilton Waikoloa Village
This worked out to be the perfect mix of fun, relaxation, and romance for our wedding anniversary trip! Just getting to be fancy resort people for a few days was a kick, but here are some specific activities we appreciated most:
1. Snorkeling in the Lagoon
Okay, this lagoon impressed me a lot. I always think it's weird that people come to Hawaii then go to the pool all day. This was the perfect answer to this strange problem. It has that nice safe feeling many newbies to ocean swimming want because it is a lagoon, but it is also open to the ocean so fish, turtles, and other creatures can make their way in. It's a great intro to snorkeling for those who may be nervous. We saw turtles, eels, and plenty of fish. And I loved that it was a more natural experience!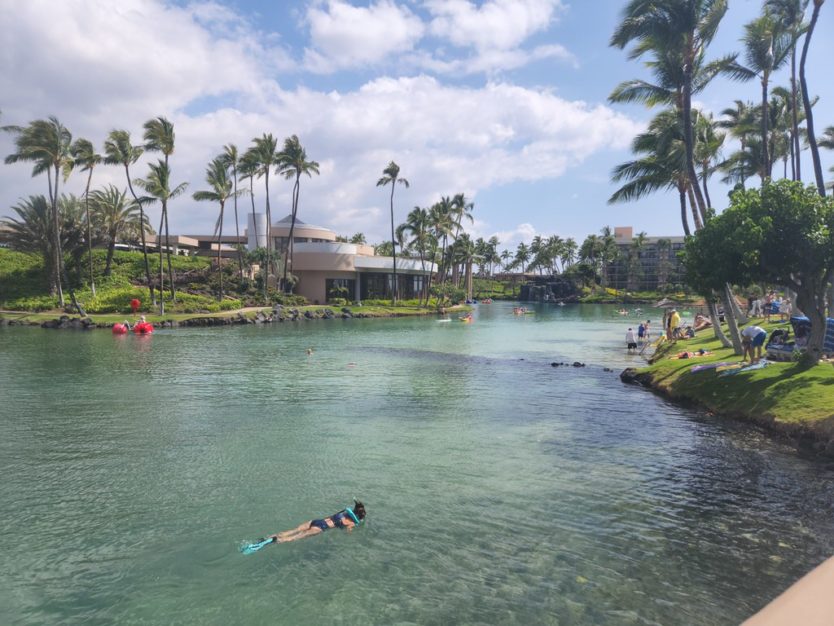 You can also rent a SUP, kayak, or goofy big-wheeled pedal thingy. They even had free SUP yoga a few mornings.
2. Drinking Lava Flows
I'm 67% sure these expensive drinks didn't have any alcohol in them, but they just tasted so friggin good I had about four during our stay. For $20, I'd expect to feel slightly buzzed after having one, but I didn't even care because we were using our resort credit to buy them and they were so yummy. A Lava Flow by the pool and/or at sunset is highly recommended.
They do have beer, wine, and other cocktail options. Or I saw some geniuses bring a cooler with them which would save a lot of money!
3. Sunset Torch-Lit Walk
At night, the staff goes around and lights all the torches that line the ocean-side pathway, and it is just oh-so romantic. The dusk lighting, waves crashing, and the fire from the torches dancing in the wind just really puts you in a vacation mood. We wandered out to the far point to catch sunset and take some cheesy selfies together all dressed up for dinner and it was lovely.
4. Hanging by the Pool & Going Down the Slide
We aren't usually the type to just hang by the pool with a ton of other people around, but we indulged for a few hours on our last day and really enjoyed just soaking up the sunshine. When we got too hot, we just took a dip in the cool water.
The pool we went to had a cave, nearby bar, volleyball net, and there was even a fun little slide that had much more speed than I expected. Everyone laughed as I came barreling down and crashed into the pool, then a handful of other adults followed my lead – all cackling.
There are multiple other pool areas as well, some with hot tubs or other features. Plus, the lagoon! So, even though it can get busy, you can usually find a spot somewhere.
5. Free Mini Photo Session
This was a short moment of our trip, but I thought it was really nice to get to have a professional photo souvenir to bring home. With our reservation, we got one complimentary photo, and since we knew we wouldn't be buying a bigger package we just had the photographer snap a few in one area and print the best one. We were able to snag some good shots of us during the trip, but this has to be one of my faves. And the photographer was really nice!
6. Good On-Site Dining Options
With this being a special occasion, you may assume we went for the fancy pre-set menu option, but you would be wrong. No, we had pizza at Nui Italian because we aren't fancy food people. But it was very yummy! However, next time we are going for the Roman pizza option because that looked wayyyy better than the cheaper option we got.
For lunch, we had lighter food at the pool-side Lagoon Grill that we were both happy with. And having a Kona Bar inside to hang out at as it got chillier was nice also.
7. Hanging Out at the Anaeho'omalu Beach Nearby
Before we checked in, we spent a few hours lounging around Anaeho'omalu Beach area. We walked down past Lava Lava Beach Club and this area is gorgeous! Next time, we'll definitely come back to the club for drinks and live music at night.
Our Biggest Complaint with Hilton Waikoloa Village
This would be a perfect getaway in my book if it weren't for the damn dolphin experience. Come on, Hilton! At his point, I'm pretty sure any logical, informed adult thinks these glorified touch tanks are a sad existence for these amazing creatures. We had to avoid the area so it wouldn't ruin the trip for us. It's so depressing.
The natural lagoon is such an awesome idea to allow interactions with local underwater life on their own terms. The Dolphin Quest experience just takes away from the happy vibe of the resort. Help be part of the solution. Do Better Hilton. Please and thank you.
Tips for Getting the Most Out of Your Hilton Points
We are still a bit new to this Hilton Points thing, but already have some good insights to share …
1. Pick a Fancy AF Place for Your Free Night
When planning to use our Hilton points in Hawaii for our anniversary, we simply Googled our options and picked the nicest one. If you are flexible on where you go, you could do your one night free practically anywhere and just stay somewhere cheap after! There are some really stunning options out there.
2. Use Your Resort Credit Wisely
In addition to our free weekend night with our American Express Hilton Honors credit card, we get $250 of resort credit per year. We made sure to use that on our trip to maximize our savings! Resort credit can be used for valet parking, on-site restaurant or bar purchases, spa bookings, and basically anything at the resort. We simply used our Hilton CC and then were reimbursed for our qualifying purchases later.
3. Ask About Your Free Room Upgrade
Our Hilton American Express Card also puts us at Dimond Member status. This means we get a free room upgrade whenever possible. However, we've realized it is best to ask about an upgrade when booking. This time, she upgraded us to a stunning lagoon-view room to enjoy our anniversary stay.
4. Go at an Off-Season Time
Unfortunately, this wasn't an option for us and it was pretty packed. We still had a great time, but we had to really plan to get to the pool areas early if we wanted a lounge seat! When possible, using your resort credit during off-season makes it extra nice!
5. Take Advantage of All the Free (or Cheap) Offers!
Hilton resorts often have free fitness classes, cultural experiences, and other activities for free! Our stay also included the free printed photo mentioned above. Make sure to check what your stay includes and take advantage of it!
6. Let Them Know if it is a Special Occasion
We got a free drink coupon each and some leis on the bed as a nice surprise because Buddy noted it was our anniversary on the reservation. It never hurts to mention it!
7. Have Your Hilton Credit Card or Google Pay
Funny story … once we got to the Honolulu airport for our weekend getaway, Buddy realized he left the Hilton Card on his desk at home (which you have to use in order to get reimbursed for resort spending). It was a bummer. Because now our cheap cheap trip was going to include about $50 for parking and ALL our food and drinks. Oof. Sure, we could find cheaper stuff nearby but we were looking forward to blowing that $250 on being bougie resort people.
Luckily, I mentioned how you would think there would be an app or something easier and Buddy did some research. Using his super-human ability to remember numbers he was able to add our credit card to Google Pay and we used that the entire time. Crisis averted! The lesson here is to have your card available for use when planning a points trip!
8. Make Sure there are Plenty of Activities or Fun Nearby
Luckily, this resort had a lot to do and plenty of beach to wander nearby, so you don't need too much more if just doing a one-night visit. But, if staying on the island longer, it is nice to know there are plenty of other awesome activities and sites nearby, too!
If Hilton Waikoloa Village looks like the best bet for booking your Kona area stay, learn more here!
10 Unforgettable Things to Do in Waikoloa Hawaii & Across the Big Island!
There are plenty of things to do in Waikoloa Hawaii – including playing at the local golf course or sampling restaurants, but there are also some fantastic places worth the drive on the Big Island!
1. Lounge on White-Sand Beaches: There are so many gorgeous beaches in this area, and if you go further south you can see Black Sand Beaches, too!
2. Waikoloa Petroglyph Preserve
3. Go to a Fantastic State Park (or all of them!)
4. Visit Hawaii Volcanoes National Park: We had an absolute blast (literally!) taking an extra day on this trip to go see the volcano glow! It is a trek to get over there, but seeing an active volcano is one of the best things to do on the Big Island. The park also has lava tubes to walk through and plenty of scenic drives among lava rock!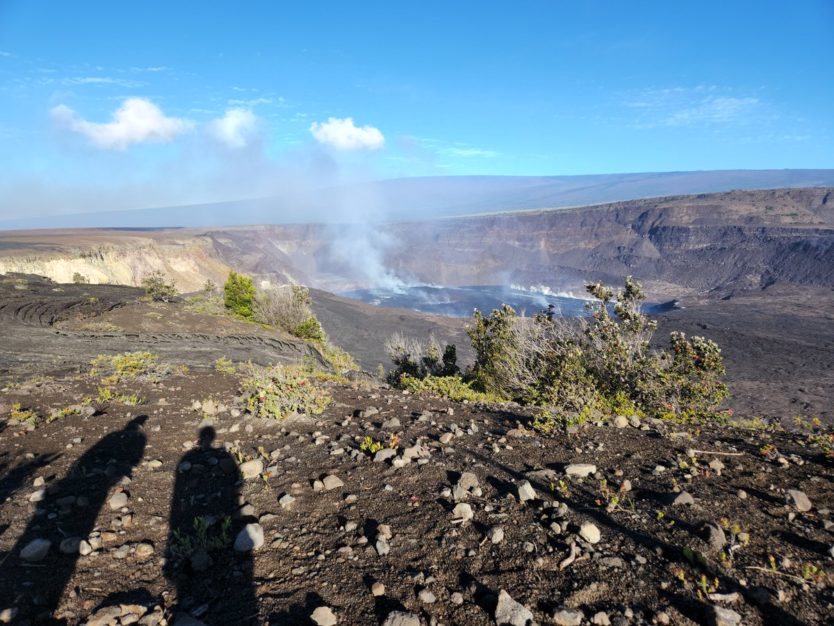 5. Snorkel with Manta Rays: The night tour out of Kona is fantastic and an iconic thing to do!
6. Mauna Kea Summit: Taking a tour up to the Summit of Mauna Kea is an epic experience – especially for sunset and stargazing. It is one of the most amazing things you can do on the Hawaiian Islands. However, if you aren't able to go up, a drive along the Saddle Road between the dormant Mauna Kea and active Mauna Loa volcanos is also a cool experience to drive through all the lava rocks.
7. Snorkel at Captain Cook: You have to take a tour to get to this area, unless you want to walk a long ways, but it is an amazing snorkeling spot next to an iconic monument! Renting a kayak to get there may also be an option!
8. Take a Boat Tour to See Humpback Whales: The Big Island is a great place to go whale watching – usually in February or March.
9. Take a Helicopter Tour of the Coast!
10. Go Waterfall Chasing Near Hilo: You can see Akaka Falls, Rainbow Falls, and even some smaller waterfalls inside the Hawaii Tropical Botanical Gardens over in Hilo!
Hope you have a lovely trip if you decide to visit and don't miss out on the amazing natural beauty on the Big Island of Hawaii!