We dreamed of visiting the Big Island of Hawaii since we learned there was an active volcano on the island to observe. Although that famous volcano was a little too active for our comfort level when we landed in Hilo, Hawaii, we still had a wonderful visit and fell in love with this beautiful Hawaiian island with such a wide variety of activities to enjoy. And, lucky for us, there were plenty of things to do in Hilo, where we were based!
(Interested in more travel stories and insights? Check out Brooke's book:, Home Flexible: Stories from Life as a Nomadic Traveling House Sitter. Available in print and ebook.)
A Memorable Intro to our Big Island of Hawaii Vacation
The realities of visiting an island with an active volcano didn't really hit me until we were there – until we were driving along the road through Hawaii Volcanoes National Park. We had been on the Big Island for about an hour and were curious what this area of the island looked like during the current events. We had agreed that we wouldn't be insensitive or stupid and go into places that were blocked off while we visited the Big Island during the Kilauea eruption, but this road was open. Why not drive it?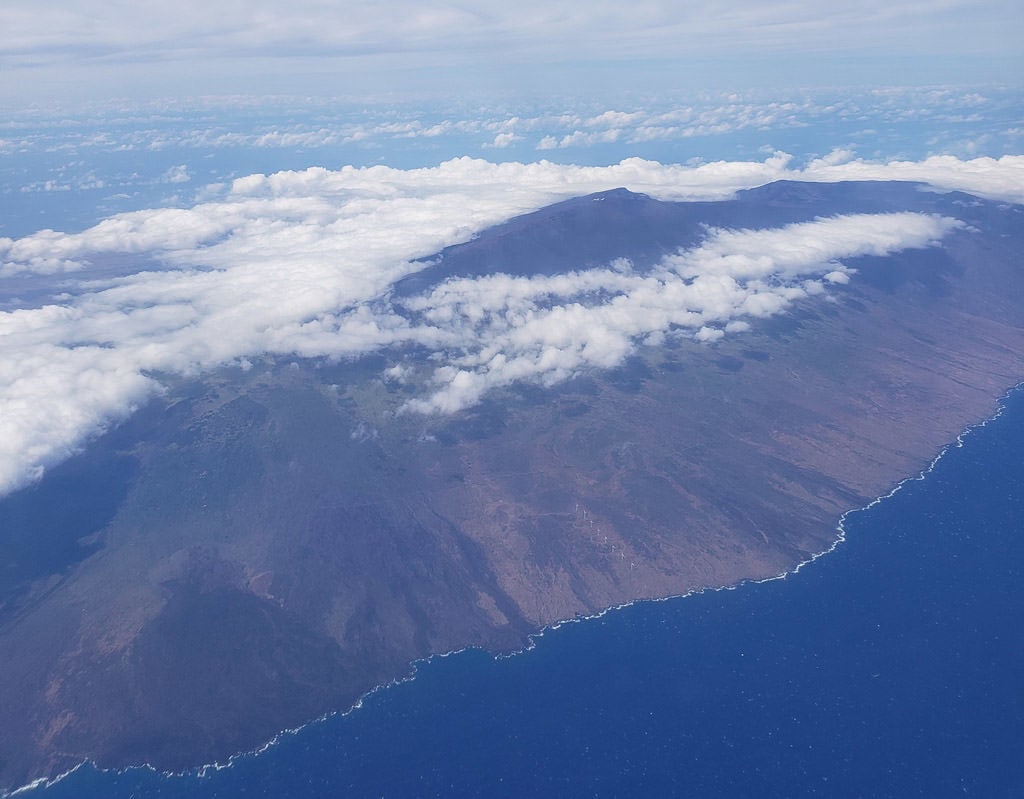 As we neared the park, we saw road work signs and notices about the risk of cracks occurring in this area. We passed by a crew that was filling a sizable pothole. Later, the radio played a pre-recorded announcement for a daily update about the volcanic activity. We learned that the road work was needed because of earthquakes from Kilauea.
Although the area was interesting, knowing the road could crack underneath us freaked me out, so we soon turned around. We had no idea what it meant to live in the presence of an active volcano, and we realized it was smart to stay far away from it during our stay. Besides, people were losing their homes and land, the Hawaiian people were losing beloved places, and we didn't need to be in the way – even if we were technically allowed in some areas. And there were tons of other beautiful places awaiting us – it's the BIG Island, after all.
Explorations Around Hilo, Hawaii
Luckily, there are plenty of things to do in Hilo and lots of great food. Plus, the airport is much less busy to fly in and out of. This side of the island is also lush and experiences a lot of rain most times of the year. But, that just means there are some gorgeous waterfalls and rainforest drives.
Our Favorite Things to Do in Hilo, Hawaii
Akaka Falls: Worth the $5 parking fee and short hike through a beautiful rainforesty area. It was raining when we visited, but we still had a nice time.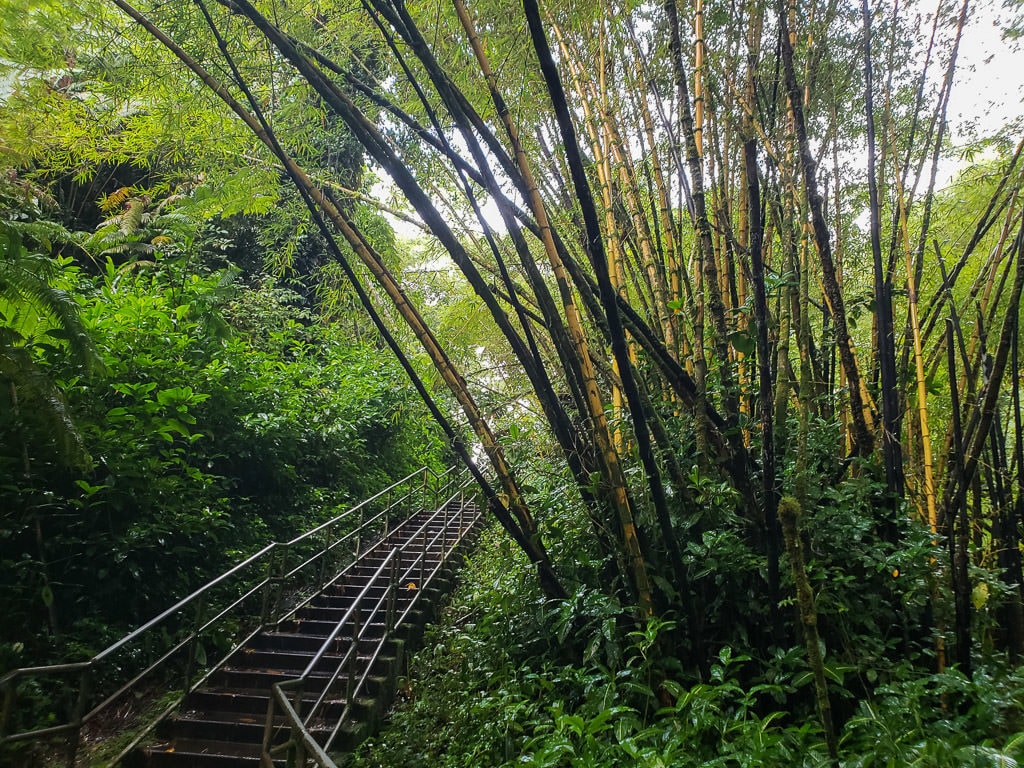 Onomea Bay Drive: We loved the side trip down Sugar Mill Road next to Onomea Bay, through rainforest and past little stands with yummy smoothies. The acclaimed Tropical Botanical Garden is on this road as well.
Tsunami Clock of Doom: A uniquely named historic marker with information about the tsunami that devastated the area in 1960 and stopped the clock from ticking. We actually saw this point on Google Maps while looking for things to do in the area, and had to find out what it meant!
Farmer's Market: Great produce and local products every Wednesday & Saturday.
Rainbow Falls: A short drive from town and easy (yet, popular) stop with great views.
Boiling Pots: Equally beautiful as the more popular falls and right up the road.
Banyan Drive: A gorgeous drive or walk along a Banyan tree-lined road.
Liliuokalani Park & Gardens: Near downtown Hilo, there is a beautiful, free walking area with bridges, Japanese gardens, and great views of the area.
Coconut Island: Across from the Japanese garden and near Banyan drive, this was a nice little place to stroll, people watch and look for sea turtles.
Beach Parks near Hilo: Onekahaha Beach Park was one of our favorites. But, they are all really beautiful and worth wandering around on.
Day trip to Wiamea: This area is gorgeous and definitely worth a few days, when we return. We drove to both the Waipi'o Valley and Pololu Valley lookouts and wished we had time to hike into these gorgeous spots. Next time!
Favorite Places to Eat in Hilo
Moco Locos at Cafe 100: This filling dish is a must-try and a cheap meal. For under $10, you get a bunch of rice with gravy on top, your choice of meat and a few fried eggs. Sounds like a weird mix, but it was tasty!
Free samples at Muana Loa: Try some of the yummy desserts as well as some coffee. Worth a quick stop, and you'll get to see them making the treats as well.
Popsicles at Alli Ice: While wandering around the Japanese garden area, stop in for a popsicle (or three – we're not judging). These organic fruit treats are delicious. Lilikoi was my fave!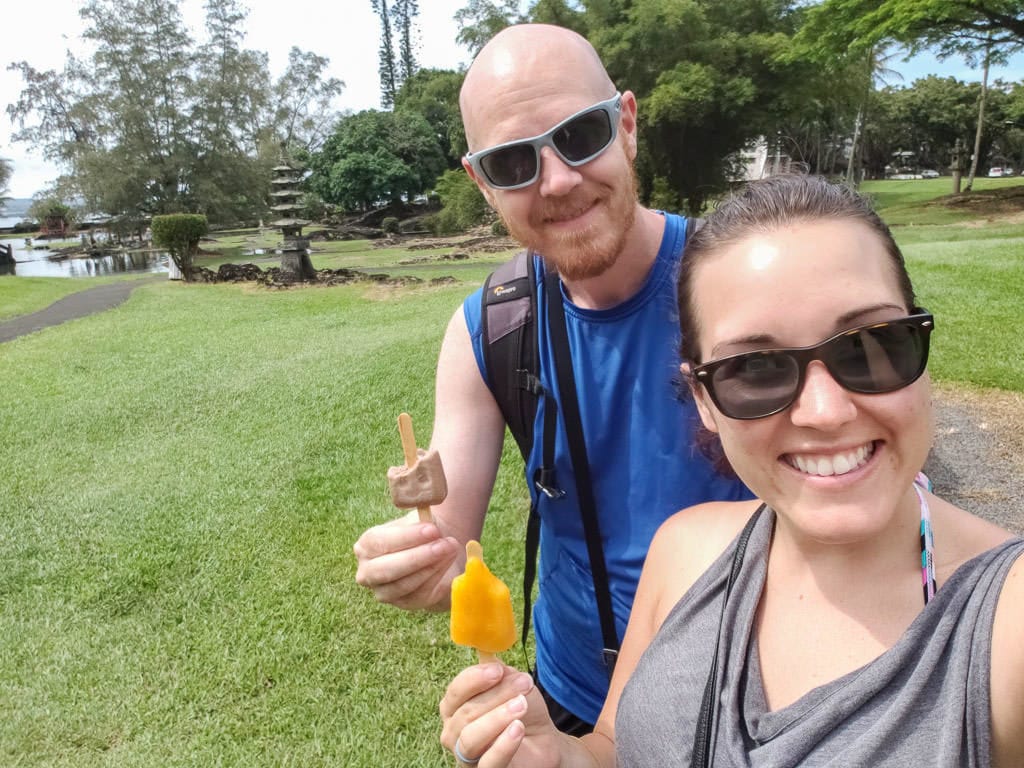 Our Favorite AirBnB in Hilo, Hawaii
On our first night on the Big Island, we stayed in a very strange, not well-kept mansion we found on AirBnB in Hilo – just outside of city center. NOT recommended. However, our other night in Hilo was spent at Hale Kai Hawaii Bed and Breakfast which we loved and highly recommend. There aren't a lot of fancy hotels in the area, so make sure you confirm you are oceanfront if that is what you want. Some appear that way, but are actually a few streets away. We lucked out with our B&B find! Plus, the breakfast was superb.
The second night we stayed in a gorgeous B&B a little further north in Honokaa at Waipio Wayside Bed & Breakfast, run by a wonderful woman we thoroughly enjoyed chatting with about travel and things to do nearby. This made for a great base for our explorations in the Wiamea area.
A Quick Trip to Vog-Filled Kona
Aside from the famous national park, another reason we wanted to visit the Big Island was for the famed night manta ray dive. Buddy had wanted to do this for years and I'm so glad he talked me into going! (Read more about that here).
However, the vog (volcanic fog) was extremely thick during our visit. Unfortunately, the trade winds tend to blow the vog into this area. Some people are more susceptible to being irritated by it than others. While Buddy felt a little scratch in his throat, I had a constant headache and felt pretty rough during most of our time there.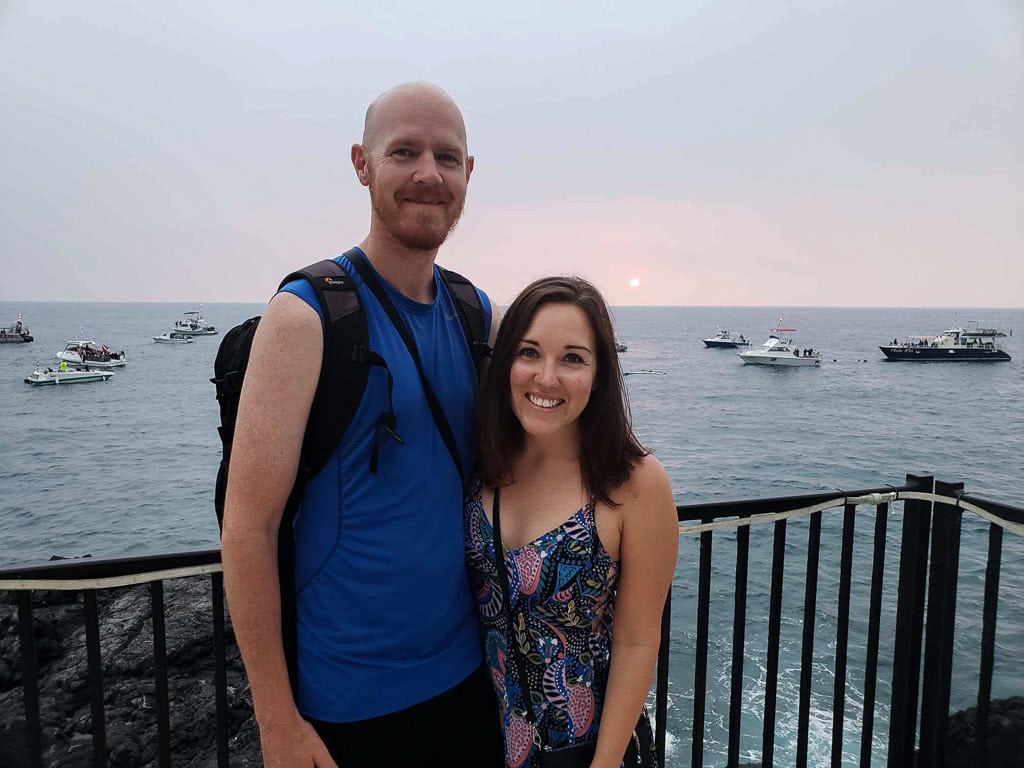 We had planned to do a lot more exploring while there, but decided being outside unnecessarily wasn't worth it. We could always come back. However, we did go to Kona Brewing and also tried our very first Hawaiian shave ice at One Aloha – an organic option in town.
Mauna Kea & The Saddleroad
Hoping to get a view of volcanic landscape, we also planned a trip to Mauna Kea via the saddle road during our short trip to the Big Island. It turned out to be one of our favorite places in Hawaii!
Pu'u Huluhulu Cinder Cone Hike: This easy, short hike through unique moss-covered trees and with views of the surrounding lava fields was a highlight of our Big Island trip. It was just so unique and we were the only ones there at the time due to the gloomy, drizzly, voggy weather.
Mauna Kea Visitor Center: This was as far as we could go in our rental, but chatting with the staff here was fun, and the views on the way were great. Next time, we'll plan a little better and get a vehicle that can go all the way to the top, or plan more time to hike it! Tours are also available, but that's not really our thing.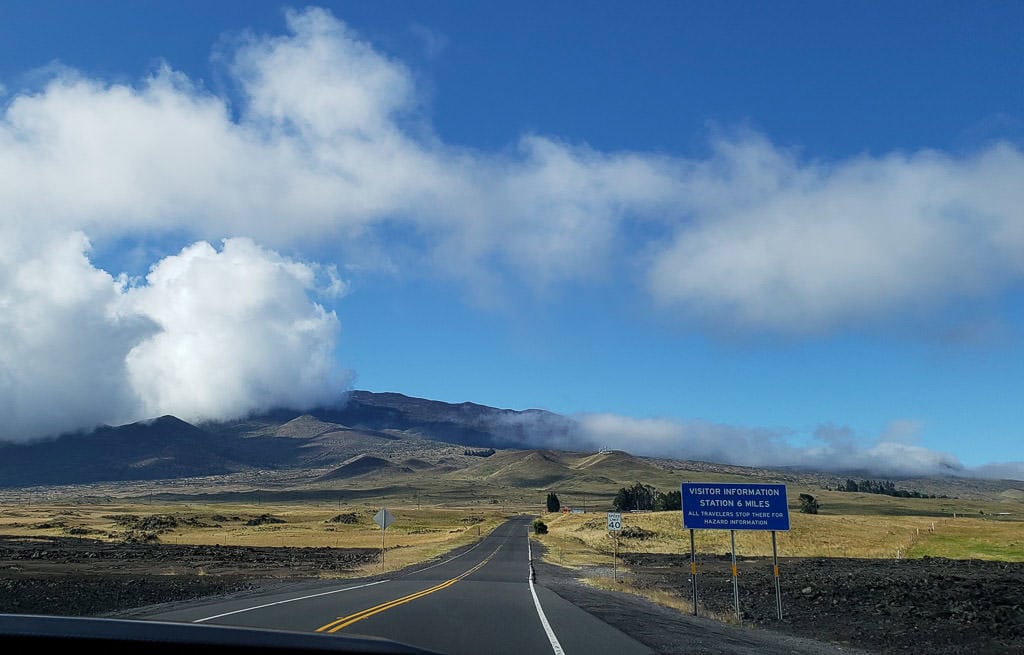 Mauna Loa Observatory Road: Had we set a day aside for this, we would have loved to drive all the way to Mauna Loa. But, just driving on this road for an hour or so then turning around made for quite the adventure. We were surrounded by an amazing volcanic landscape with so many interesting details!
Admiring Pele's Work (from Afar)
On our last night on the Big Island, we decided to treat ourselves to a beautiful B&B (mentioned above) with gorgeous ocean views of the Hilo area. We were greeted by a lovely couple who told us that at night we could sit on our back porch and see the glow from the nearby volcano.
As it darkened, we saw exactly what they meant and were in awe of this sunrise-esque sight. Others we had talked to had gone on expensive helicopter and boat tours to get as close as possible to the action, but this was enough for us. This allowed us to enjoy the beauty and power from afar, without putting ourselves in the way of Pele's destructive side (the goddess known to live in the volcano).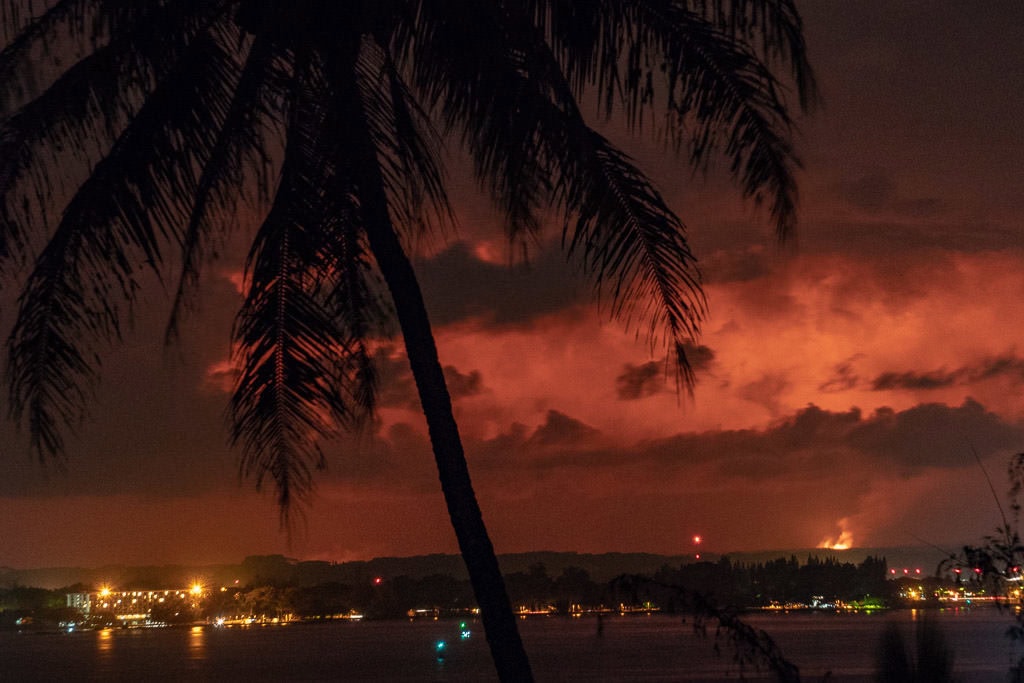 Besides, someone we chatted with who had done the boat tour (a storm chaser, none-the-less), said it was the most terrifying thing she had ever done. And, a week later we read a news report about a chunk of lava hitting one of the boats. Never ignore your intuitions, folks! But, also never pass up on a great place, just because the situation is not ideal. So glad we still went to the Big Island despite not being able to see it all. And now, it is just a great excuse to go back to one of our favorite places!
Read more about our two-month Hawaii trip here. And if you want to know more about how we made this vacation happen, check out our guide to pet and housesitting!