We have what I like to call 'lack of travel self-control.' When we are near an interesting place, we have a really hard time not going to check it out. After RVing for a year, 'near' has become a very subjective term. So, when we realized we would be seeing all of the Hawaiian Islands except Lanai, we were determined to find a way to explore this small, but beautiful isle. With limited time and funds, we decided packing all the things to do into a Maui to Lanai day trip would have to suffice.
Then, we started planning a ridiculous trip which would allow us to spend a whopping four hours on the island. While looking for tickets, I had this crazy idea to fly into Lanai then take the ferry to Maui, after having some time to explore. The ferry just seemed like a really unique experience. Turns out, this was about the same price as a flight straight to Maui – so we basically had to.
Travel Serendipity on Our Maui to Lanai Day Trip
With less than a week to figure out what the heck we would do for four hours on Lanai – and how we would manage to do that without a rental car – I started emailing like crazy.
With not much initial luck and expensive rental car prices, I was beginning to think seeing Lanai would end up looking more like us taking a long walk to the ferry. But then I received an amazing reply from a local cab driver I had reached out to about her pricing. Little did I know, I was contacting a fellow writer (she literally wrote the book on Lanai) and Editor of the local newspaper, Lanai Today.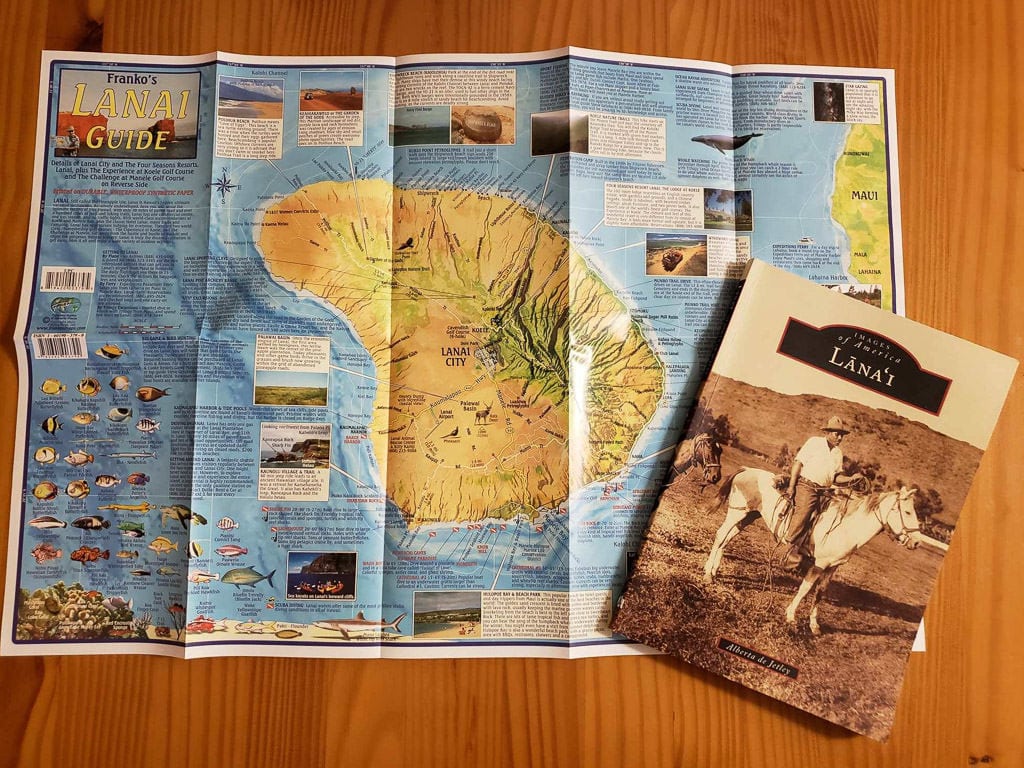 She saw in my email signature that I was a writer and offered to take us on a whirlwind tour of her beloved island – seeing the top spots and learning the unique history from someone who lived a lot of it. Without hesitation, I enthusiastically accepted her offer. And that's how my friendship began with Alberta de Jetley.
Friends at First Sight with our Lanai Tour Guide
When Buddy and I arrived at the airport, Alberta was there waiting for us and we all hugged like old friends. She was extremely excited to show us around and we could barely believe our luck. Hawaiian people are truly some of the kindest and most hospitable in the whole world. I knew before we even landed that she would be one of our favorite travel friends – and she did not disappoint on her offer to show us Lanai.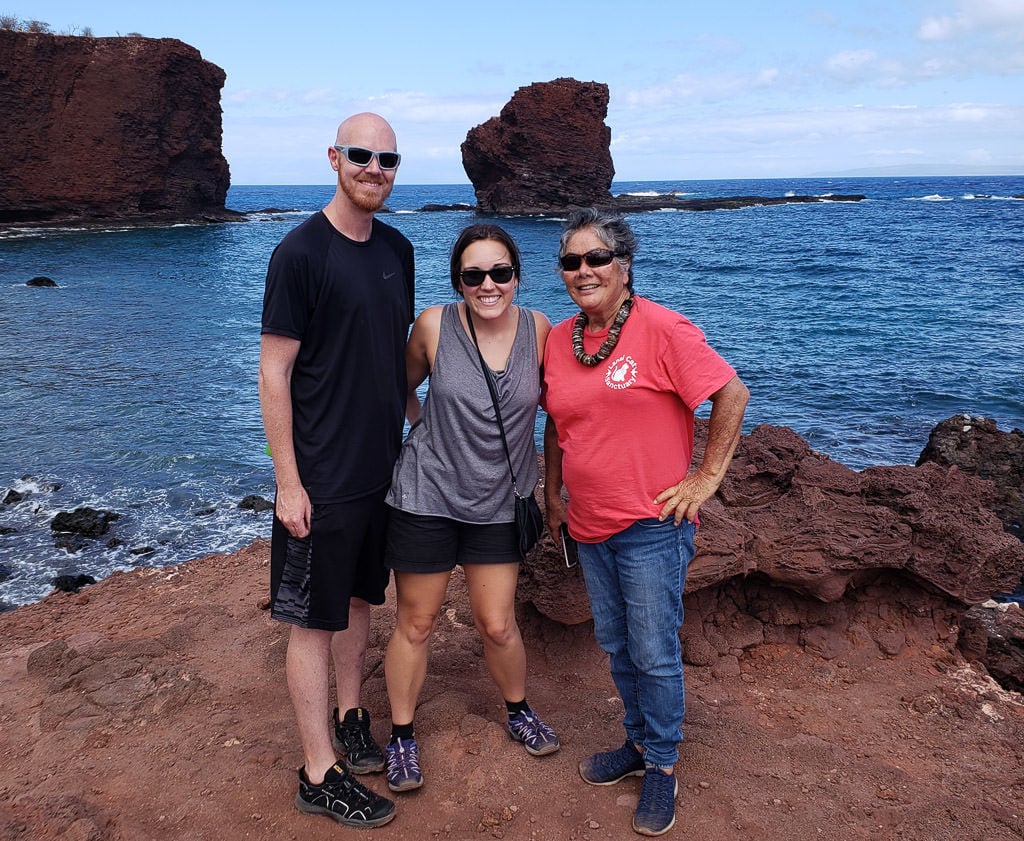 Things to Do in Lanai on a Day Trip
While our day was planned by our fantastic Lanai tour guide, we'd highly recommend these activities to visitors on a self-guided Lanai day trip as well. Although, having a guide made all of these stops easier and more enjoyable on a quick visit.
The Lanai Cat Sanctuary
Our first stop was the one we were most excited for – the Lanai Cat Sanctuary. Alberta is actually a volunteer there. So, she was able to tell us many stories about the cats and projects she has helped with over the years.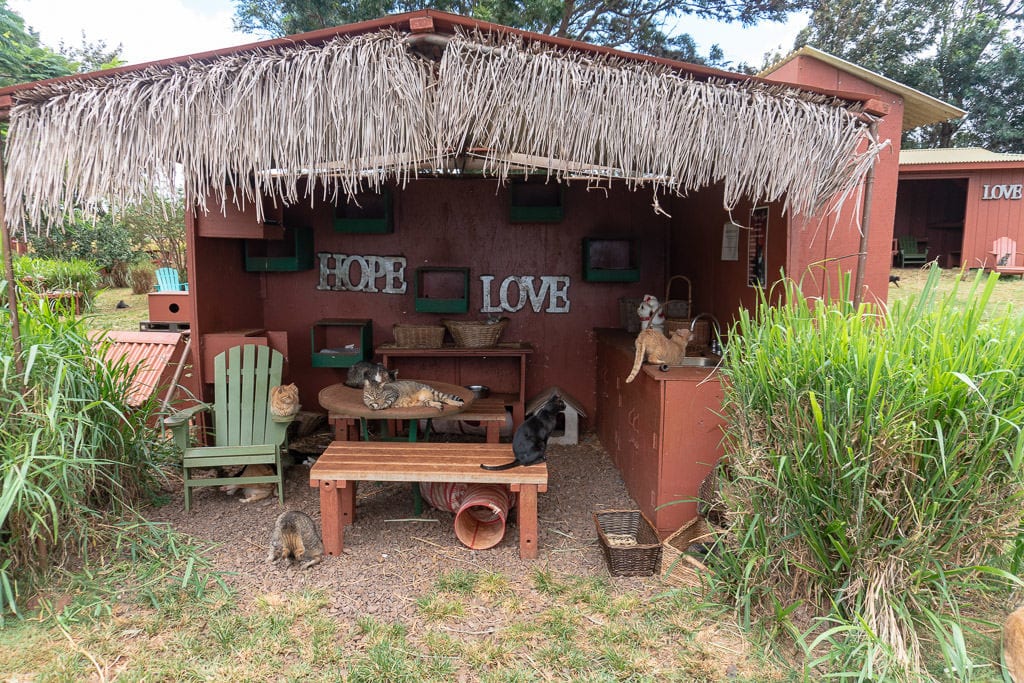 More than five hundred cats live here. It is an amazing sight to see all of these felines lounging around, playing, wrestling, and interacting with guests. Some had obviously overcome some pretty severe health issues. While others looked like they had been pampered their entire life. The mix of sizes, colors, and attitudes made us appreciate the beauty and uniqueness of cats even more.
But I won't lie, I was intimidated. As we walked around handing out treats, these confident feral cats walked right up to us demanding to be acknowledged, pet and – of course – given a treat. At times, I had a few dozen swarming me, impatiently awaiting a tasty bite.
Yet, they also had a sweetness to balance their fierce determination. They loved to be loved. And the ones who didn't stayed out of reach.
The Lanai Cat Sanctuary is doing a wonderful thing to allow all of these cats to live in a comfortable place. They are away from danger and also unable to create trouble for the community. Keeping them here and working to control the population of feral cats elsewhere on the island has actually helped to save their native bird species. If you are looking for a rescue to visit, volunteer at, or donate to – this one is a fantastic option.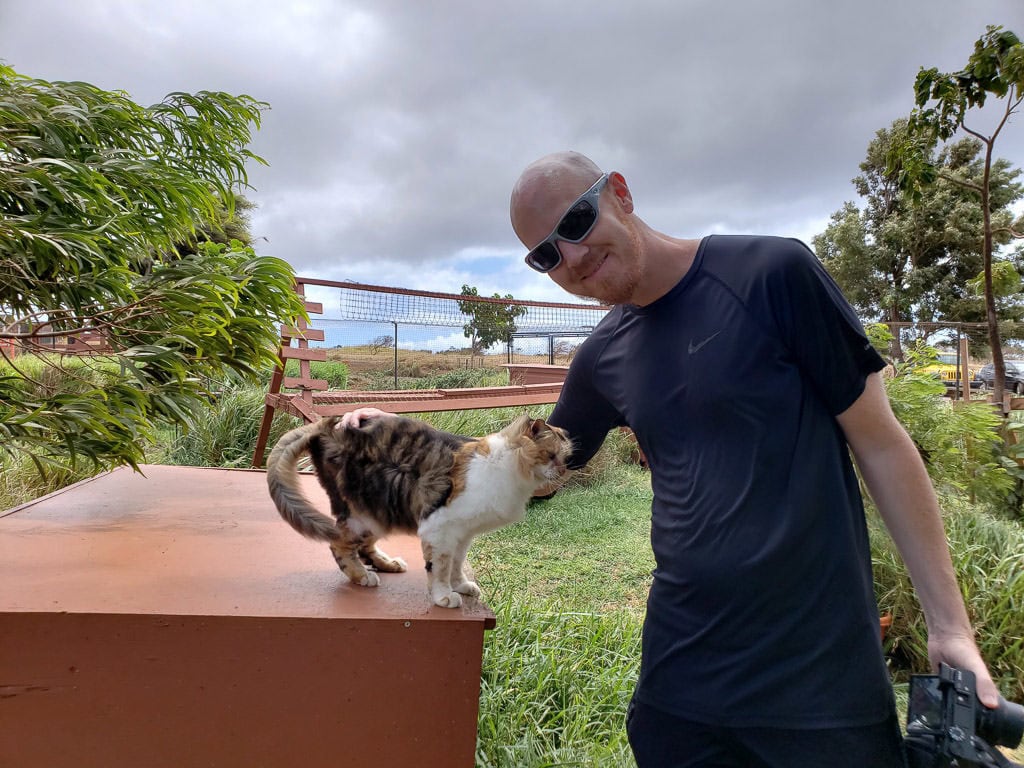 A Historic Driving Tour of Lanai
After getting our kitty fix, Alberta drove us around the area while telling us all about the history. She would pull out her book (Images of America: Lanai) to show us amazing photos of the past. While she explained the area's history, it became apparent that there were a few major phases separated by change of ownership on Lanai. (Synopsis below, but her book does a much better job explaining the rich history of this island).
Early Life & Other Pre-Pineapple History
Long before Lanai was known for pineapples or tourism, it was a place that native people believed was inhabited by ghosts. Legend has it that a prince from Maui was banished there after pulling some unappreciated pranks. But he rid the island of the spirits, regained favor with his people and settled the island.
Later, other Hawaiians migrated here and built fishing and farming villages. Wars occurred between chiefs and decimated the population. And under the rule of King Kamehameha I, it became known as his favorite place to fish.
There are places on the island that relate to these legends, as well as petroglyphs from early inhabitants and shipwrecks off the coast. Pre-pineapple history also includes missionary visitors and lots of ranching. You can even see the remnants of an early school/church at Kihamaniania.
Plantation Phase
In the 1920s, James Dole – President of what was eventually called Dole Pineapple Company – bought the island and turned it into the world's largest pineapple plantation. Although the plantation managers did have a clear distinction from the workers, Dole went out of his way to create a community environment among the working residents of the island and their families.
He encouraged a good quality of life with recreational activities and other perks, in addition to providing hundreds of jobs. But, the pineapple-focused part of the island's history ended decades ago.
However, I have to admit, I thought there were still pineapple farms on Lanai. Someone even recently told me that there is nothing on the island but pineapples. So, I must not be the only one who is misinformed! However, this is probably because the island used to be covered in them. Many still use its nickname the 'Pineapple Isle.' And there is also an annual Pineapple Festival to celebrate the importance of this fruit to the people of Lanai.
Mr. Murdock Phase
In 1986, multi-millionaire David H. Murdock took control of Lanai … Murdock quickly began construction of two luxury resorts. In 1992, the final pineapple harvest occurred, officially completing the transition of the island's main economic focus to tourism.
Affordable homes for workers, luxury homes and condos, a golf course, and other tourism-focused building occurred in the coming years as well. The island eventually became known as a vacation destination.
During his ownership, Murdock created a new economic focus and jobs for Lanai's residents. However, as Alberta proudly told us, one of his best gifts were the many Cook Island Pine Trees he planted – which take moisture from the air and help create fresh water for this dry island.
Mr. Ellison Phase
In 2012, multi-billionaire Larry Ellison, took control of the vast majority of the island when Murdock was forced to sell his beloved island during the worldwide recession. Since taking over, he has spent hundreds of millions of dollars renovating. "Mr. Ellison likes renovations," Alberta told us with a smile.
The well-known Four Seasons Resort was renovated a few years ago, as well as the public pool, shooting range, and historic movie theater. The island's spa was also being renovated during our visit – of course, we made a mental note to check that out on our next visit!
We also found it really interesting that he created a private flight option, Lanai Air, because he didn't feel like the current option was reliable enough for guests. This man is truly committed to growing this island's tourism!
Getting a Lay of the Land of Lanai
As we drove around learning the history of Lanai, Alberta would also stop at various lookout points to make sure Buddy could get plenty of great photos. Our favorite was a stop atop a road that wound down to a beach where you could see shipwrecks. It is aptly named Shipwreck Beach.
From the viewpoint, we could see Molokai and Maui in the distance. From various points on Lanai, you can actually see most of the other Hawaiian islands on a clear day.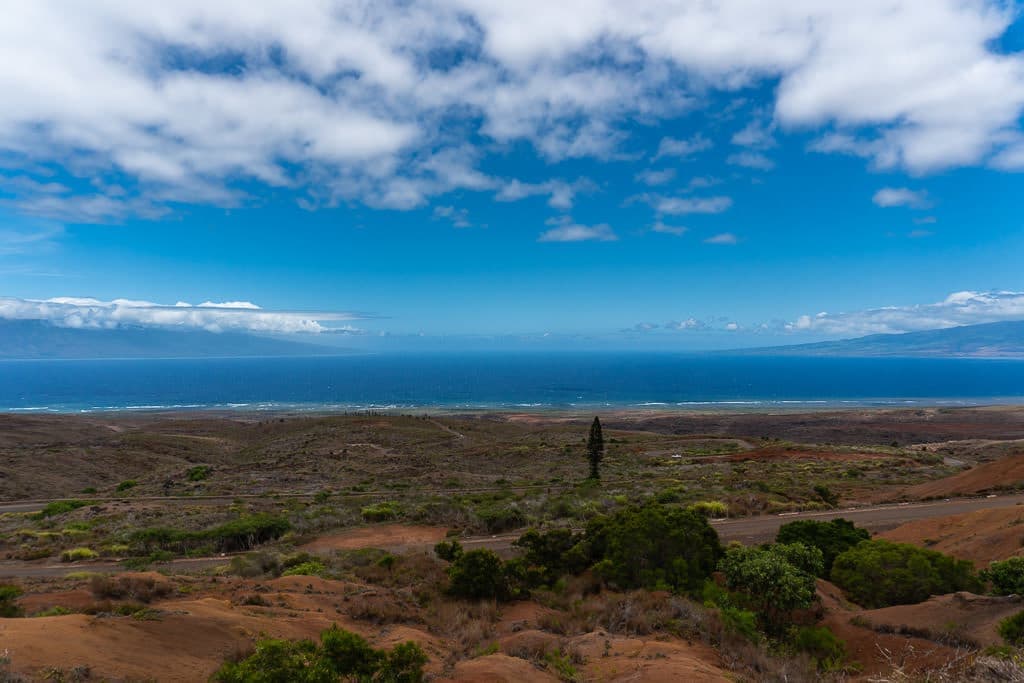 As lunchtime neared, we swung by Richard's Market – a wonderful, well-stocked grocery store – where Alberta was thrilled for me to try the fresh poke. Since Buddy doesn't eat fish, I hadn't made a point to try this famous Hawaiian dish yet, so she was excited to share one of the delicious poke bowls with me.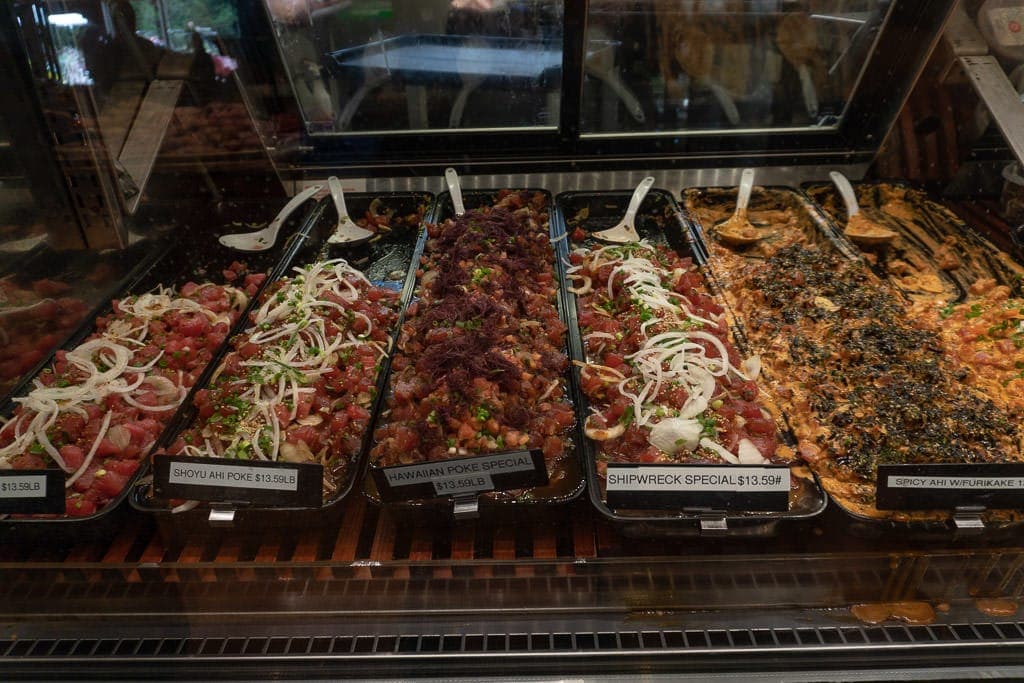 Our beach-side picnic tables spot was the perfect setting for lunch. I got my first (delicious) taste of poke while watching the waves crash and the nearby beach-goers play. Buddy and I chatted with Alberta about travel, writing, and meeting interesting people.
Our gorgeous lunch spot marked the later half of our tour, but we still had a short hike to Sweetheart Rock and a trip to the extremely fancy, high-priced Four Seasons Lanai Resort. I still can't believe how much we were able to fit in. Somehow, I think Alberta managed to steal us some extra time.
Sweetheart Rock – A Must-See on a Lanai Day Trip!
This area was one of our absolute favorites. Puu Pehe (Sweetheart Rock) is an iconic Lanai landmark, which is – not surprisingly – attached to the island's folklore as well. It's actually a sad, Romeo-and-Juliet-esque story about two lovers. Legend says the woman drowned in a nearby sea cave, and after climbing to the top of the rock to bury her, the man slipped and fell to his death. Whether it's the story or the views, this area can certainly make you feel a strong sense of awe.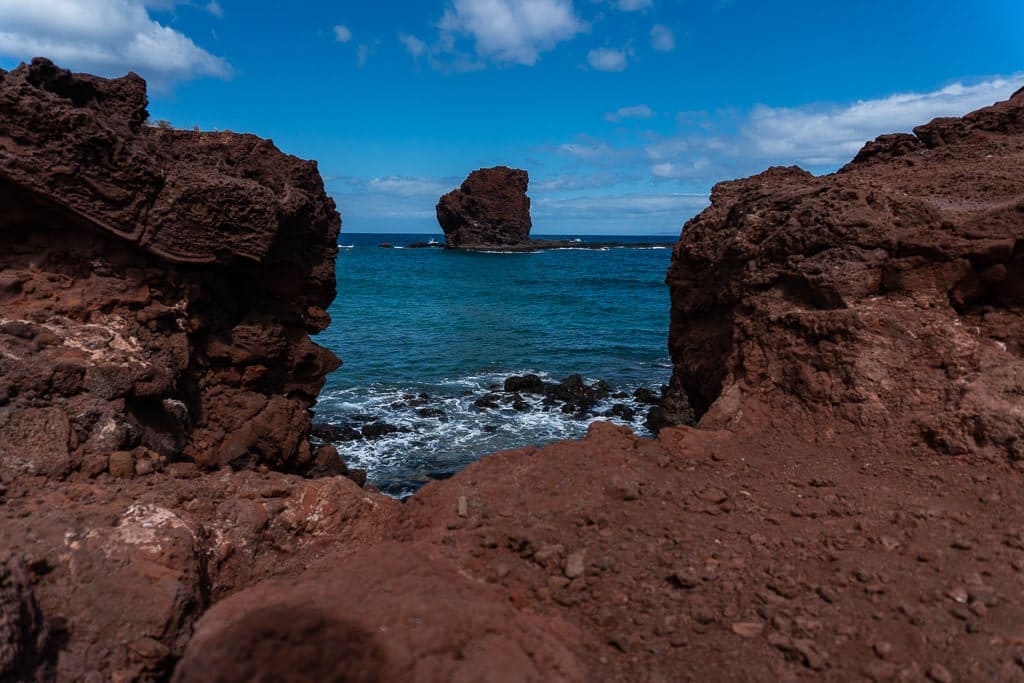 If we weren't so tight on time, we would have loved to hike around this area, go tide pooling, and lounge on the nearby beach. But, even just getting to admire it for a short period was well worth the trip.
Four Seasons Resort Lanai Tour
At about $1,000 per night, I was surprised we were even allowed to wander around this resort looking over Manele Bay. But, all of the staff seemed to know Alberta, so maybe we got special treatment. (It's all about who you know, right?) However, for being so fancy, it did still have a very laid-back, island vibe which we appreciated.
While this is far out of our budget, we had to admit it really was gorgeous. For being a beach resort, the floors were somehow kept pristine – which had to mean constant sweeping. The always-smiling staff assigned to this task, seemed to ninja their way across the halls without you even noticing. This place was on point.
The views, the plant life, and the artwork really made the resort stand out. We actually really enjoyed wandering around, wondering who these people were – lounging on benches, sipping cocktails, and dropping more than a grand a night to sleep in paradise.
Island of Lanai Tour Recap
Before we left, Alberta stopped to introduce us to one of the hotel managers. He welcomed us to Lanai with a kind, genuine smile and told us how lucky we were to be learning the history of this special place from a 'kupuna' (which means honored elder in Hawaiian). We had learned a lot that day, but that was not news to us. We were well aware of how lucky we were.
I knew from the moment I received her reply, that Alberta was a gem of a woman and that spending the day with her would be a special treat. I was not wrong. She went above and beyond to make us comfortable and openly share the stories of her island with us.
If you have an opportunity to go on a tour with her, or even to catch a ride from the airport in her cab – it will likely be the highlight of your trip. She certainly gave us one of the best tours of all our travels! It felt more like a full-day tour with everything we packed in.
Wrapping Up Our Maui to Lanai Day Trip
Once our tour – which felt more like eight hours than four – came to an end, we awaited the ferry to the island of Maui with big smiles and full hearts. Although the waves from a hurricane off the coast made us feel a bit green on the extremely rough 45-minute boat ride to Lahaina Harbor in west Maui, that wasn't enough to shake our happiness.
However, we did fall asleep at about 8:30 p.m. after such an eventful day. And we had another one in store the next day, as we drove the famed Road to Hana in Maui.
Tips for Visiting Lanai
While this island is definitely day-tripable, we highly suggest spending a few days soaking up its beauty. We are so thankful Alberta was able to give us a taste of what makes this island special. But there were many things we just didn't have time to do – like going to see the shipwrecks at Shipwreck Beach and hiking around Garden of the Gods. We'd also love to bring our snorkel gear along to check out the snorkeling at Hulopoe Beach.
Plus, planning for a full day of beach lounging is never a bad idea on an island. We will definitely plan a return trip, and look forward to seeing some of the completed renovations – like the amazing-sounding spa!
Getting to Lanai Island
We took a puddle jumper from Oahu with Ohana Airlines (run by Hawaiian Airlines). There is also a plane as well as a ferry option from Maui. Our flight from Oahu was about $70 each for a one-way ticket, and the ferry was $30. If you are a guest of the Four Seasons, Lanai Air is also an option – at $500 one-way for two people.
If visiting in the winter months of November through March, keep an eye out for humpback whales since they are usually in the water between Maui and Lanai. You may even see spinner dolphins and other marine life, too! Hopefully, there will be calm waters for your 45-minute ferry ride.
Where to Stay in Lanai
If you do stay overnight and the stunning, but expensive, Four Seasons Resort at Manele Bay is out of your budget, there are some other local options listed on AirBnb and VRBO. There is also the Hotel Lanai and another Four Seasons Resorts property located at Koele, both of which are currently being renovated.
How to Get Around the Island
While four-wheel-drive vehicles aren't necessary on most islands, this is one of the exceptions since there are so many rough dirt roads. You can't get to many of the must-see places without an off-road vehicle since much of the island is unpaved. But, if you aren't as interested in hiking and getting off the beaten path, you can also take advantage of the resort shuttle or taxi services.
However, a tour is also a fantastic option – and one we, obviously, recommend … especially with Alberta. Click here to email her to inquire about how she can help you see the best of Lanai on your trip, whether on a tour or with a convenient taxi ride!
There are also other companies that offer Lanai tours and some even offer local discounts. Trilogy is a company we've used before and can recommend, and their Trilogy excursions Lanai snorkel tour looks amazing. I'm sure it would be a great experience to sail along the coastline of Lanai and enjoy the breathtaking views of this small island.
Read more about our two-month Hawaii trip here. And if you want to know more about how we made this vacation happen, check out our guide to pet and housesitting!
Special thanks to Alberta for providing us with this personalized tour for our day trip to Lanai! As always, all opinions are our own.