Slow travel is our preferred way of seeing new places, but that isn't always an option – so we've also mastered the art of the quick trip. This usually entails a lot of driving, lack of sleep, and an intense burst of adrenaline to make it all happen. In 2.5 days, we managed to go on three awesome, can't-miss Maui scenic drives – along the Road to Hana, on the West Maui Loop, and to Haleakalā Summit.
1. Road to Hana – Best Maui Drive
This epic 45(ish)-mile drive was the main reason we went to Maui. I desperately wanted to walk through the Maui bamboo forest that I had seen gorgeous photos of since beginning my Hawaii research.
On our first full day on Maui, we heeded the warnings of fellow travelers and woke up with the sun to get to mile marker 0 bright and early. But we skipped the suggestions to grab a big breakfast in town – we were on a mission to wind our way alongside waterfalls and around tight corners to see that magic bamboo forest at the end of Road to Hana.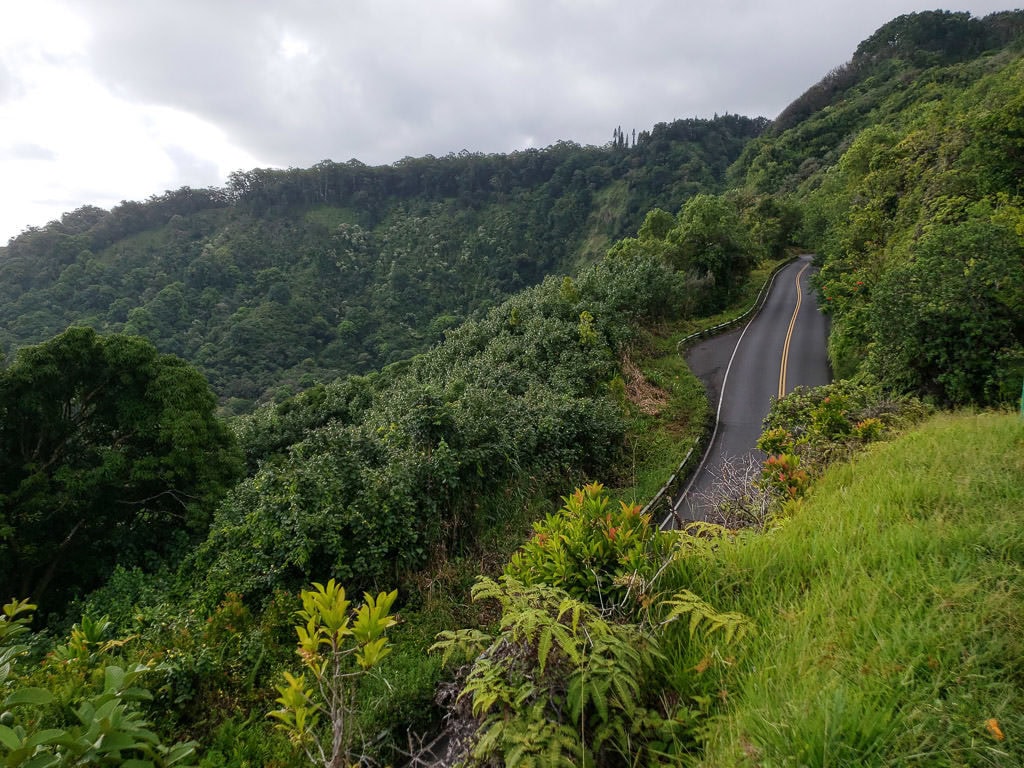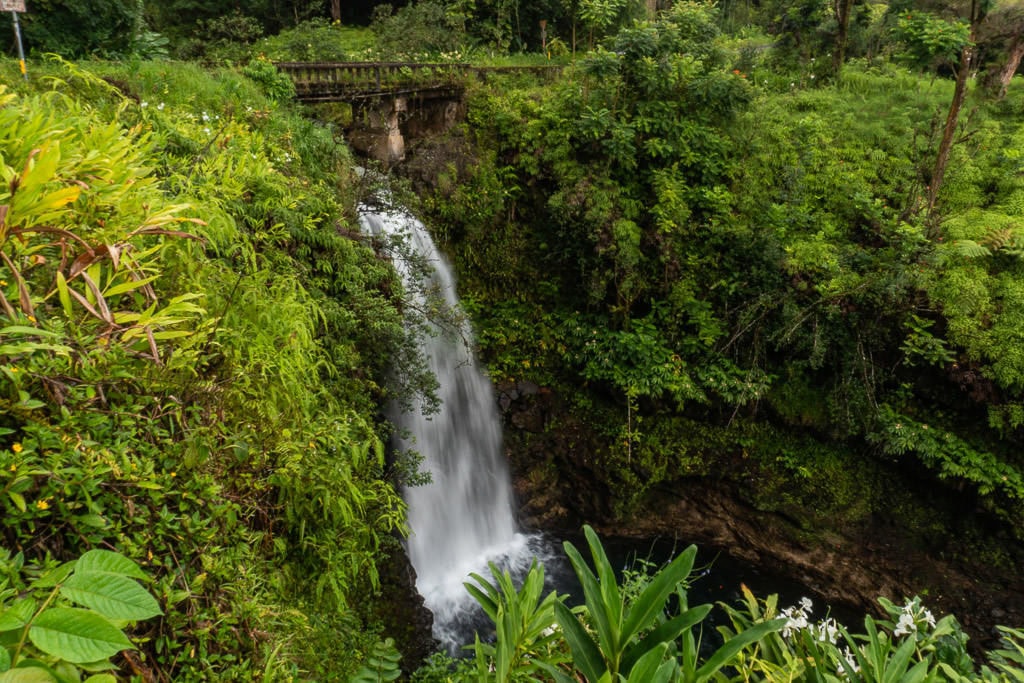 Waterfalls on Road to Hana
And along the way, we made some amazing quick stops as well. We saw our first really impressive waterfall after about 45 minutes of driving – and we lost count after that. Luckily, Buddy brought the drone to get some truly amazing photos of our scenery.
We could really appreciate the enormity and complexity of the waterfalls from above. So glad we brought this toy along for the ride! We'd stop in various pull-outs near these epic waterfalls, take the drone up and check out the views before moving along.
Another quick, but worthwhile stop was the Wailua Overlook. This area was empty when we got there bright and early. So, we enjoyed the views alone for a few minutes before hopping back into the car to continue our drive on the Road to Hana. Don't forget to look off both sides or you'll miss the waterfall off in the distance.
The only downfall to going early is that none of the delicious food or smoothie stands are open yet! Even the famous 'Halfway to Hana' stand didn't start serving until around 8:30 a.m. However, we were saved by another small, local stand with yummy banana bread a little after the half-way mark! There is a good reason this is the go-to treat while on your way to Hana. So yummy!
Crazy Drivers on Road to Hana
While beautiful and amazing, I do have to share that this drive was also one of the most terrifying we've done (except that one in Iceland's West Fjords). The narrow roads, hundreds of (often blind) curves, dozens of one-way bridges, bad tourist drivers and impatient locals, made for a very white-knuckled experience.
We quickly learned to drive very slowly, honk to announce ourselves when going around the blind corners and expect locals to not wait too long to go around us if our slow speed was holding them up. We actually watched one truck go around someone on a corner, in the oncoming lane. Ack!
Wai'anapanapa State Park
One of our hands-down favorite spots we stopped at on the Road to Hana was the black sand beach at Wai'anapanapa State Park. While the beach was gorgeous, the nearby sea cave impressed us the most. We loved getting to watch the waves crash from inside the volcanic cave. It was almost meditative. And not many other people saw it, so we were alone for quite a while.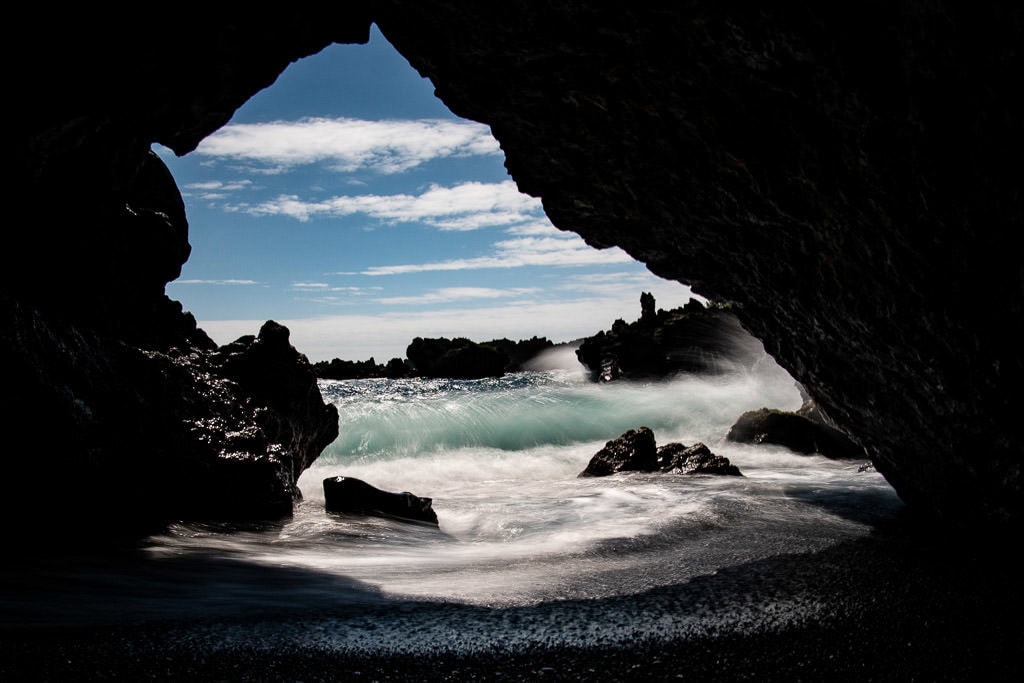 Haleakalā National Park – Pipiwai Trail
Many people rave about ending their trip by swimming in the 'Seven Sacred Pools' at 'Oheo Gulch in Haleakalā National Park. But, when we visited they were closed – and besides, we had a hike to get a move on with.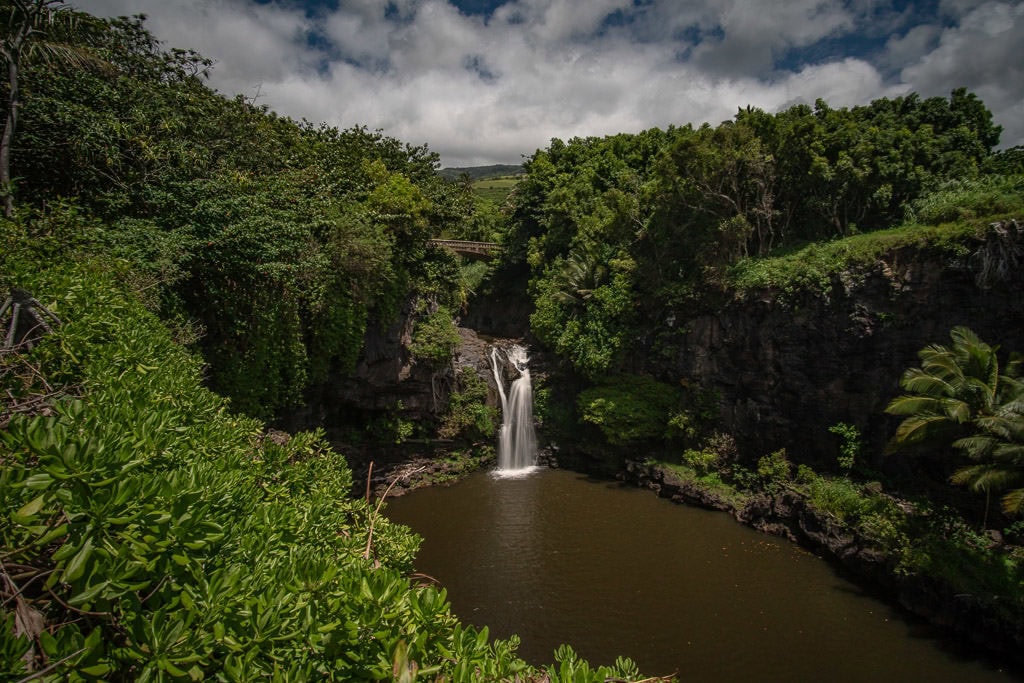 As we watched more and more cars parking around us, we hustled to get to the Pipiwai trailhead in order to get up to the Maui bamboo forest while there were still a few moments of peace to steal.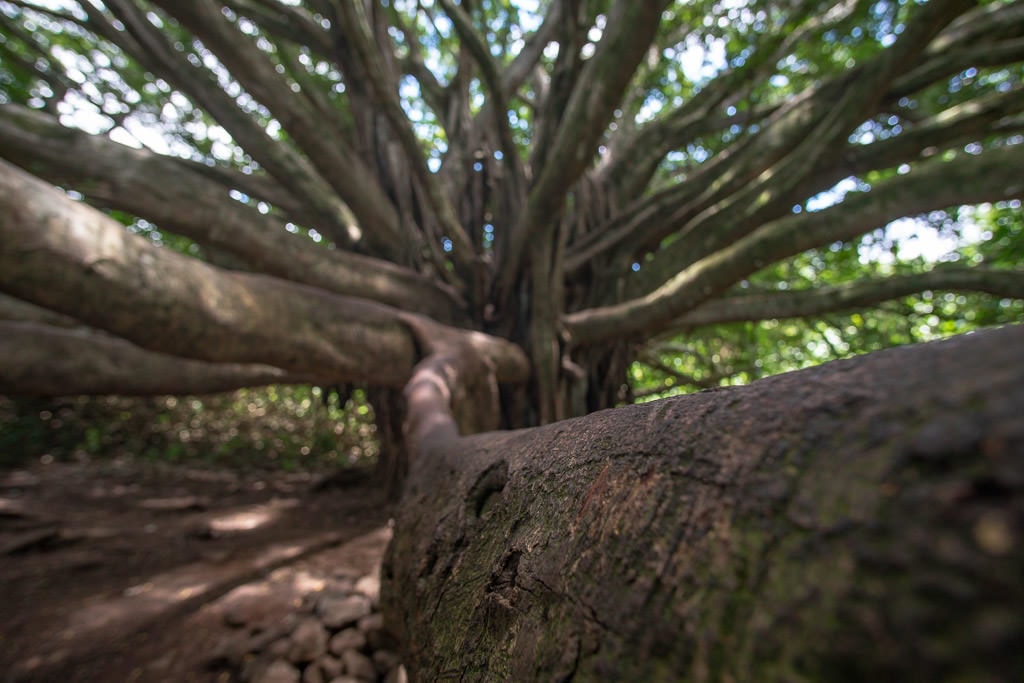 Along the way, we passed more streams and waterfalls. We walked over bridges and under giant banyan tree branches. Until – finally – reaching our much anticipated destination, the bamboo forest in Maui.
On a few occasions, we walked alone through the bamboo forest as we listened to it creak and crack as the wind blew those long, strong stalks against each other. It was such a mesmerizing place, and one we will likely never forget. Getting to be in the midst of such beauty was overwhelming – and more than we ever hoped for.
All too soon, our hike reached its end at the 400-foot Waimoku Falls. After catching our breathe and taking in the views, we headed back down the two-mile trail. We were hot, drenched in sweat, tired and hungry, but so glad to have those amazing views imprinted in our minds. What a truly spectacular hike! The Pipiwai Trail did not disappoint!
On the way back up the road, we made the genius decision to stop for a treat at Coconut Glen's for the BEST coconut ice cream I've ever had (and I've tried quite a few). It was the perfect way to wrap up our ten hours of exploring the epic and terrifying Road to Hana in Maui.
2. West Maui Loop – Most Scenic Maui Drive
After our insane, yet beautiful Road to Hana drive, we couldn't wait to see more of the island. So, the next day we headed north from our Peace of Maui B&B to check out the gorgeous coasts of the western peninsula.
Iao Valley State Park
On our way, we stopped at the lush Iao Valley State Park for a few hours. Initially, we thought there wasn't much to it. But, eventually, we wandered down to the stream and loved strolling along in that relaxing rainforest setting all alone.
We had gotten there right as the park opened, but within a few hours it was beginning to fill up and it was time for us to head on our way and continue on the West Maui Loop.
Gorgeous Overlooks
We went east after leaving the state park, to hop on Highway 340 near Kahului. While the views made it worth it, this was another scary drive with blind curves and one-lane sections. But, luckily it wasn't as busy day as the Road to Hana, so we took it slow and enjoyed the scenery.
Besides a few quick stops and some hiking options, there isn't much to do on this loop. But we really enjoyed just cranking up the island music, rolling down our windows and enjoying the varied landscape. However, we did stop at Kaukini Gallery in Wailuku, the Nakalele Blowhole and many gorgeous coastal overlooks. Buddy loved snapping photos of the waves crashing below us.
One of our favorite stops was the overlook for Honolua Bay, where we could see dozens of snorkelers and even some sea turtles! We just never tire of admiring that unbelievably blue water.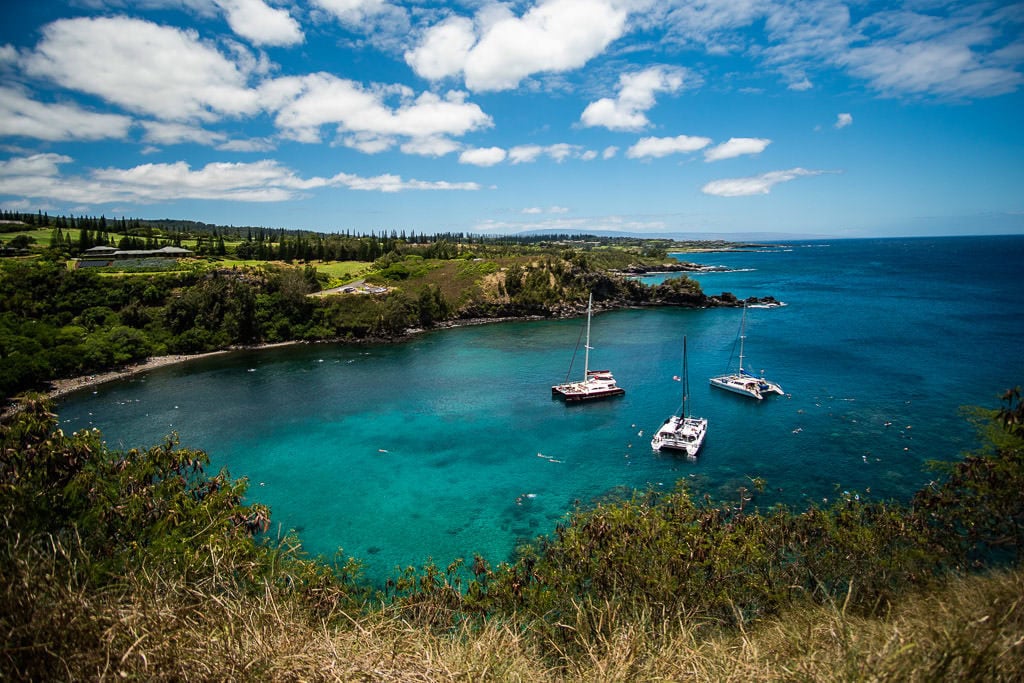 3. Haleakalā National Park – Maui Drive Above the Clouds
Unfortunately, we didn't realize we needed to book a spot to watch sunrise over Haleakalā crater so far in advance. But, we weren't going to miss out on a trip to this place while we were so close, so we settled for sunset.
Hiking the Halemau'u Trail
After looping up toward the top of the mountain and enjoying the far-off city views from so high up, we parked at the Halemau'u Trail head. We had no idea how amazing this short (1-mile each way) hike would be and are so glad we squeezed it in before sunset.
The views of the crater below and the clouds all around us were stunning. We just wished we had planned more time to do the all-day hike through the crater – next time!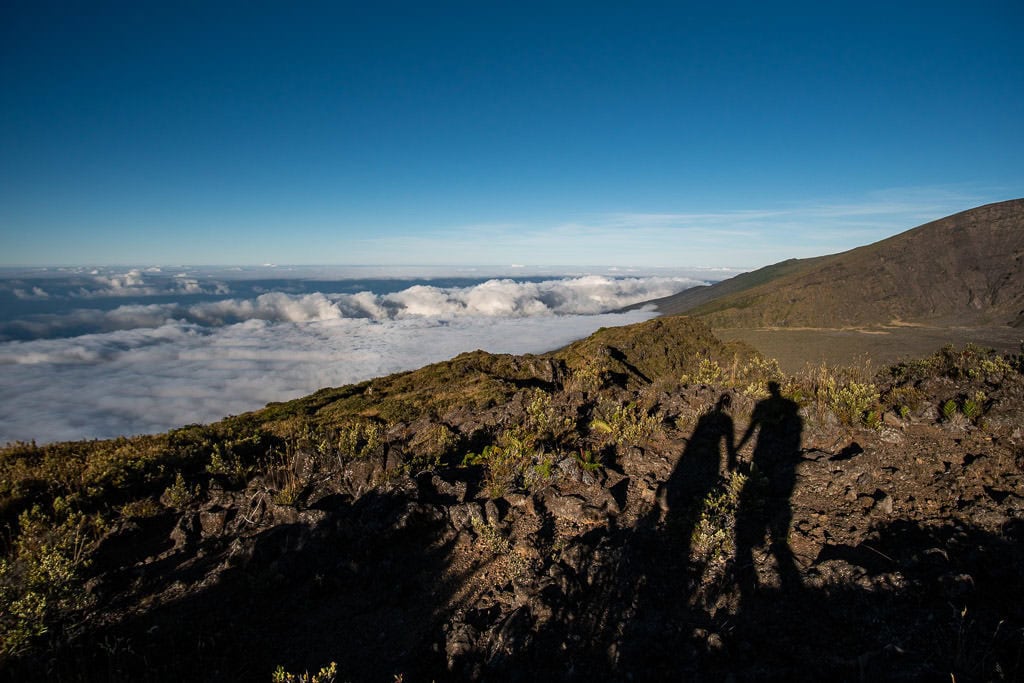 After a quick, but amazing hike on the Halemau'u Trail, we set off for sunset. And the parking lot at the summit was PACKED. This shouldn't have surprised us, but we hadn't planned for it at all. So, Buddy dropped me off, parked a little lower and hustled back up. And even though he just missed the sun dipping below the horizon, he was able to enjoy some of the residual glow with me before it got dark. And he got to hear the crowds clapping as it set – which was my favorite part of the whole thing. Love those moments of tourist camaraderie!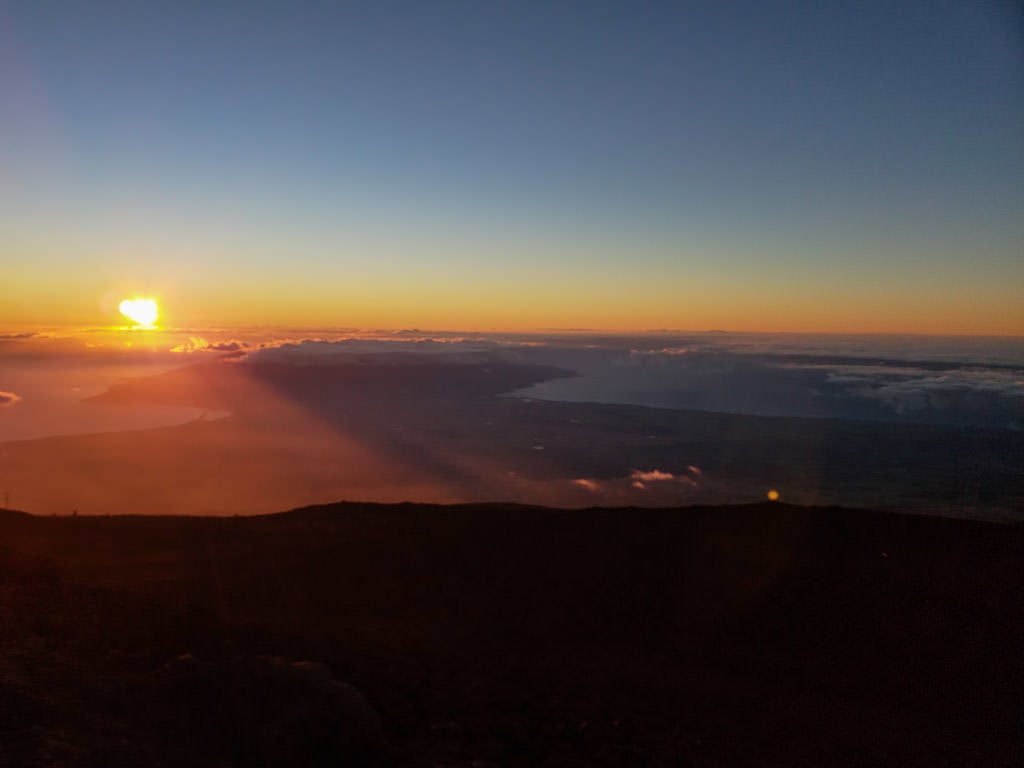 Night Sky at Haleakalā National Park
And when the sky at Haleakalā National Park darkened, the real show started. The views of the stars and Milky Way from Haleakalā summit were more clear than we had ever seen. It was chilly, so I admired them from the car as Buddy ran around shivering in his shorts taking photos and admiring the clear night sky.
There is so much magic in the night sky, especially at the highest point in Maui.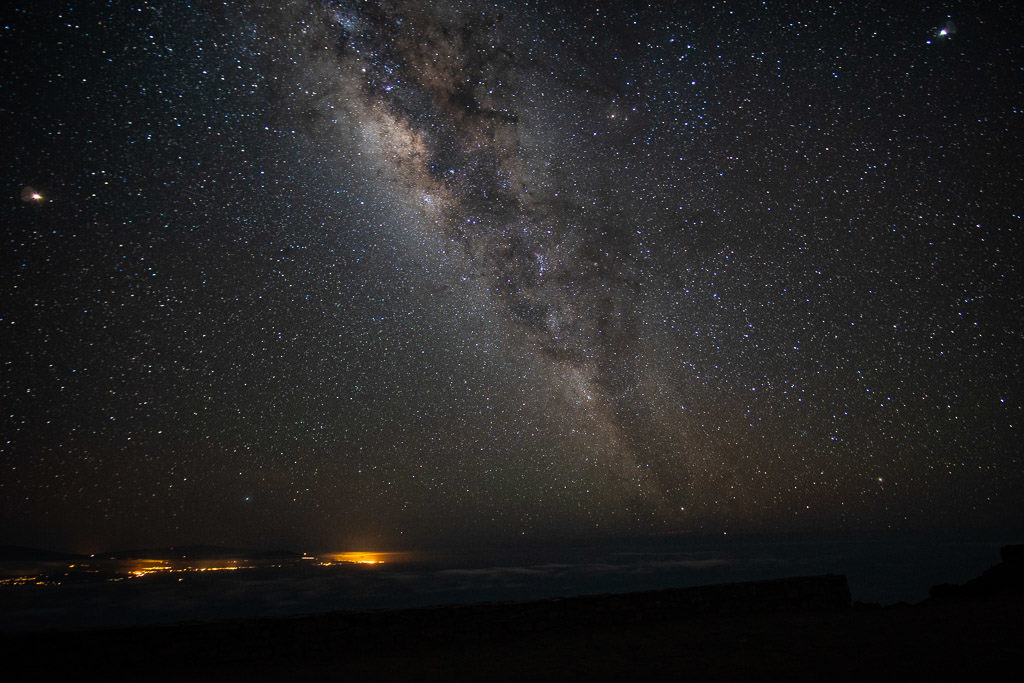 Peace of Maui – The Perfect Maui Adventure Base
We looked long and hard to find the right base for our Maui explorations. We wanted to be within an hour of all the main destinations we wanted to go to. However, we didn't have the patience or budget for staying at a resort with tons of people.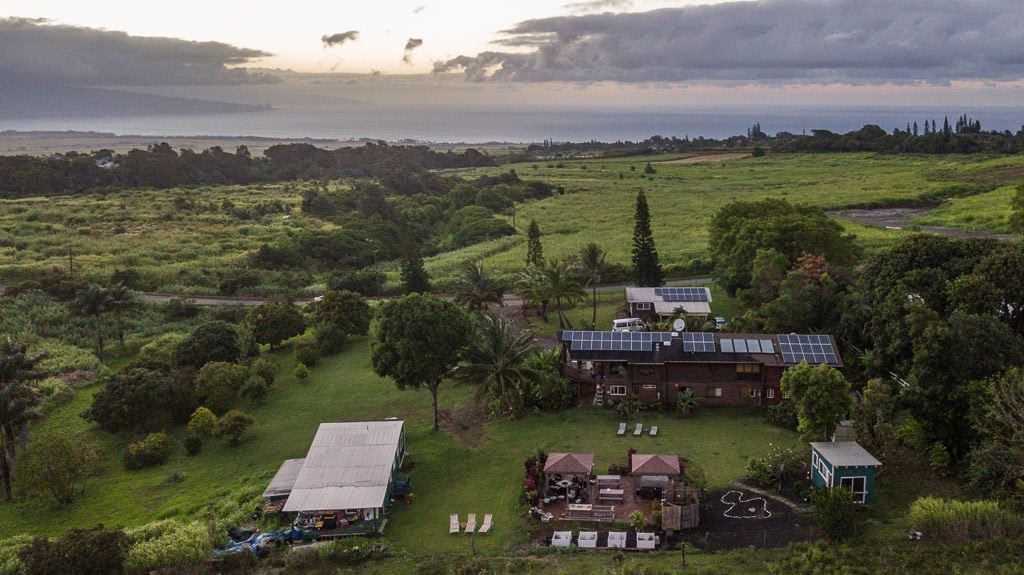 Luckily, we stumbled upon Peace of Maui in Makawao – a relaxing, beautiful accommodation option conveniently located near everything we wanted to do. The grounds were beautiful – with great views of nearby Haleakalā. And the rooms were simple, but cozy.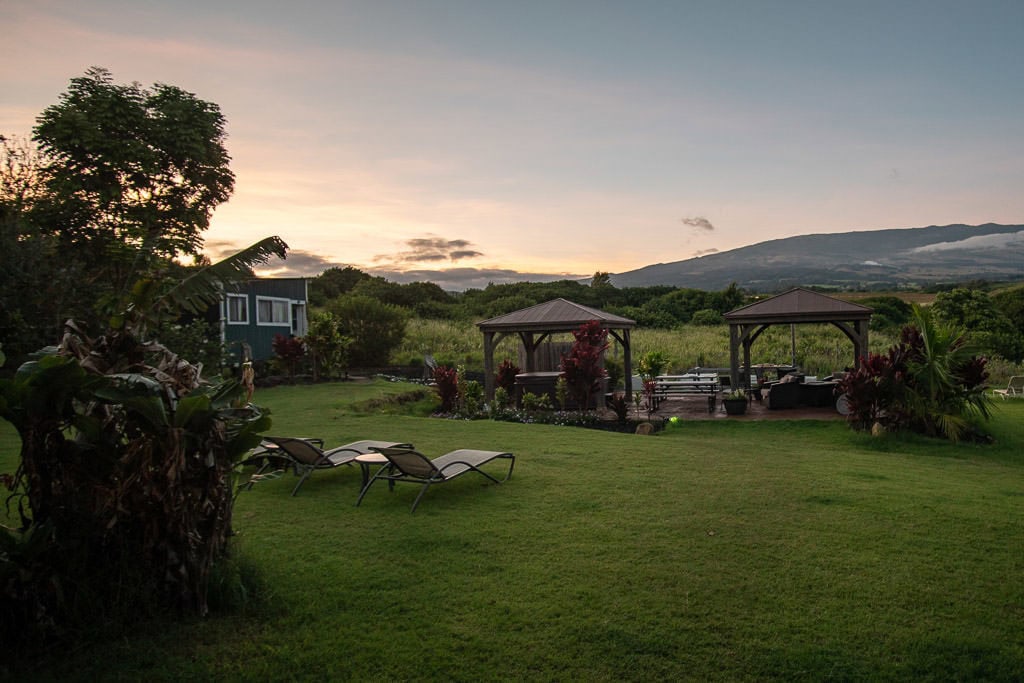 This was our first time staying at a place with shared bathrooms and kitchen area (aside from campgrounds), but we actually didn't mind at all. The other guests were clean and considerate, and the owners went out of their way to keep the Maui B&B looking great. Plus, Peace of Maui has some epic rainbows and sunsets!
Special thanks to Peace of Maui for providing us with a complimentary stay for this adventure.
Read more about our two-month Hawaii trip here. And if you want to know more about how we made this vacation happen, check out our guide to pet and housesitting!