When Buddy asked if I wanted to use our Hilton Points to stay at a fancy resort on the Big Island, I responded with: "Yes, that sounds amazing, but can we also finally go see the lava glow at Hawaii Volcanoes National Park?!?!" Ever since we saw it from afar a few years ago, we've wanted to get an up-close look.
It took me about 30 minutes to concoct a budget plan that involved renting a car, bringing shades for the windows, and just crashing there in a parking lot after going to see the glow in the middle of the night. It was a pretty crazy idea, but we ended up going for it. And while it didn't quite go as planned, seeing that beautifully ominous glow in person was worth it.
Note: Before visiting Hawaii Volcanoes National Park, be sure to check for updates – including current activity and the vog status. While a popular tourist destination, this is still an ACTIVE volcano and can be a life-threatening hazard.
Getting to the Glow at Volcanoes National Park on the Big Island
There was a time not so long ago when we had pretty much limitless freedom to go and see things whenever we felt like it (can you tell I miss this daily?). While budget was always a consideration, now that we aren't full-time digital nomads and actually have 'real' jobs (for now…), this trip had to take place over just one weekend.
Since we would be spending most of the day Saturday and Sunday enjoying our American Express Hilton Honors credit card points, we planned to go see the Kilauea volcano glow after taking the last flight in from Honolulu (our home city) on a Friday night.
We aren't new to island hopping, but you would think we had never planned anything like this before with how little we were prepared. The first problem was we had no idea so many food options in Kona closed or stopped serving food around 9p.m. – even on a Friday!
We spent way too much time wandering Target looking for drinks and middle-of-the-night snacks, we had very limited food options. After Outback saved the day, we headed to the park via the Saddle Road.
So, apparently driving the Saddle Road at night is really dangerous according to a few people we spoke to later. Fog can roll in and make visibility bad. I'm sure people falling asleep or driving too fast are other big risks. Whatever the cause, there was an accident that delayed us more than an hour. As we sat waiting at 11:30 p.m. with another almost hour to go, we realized we may be too tired to do much by the time we got to the volcano. Whoops! Next time, we'd definitely just plan to get in earlier and stay in Volcano Village or at the in-park campgrounds.
Hawaii Volcanoes National Park is about 45 minutes from the Hilo Airport and about two hours from the Kona Airport, so if you are going specifically to see the glow, flying into Hilo makes the most sense. However, since we were staying at the Hilton Waikoloa Village the next night, we decided Kona made the most sense for our situation.
When we began the drive up to the park in the middle of the night, nothing much made sense anymore and we were pretty delirious. But then we saw the dark maroon-purpleish glow in the sky and knew we'd be able to have a second wind.
Where to Go to See the Kilauea Volcano Glow at Night
Although excited, we were still pretty beat when we arrived at the volcano. We chose to hit up some of the viewpoints that were easy to get to while we woke back up and planned to make our way to the one-mile each-way lookout from the Devastation Trail parking lot – the best place to view the lava from the Kilauea volcano eruption.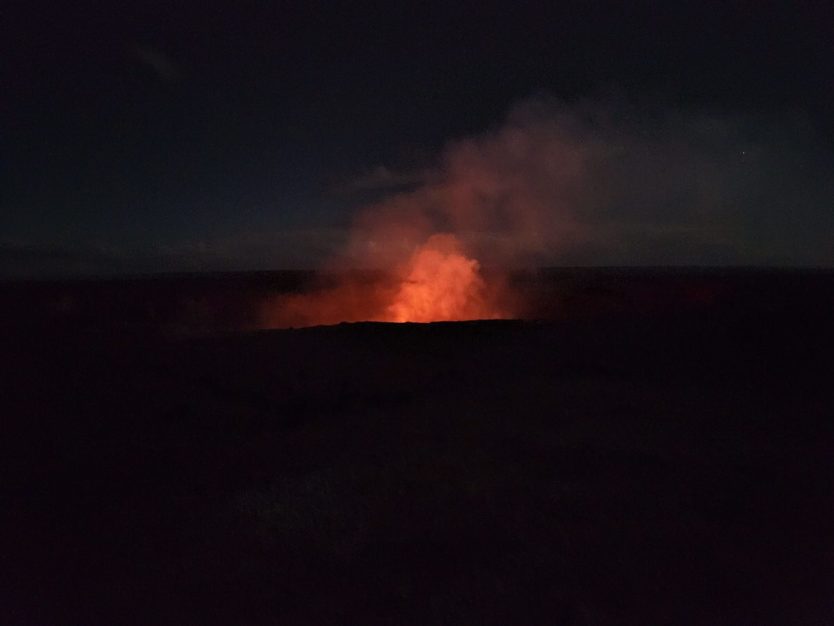 Wandering up to the various volcano viewpoints (Uēkahuna, Kīlauea Overlook, and Kīlauea Visitor Center) all alone was much more magical than creepy. It was more quiet than I had expected and since we went during a full moon, we could see much more of the landscape around us. We were even blessed with a moonbow at one point which was almost as awe-inspiring as the glow. Nature is just phenomenal.
Note that we were wandering around from about 12:30-3:00 a.m. If you go during peak hours (usually sunset/twilight), it will be much less serene and much busier. But, not everyone is up for our kinds of adventures, so do what works best for you!
We wished we had taken the short hike to see the better view, but we had already seen some great glimpses of the glow and felt like a nap in the car was the safest option. We put up our window coverings, draped ourselves in the jackets a friend (thankfully!) reminded us to bring since it gets chilly at night, and we passed out until daylight.
After waking, we went down the Devastation Trail and realized what a spectacular view we missed out on. It is still worth it during the day but it would have been even better at night. The trail seems very easy to navigate with a flashlight, just make sure you keep a lookout for the sign to go to the overlook about a mile in and not keep going past it.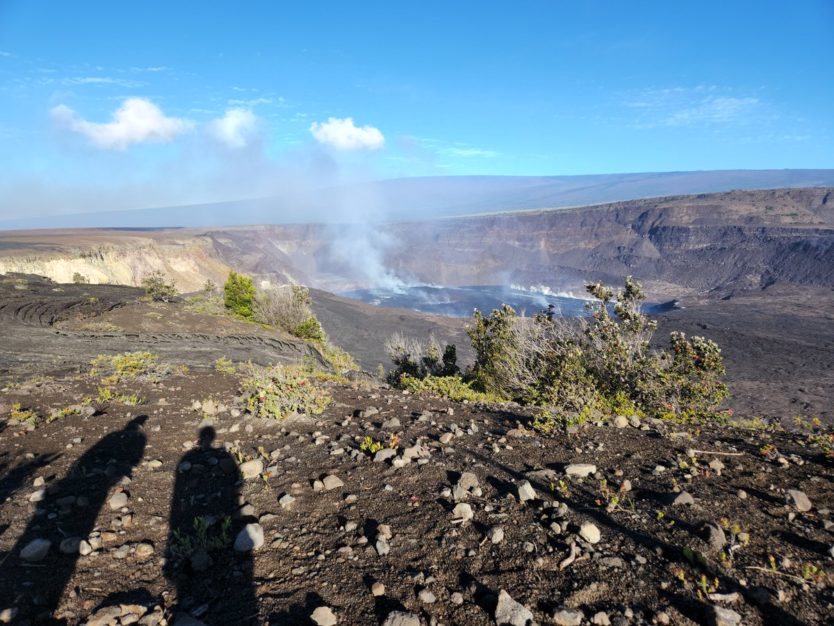 A few months later, we actually went back and took the trail at night and it was truly magnificent to watch the lava flow. It is well worth it to do this short walk to the better viewing area! On a clear night, it's even more magical!
We highly recommend going to see this wonder no matter how you decide to make it work! But if you do pull a late night, there is a great coffee and sipping chocolate cafe nearby called Koana that was super crave-worthy and the most lovingly made cup I've ever had in my life. They had a cocoa coffee with a marshmallow on top that I would have daily if able, and the staff was extremely friendly!