It's been a few weeks since our family left and I'm still just glowing with joy that we had such a fantastic trip with them! They were here on Oahu for two entire weeks. Yes, Americans who take trips longer than one week do exist and they are thriving because of it. We had the absolute best time showing them around our still-pretty-new-to-us home island. They were super eager to see as much as possible and do all the iconic Hawaii activities, but we were also all trying to not spend a fortune in the process … that's where the Oahu All-Inclusive Pass came in.
This awesome Hawaii activities pass from Go City saved us all so much money and I'd highly recommend it to anyone who wants to pack in a bunch of the must-dos when they visit Oahu. Here's what you need to know …
How the Go City Oahu All-Inclusive Pass Works
I just stumbled upon this deal when I was looking for tours and activities our family would enjoy. However, we have used these types of city passes multiple times in the past, so I knew how much potential savings it offered and was psyched about the find.
For those who aren't familiar, city passes give you access to as many of the included activities as you can fit into the days you've paid for. You usually have the option of one to seven days and, if you pick one of the longer options, there is often a "premium" attraction included that is at a higher price point. (For the Go City Oahu pass, one premium activity was included if you chose a pass for 3, 4, 5, or 7 days.)
The best part is that you don't have to use the days consecutively! Your Go City Oahu All-Inclusive Pass is activated by using your pass at the first attraction, so that counts as your first day, and then you have 14 days from then to use the other days. We got the three-day pass and used the second two days a full week after the first one. It was great to have that flexibility! They even have a really easy-to-use app so you can simply scan a QR code whenever you use the All-Inclusive Pass.
The big note for using Go City's Oahu pass is needing to book ahead and knowing that a credit card will need to be given to hold the booking. If you do not show up or cancel outside of the period outlined, you will be charged the full amount of the tour. This is because if you do not show up to scan the QR code, the tour provider does not get paid through Go City. It does feel like a hassle but makes sense and we are glad the local companies are being protected against loss. They've had it hard enough already!
Go City does make it easy to know the booking process for each provider by outlining it clearly on their website and in the packet you will receive via email once you purchase the pass. Most activities and all tours will require a booking.
Right now (as of June 2022) an adult pass for one day is $84, two days is $144, three days is $214, four days is $289, five days is $309, and seven days is $354. Remember 3+ days includes a premium activity, but really the main list of activities has plenty of great options on its own! And don't forget to book ahead!
NOTE: Go City's passes are constantly evolving. All prices and attractions mentioned are correct at the time of publication, but please check the Oahu All-Inclusive Pass website for the most up-to-date information.
Hawaii Activities We Chose with the Go City 3-Day Oahu All-Inclusive Pass
My sister-in-law and I are both planners, so we both had lists and spreadsheets going to make sure this was worth it and we both were positive we would save big going this route since some of the major things they wanted to do while on Oahu were on this list. Plus, we did some extra things that we may not have just because we had time and it was included! Which was a great time!
(NOTE: Comparison prices for the activities below are what is listed on the Go City Oahu website, which we found to be pretty accurate once you add in taxes and fees. However, you may be able to find these activities cheaper than the price listed – especially if you are a local and can get a Kama'aina discount).
For our three-days using the Go City Oahu All-Inclusive Pass, here's what we chose:
Moana Splash Luau (usually ~$165 per person) – This was the *PREMIUM ACTIVITY* we chose since we went with a three-day pass. It is only included for 3+ day passes. (More details below).
Makani Catamaran Sail (usually ~$100 each for a two-hour sail) – It didn't mention drinks were included in the summary, but we each got two while on the boat for free! Heck yea for nice surprises!
Diamond Head Shuttle & Self-Guided Hike (usually ~$37 per person) – Our family met us there with this since we get in free as locals, which saved some hassle for sure!
Three-Hour SUP or Kayak Rental in Haleiwa (usually ~$66-85 per person) – A good place to see turtles up close in a river!
Polynesian Cultural Center (usually ~$70 each) – They do a great job at giving you hands-on lessons and entertaining stories about the various Polynesian cultures, but plan a few hours here because there is a lot to see!
Kualoa Ranch Hollywood Movie Site Tour (usually $50 per person) **Paid extra to upgrade** – A FANTASTIC tour!
NOTE FOR KUALOA RANCH: There is an option to upgrade the included activity to either the movie site or Jungle Expedition tour for $15 per person. We all really wanted to see the iconic movie sites and felt like this was 100% worth it! You can book and upgrade via the Kualoa website using the instructions from Go City.
Pearl Harbor Museums (the USS Arizona Memorial is free but you must book a ticket, the others have fees):
Pacific Fleet Submarine Museum (usually ~$20 per person)
Battleship Missouri Memorial (usually ~$35 per person)
Pearl Harbor Aviation Museum (usually ~$25 per person)
USS Arizona Memorial Narrated Audio Tour (usually ~$8 per person)
We chose these must-do Hawaii activities because, as locals, we have heard great things and they seemed most worth the money! We also decided to let our family go to Pearl Harbor without us because they wanted to go to all the museums and learn all the things, and we are more of the type to wander through one history museum and just get the high-level info. They spent about ten hours there, so no regrets on our part. They loved it but that would have been torture for us!
Instead, we saved our last Oahu All-Inclusive Pass day to use after they left (the final day of our 14 we could use it was the day after their departure flight). So, we went SUPing in Haleiwa – something we didn't have time for with them but really wanted to do!
Our first day was spent doing Diamond Head, the Catamaran Sail, and the luau (more on that below) for one of the days. And on the other day, we went on the Kualoa Ranch tour and to the Polynesian Cultural Center.
Other Oahu Activities Included
We either didn't do these things because we didn't think they would be worth it or just didn't have time. Since we had a car and they rented one, there was no need for any tours and we wanted to spend time outside so didn't want more than one day of museums (which was set aside for Pearl Harbor as noted above). If we could have added on more, it would have been another Kualoa Ranch experience (Ocean Voyage and/or Secret Beach), SUP yoga, surfboard rentals, and shoreline fishing!
Tours, Shuttles & Guided Walks:
Kualoa Ranch Tour Options: Aloha Aina Tour or Malama Experience or Secret Island Activities or Ocean Voyage Adventure (usually ~$50-55 per person) – You can only do ONE Kualoa Ranch activity per day of using your pass, so be sure to plan accordingly.
Pearl Harbor and Honolulu City Tour (usually ~$64 per person)
Rainforest, Waterfalls, and Movie Sites Shuttle with Tour (usually ~$47 per person)
Makapuu Lighthouse & Halona Blowhole Tour (usually ~$33 per person)
Guided Hike on the North Shore (usually ~$83 per person)
Museums & Stores:
Iolani Palace (usually $25 per person)
Bishop Museum (usually $25 per person)
Waimea Valley (usually $20 per person)
Honolulu Museum of Art (usually $20 per person)
Queen Emma Summer Palace (usually $14 per person)
North Shore Soap Factory (usually $20 per person)
Two Small Chocolate Bars at Manoa Chocolate (usually ~$10 per person)
Fun for the Kids:
Wet 'n' Wild Hawaii (usually $75 per person)
Coral Crater Adventure Park Aerial Challenge Course (usually ~$67 per person)
Sea Life Park Hawaii (usually $45 per person) – I'm personally against places like this, so can't recommend it. You may not see as many creatures just snorkeling in the ocean, but you can see a whole lot and it is much more magical and better for them!
Hawaiian Lei Making on Sunset Beach (usually $50 per person) or Seashell Pendant ($75) or Coconut Palm Basket ($65)
Underwater & Active Fun:
Morning Yoga Under the Palms (usually ~$24 per person)
SUP Morning Yoga (usually $50 per person)
Waikiki Surfboard Rental (usually $35 per person)
Shoreline Fishing on the North Shore (usually ~$83 per person) – wanted to do this, but no availability for our dates! Womp Womp!
Full Day Snorkel Rental Near Hanauma Bay or North Shore (usually ~$22)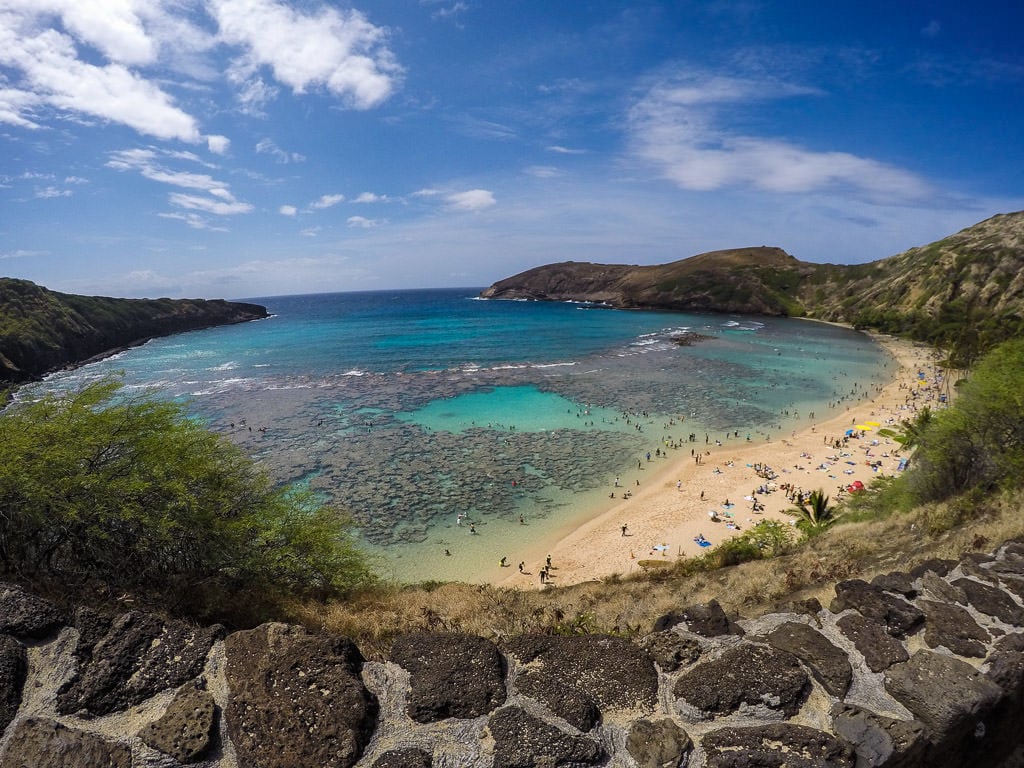 You can see how you could easily fill up multiple days with the things included on this list! Definitely don't overdo it though and miss out on the laid-back island vibe you came to Hawaii for. But, if you already plan to do some iconic activities or want to make sure your kids are entertained, this is a great option!
Oahu Premium Attractions Included with the 3+ Day All-Inclusive Pass
As we shortly mentioned, we also did a luau while our family was here. This was something they really wanted to do and we planned to skip going along before we found the Go City Oahu pass because they are just so expensive and we've already been to one before. Between the luau and the Polynesian Cultural Center (two of their must-do Hawaii activities), the pass was already saving us money so anything else was a bonus!
Here are the options for the premium attraction (you only get one per pass purchase of three or more days):
Moana Splash Luau (usually ~$165 per person) – This is what we chose and it was a bit of a struggle for me because I am not a big fan of Sea Life Park where it is hosted. BUT this was a great deal and a highly-rated luau option, so we decided to go to it and just not go into the marine park area. The luau was great and the performers and banquet staff were lovely. The food was surprisingly good and we each got two drinks, too!
Sea Life Park Dolphin and Reef Encounter (~$190 per person): As I mentioned, I'm not a fan of this place. You can do your own research to decide, but just note seeing these creatures in the ocean where they should be is much more enjoyable and very accessible in Hawaii! I'd choose another option for the premium activity.
North Shore Dole Pineapple Farm Tour (~$165 per person): I wasn't impressed by the Dole Plantation, but if you love pineapples, go for it! Definitely think there are more impressive things though!
Private Group Surf Lesson (~$138 per person): This is on many people's Hawaii bucket list, so this may be a great time to give it a go! If you don't do this one, our niece and nephew took a class at Turtle Bay Resort and it was a great experience, too!
Stand-Up Paddleboard Nature and Turtle Tour (~$130 per person): This is basically just a guided version of the SUP rental included in the main list, so probably not worth it.
Makani Catamaran Sunset Sail with Drinks (~$138 per person): Since the daytime sail allows you to see more and also ended up including drinks (at least on our tour), I wouldn't choose this as my premium option.
Hidden Gems Tour: Byodo-In Temple & Turtle Spotting (~$154 per person): If you have a car or rent one, this probably isn't worth it since you could go to these places on your own. But a unique tour option if you don't have a vehicle!
Looking over these, I do think the luau is the best value. It's a great show, with dinner and two drinks, plus it has a beautiful ocean backdrop in an outdoor location. The surf lesson would probably be the runner-up option for me. But, be sure to check back to the list on the Go City Oahu website often since I noticed a few things being added in the weeks leading up to our staycation!
Is Go City's Oahu All-Inclusive Pass Worth It?
Yes, we think the Go City All-Inclusive Pass for Oahu is definitely worth it for anyone wanting to do a lot of Hawaii activities and would recommend it if you are planning a trip to Oahu. However, to really make sure it will be worth it for you, I'd choose which activities you could realistically go to and compare the price of using the pass versus just paying normally. If you plan to do enough, you'll soon see it can save you $100 or more!
However, just remember that you have to do the activities all in the same days. So, if you pick two days, you'll have to cram all those activities into those two days, so consider drive time. You also need to make sure the places you want to visit have availability during that time. Luckily, the Go City Oahu All-Inclusive Pass has a really reasonable 90-day cancellation policy and will allow you to receive a refund during that period as long as you haven't used your pass yet. So, if you start booking and realize the attractions you want to use it for aren't available during your dates, just cancel your pass!
Overall, we saved at least $200 by using the three-day pass! It's something we will definitely keep in mind when we have visitors in the future. Which, living in Hawaii, we are saying ALOHA to new visitors about every few months! Ha! The price you pay living in paradise, I suppose. It could be worse and Go City is helping us keep the costs even lower! 😉
Planning a trip to Oahu? Check out the All-Inclusive Pass for Oahu from Go City here to help stay on a budget!