We've spent many glorious months enjoying multiple fall in Europe destinations. From wonderful festivals to scenic trails with piles of bright leaves to crunch through, autumn in Europe is our favorite time to go. Plus, it is MUCH less busy and less expensive than the chaotic summer season!
Although the temps will begin to cool down in September across much of Europe, October is when the leaves really begin to change in much of the northern countries and it is stunning! If you stay into November and December, you will be treated to amazing holiday festivals and foodie fun. Plus, if you get sick of the cold just head south!
Here are our top choices for fall in Europe destinations. We hope there is a location that you FALL in love with …
1. Riga, Latvia: Best for Leaf Peeping
Let's get straight to it … if you love autumn, you probably want to admire the changing leaves. Latvia (and the Baltics area in general) is AMAZING for leaf peeping.
We highly recommend basing yourself in Riga, Latvia, and then renting a car to drive around the countryside to admire the yellow and orange leaves! A visit to Bauska Castle is a great way to admire Latvia in autumn since the scenic trails on the grounds are covered with beautiful multi-colored autumn leaves.
If you have time for an extended day trip, driving over the border to Hill of Crosses in Lithuania is an experience you'll never forget. This iconic religious site with hundreds of crosses of all sizes is fringed with yellow-leaved trees in fall!
Read more about things to do in Latvia.
2. Killarney, Ireland: Best for Cozy Pub Vibes & Beautiful Views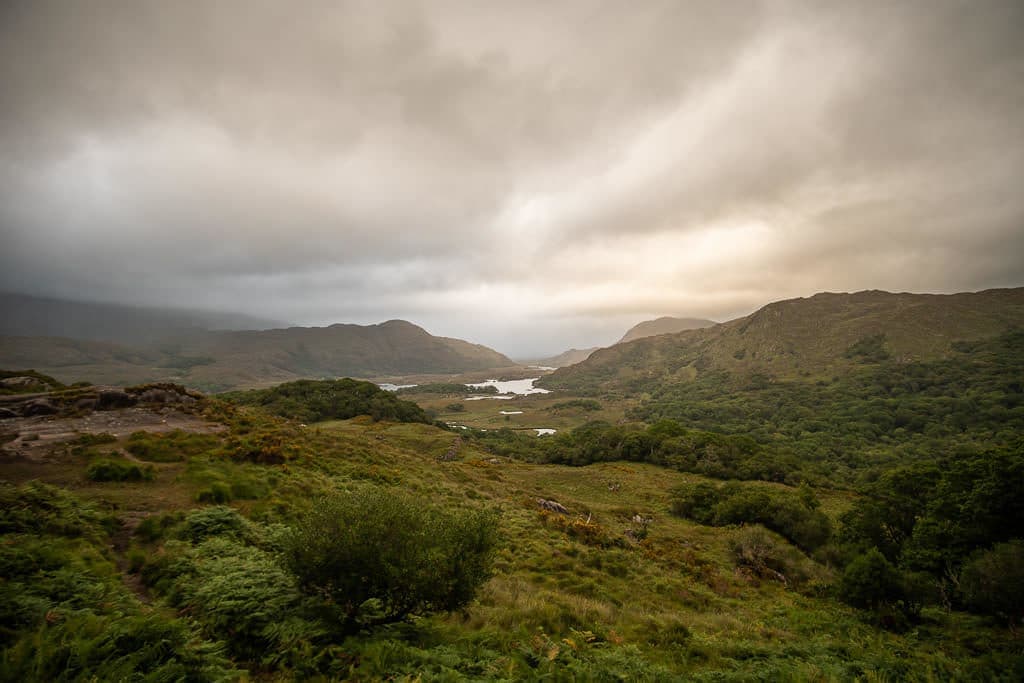 Yes, Ireland will be cloudy, rainy, and chilly in autumn. BUT this just means hiding away in a warm, cozy pub feels even more lovely.
On our ridiculously hectic fall Ireland road trip a few years ago, Killarney was by far our favorite stop. We stayed out late at Courtney's, enjoying live music, overflowing pints of beer, comfort food, and the magical ambiance that only exists at an Irish pub.
Killarney National Park is also worth a stop to take in the moody views, and you may even see a majestic stag if you are really lucky! This area is also about three hours south of the famous Cliffs of Moher. Just know if you go in fall, it may be very cloudy.
Read more about things to do in Ireland (& a five-day road trip)!
3. Copenhagen, Denmark: Best for Family-Friendly Halloween
Tivoli Gardens in Copenhagen is an iconic amusement park and a must-visit while touring this part of Europe. It is just so charming and was actually used as inspiration for Disneyland! When we realized they would be having a Halloween festival in the fall, we knew we had to plan a trip while that was happening.
Tivoli Gardens at Halloween isn't a spooky spot, but it is a beautiful autumn destination. There are plenty of pumpkins and cute fall decorations to admire by day, and then it is lit up at night! They also have Halloween-themed foods, shows, and other events. Plus, you get a great view of the leaves turning in the city beyond from multiple rides.
Want something a little more scary? They do have a haunted house on-site as well if you enjoy the jump scares! But the rest of the park is very family-friendly.
Read more about things to do in Copenhagen, Denmark!
4. Isle of Skye, Scotland: Best for Gorgeous Rainy Hikes
Fall in Scotland is just a dreamy experience. Yes, it is going to rain and be pretty gloomy and chilly, but the air just feels so crisp and fresh. Plus, rain just means the waterfalls are more impressive and the countryside is more lush. As the temperatures drop, the leaves turn to oranges, reds, and yellows, which only adds to the epic Scottish scenery.
A must-visit for any nature lovers visiting Scotland is the Isle of Skye. This is just a magical area that makes you feel like you are a visitor in an ethereal alternate reality. Bring your rain jacket along and head out to places like Old Man of Storr and the Fairy Pools for memorable rainy hikes in nature.
Read more about things to do in Scotland.
5. Dubrovnik, Croatia: Best for Harvest Celebration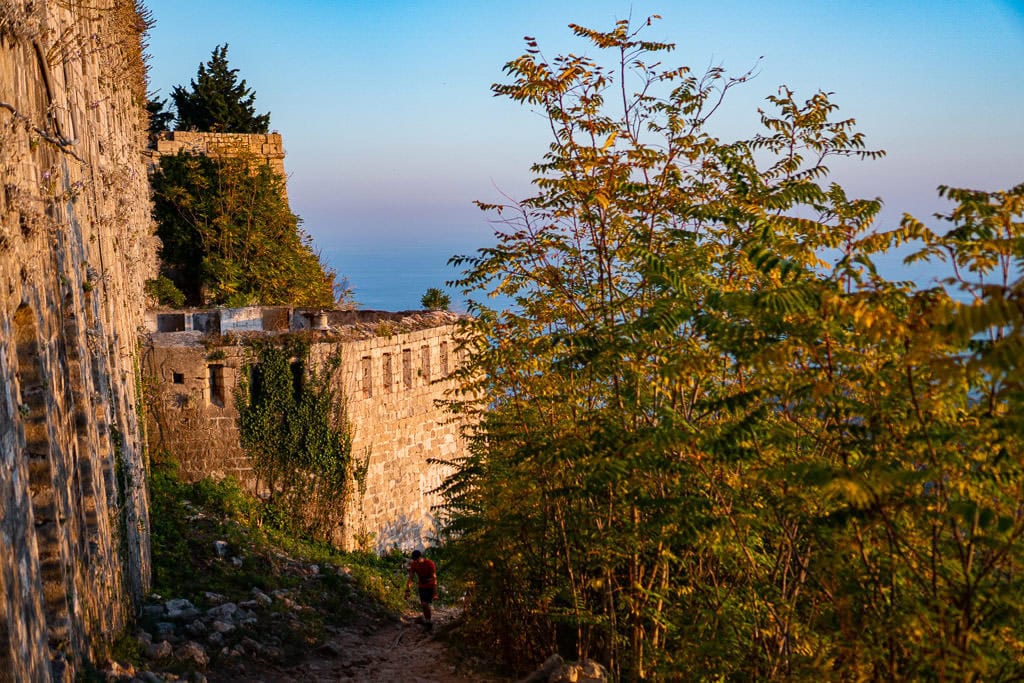 Of course, Dubrovnik is a stunning city filled with amazing ways to dive into culture and history. But did you know Croatia actually has multiple holidays dedicated to celebrating the autumn harvest? Saint Martin's Day is a big one that happens in November and is focused on the making of wine!
However, for a mix of delicious Croatia fall foodie offerings, check out the Good Food Festival in Dubrovnik (often in October). If you can't make it, just keep an eye out for the top foods of the season during your travels: truffles, olives (and olive oil!), chestnuts, mushrooms, pumpkins, and grapes (also wine!).
While in the area, don't miss a hike up to Fort Imperial for amazing views of the city below and some lovely autumn leaf peeping!
Read more about things to do in Croatia in fall!
6. Reykjavik, Iceland: Best for a Spa Getaway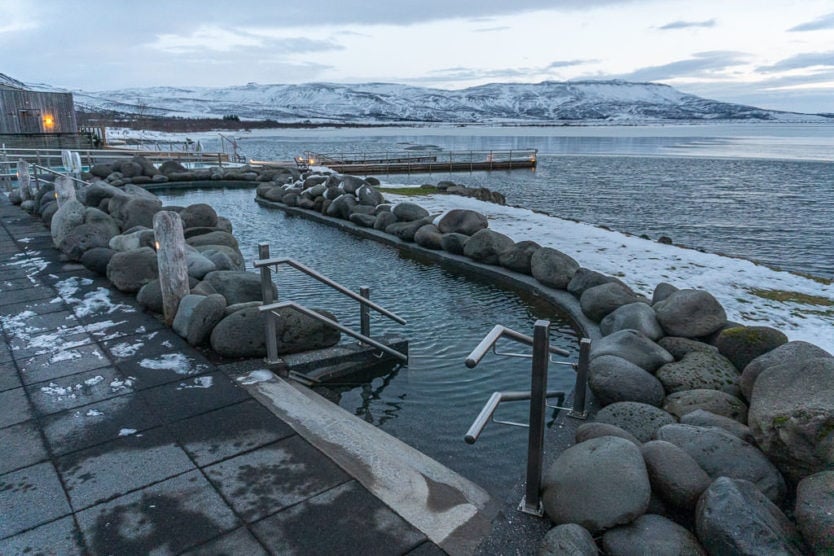 Iceland is the perfect destination for an adventurous nature-lovers getaway. But it also has some amazing natural spas to enjoy once you are done hiking to epic waterfalls, exploring inside glaciers, and staying out late looking for the northern lights (or enjoying the epic nightlife!).
Our FAVORITE Iceland outdoor spa experience is Laugarvatn Fontana in the Golden Circle area. They have hot tubs fed with the natural geothermal water, saunas, and steam rooms to relax in as well as a dock to jump off of into the cold lake for an invigorating plunge! This is hydrotherapy at its finest.
The Blue Lagoon is also nice, but it just gets SOOO busy! If you have time to drive a little further out, you can also find some amazing natural hot springs in the Icelandic countryside. A trip to Iceland really isn't complete without a soak in its healing geothermal waters!
Just remember that fall in Iceland is going to bring colder and more unpredictable weather as you near December. Although taking a campervan around Iceland is popular and still available, you'll just need to really watch the weather!
We genuinely love Iceland any time of year though and actually loved visiting Reykjavik in winter! However, our fall visit was definitely our absolute favorite!
Read more about things to do in Iceland.
7. Bruges, Belgium: Best for a Boozy Break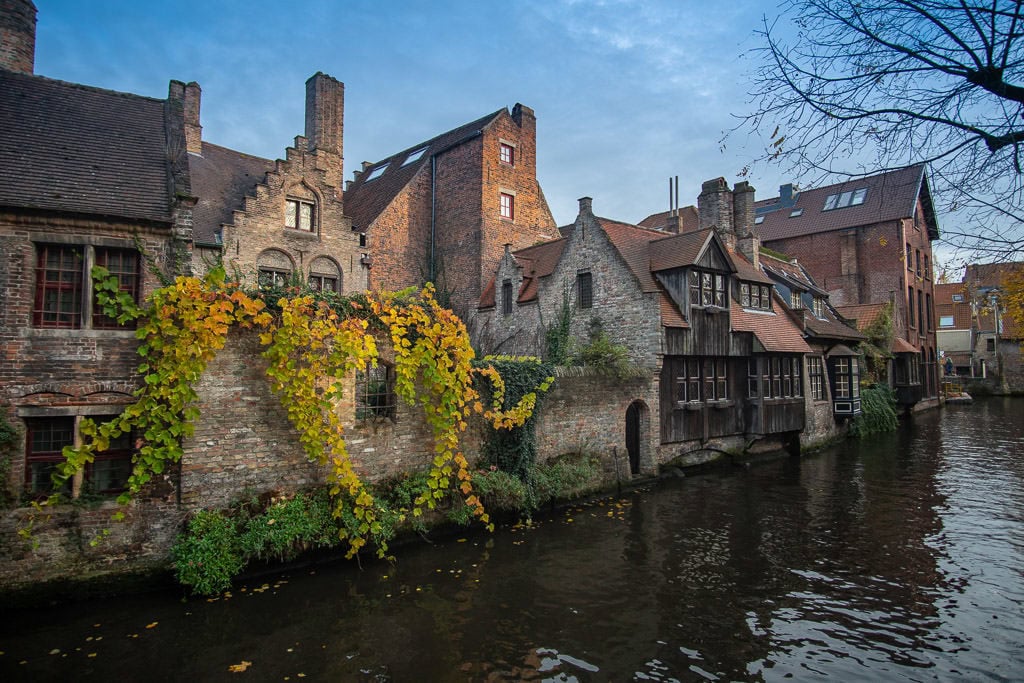 Belgium in autumn is really remarkable, but let's face it … you probably came for the beer. And that was a good decision. Belgium will seriously ruin all other beer for you in the best way possible. Yes, they also have delicious chocolate, waffles, and french fries, but all those delights are even yummier after a good beer buzz. haha
We had the best time wandering around Bruges, venturing into cozy little dark bars, and strolling the cobblestone streets lined with lovely little lamp posts. Bruges is really just dreamy and a great place for a relaxing fall Europe vacation.
Read more about things to do in Bruges!
8. Transylvania, Romania: Best for a Beautiful Budget Vacay
Whenever we are asked about our favorite destination in Europe, Romania is always top of mind. This rugged yet beautiful country in Western Europe has it all: rich history, iconic castles, stunning scenery, lots of wildlife, and some great dining experiences. Plus, it is much less expensive than anywhere else we have ever visited in Europe, and October in Romania is lovely!
Brasov in the Transylvania area of Romania, is a great place to base your adventures. It is a lovely little town with a great overlook and it is close to the famed Bran Castle (where Dracula is said to have lived). If you have time, the twisty turny Transfagarasan is a mountain drive unlike anything you've ever experienced. You may even see bears or wolves up there (or a cute mountain pup)!
Read more about things to do in Romania.
9. Rome, Italy: Best for Delicious Comfort Food
If you've only visited the iconic city of Rome in summer, you are really missing out on what makes it so special. In the less touristy seasons, you can really lean in and enjoy wandering around Rome at a less hectic pace. Plus, the pastas and pizzas and risottos awaiting you here are even better when it is a bit chilly out.
We highly recommend taking an educational and foodie tour around the city as well as an Italian cooking class. A trip to Rome focused on eating all the delicious food really can't be beat!
Read more about things to do in Italy.
10. Tallinn, Estonia: Best for History Lovers
Looking for a trip back in time during your autumn in Europe adventure? A stop in Tallinn, Estonia, is a must for history lovers. Tallinn is rich in medieval history and offers multiple opportunities to learn about what has happened in this beautiful city over the centuries. We loved the free educational walking tour by a costumed guide and the medieval-themed dining at Ill Draakon.
Read more about things to do in Estonia.
11. Paris, France: Best for Romantic Strolls
Autumn in Paris is really ideal. There are fewer tourists than in summer and the weather feels ideal for strolling around this massive city. Plus, you'll have beautiful autumn leaves to brighten up your photos!
We were really unprepared for how big Paris is and ended up walking more than ten miles on our first day there. We also missed out on all the museums because we just visited on a whim and didn't have anything booked. Oops! Learn from us and plan ahead a bit when you visit. But, honestly, just wandering around this iconic city is very romantic.
Read more about things to do in France.
12. Bratislava, Slovakia: Best for Enjoying Wine
Did you know Slovakia produces amazingly delicious wine? You probably wouldn't unless you've visited since they don't export it. You have to enjoy their wonderful wine at the source. Not only is Bratislava a beautiful fall in Europe destination, they also have wine festivals in autumn!
The wine tasting season kicks off in September every year and there is a large celebration for Saint Martin Day as well! This is the day new wines are "baptized" after which they can be sold across the country. Not a bad time to visit at all!
Read more about things to do in Bratislava.
13. Cologne, Germany: Best for Holiday Festive Fun
Toward the end of November, the German Christmas Markets start popping up all over the country. While other countries do have festive winter markets, the iconic Christkindle Markets in Germany are just so magical and historic. They really do offer everything wonderful about the season, from beautiful twinkly lights to warm food and drinks.
Admiring all the pretty little stalls with a hot mulled wine in hand is the perfect way to feel the festive spirit. One of the best German cities to visit for Christmas Markets is Cologne. There are about half a dozen markets that are all walking distance. They each have their own theme – from the Koln Cathedral Market underneath the iconic church to the Angel Market where an angel rides around on a horse sprinkling glitter wherever she goes.
Read more about things to do in Germany.
14. Southern Spain: Best for Warmer Weather
From sunny Seville to the artsy city of Barcelona, Southern Spain is extra lovely when the weather cools down and the crowds dwindle. If you aren't ready for the cold, taking a trip to one of these iconic Spanish cities can offer some warm (but not too hot) temps later into autumn.
Read more about things to do in Spain.
What to Pack for Your Fall in Europe Vacation
Depending on how many destinations you plan to visit, you may need a variety of clothing options for a fall in Europe vacation. The key is definitely layers! You may not want to wear a heavy sweater on your entire hike or on a bus, but it would definitely come in handy on a cold night at a market.
Must-Haves for Fall in Europe:
Long Rain Jacket or Trench Coat
Waterproof Boots with Good Traction
Warm Hat or Beanie, Scarf, and Gloves
Base Layers (for really cold days)
Packable Umbrella
I usually bring some jeans, a dress with leggings for a nice night out, hiking boots and more dressy boots, and multiple long-sleeve shirts of varying warmth. I also love to have a big cozy scarf on hand to wrap around my face if it is windy. For more tips on packing for Europe in a carry-on, read our multi-season minimalist packing tips!
---
Have you enjoyed fall in Europe? Please share your favorite destinations in the comments and don't forget to pin this article to refer to later!